Is your child's wardrobe overflowing? Do they have trouble finding things? Here's how to organise a kids' closet so they can easily access their clothes and shoes and keep them tidy.
Kids grow so quickly …not just out of their clothes but also they have constantly changing needs when it comes to their wardrobe. They might need specialty clothes for sports, swimming, dance, school camps, as well as seasonal clothes, and before you know it, the cupboard is bursting at the seams!
Recently, I visited a family where one of the kids' wardrobes was causing stress in the home. Their 11-year old daughter had grown out of some of her clothes and her newer things were falling off the kids-sized hangers. She also had several dance costumes which no longer fit and needed clearing out.
Here's how it looks when we started –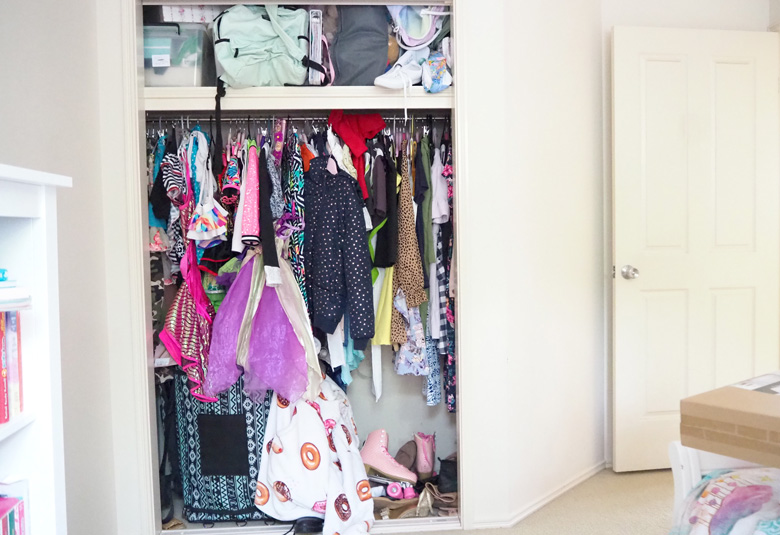 @theorganisedhousewife

I love a good wardrobe reorganize. This time we helped this pre-teen who needed to make a little space and clear out some items she wasn't using anymore. All storage solutions available in my shop. ✨

♬ Chill Vibes - Tollan Kim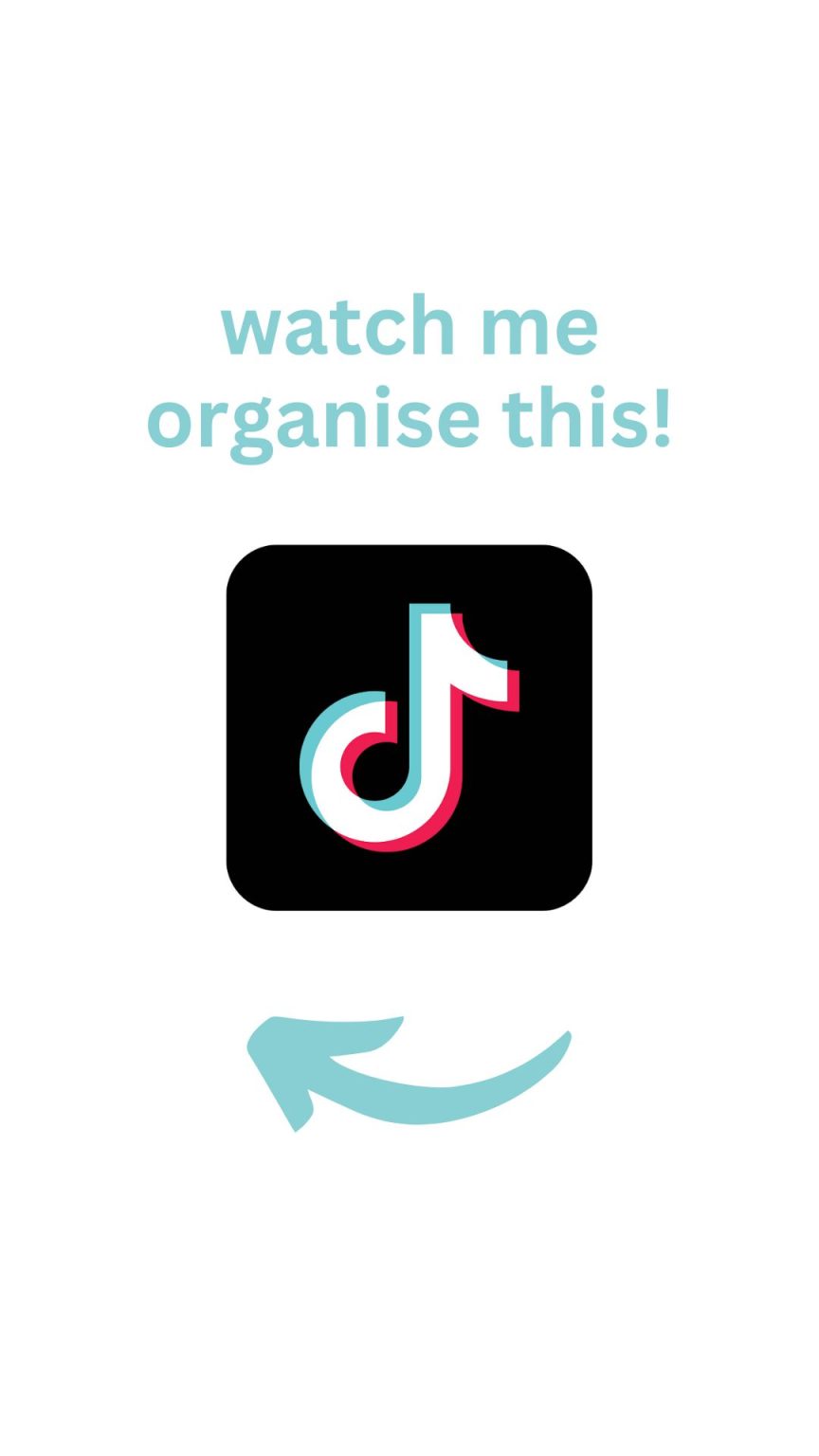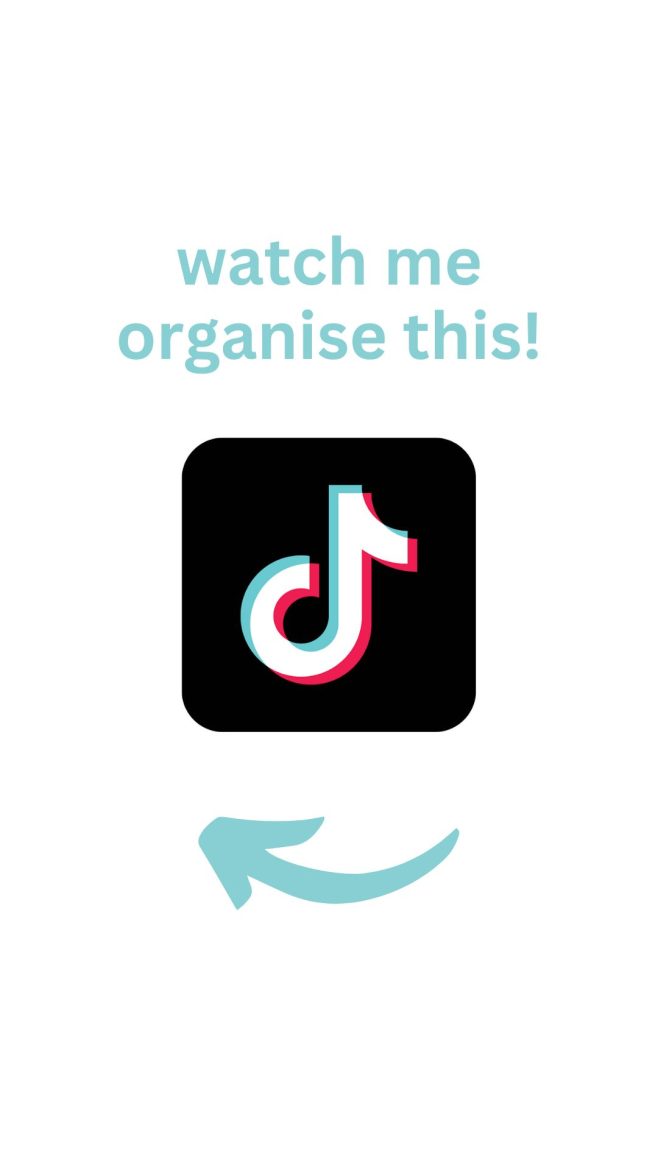 The cupboard was too full and this young lady had trouble finding school uniforms and weekend clothes. It was also difficult for her to put her clean washing away due to the lack of space. 
She had some belongings she didn't know how to store, such as a pair of roller skates and an Oodie (even though it's summer right now!), so they'd been put in the bottom of the cupboard. The top of the cupboard was used for storing her old school books, winter clothes and keepsakes.
We set to work to create an organised wardrobe that was easy for to find things and put them away.
STEPS TO ORGANISE A KIDS' WARDROBE
1. Clear out
First, I cleared everything out. It's handy to have a clothes rack to easily put all the clothes on or you can just pop them on the bed. For this organisation, I also took the wardrobe doors off for demonstration purposes (but only do this if you know how to put them back on!)
2. Clean
I cleaned out the space. I used The Pink Stuff Multi-Purpose Spray for the walls and The Pink Stuff Cleaning Paste to clean off pencil marks on the wall, which scrubbed up clean. I vacuumed out the cupboard so we had a nice, fresh space to work with.
3. organise top of the cupboard
I started with the top of the cupboard, where there were old school books and documents, baby keepsakes, bags and winter clothes. (Yes, I had help – no way can I reach up there, LOL!) I used the Kloset Storage Chest storage boxes to store most of these things. These are soft but sturdy containers which are lightweight and stack easily in the cupboard.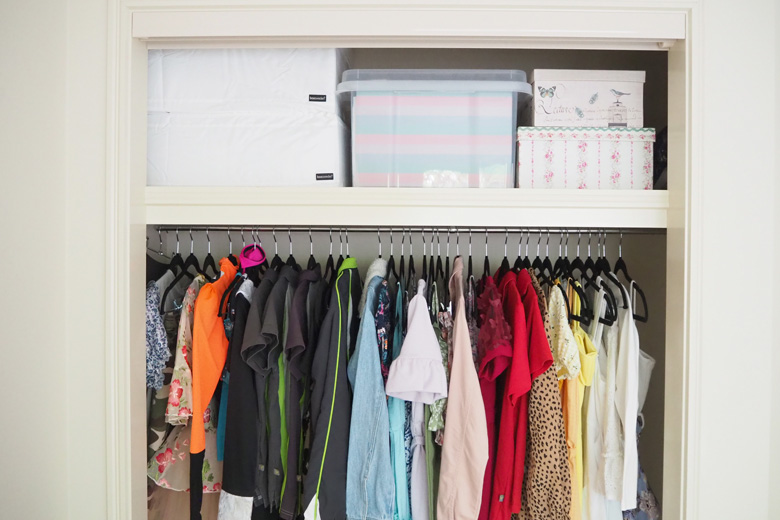 Kat's note: This project focusses on practical, affordable solutions that you can implement easily yourself without costing a lot of time or money.
4. organise old school documents
All the old school books, certificates, report cards and keepsakes were sorted into a file storage box. I printed a name label and filled the box with suspension files (I bought these ones from Officeworks). I used a Dymo to label each year level. We put this box up the top of cupboard since it's not something that needs to be regularly accessed.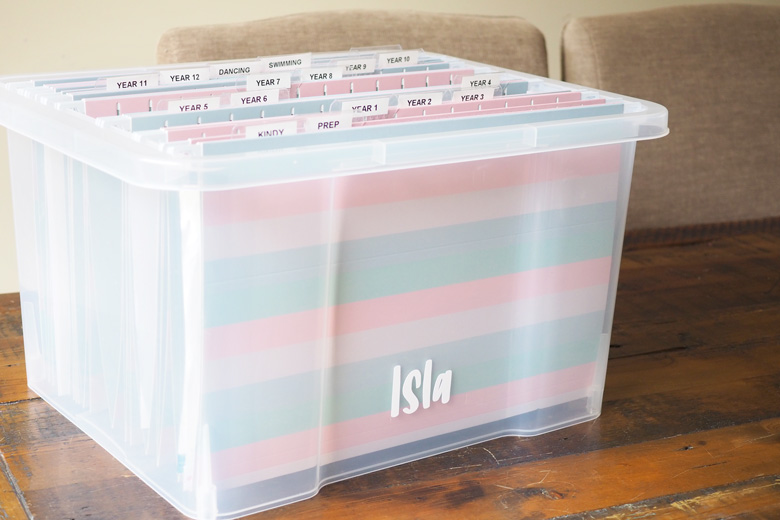 5. coathangers
New hangers were needed because some were too small for her clothes and other clothes were falling off the hangers. I chose velvet hangers because they are slender to hang in the wardrobe and nothing falls off. I used a combination of regular hangers and clip hangers.
I put all the kid-sized hangers in a donation bag for charity, along with all the good quality clothes she had grown out of. The clothes she wanted to keep were then hung back in the wardrobe on the new hangers, all facing the same way. I sorted them by colour because it makes things easier to find and also looks neat and tidy.
6. bottom of the wardrobe
This dance suitcase takes up a fair bit of room, but by relocating some items I was able to fit everything in neatly. These 
stackable boxes 
were ideal in the bottom of the cupboard because they can store her bags as well as her shoes. You could also use a 
shoe rack
.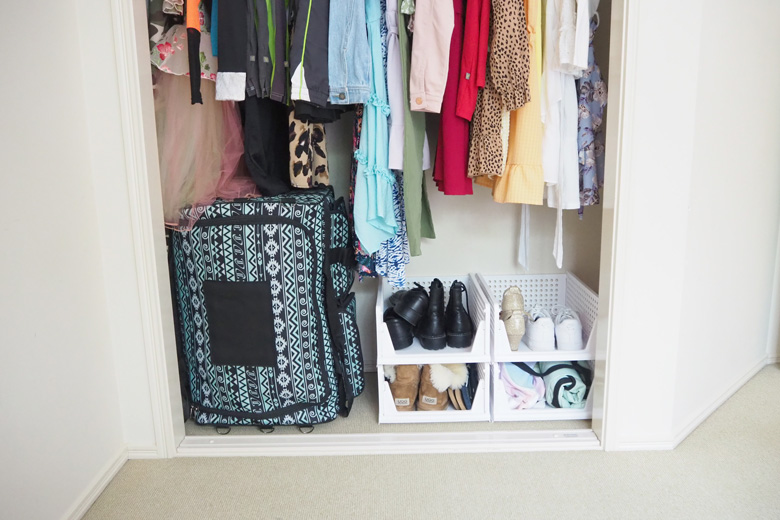 Since it's currently summer, I used a vacuum bag to store her Oodie – it reduced in size a lot and we were able to store it up in the top of the cupboard. When the weather cools down and she wants to wear it, she could hang it at the end of the cupboard on a strong hanger. I stashed the roller skates in the corner of the wardrobe out of the way.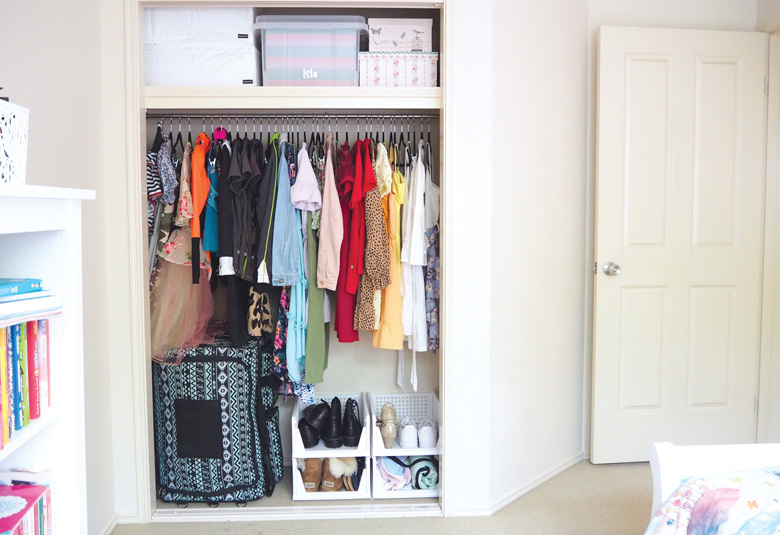 The family was thrilled with this result – there's no clutter and everything has a place so it's easy to keep tidy.
I hope this gives you some inspiration for when you're organising your kids' wardrobes!