I just started writing a post about going out and about with the kids for The Organised Housewife's guide to helping mums thrive at home series. When I realised one very important tip, always ensure you have a well stocked nappy bag. So I thought I would put together a list of what to pack in a nappy bag, see more below.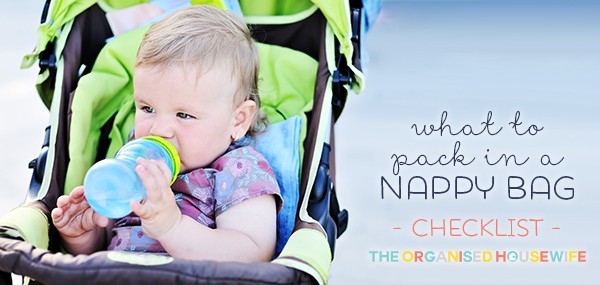 It's important to always leave the house with a well packed nappy bag. Nothing worse than getting out and about and realise you left the dummy or their favourite toy at home or you forgot to replenishing the nappy supply, this will make the trip a big struggle. Please share in the comments below, what essentials do you always make sure are packed in your nappy bag?
How to choose a Nappy Bag
A good quality nappy bag is a good investment and useful to carry all the kids nappies, food and other essentials. There are some beautiful bags available these days that look like designer handbags. I say investment as you could be using this nappy bag for the next 4-8 years depending on how many children you have. As we have so much to carry you need to ensure it is:
big enough for all you need
plenty of pockets to help it stay tidy
an insulated bottle pocket, although you can buy insulated bags separately
washable interior lining
easy to clean exterior
closes securely
adjustable shoulder strap
it's easy to carry
These bags are more like contemporary fashion accessories especially considering the "bigger is better" trend for bags at the moment! These bags are available online here.

What to pack in a nappy bag
This is a list of items for bub, mum then also needs to add in her purse, phone, sunglasses, keys etc.
nappies
plastic nappy bags or wet/dry bag
nappy rash cream
baby wipes
change mat
hand sanitiser
spare clothes/undies
dummies and dummy holders
snacks for child and mum
toys
water bottle for child and mum
bottles
sippy cup/drink bottle (for toddlers)
formula dispenser
bandaids
tissues
hat
sunscreen
toy
---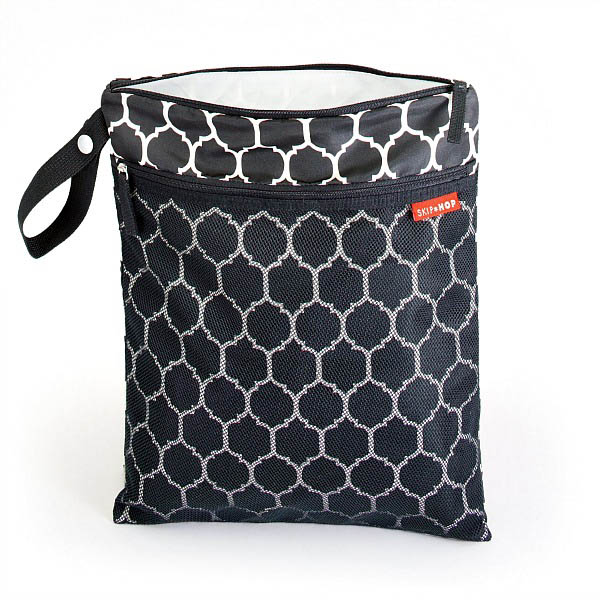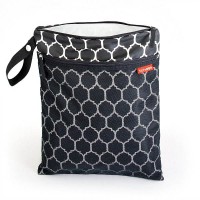 WET AND DRY BAGS – If you like to keep throwing away plastic nappy bags to a minimum these wet and dry bags will keep wet clothes and clean nappies nice and tidy, and prevent leaks and odours into your nappy bag. Available online here.
---
BREASTFEEDING COVERS – This nursing scarf gives you a stylish, convenient and comfortable way to breastfeed your baby when out and about. It can be worn as a scarf around your neck and when you're ready to feed baby, adjust the fabric to cover all sides of you and your baby, a gorgeous breastfeeding cover all ready to use. A few designs to choose from here.

---
Restocking the nappy bag
Once I came home I placed the nappy bag in the middle of the floor, in site so I wouldn't forget it. I would settle the kids, put away anything that I brought home with me, ie shopping. Then I would pick up the nappy bag and do the following:
Throw out used nappies (if I wasn't able to do it where I was when out)
Put bottles in sink to get washed
Stock up the nappies
Stock up the nappy bags
Replace the spare clothes if they were used
Every now and then I'd wipe over the change mat
Replace the dummies with clean ones (as they always threw them on the floor)
Stock up on snacks
Then the nappy bag was all ready to go for our next trip, all I had to add into it was fresh bottles.
Tips on what other mums pack in their nappy bag.
Tips from mums from our facebook community on what to pack in your nappy bag:
Hand sanitizer, nappies, wipes and bottle is all I ever pack. If I need something else I just grab while I'm out. I don't use nappy bag just my usual handbag and I rarely need anything else. ~ Alyse
Change of clothes, antibacterial gel, snacks, water, tissues, band aids, hat (if hot), jumper (if cold), baby wipes & bags and depending on their age usually more. ~ Lindy
Whatever else will fit that I might need in case of a nuclear apocalypse lol …it's so hard to go back to a normal handbag after the nappy bag stage!! ~ Helen
Bubbles to keep kids amused, baby wash ~ Carmen
Maybe an odd item, but I pack spoons for my twins' nappy bag. Always easy to buy some food. ~ Anna
A change of top for myself – especially when my milk first came in! Oh and it came in handy when Bub had a bit of a chuck…and plastic bags, for the icky top/soiled baby clothes. ~ Alex
Dummy, Panodol (for bub and me), change of clothes, hand sanitizer, burp cloth, sunscreen, mosquito repellent ~ Zora
I have everything. A pen, paper, a spoon, tissues, wipes, antibacterial wipes, hand sanitiser, sunscreen, mosquito repellent, nappy rash cream, camera, nappies, nappy bags, coins, safety pin, plastic bag, change of clothes, bibs, hats, jumper, wallet, changemat and more ~ Sirissa
At the moment Teething Beads !!! ~ Danielle
A pad to lay the baby on for changing. Plus all that other stuff. ~ Joanne
Breath mints. It's terrible I know, but I hate visiting someone and I've been crazy getting the kids ready and forget to brush my teeth. Or I have onion dip while out and about. Mints are just important ~ Cait
Panadol ~ Josie
Personally I found a nappy bag too cumbersome . So invested in a good quality oversize yummy mummy bag and chucked in what I needed each time I went out . A special bag clip to clip onto the trolley or pram was more useful so I could be hands free to wrangle the " bolter" big brother ~ Sue
I always have a scarf for myself to cover any food or baby spew! ~ Louise
Change of clothes and full first aide kit ~ Rebecca
Bicarbonate of soda in a small sealable salt shaker, for those times when bubby spews – it takes the smell away. ~ Lyn
A snack for yourself. ~ Kathryn
Back when I still packed, on top of the diapers and bottle, I carried a few tubes of pre-measured formula, wipes, extra clothes for the 3 of us, my wallet, hairbrush, bus pass, keys, and a soda for me. ~ Amy
Note: this post contains affiliate links, purchases made through these links provide a small amount of commission to me (at absolutely no extra cost to you).
What essentials do you always make sure is packed in your nappy bag?

This post is a part of The Organised Housewife's guide to help mums thrive at home series.
You can view all other posts in the series here.