Click here to view all other posts in our Back to School Series
My kids are growing up with my eldest daughter soon to be 12 in the next few weeks.  It's her first year of high school this year, she is so excited.  At this age girls are starting to go through changes, bra's, crushes and periods.  I have noticed that many girls these days are getting their first period sooner than what we did when we were younger. We all have our scary first period story – it wasn't discussed in my family and when it happened to me I wasn't prepared and was very scared with no idea what was happening.  Because of this I have been really open with my girls explaining to them the changes their body will be going through soon and explaining how they will get an unexpected visit of their first period.
When Miss tween started school last year, year 6, aged 11, I packed an 'emergency toiletry bag' for her school bag for the unexpected moment she will need it.
What to pack in a girls emergency toiletry pack:
Small toiletry bag
2 pads
spare undies
tissues
small plastic bag (nappy bag)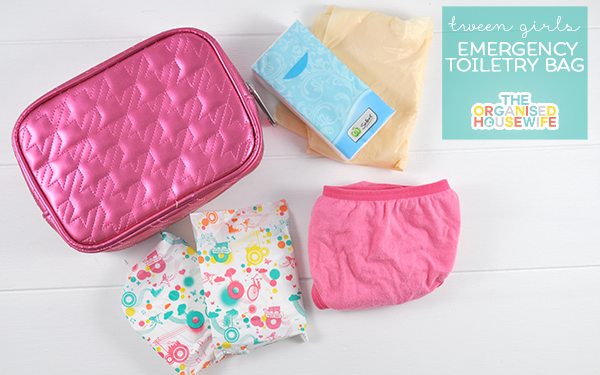 You don't want the bag to be too bulky, as it needs to stay discreet in their school bag.  Talk to your daughter about what to do if she get's her period while she is at school, how to change and discuss if it's OK if she can call you and come home or if you want her to stay at school, with her knowing before hand it will make this experience a lot calmer for her.
It's never too early to be prepared.
This video below is hilarious, it is an ad for an American company HelloFlo selling their girls starter kits.
What tips do you have for preparing another parent of a tween for this occasion?