This is a guest post by Sarah, from Project Mum
There is no doubt that the leap from one child to two children is wonderful but extremely challenging as you try to juggle the needs of a demanding toddler with those of a newborn baby.
I gave birth to my second son a month ago and there is a fourteen month age gap between him and his big brother. The major benefit of having such a small age gap is that my eldest son has welcomed the new addition to our family with open arms and there has not been the slightest hint of jealousy. The downside is that my toddler still needs a lot of my attention and I have to find ways to keep him entertained whilst I am feeding his baby brother.
After scouring the internet and blogosphere for inspiration, I have come up with a variety of toddler-friendly crafts and activities.
Homemade Discovery Bottles and I-Spy Bag
I discovered these ideas on Plain Vanilla Mom which is a fantastic blog with heaps of craft projects you can do with your little ones. The Sensory Bottles are very simple to make and there are so many different things you can use to fill them. I chose to fill mine with rice and then added a selection of small plastic objects for my son to find. He also loves the sound that they make when he shakes them!
I also made some miniature discovery bottles which can be packed in the baby bag for entertainment on-the-go.
I attempted to make a Sensory Bag by filling a zip-lock plastic bag with hair gel, star confetti and a variety of small metal objects. This is a very compact activity that can be pulled out at a restaurant or café for your toddler to investigate.
Personalised Board Books
I absolutely love this idea by Craftulate and I am very excited about creating some personalised board books for my toddler. I have bought some blank board books and some gorgeous scrapbooking supplies from Kikki-K.
I plan to fill the books with photos, pictures of my son's favourite things (currently that is cars, birds and dogs!) and lots of brightly coloured papers & stickers. I will share my completed board books with you as soon as I have finished making them!
Alphabet Activity Baskets
This is an idea from Click. Pray. Love and it has inspired a bit of an alphabet obsession in our household! My toddler is almost fifteen months old and his vocabulary is rapidly expanding so it seems like a perfect time to focus on alphabet-themed activities. Here is our 'B' activity basket which includes the following items:
White Wooden 'B' Letter from Typo
Eric Carle Butterfly Hand Puppet
Lamaze Butterfly Toy
Felt Banana
Plastic Bowl
Fisher Price Peek-A-Block – 'B' is for Banana
Wooden whistling bird
Selection of flash cards – Boat, Butterfly, Blocks, Boy, Ball, Bird, Bee
Butterfly finger puppet
Bumble Bee Rattle
Usborne 'Tweet Tweet' Buggy Book
Homemade Discovery Bottle
I also picked out some 'B' themed books to read with my toddler. I am planning to work my way through the entire alphabet and will focus on one letter each week.
Treasure Baskets
The Imagination Tree is a wonderful resource for creative play ideas and it introduced me to the wonderful world of Treasure Baskets. This is my latest endeavour and it has proven to be very popular with my son when I bring it out for our weekly treasure basket exploration session.
I have filled my basket with approximately 40 different objects ranging including ribbons, plastic toys, wooden toys and miniature board books. I also have a selection of educational activities from Curious Minds Busy Bags which are designed to promote fine motor skills.
Treasure Bags
These are great to leave in different rooms around the house for your toddler to investigate. I bought this beautiful Eye-Spy Drawstring Toy Bag and filled it with all of the small toys that my son has accumulated since he was a baby. I bring it out once a week to keep it interesting and my toddler absolutely loves exploring all of the toys inside.
Tabletop Easel
I found this great Melissa and Doug Wooden Tabletop Easel which features a chalkboard on one side and a magnetic whiteboard on the other side. My toddler will love sticking the Melissa and Doug Wooden Animal Magnets on the whiteboard side, and I have bought some chunky chalk for him to scribble on the blackboard side.
Miniature Photo Album
My toddler adores looking at photos of himself and his family members. My mum made him a miniature photo book earlier this year and, after seeing how much he enjoys looking through it, I decided to make him a couple of miniature photo albums. I tried to include photos of him doing a variety of different things such as sitting on a swing, reading books and playing on the beach. I also included lots of family photos as his relatives are all back in the UK. This is a really lovely and simple activity!
Toddler-Friendly Apps
I have several Toddler Apps on my iPhone/iPad which my son shows varying degrees of interest in. I was very impressed with the In The Night Garden and Teletubbies apps. My toddler also really enjoys the Fisher Price Laugh & Learn apps which feature a host of different animals and some very catchy songs. There are some fantastic storybook apps out there which bring popular children's books to life and I am planning to download a couple each week, starting with Dr Seuss's ABC and Blue Hat, Green Hat by Sandra Boynton.
CDs and DVDs
Lastly, I think CDs and DVDs are a great way to keep toddlers entertained. We are currently loving listening to the Teletubbies album and The Best of The Wiggles. My toddler enjoys watching the Baby Einstein DVD Collection and we have a couple of In The Night Garden DVDs. I have also just bought the Chicka Chicka Boom Boom Read-Along DVD which features seven different stories for him to listen to.
So I have lots of activities planned to keep my toddler occupied and I am really looking forward to creating fun and stimulating experiences for him over the coming months.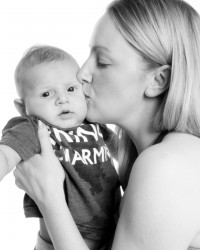 About Project Mum
A stay at home mummy with a passion for creativity, shopping and organisation.
Find our guest: Blog | Facebook | Pinterest

This post was written by a guest contributor. If you are interested in 'being my guest' please visit Be my Guest page for more details.