When my kids started school all those many years ago as soon as they got in the car I ask them 'How was your day'?  9 times out of 10 I get 'good' as an answer and at times that was it, conversation was over, either they felt they answered the question, they were tired or didn't want to discuss.  But i wanted to know more than 'good', I want to know what happened during class, did they have fun at lunchtime, I want sentences.  I soon learnt the key is asking a detailed question and asking why.
Typically I chat to the kids about their day on the drive home or we discuss their day while we eat dinner.  We always sit together as a family and eat dinner, we have done this since the kiddies could sit in high chairs. Our weekdays are so busy, it's nice to relax, each and chat together.  Sometimes we do have the news on in the background, but other days we have it off if we have something that really needs to be discussed.  It's created an open environment where the kids know they can ask us any questions or tell us about struggles they are having socially or educationally. Below I have shared some of our conversation starters to help the kids share more about their day.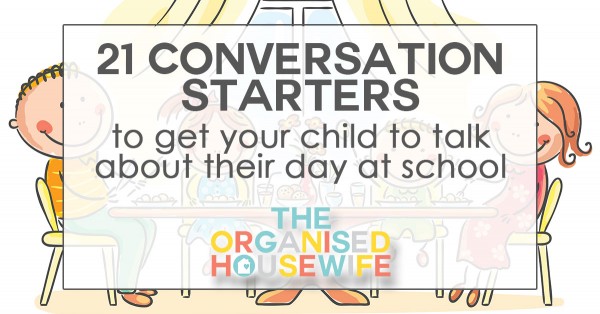 21 ways to get your child to talk about their day
What was your favourite subject at school today?  Why?
What was your favourite part of school today?  why?
What did you learn at school today?
What did you do during lunchtime today?
how was your teacher today?
What was the most interesting thing your teacher said today?
Did anything funny happen at school today?
How much homework did you get today?
What was your favourite food in your lunchbox today?
If you could pack your own lunch tomorrow, what would you pack?
What books did you read at school today?
Did you write a story today?  Tell me more about it.
Did you play any sports?  What did you play?
If you could change one thing about today what would it be?
Did anything upset you at school today?
is there anythng you learnt at school today that you need extra help with?
Which friends did you play with today?
Which kids did you sit with at lunchtime?
Who are you looking forward to seeing the most tomorrow and why?
Who was the friendliest person in your class today and why?
Who did you hang out with the most today?
Download the 21 after school conversation starters sheet, use code ' schoolchat ' at checkout to download for FREE.  Download from here.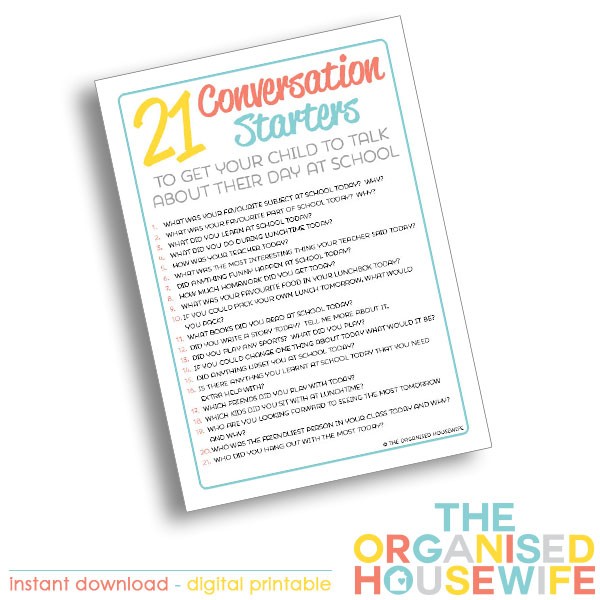 Do you have any tricks to get your child to talk about their day, or questions that can be added to the list?