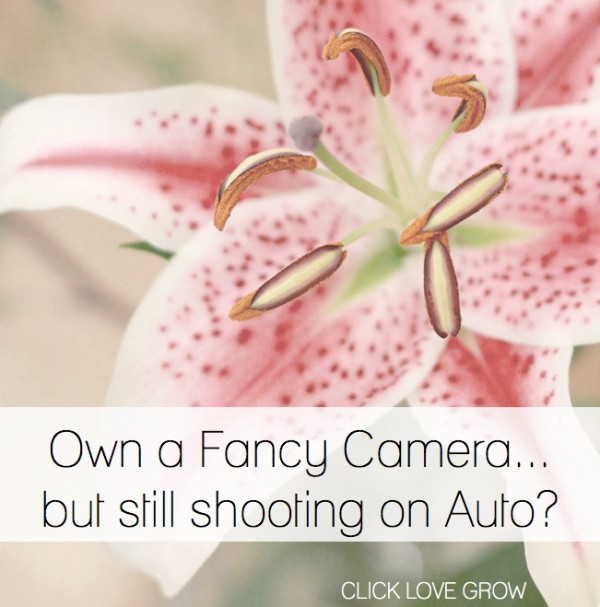 Click Love Grow's Photography Course for Women is here!
read more details here

 This is a guest post from Louise from Click Love Grow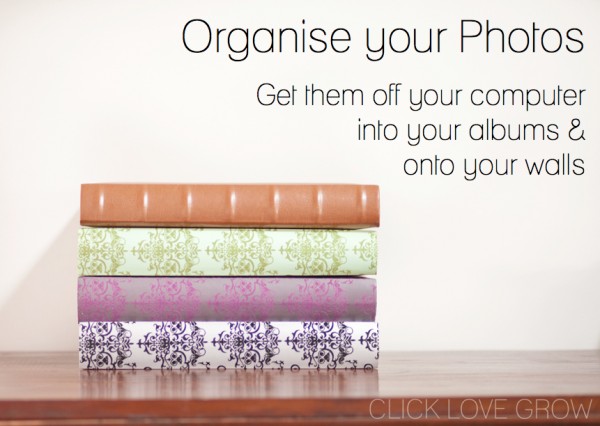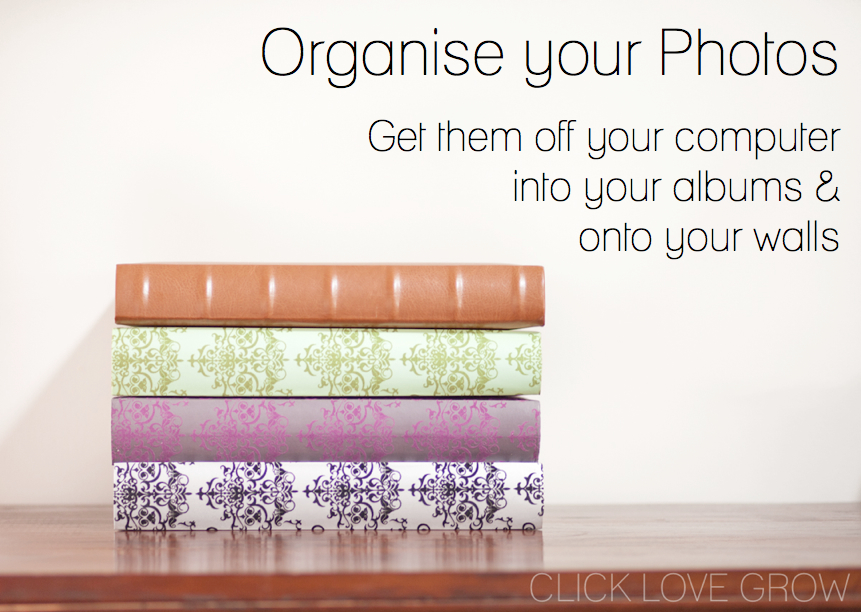 What do you do with your images after you take them? Do you have difficulty finding them once they're uploaded to your computer? Do you feel overwhelmed when it comes to printing?
I used to get so overwhelmed with all my digital images, but I've found a system now that really works!  Keep those memories close to your heart by filling albums and letting your children enjoy rainy days of flicking through the family memories. Decorate your home in fun and creative ways with images of everything and everyone you love, and share them with friends online.
GETTING IMAGES ONTO YOUR COMPUTER
Use an external card reader to avoid the risk of corrupting your camera and lessening the overall life of your camera battery.
Set up dedicated and clearly labeled folders in your pictures folder.
Always copy from the card reader directly into your image folders and don't import directly into an editing program as it can be hard to find your images later.
Handy Tip: Once the images on your card are safely uploaded to your computer, format your card in your camera to ensure all captured data is removed. Formatting is more efficient than just deleting what's on your card, and it reduces the potential for card corruption.
SAVING FILES
Ok – so this is where we really make sure your images are easily found!!
Save your images in folders titled after the year they were taken, then into sub folders for the month, then for specific events, eg. "My Birthday" or "Camping Trip", etc.
2004 –> Jan 2014 –> School Holidays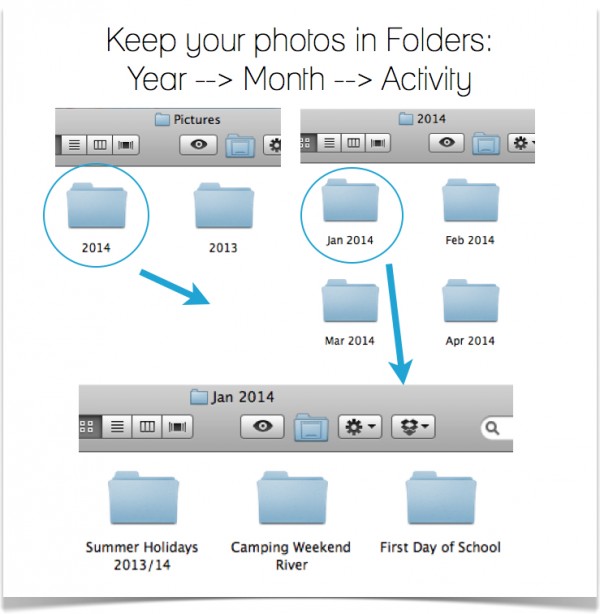 Why does this work?  If you get into this habit I can guarantee you won't lose photos.  All you have to do is search the year and month of when your photos were taken, and you'll find the folders.
GET THEM PRINTED
Every few months I put aside an hour or so to go through all my photos and pick out favourites for printing.  Start in the sub folder of the month since you last did a print, open each folder and pick out a handful of images from each event or occasion. Of course you probably took 100 photos, but picking out just a few to put in albums stops us from feeling overwhelmed.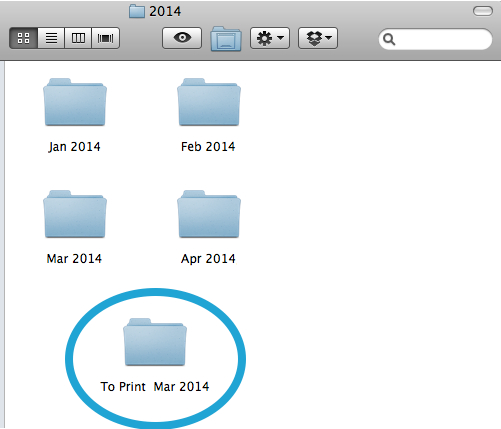 Handy Tip:  Don't be picky – remember it doesn't matter how great the photos are, ignore the critical eye and just get them printed and into albums!  The memories are the most important thing.
Get them up on your walls
Go big!  Buy frames on special, or get canvas or foam core prints which are cheap and light and easy to hang whether you're in your own home or a rental.
Build a photo wall with smaller frames or foam core
Choose a theme, eg. all black and white, or select images with a predominance of colours that compliment one another.  Lay them on the floor first to see how they look together, or before committing to print, place the digital images into a word document or power point presentation and look at them together.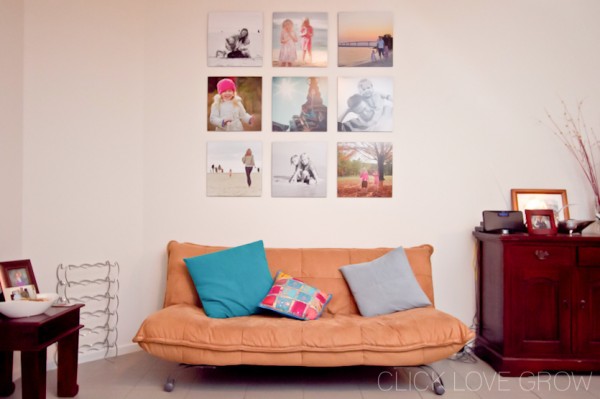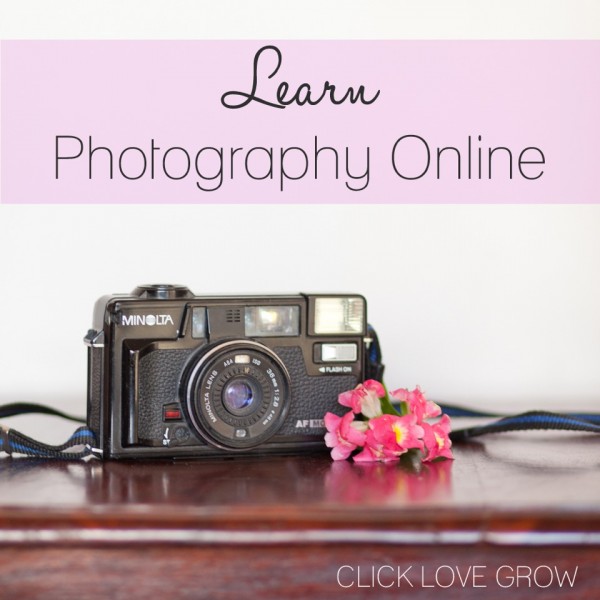 Have you always wanted to take your own gorgeous photos?

Click Love Grow's Photography Course for Women is here!
– Weekly online lessons that are fun and filled with examples!
– A supportive online community that will help you grow!!
– Fabulous Price
– Enrolments Open Now
Sign up to the Click Love Grow Courses HERE