A step by step guide on how to organise the pantry so that you can optimise your space, find items that you need and prevent food wastage.
The pantry, the home of all your delicious food, but also one of the areas of the home that can become cluttered and chaotic. No matter what type of pantry you have, whether it is a single cupboard, a deep double door space or even a walk-in pantry, it can easily get messy and overstocked. If you're not careful, the kitchen pantry can quickly become a disaster area. Between the hodgepodge of food containers and the forgotten items, such as half-empty bags of chips, crackers or cereal, your organisational tactics can fall to the wayside when things get busy, despite your best intentions. 
I get asked frequently "how do I organise my pantry?" The key to having an organised pantry that stays organised, is to create zones for your food, and find the right storage solutions to optimise space and keep things orderly. 
I recently gave my pantry a makeover, you'll get to see some new photos of it below. It sounds silly because it's a pantry, but this space really does make me happy. Previously, I used to have Tupperware with black lids, I have put these away for my kids and replaced with new containers which has really freshened it up, one of my favourite things about these containers are how they are clear and stackable. 

I've tried to step it all out easily for you below, to help take out the overwhelm. And created a cheat sheet to help work out which size containers are ideal to use for particular foods.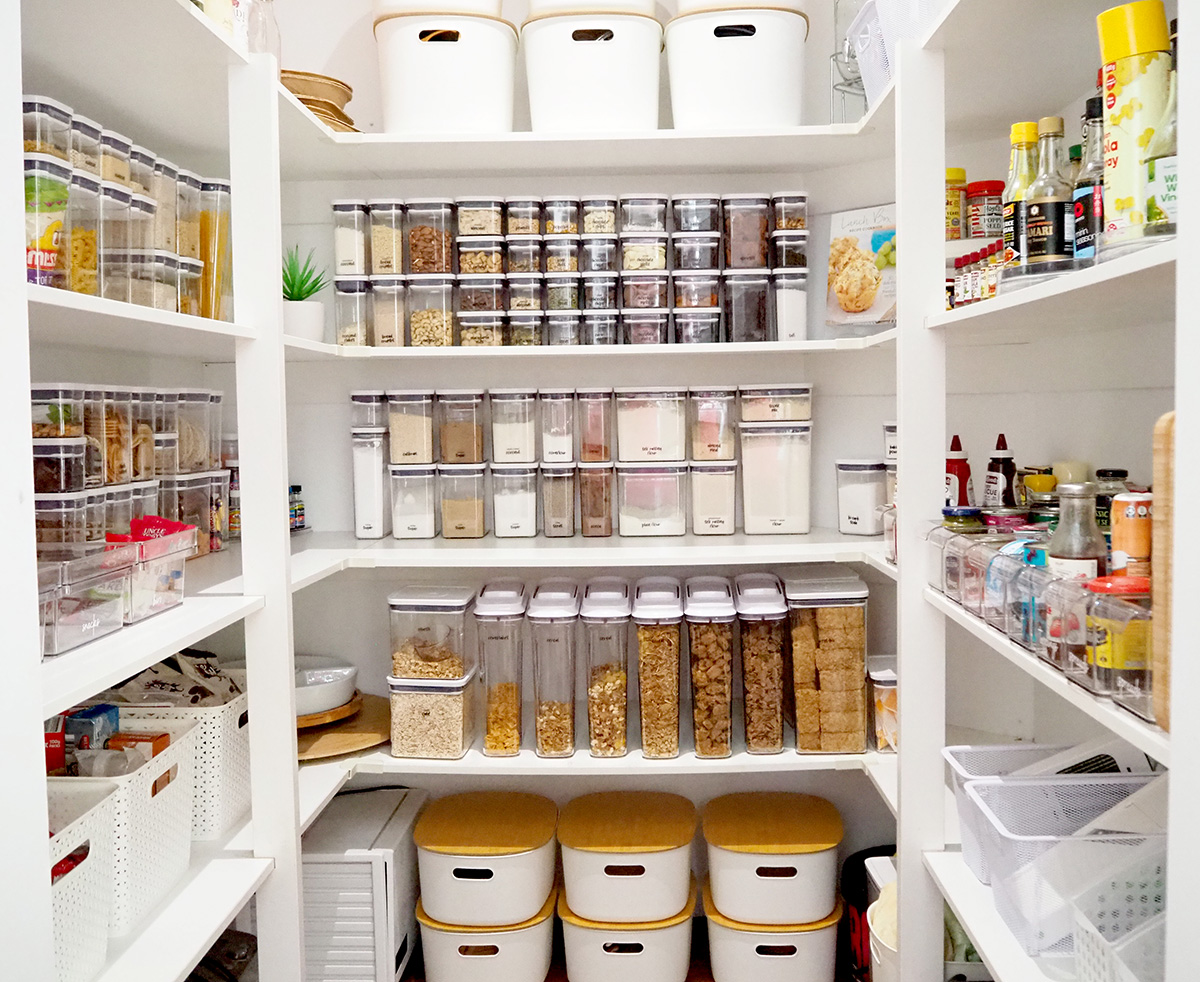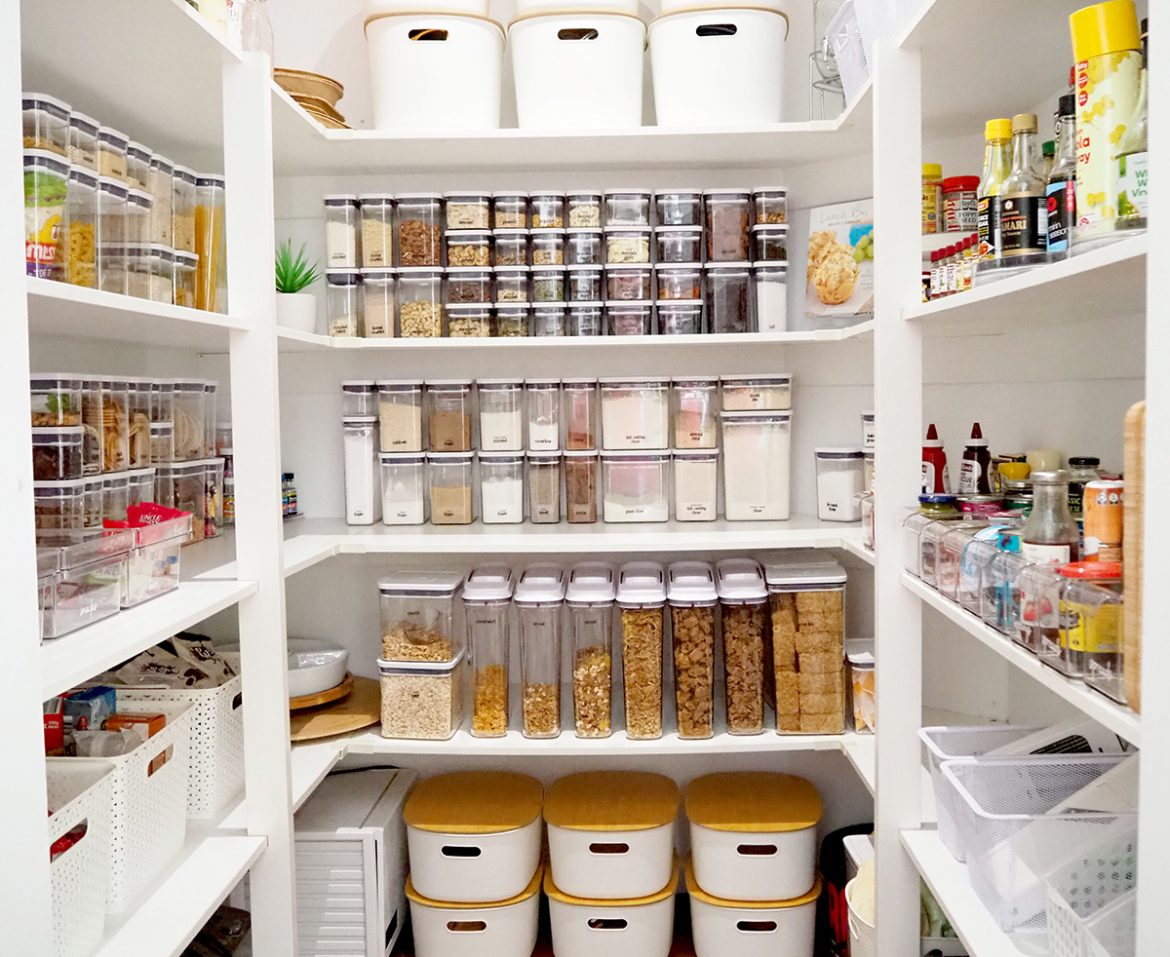 STEPS TO ORGANISE THE PANTRY
This task may take you more than a day to complete. It's better to take your time to develop a system that will actually work in your space. It took me a few weeks recently to organise and update my pantry, purely because I wanted and searched for particular items.
Spending time and acquiring new storage solutions to re-organise your pantry might seem daunting. But please, trust me, this will pay off with less food wastage and less stress when you open the cupboard. Being about to see what you have at a glance means no more overbuying, reduce food spoiling, and good quality containers will help keep your food fresh and prevent pests.
If the thought of doing your whole pantry is overwhelming, break down as per the steps as suggested below:
Step 1 – Planning and gather your organising supplies
Take a look at your pantry and see what's working and what's not. Take into consideration what's not and look at items to help organise this zone.
Measure your shelf and storage spaces, so that you can plan how to best utilise the space you have.
Do you have deep shelves? Consider items like turntables and baskets with handles. Baskets with handles allow you to slide the basket in and out utilising the space at the back of the shelf.
Wasted space as there is a big gap between shelves? Consider stackable storage containers or shelf inserts. Stackable containers will help you maximise space.
Do you need to purchase new food storage containers? If your pantry is full of opened packets, or bugs have managed to get into food, then you need to invest in some new food storage. Purchase good quality items that are air-tight, seal well and will be long lasting.
Create a shopping list of everything you need to organise your pantry. I have taken the hard work out of this for you, and created a shopping list down below of my personally recommended pantry must-haves!
Once you have your new pantry items, clean the pantry containers and allow to air dry ready for you to fill with food. I recommend you do this the night before you want to organise your pantry.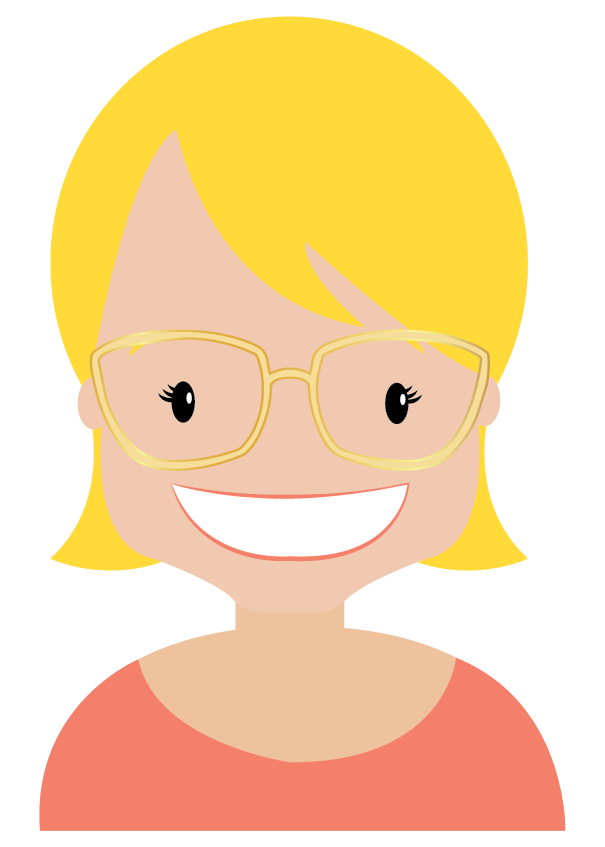 These turntables I've added to my pantry have made storing and searching for oils and sauces much easier. As someone who's on the shorter side, reaching the back of the shelf used to be a struggle. Now, with just a simple spin of the turntable, I can easily access everything I need.
Step 2 – Clean your pantry 
If cleaning your full pantry is overwhelming try cleaning and organising it one shelf per day. 
Remove everything from the pantry (use ironing board for extra space close to the pantry if needed).
As you remove items from the pantry, check the expiry dates and dispose of anything out of date.
Place all items with an expiry date that is soon into one basket all together. You can then use this basket of food when preparing your next meal plan. 
Group everything by like items (see below) as your removing from pantry. 
Wipe down the shelves with microfibre cloth and a non-toxic multi-purpose cleaner.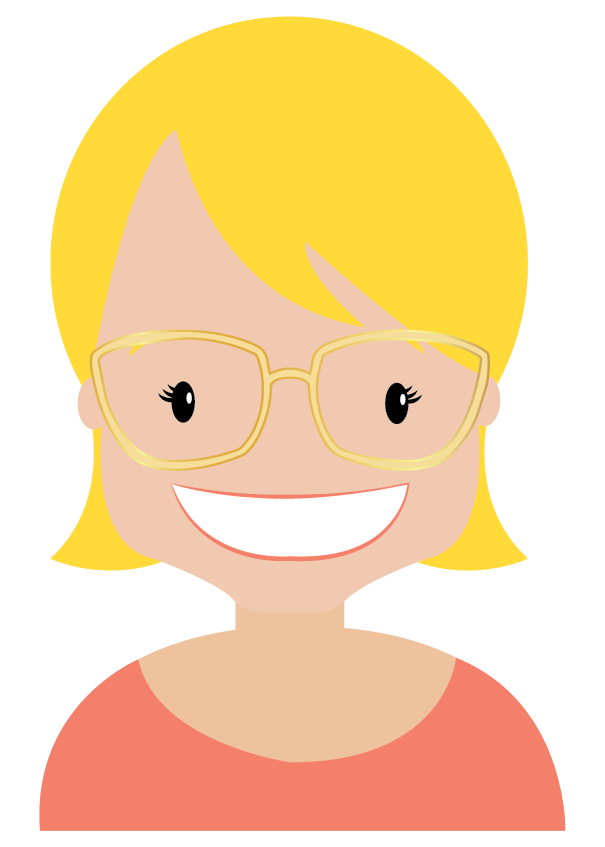 I like to keep tubs of bread, fruit and snacks easy for the family to find and grab what they need. Makes it easy for me to see when this needs restocking too.  
Step 3 – Create Zones 
Think about how to use the space for your lifestyle and create zones to suit the variety of food you have available.
Non-essentials – Store foods eaten less often in less accessible spaces.
Everyday staples – store for easy access.
Dry ingredients – Store dry ingredients in airtight containers to keep freshness in and little bugs out. 
Canned goods – Store canned goods in rows.
Kids/Snacks – store snacks on eye-level shelf so rushed and hungry family members can find food fast.
Breakfast – Store cereal in airtight containers to keep freshness in and little bugs out. 
Oils – Place oils in a plastic container or lazy susan, easy to wipe away any sticky spills.
Non-refrigerated vegetables – such as potatoes and onions. Keep in a cool, dark, dry place.
Recycling – be kind to the environment. If your pantry is big enough, add a container on a ground level or low shelf to temporarily store recycling items.
Bulky appliances – Store on the low shelves, as these tend to be heavy. If appliances or pots encroach on your pantry space (guilty), consider reducing these to the bare essentials in order to have more room to organise food products.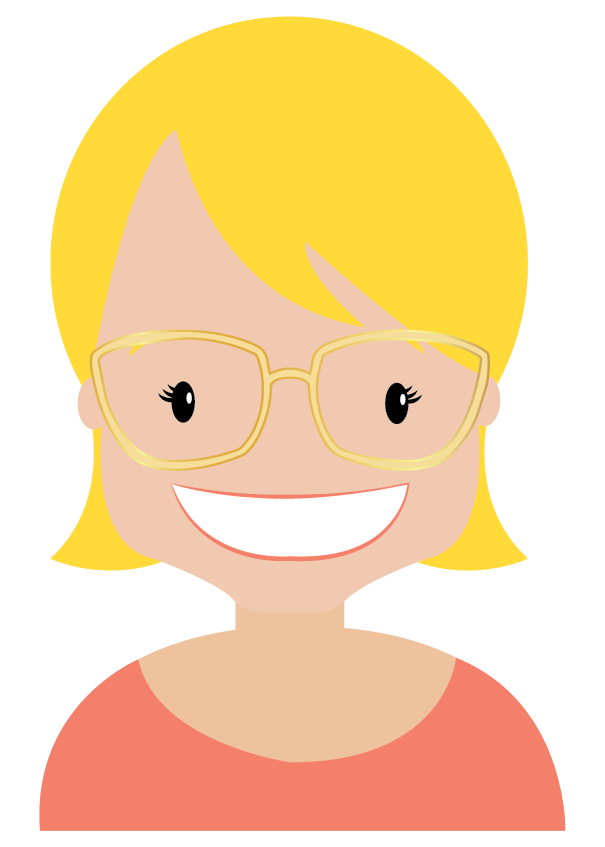 One of my favourite organising containers in my pantry is this tea storage drawer, keeps them nice and neat.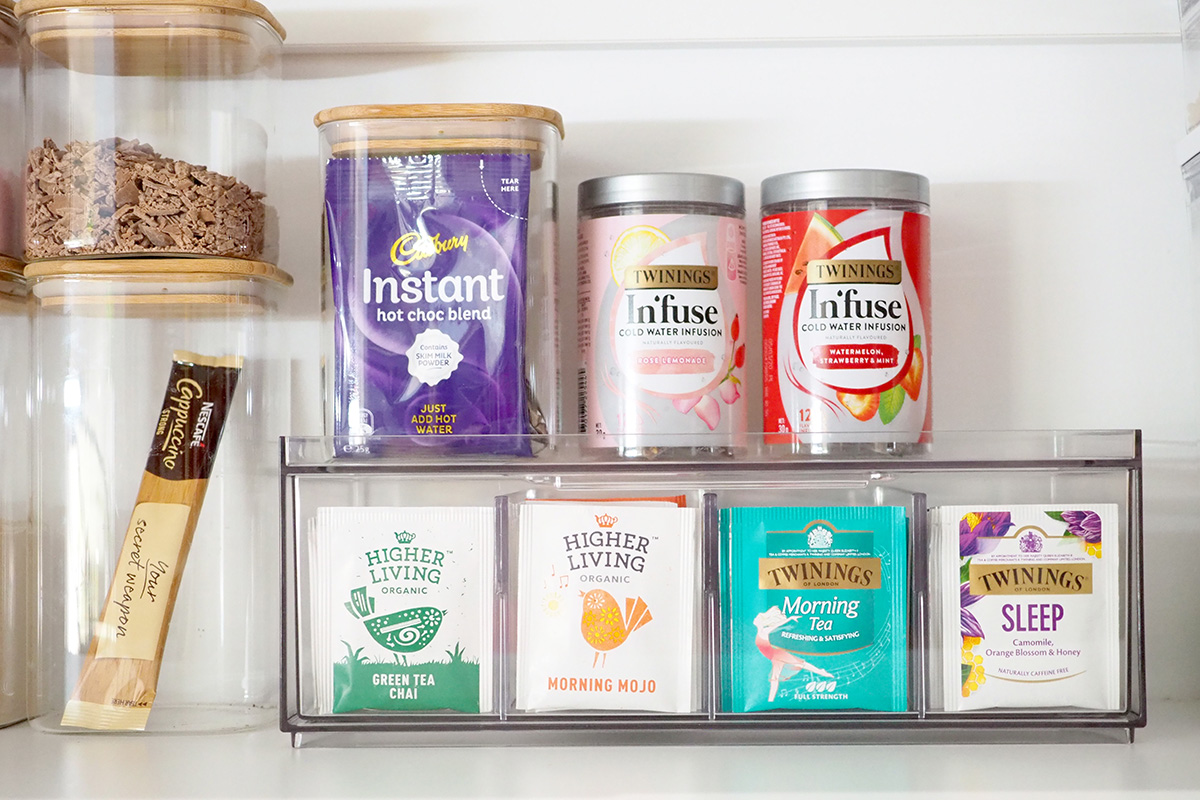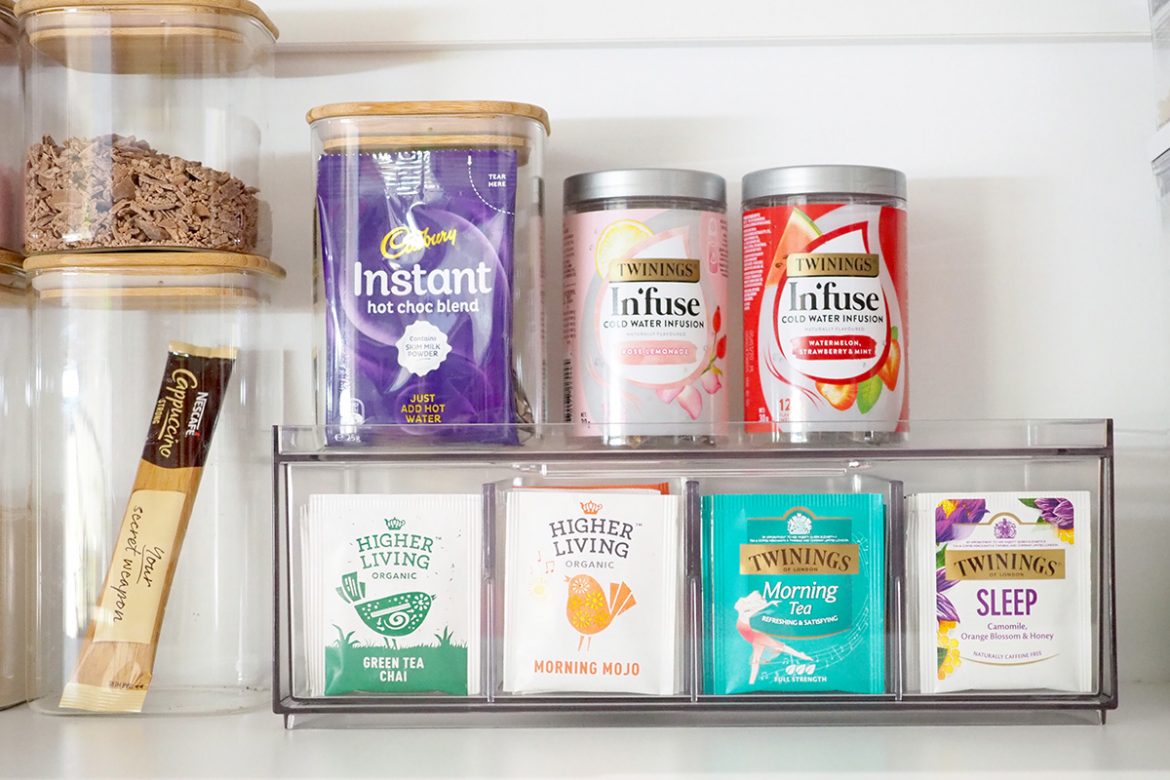 Step 4 – Organise your pantry 
Add in your storage containers that will help you to keep the pantry tidy.
If you purchased new pantry containers fill them up with your food. Write used by dates on the bottom or back with a whiteboard marker.
Label containers with pantry labels. I created this set based on all the the containers I have in my pantry, it has everything you can think of. 
Neatly place everything back into the pantry, positioning it so you can easily see the label.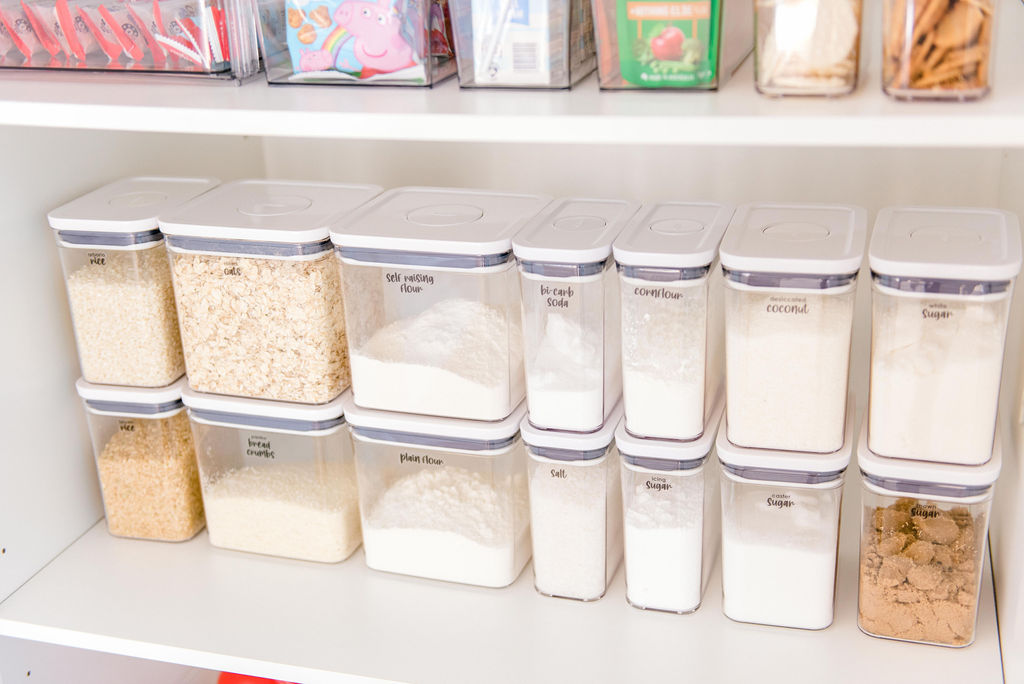 Step 5 – Meal Plan
Make a meal plan for the coming weeks that will help you use up any close-to-expiring products that you placed together in the basket or anything you have over-bought.