How to organise your linen cupboard so your bedding, towels and everything else is easy to find!
Do you have the problem that every time you open up the linen cupboard something falls out or you can't find what you need easily? The linen cupboard can become a cave for hidden linens and all things miscellaneous, but let's go through it today, purge some items and get it organised. 
Sorting through the linen cupboard
What goes inside the linen cupboard? Most commonly:
extra sets of bed sheets

extra doona covers

extra mattress or pillow protectors

seasonal bedsheets + blankets

guests bed linen, pillows etc.

extra bath towels, bath mats, face washers and hand towels

I also keep my bathroom cleaning caddy and toiletries in our linen cupboard.
I keep our seasonal bedsheets + blankets (in our 47L Foldaway Storage boxes, which have sold out, but we hope to find a similar product soon) plus some special quilts made by my mum and nan and from the kids childhood that I am holding onto for when I have grandchildren (did I just say that) stay over in many many many years to come. I have put them in a vacuum space saver bag.
TIP: Usually when I wash the quilt insert + covers, pillow + mattress protectors I wash, dry and put back on the bed all in the same day. This saves me from having to store extras as I don't really have the room.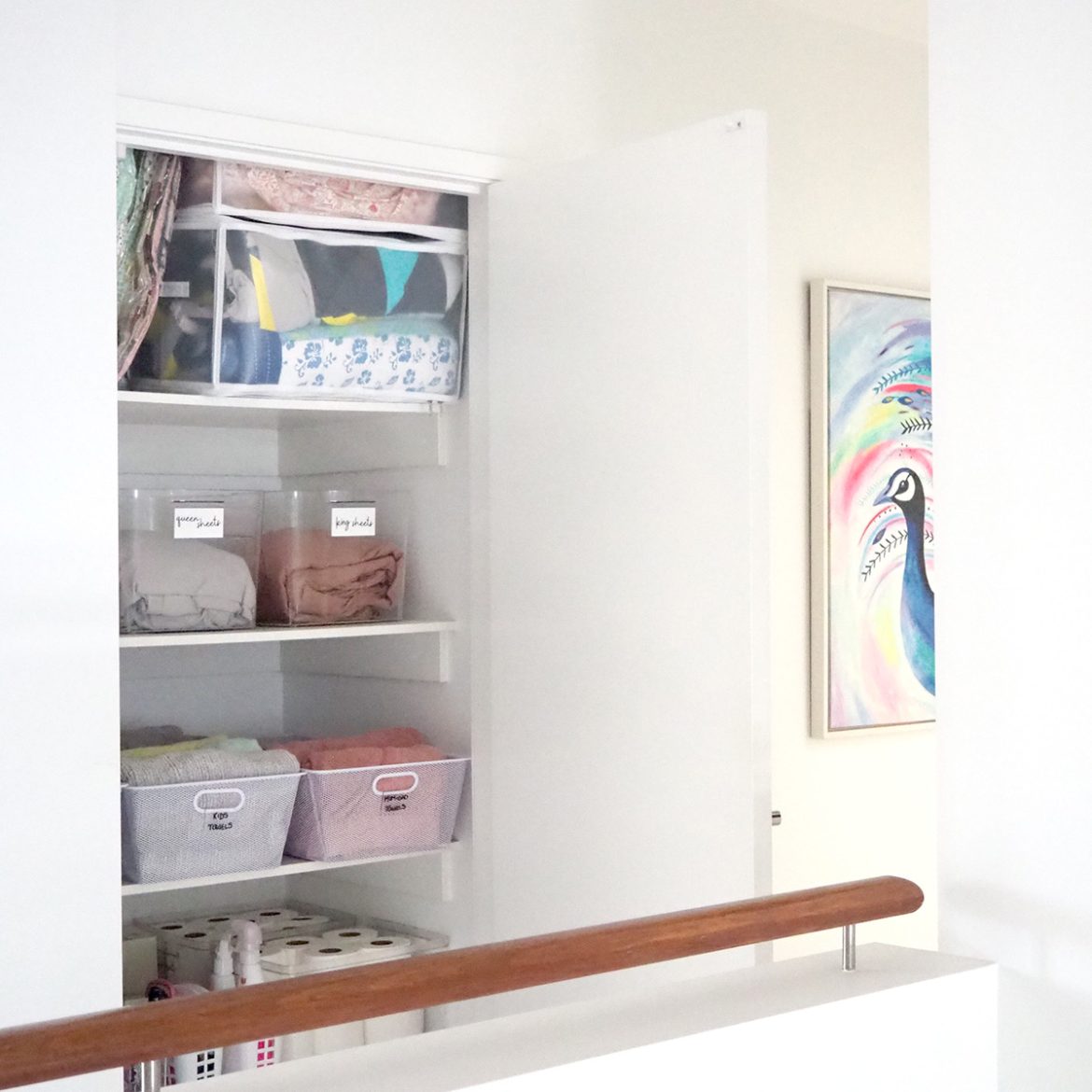 Bed Sheets
Over the years I have learnt to be minimal with our sheets only having one extra sheet set for each bed in our home. I wash bedsheets each week and if I can, I like to remove sheets, wash, dry and put back on the bed all in the same day, as it saves folding. 
Check out this video here for how to fold a fitted sheet, it is genius!
I keep our sheets in these tubs, sorted and labelled by size. I'm slowly converting us all over to the bamboo sheet sets. My kids and hubby have sensitive skin, eczema and psoriasis, and they are really nice on their skin. Plus it actually makes me really happy when I jump into bed with these sheets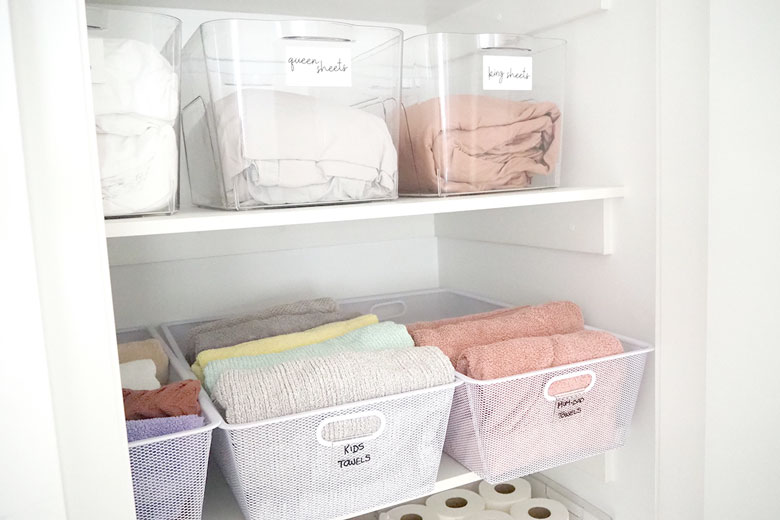 Towels
From when the kids were very little I had to get over my desire to have matching towels in the bathroom and change it to each of the children having their own colour. It helped me know who's towel belonged to who, and not that they could complain being so young, but I know I prefer to use my own towel and not share. And as they got older it eliminated any fighting. 
Towels (and pillowcases) become home to bacteria, viruses, dead skin cells and more very quickly, even more so if the towel stays damp. Wash towels at least once a week and ensure they are air-dried after each use. If you or your children suffer from acne-prone skin or skin conditions like eczema or psoriasis keeping towel fresh is very important to prevent infections.
Our linen cupboard is quite deep so I have used these mesh baskets to use the full depth and keep them organised. Sorting by mum and dad's towels, kids towels and bathmats. We do have a lot of towels as we are a family of teenagers and members with skin conditions.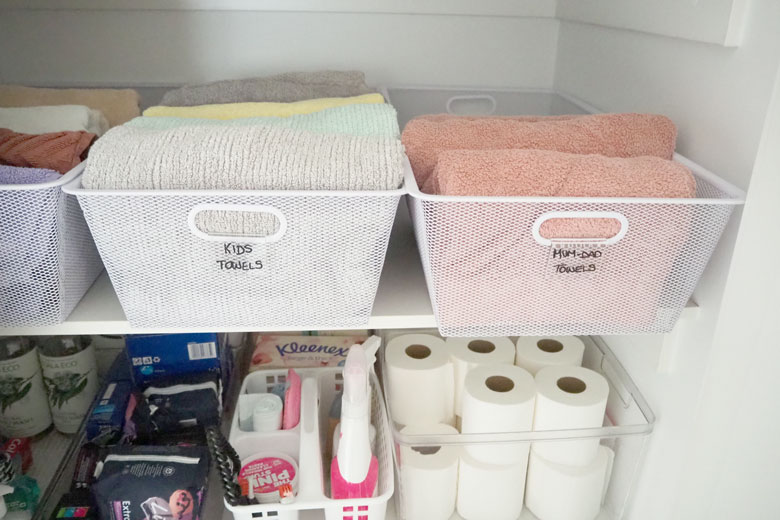 Extra Linens 
I have 3 queen beds and 1 king bed so I keep one extra queen mattress protector, quilt and inert and one extra king mattress protector. We only have 1 single mattress for guests to sleep on, so I keep one set of sheets, mattress protector and pillow handy at the bottom of the shelf in the 47L Foldaway tubs.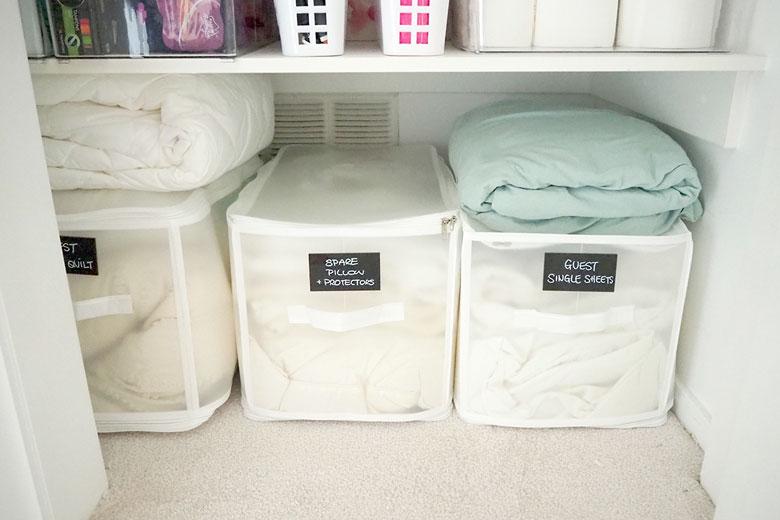 Labelling 
I've labelled everything in our linen cupboard to help all our family members locate and put away items. You will find many different labels in our Laundry Organisation Label Sticker Pack to organise the laundry and linen cupboard. These stickers can be placed directly onto your storage tubs, or use our acrylic labels. 
HOW TO ORGANISE A NARROW PANTRY WITH DEEP SHELVES
Organising a narrow and deep pantry can be challenging. Get some ideas to keep your pantry organised and maximise the space of your narrow and deep shelves. Continue Reading