Recycling doesn't need to be complicated, get the family together and let me show you how to make recycling easy!
I have done cleaning challenges and organising challenges over the years, and I am starting a 5-day recycling challenge this week in partnership with Nestlé! Head over to my social media every day and see how easy it is. I will go through:
How to make recycling easy and set up organised areas in your home
What to throw in the recycling bin vs the rubbish bin
How to organise your recycling
Show you what items can be recycled
How to recycle using the Australasian Recycling Label (ARL)
Join the 5 day recycling challenge, follow along on Instagram
Nestlé is committed to ensuring that 100% of its packaging is recyclable or reusable by 2025 and are working hard to achieve a waste-free future. I am so pleased to be working with Nestlé on this campaign and challenge. I know I have learnt so much through this process, and I am happy to share it with you.
This post is sponsored by Nestlé.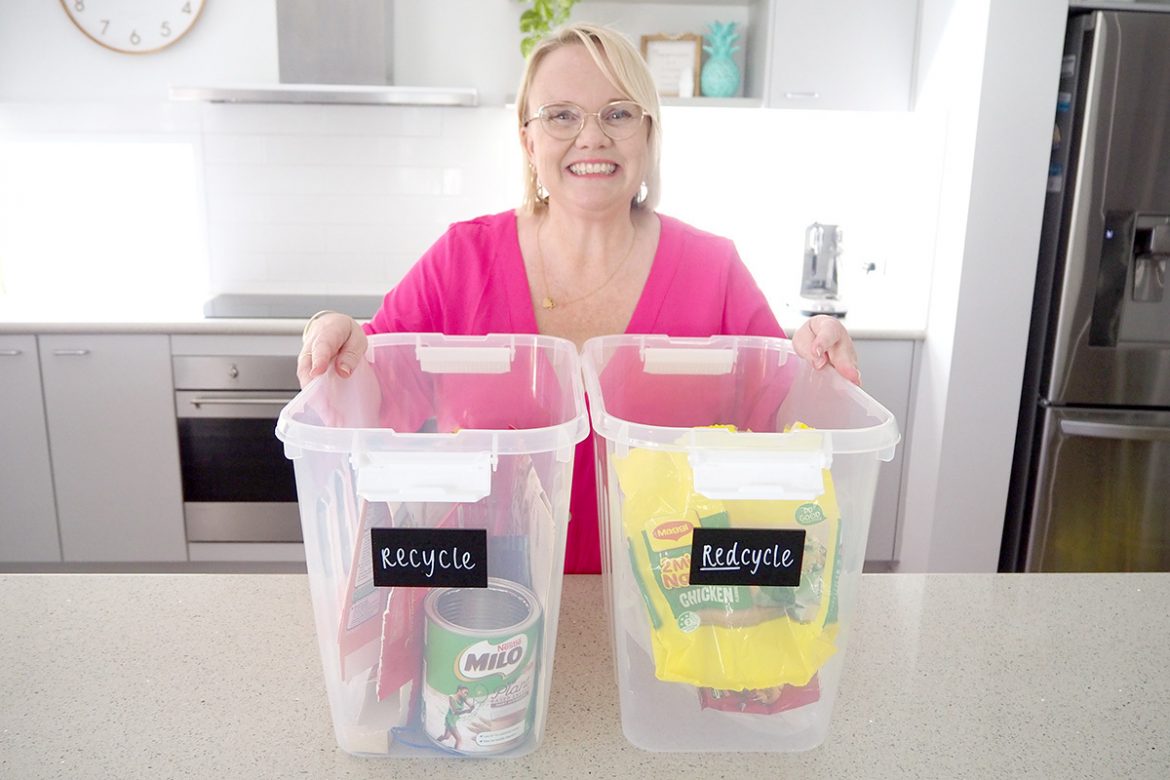 GET ORGANISED
I have set up recycling bins in particular areas of the house, making it easier for my family and me to make sure we recycle everything that can be recycled.
I have a split bin for recycling set up in the bathroom as it makes it easier for us to separate our rubbish, and helps us get into a good habit of dividing things.  I have a recycling bin in my office, which helps me keep my desk clutter-free and neat. I simply pop the paperwork or magazines that I don't need, and at the end of my to-do list, I empty it into the kerbside yellow recycling bin.I have set up recycling bins in particular areas of the house, making it easier for my family and me to make sure we recycle everything that can be recycled.
I keep my recycling organised in the pantry using clear tubs on the floor. I have one for kerbside recycling, which is collected once a fortnight and one for REDcycle, which I take to my local Coles. REDcycle items can be taken to your local Coles, Woolworths or any participating supermarkets that have REDcycle bins.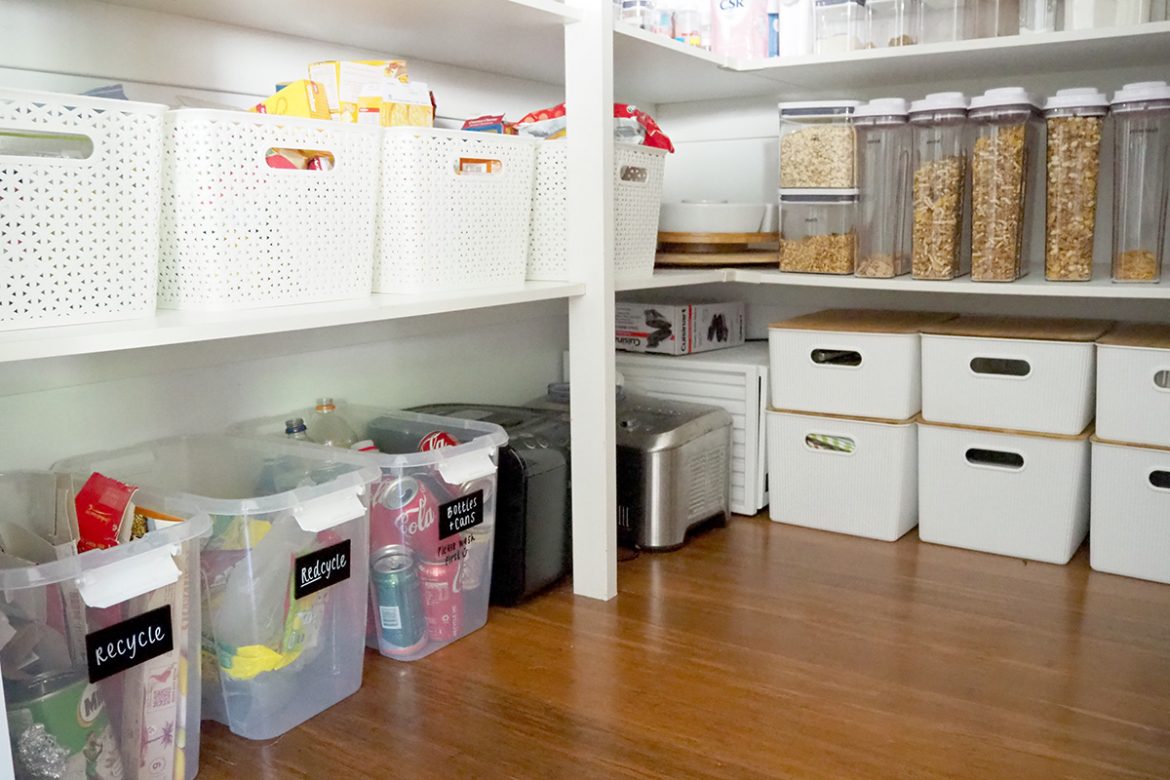 Recently, I have learned about items I didn't know you could recycle! I always knew my cereal boxes could be recycled but assumed the inside bag went into the bin – it doesn't! You can throw it into a separate recycle bin specifically for REDcycle! 
The biggest learning curve for me was about REDcycle. I never knew you could recycle soft plastic, like KitKat wrappers. By returning your soft plastics to REDcycle, they could be turned into items like benches or fences! This is saving so much going into landfill! 
My family also collect cans and bottles, and once that bin is full, my youngest daughter and I take it to our local Containers for Change refund point. There are four types of container refund points in Queensland, and it depends on how many containers you collect to see which point you need to go to. If you have young kids, this could be an incentive for them to earn pocket money (my daughter is saving for a car and keeps saying every penny helps!), or you can simply donate the containers.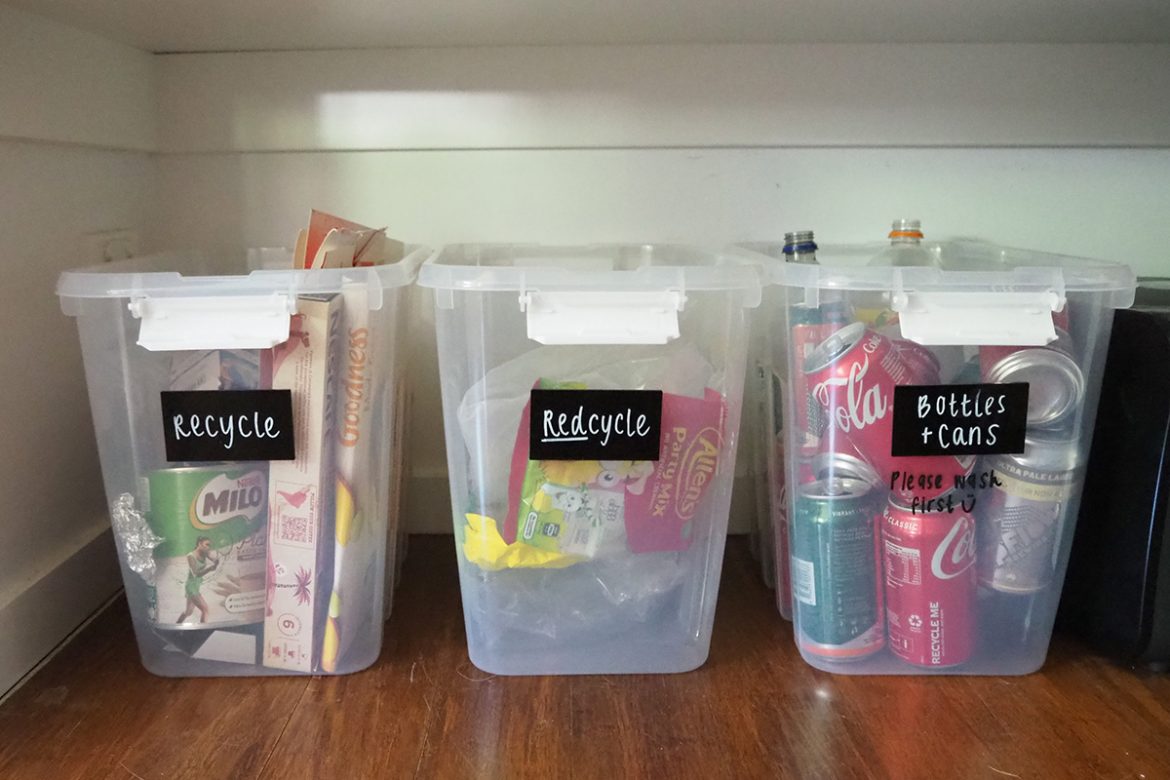 It's the little things, such as recycling that can end up making a big difference, now and for our future generations. Create a labelled recycle container system in your kitchen to collect various items to recycle or use the split bin in your bathroom.
1. Look for the Australasian Recycling Label
Check it before you chuck it! Many Australians, much like myself, had to learn about what could be recycled and what couldn't. Before I knew what packaging goes into which bin, I assumed I knew and would throw out packaging which could have been recycled. Not all packaging has clear information, but if it has the Australasian Recycling Label (ARL) it makes it so simple and straightforward. The ARL offers clear instructions on pack of the best way to dispose of your waste – including any special instructions to follow, such as scrunching, rinsing or flattening, to ensure the material is recycled properly. Look for the ARL on the back of pack of many of the products you probably buy at the supermarket, so you can recycle right.
How great is that!
Getting into the habit of looking at the ARL is an excellent way to ensure you and your family know what goes into the recycling bin and what goes into the rubbish bin.
There are three types of label classifications:
Recyclable: The solid-coloured recycling symbol means that this piece of packaging can be placed in your household recycling bin. 
Conditionally recyclable: The clear / transparent recycling symbol means it can only be recycled if the instructions below the symbol are followed. Otherwise, these items are not recyclable. 
Not recyclable: The bin symbol means that this piece of packaging is not recyclable and must be disposed of in the rubbish bin.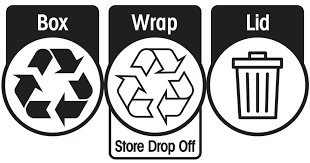 2. Loose recycling items
One of the things I notice that people do is put their recycling into a plastic bag, tie it up and then throw the bag into the recycling bin. This is a big NO NO! You need to put all of your recyclables into the recycling bin loose – and plastic bags cannot be recycled through your household recycling bin. So, despite your good intentions, these items may not get recycled. 
Tip: Collect all your soft plastics in a tub and put the tub in the car. Make sure the soft plastics you put in the tub are clean and don't have any leftover food residue. When at the supermarket, grab a trolley, put the tub from your car into the trolley, empty the soft plastics into the REDcycle bin, then use the tub after rather than a bag for your groceries. 
3. How to recycle your most used household items
Items that can be thrown into the recycling bin:
Paper: office paper, magazines, newspapers, junk mail
Cardboard: cereal boxes, egg cartons
Green, clear and brown glass bottles and jars
Juice and milk cartons, make sure you crush and replace the cap
All hard plastic bottles and containers marked, lids attached
Steel (tin) and aluminium cans, aerosol cans (deodorant) can be recycled but need to be emptied first
Items that typically cannot be recycled:     
Takeaway coffee cups
Disposable nappies
Garden waste
Polystyrene (foam)
Ceramics, ovenware or light bulb, e.g. dinnerware and ceramic mugs and cups
Broken glass
E-waste (batteries, mobile phones) – some retailers have e-waste recycling collection
Rope, clothes or anything that tangles
Paper that is covered in oil or grease
Gas cylinders / cans containing flammable gas (even if they're empty)
Some of the easy things you can do when it comes to your recyclable materials are:
Flatten all cardboard e.g. cereal boxes and egg cartons
Scrunch up all foil to at least the size of a golf ball before throwing it into the recycling bin
Rinse items of any leftover food or residue
Rinse out your Nescafé coffee pods and take them to your nearest recycling points  
Collect your soft plastics and drop them in a REDcycle bin, available at Coles and Woolworths and other participating retailers
Did you know pizza boxes can't always be recycled? 
Despite being made entirely of cardboard, if there is grease or leftover food on the box, it can't be recycled. However, if you rip off the clean parts of the box, then those can be recycled!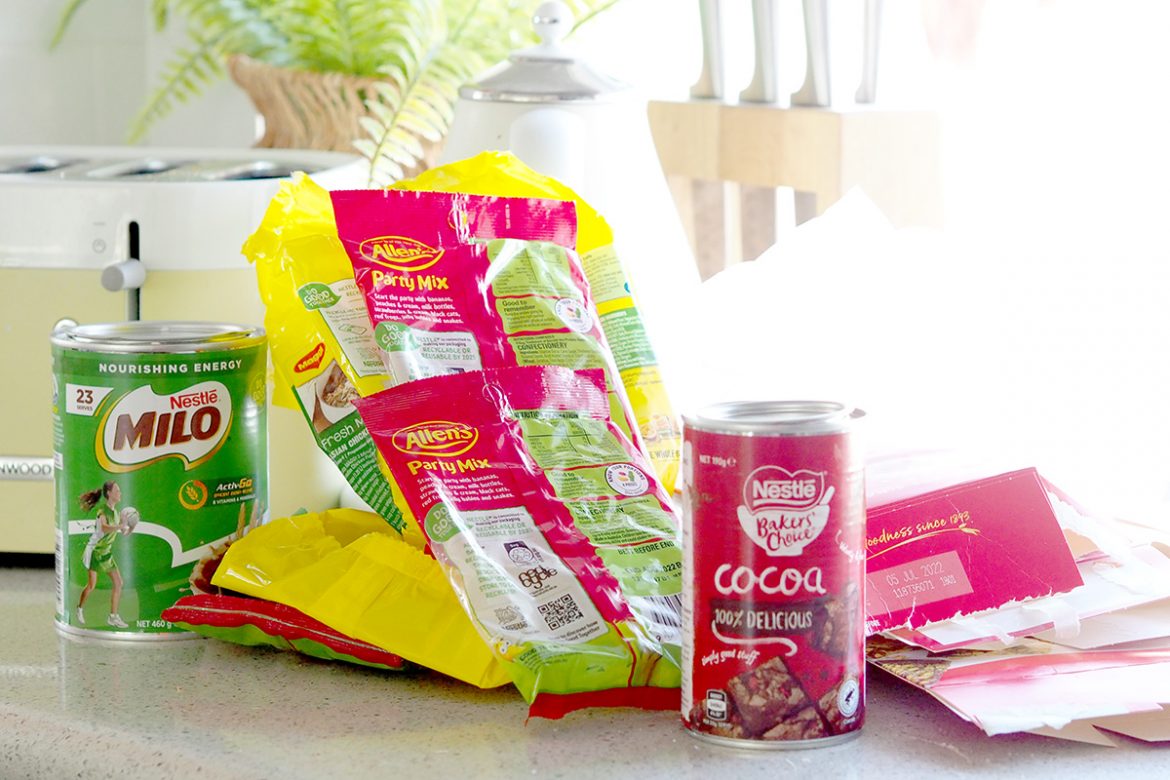 REDcycle
The REDcycle Program has made it easy for consumers to keep plastic bags and packaging out of landfill. Look for the Australasian Recycling Label which will show you if it can be recycled if it's dropped off at a REDcycle bin in store. But what do you do if there's no ARL? Visit the REDcycle website here to see what can be disposed of in a REDcycle bin and check your closest location. 
These are some of the most commonly REDcycled items:
Bread bags (without the tie)
Biscuit packets (outer wrapper only)
Pasta and rice bags
Frozen food and vegetable bags
Confectionery bags
Plastic bags
Cereal box liners
The REDcycle Program has partnered with Coles, Woolworths and other participating supermarkets all throughout Australia. Collect all your soft plastics and drop them into your nearest REDcycle collection bin. 
Visit REDcycle.net.au to find your local drop off point.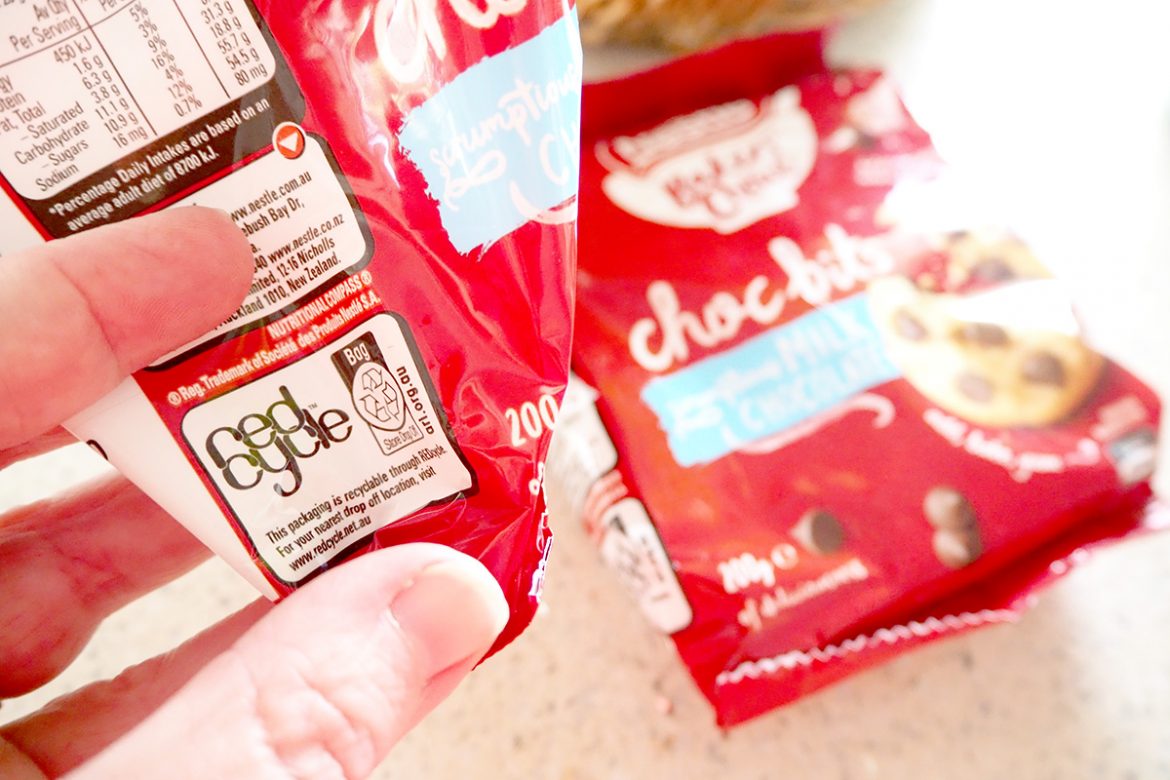 DOWNLOAD THIS FREE RECYCLING CHART
Not sure what goes where? Print out this free download and stick on the wall near your recycling area for all the family to see. Remember small changes will make a huge impact.