Thank you to reader Renee for sharing her Organised Mum thriving at home tips. With a family of 4 kids, 14 year old in high school, 5 year old in prep, 4year old in kindy, a 1 year old home full time and a busy husband read Renee has learnt that ANY housework is better than none.  I have a few things that I have learnt along the way or from other mums…its a continual learning curve. Renee shares her tips on how to be an Organised Mum:
How to be an Organised Mum
I have many days I run out of patience, it gets frustrating to say things 4-5 times and sometimes i just want to stop and sit down too! But it's rewarding (when you step back and look at your family). Time goes wayyyyy to quickly…they will not be babies /young forever.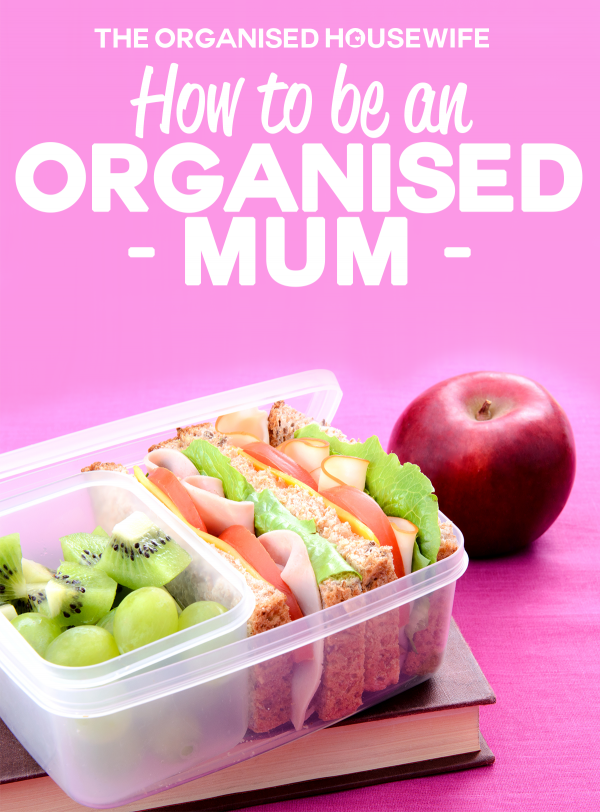 TIME MANAGEMENT
Make school lunches the night before – this helps when you didn't realise you were out of bread/fruit/ yogurt etc….gives you time to get back in the car and get them, or rethink the lunch idea…a morning without a good start makes for a long day of chasing your tail.
Freeze school lunches where possible – Pre-make sandwiches/ freeze home-made or store bought cookies/ muffins etc – that way you can just chuck them in the lunch box…or you at least know if you didn't get to make school lunches the night before – you have an emergency stash if you've run out of bread!Baby bottles can be washed in the dishwasher (they recommend from 6mths…but i did earlier, and then sterilised after 🙂 Find loads of freezable school lunch ideas here.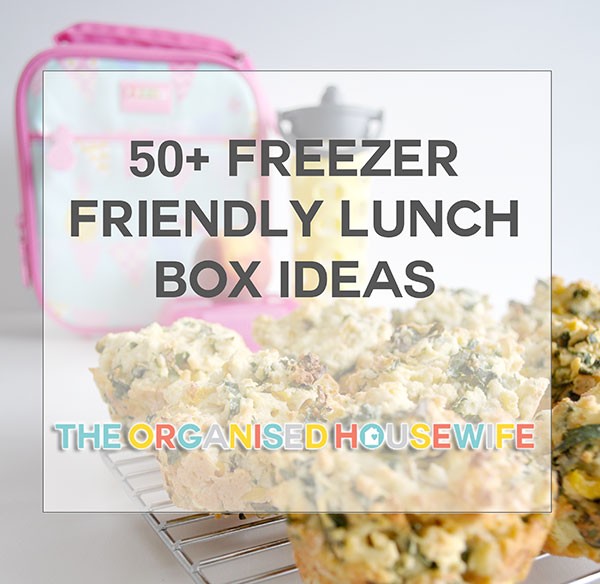 Menu plan/ and shop with a list – it takes me 20-30mins and a coffee to sit down and write out dinners for the week and write out needed grocery items.  Kat shares her families menu plans each week, check them out for some inspiration.
Create a recipe folder – I have a recipe folder with all the meals i have cooked (and majority of household likes) and then i have a folder labeled "to try" (where i have ruthlessly torn pages from magazines/ or cook books) – i only have a few select cook books that i keep – it was just getting ridiculous the amount of cookbooks i had – so I made it a mission to go through and copy/ or rip out the recipes i liked and then toss/ donate the rest. Kat has a similar system here.
Cooking bigger batches for dinner – I will cook 2 packets of tacos/spaghetti a big lasagna etc – so i have a few portions i can throw into the freezer for lunches.
Pre-chop and bag items – Something I am trying to do, (when time permits..which it rarely does!) is pre-chop and bag items for these planned dinners.. cut the rump into strips then freeze, or put the diced chicken in a bag with the marinade sauce and put in freezer until needed etc. Read more details here about pre-chopping fruit and vegetables.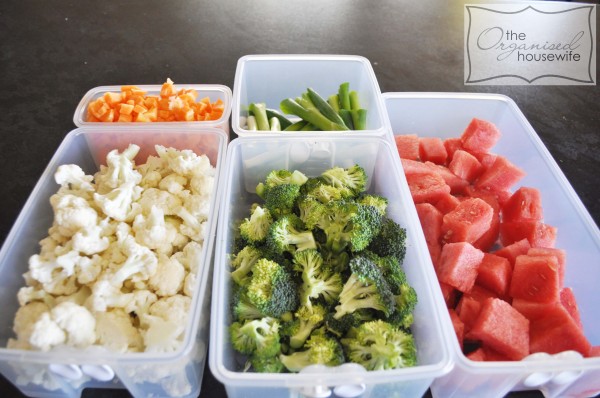 Declutter once a week – not a BIG declutter – i just fill a bag or box with broken/ unwanted things and toss/ donate or giveaway  (i really don't know how we get so much stuff in this house!)
Program EVERYTHING into my phone – into the calendar section. I set reminders for things like – community dress up day; i will set a reminder for one week prior to event, so I have time to organise costume.  Or school photos; to bring the payment /order envelope with me on the day etc…usually I read the school newsletter and put in dates as I read/as needed – otherwise I KNOW I will forget these things.
Homework caddy – My recent addition is a "homework caddy" a little storage tool box style box with pencils/ glue/ crayons/ sharpeners and the all-important sticky tape that 4-5yr olds think will fix everything! amazingly (to date) everything gets put back in the box and the caddy goes back in the office until needed again. You can find some clever ideas on homework nooks here and here.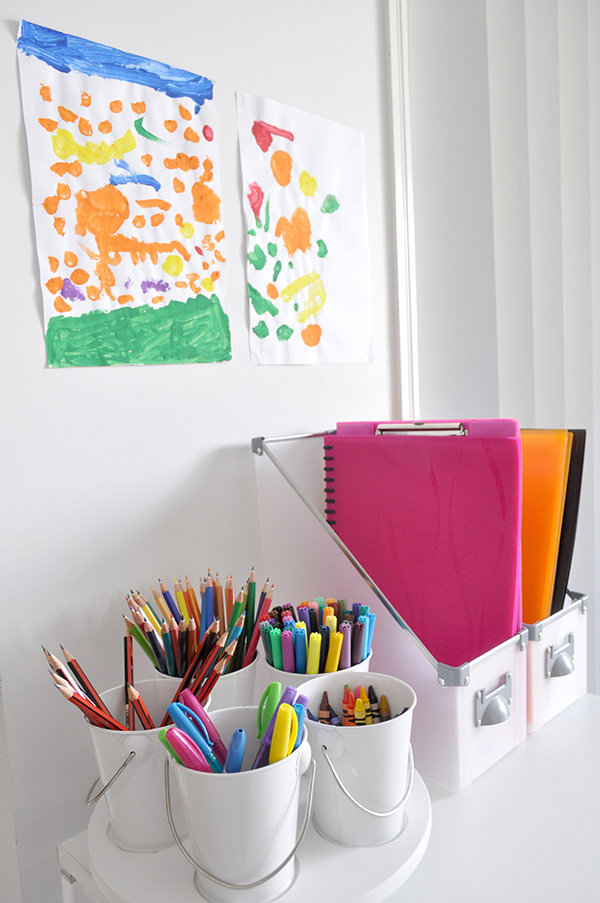 Room Cleaning Race – The 4 and 5 year old play a race against each other to clean their rooms every 3rd/4th night…and mummy and daddy will help (sort the clothes only!) but it seems to be fun to them…who knew!? 
NO screen time before school – unless dressed (inc shoes/socks), bag is packed – with lunchbox, drink bottle, library bag, home readers, sight word lists etc… only then will the tv be turned on or iPad can be played.
WASHING
Kids can wear clothes more than once – eg school uniforms…  try to limit the washing!
When you ask the kids to clean their rooms – for the clothes that have been thrown on the floor/ or crammed into the cupboard, tell them to put it all onto the bed – this way you can go through to see if clean/dirty or unworn…otherwise expect it all in the wash basket.
I recently read about colour coding towels –  (3 towels of a set colour to each family member) – this is my next project i want to do – when $ permits.
MY SANITY
When kids get cranky – when my little girl gets cranky, I find a change of environment helps her (& me!). I take our lunch outside and let her crawl/toddle around.
When my boys were 2/3yrs – and i needed a break, I'd fill a muffin tin with shaving cream a few drops of food colouring in each compartment to make different colours – give them each a paint brush and sit them in the bath tub to paint the tub (no water) – it washes away – and they LOVED it!
Organised school storage system – I have to thank Kat for this idea, one of my systems i have implemented – and that is the school storage system from stuff masters (on your recommendation); the boys know that as soon as they get in from school – they must;
put lunch box and drink bottle on kitchen table

put school bag away

get out of uniform (i am working on the hanging up bit/ or wash basket…we'll get there)

But its a great place for hats/ sports uniforms/ library bags/ ties etc to be located in one spot!
 What is your best tip to stay organised with kids?