This post is sponsored by Nissan Pathfinder
I have been given a 7-seat Nissan Pathfinder to test drive for a month and share some of it's great features with you.  Rather than an ordinary car review I thought I'd share a variety of fun posts over the next few weeks such as organising the car, how to tame the kids in the car, and the day in the life of a busy mum (this one will be fun!!), whilst showing you the cars features.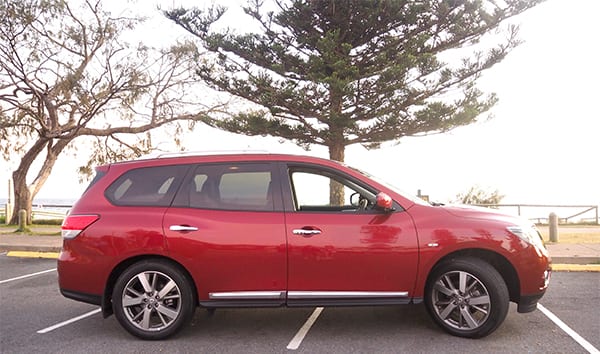 Tips & Ideas to keep your car organised
Like the house I keep the car organised, as I spend just under an hour round trip now taking the kids to school and most weekends we always venture out, so I like to make sure I have all my essentials in the car just in case I need it. The Nissan Pathfinder has some great little areas to help keep the car organised, but just in case your car doesn't have these I've included a few products that will help you to create something similar.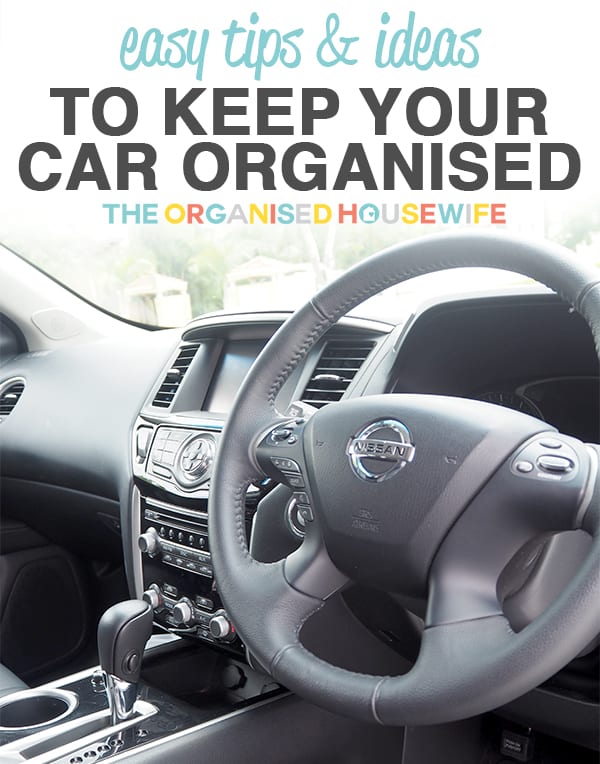 The centre console
I use the centre console for items that I use regularly. I don't carry an umbrella in my handbag, instead I keep it in the car, in the centre console so I can reach when it's raining or looks like it will soon.  While sitting at traffic lights I like to file my nails and have mints in the car for those moments when the kids realise they forgot to brush their teeth before pulling into the school driveway.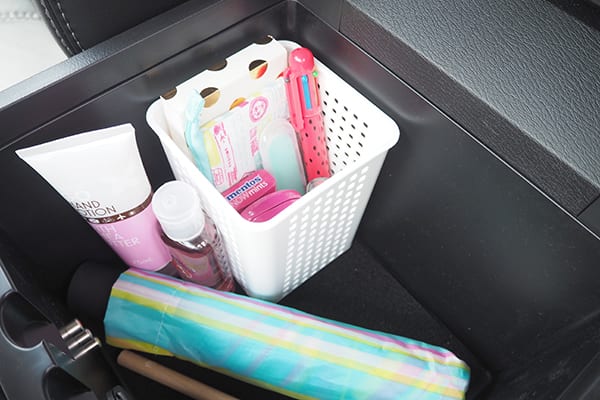 In the console I keep:
nail file
hand moisturiser
notepad and pen
mints
hand sanitiser
chapstick
lipstick
loose change
umbrella
Phone charging cable
I store items in a plastic cutlery holder which I found at Coles.  Keeps the contents of the console tidy and easy to find.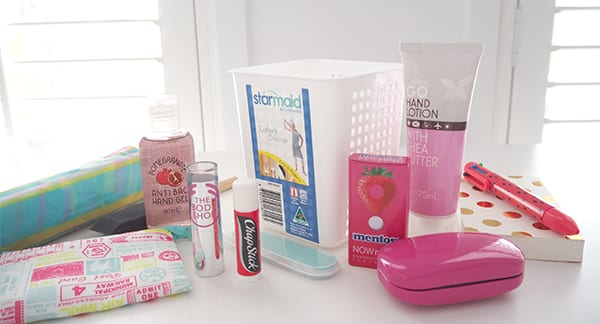 Many times I venture out and realise my phone battery is low, the Pathfinder has a USB port tidily tucked away in the centre console to charge the phone so it's handy to keep a phone charging cable in the car. I find cables can make areas untidy, so when not in use I store it away, this little case is very handy.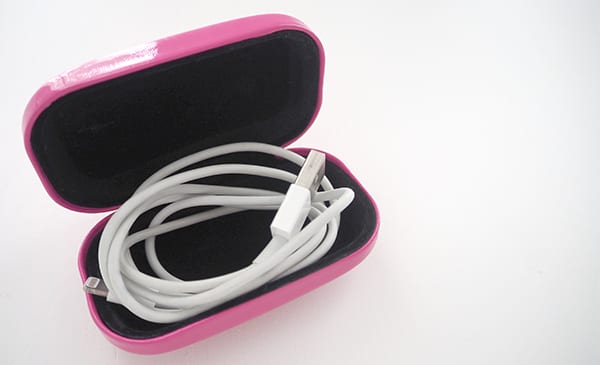 I always hide my loose change, I don't like to put it out in view… trying to prevent a break in.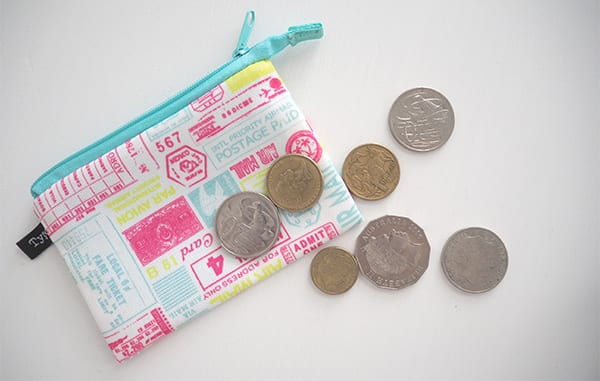 The centre console in the Nissan Pathfinder is a little clever, it has a hidden shelf.  You can open the lid of the console to either the top shelf, or you can lock the top shelf into the lid so you can access the deeper lower compartment. The top shelf stores the remote for the cars media system, and you could also keep those smaller items like lipsticks, cables etc.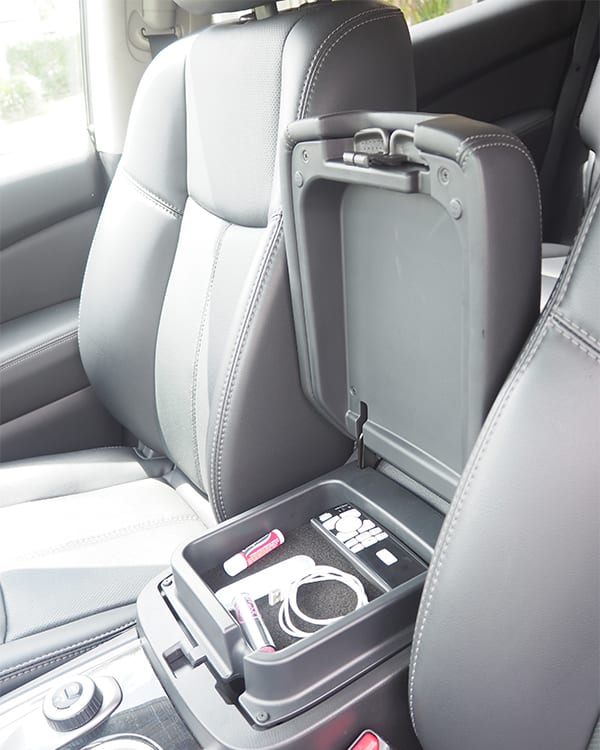 The glove box
I carry a full first aid kit and keep this in the glove box (you'll see further down, I keep extra supplies in the back of the car). We found the glove box is a great place to keep the headphones that belong to the Tri-zone entertainment system in our Pathfinder when not in use. This glove box is very large, I was pleasantly surprised it could fit so much in it.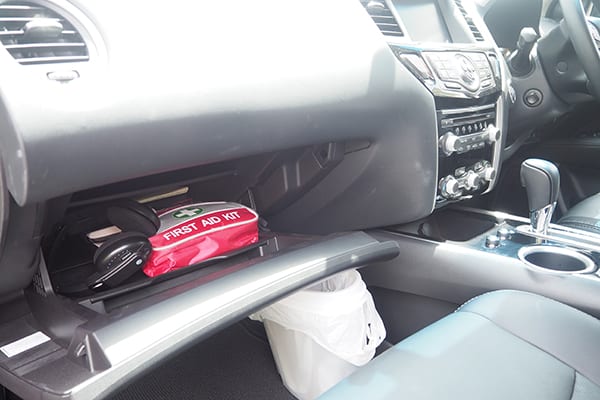 The items you need to quickly reach
I have one child that gets car sick very easily. More so when he was younger I needed to have a sick bag in quick and easy reach to hand to him. The Nissan Pathfinder has a little compartment by the legs on both front seats, the perfect place for the sick bag and a hat which I have on hand for when I go for my walks around the lake.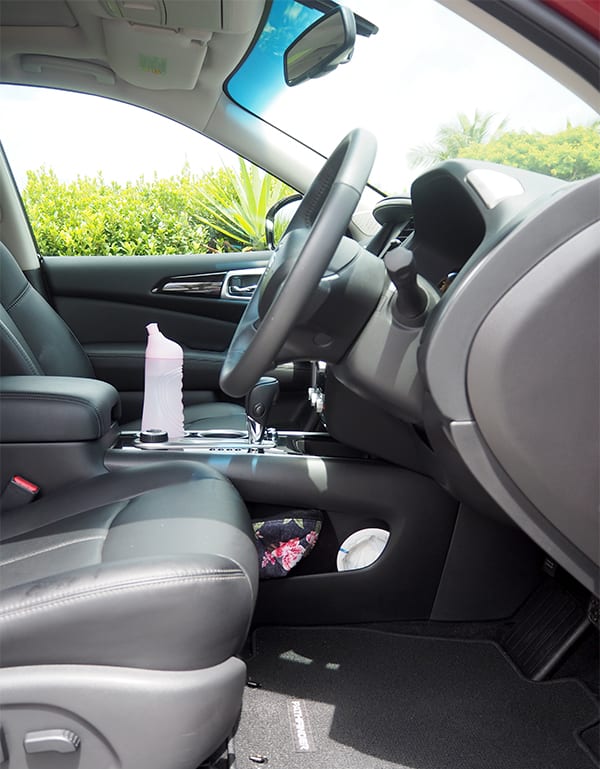 Water
I'm trying to drink more water and I'm attempting (when I remember) to take it everywhere with me, I find if I have it at arms length I will drink it.  I really like how big the drink holders in the car are, I've found it hard in the past to get this drink bottle (pictured above) to fit.
The Rubbish
I found this idea on pinterest long ago, using a cereal container to store your rubbish… genius.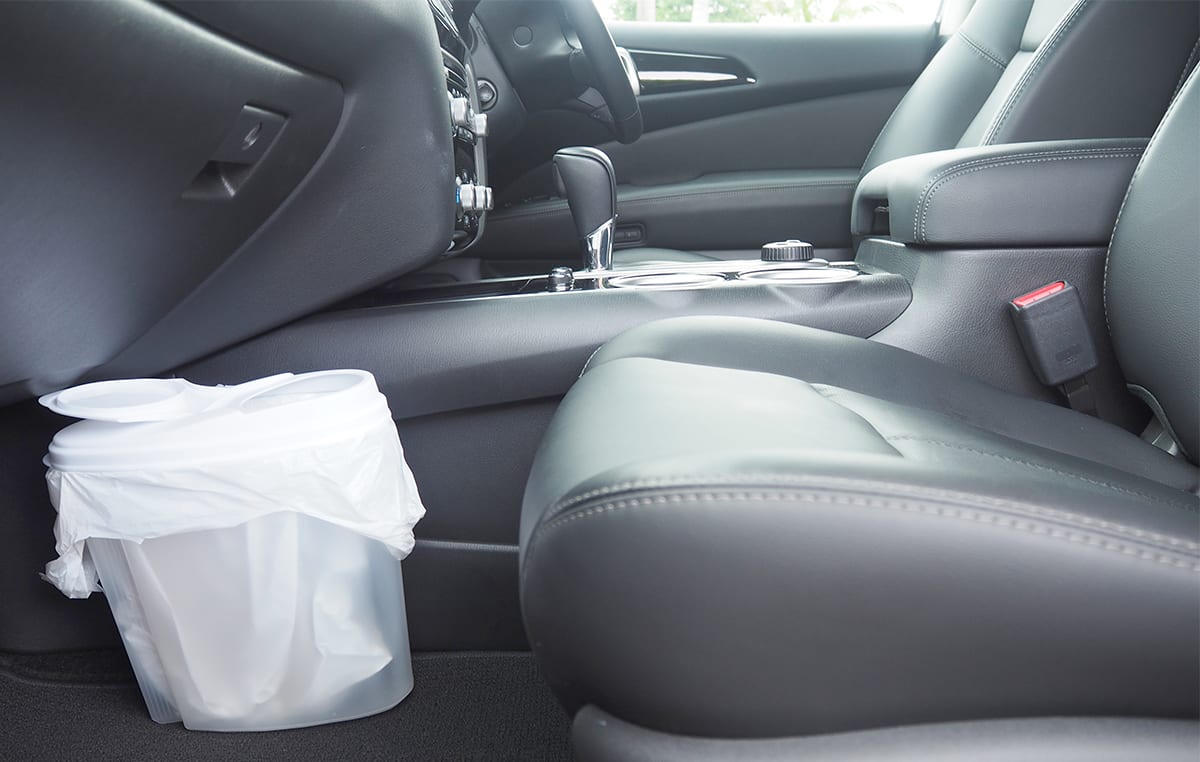 Except having the container sitting on the floor it rolled around.  I placed a 3M command strip on the right side of the passenger area and onto the cereal container ($5 from Kmart) to keep it from flying around.  And it's also at arms length for me to put the rubbish away.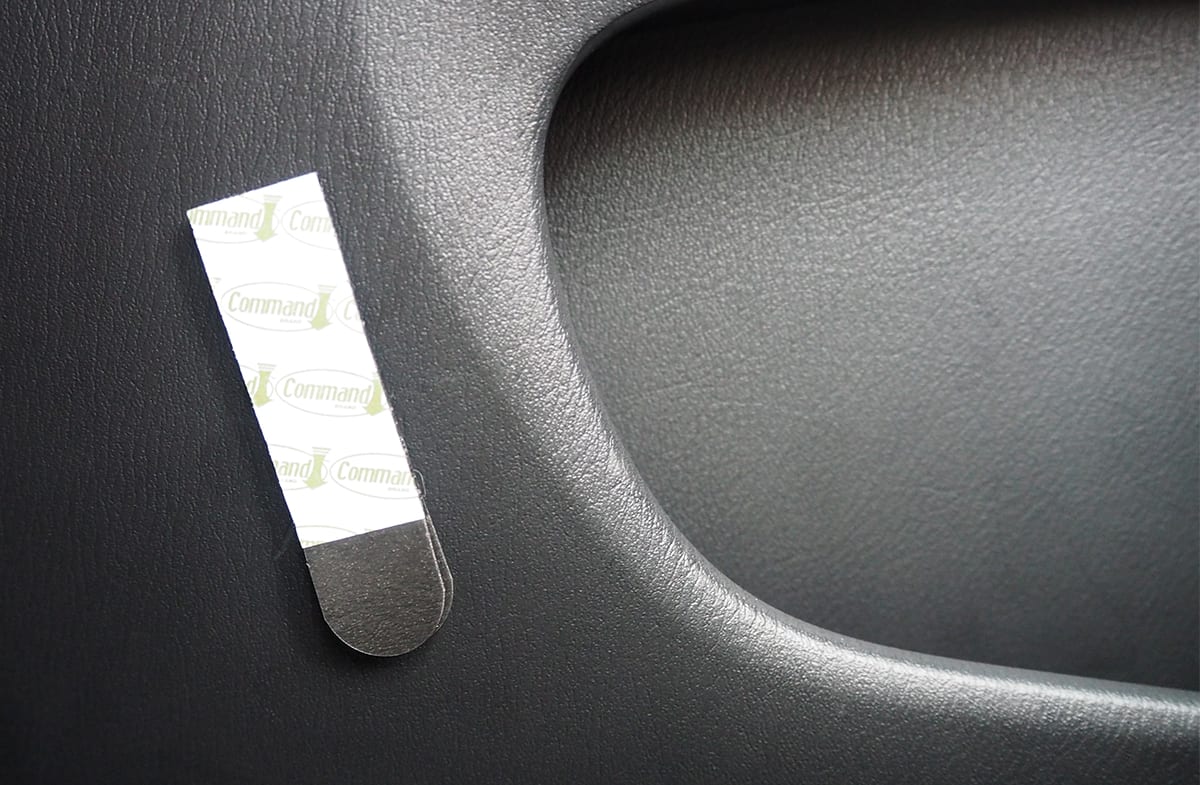 Behind the car seats
If you have a car with ample leg room you can utilise the back of the car seat with an organiser. The Pathfinder has 7 adult size seats so there's plenty of room for everyone to keep their gear close by. Great for toddlers to store baby wipes, toys, books, drink bottle, or DVD's to watch on the Tri-Zone entertainment system in the Pathfinder.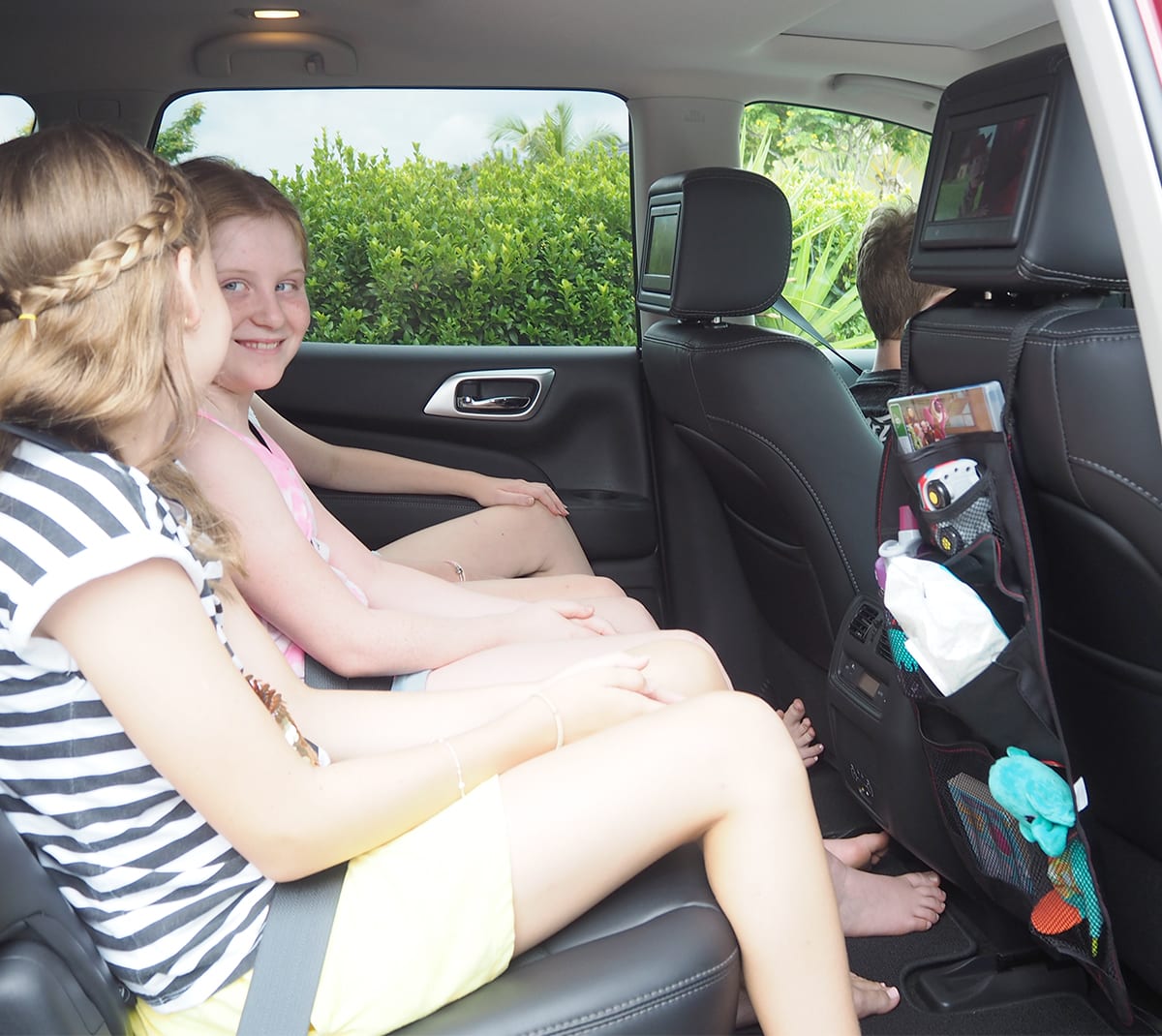 A car kit
I like to pack a bag when we go to the park, or to sporting events on weekends, however sometimes we forget to pack something, which is where my car kit comes in handy as my 'backup'. I keep it in the back of the car, in a basket rather than a plastic tub as I find it doesn't move around the back as much.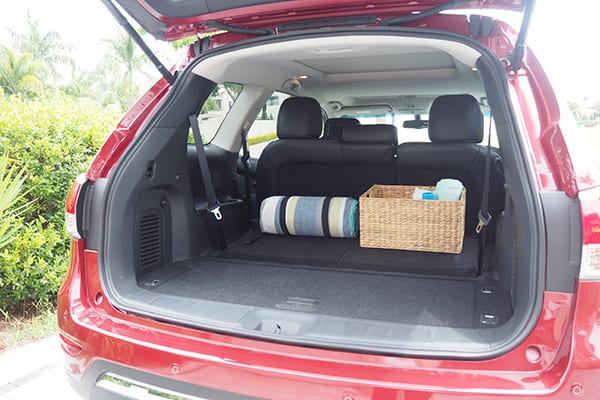 In the car kit I keep:
baby wipes
hair brush
panadol
travel calm
cotton pads
throat lozenges
bandaids
antiseptic spray for cuts and scratches
cotton pads for cleaning cuts and scratches
insect repellant
insect bite relief cream
sunscreen
towel/little blanket (keep warm or to sit on)
plastic bag
spare set of clothes
picnic blanket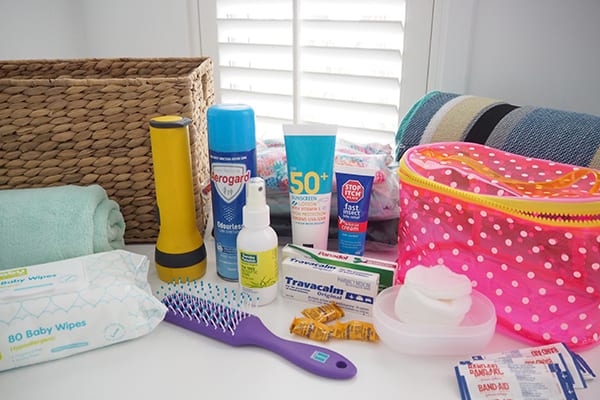 I keep all the creams and medications in a makeup bag (from kmart). The cotton pads and bandaids are stored in a soap container.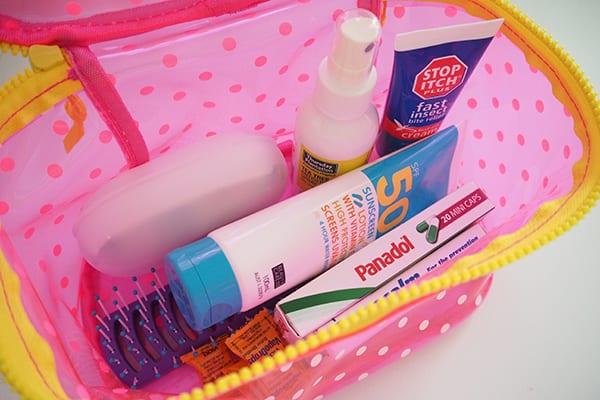 When the kids were younger (past the nappy bag stage) I liked having a spare set of clothes in the car in case of accidents, or if they got really dirty while out.  Now they are older I still like to keep a change of clothes in the car for those unexpected sleepover requests.  When we are out with friends I always get asked can they stay at their friends house.  It is preferable to have a full sleepover bag with toiletries, but if it's unplanned at least they have a change of clothes and fresh underwear.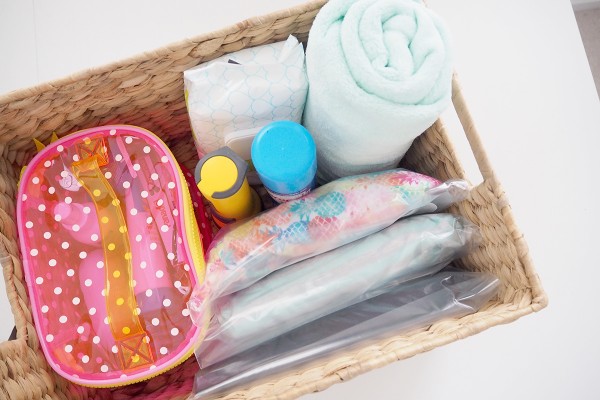 or if having a basket in the back doesn't suit you, try a car cargo pack. This one is from Howard's Storage World, but unfortunately, they don't sell it any more.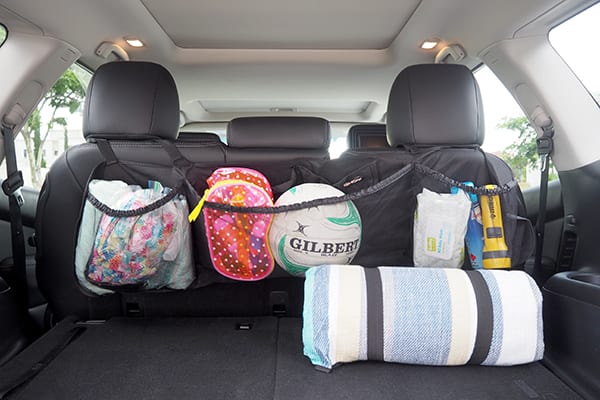 The grocery shopping
With such large boots items can tend to roll around, like the groceries. I find the groceries stay still with a big shop, but it's the little shops when I find apples rolling around the back, this collapsible boot organiser will help stop that.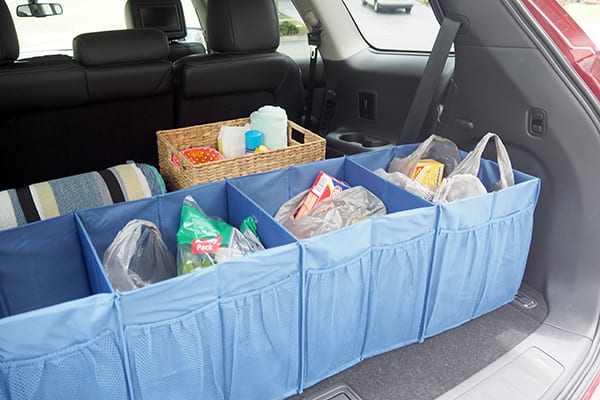 Then when you're not using it, fold and store away. Although, the Nissan Pathfinder has under floor storage behind the 3rd row of seats that is deep enough to store some groceries, a ball and other bits and bobs.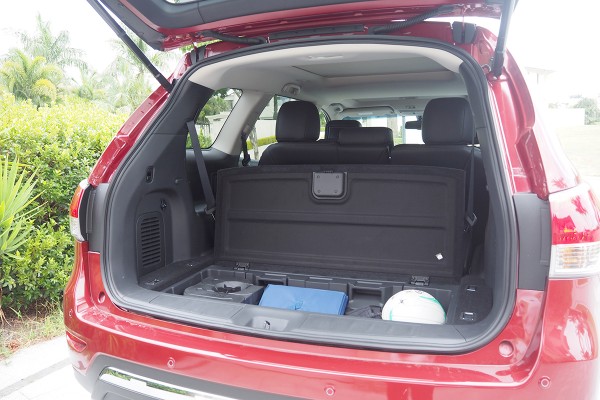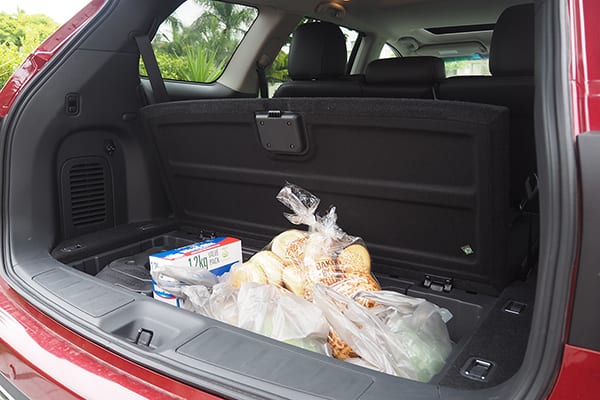 Quick cleaning tips
I give the car a vacuum with my little handheld, picking up all the dirty from the floor and seats.  I wipe over the seats and dashboard with my homemade antibacterial wipes, to pick up all the dust. Speaking of dust the vents tend to get dusty, I use an old foam paint brush which is gentle enough to get into the vents and clean them.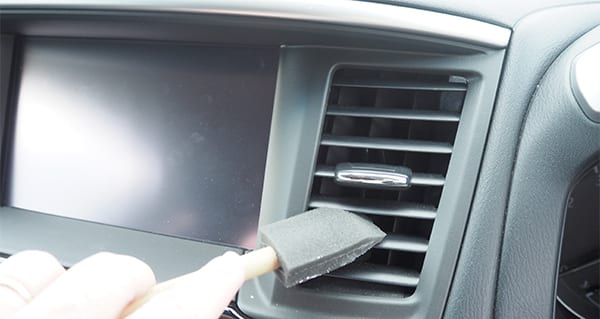 The smell
Don't know about you, but after a long hot day at school I can certainly smell the kiddo's.  I'm not a fan of car air freshener, instead, I put a tube of fabric softener under the front passenger seat, far enough in that you can't see it (unlike the photo) to prevent kids from stepping on it.  It gives the car a nice smell.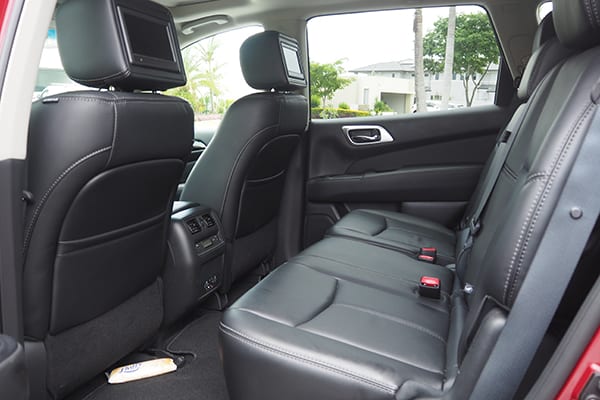 Hope these tips help you to organise your car! If you're looking for a new family SUV be sure to test drive the 7 seat Nissan Pathfinder or click here to find out more about Nissan's extensive range of family SUVs.
What part of your car do you find hard to keep clean or organised?
This post was coordinated by The Remarkables Group and run in accordance with my disclosure policy.