Cleaning your home, and keeping your home cleaned is always a challenge. But what if I could tell you that it is achievable and not as hard as you think, by just following some helpful tips from me and my online community? Read on and get some tips below from The Organised Housewife and some very organised community members.
As you know I love hearing from you and also sharing your tips with The Organised Housewife community. I asked on Facebook recently for some of the community's tips on how to keep your home tidy without spending all day cleaning, as we all know this can be a constant struggle with or without children. There is always dirty laundry, dust, clutter to deal with, no matter how on top of things you are. Below are a few strategies some readers shared on how they keep their homes tidy. Please let me know some of your tips in the comments below!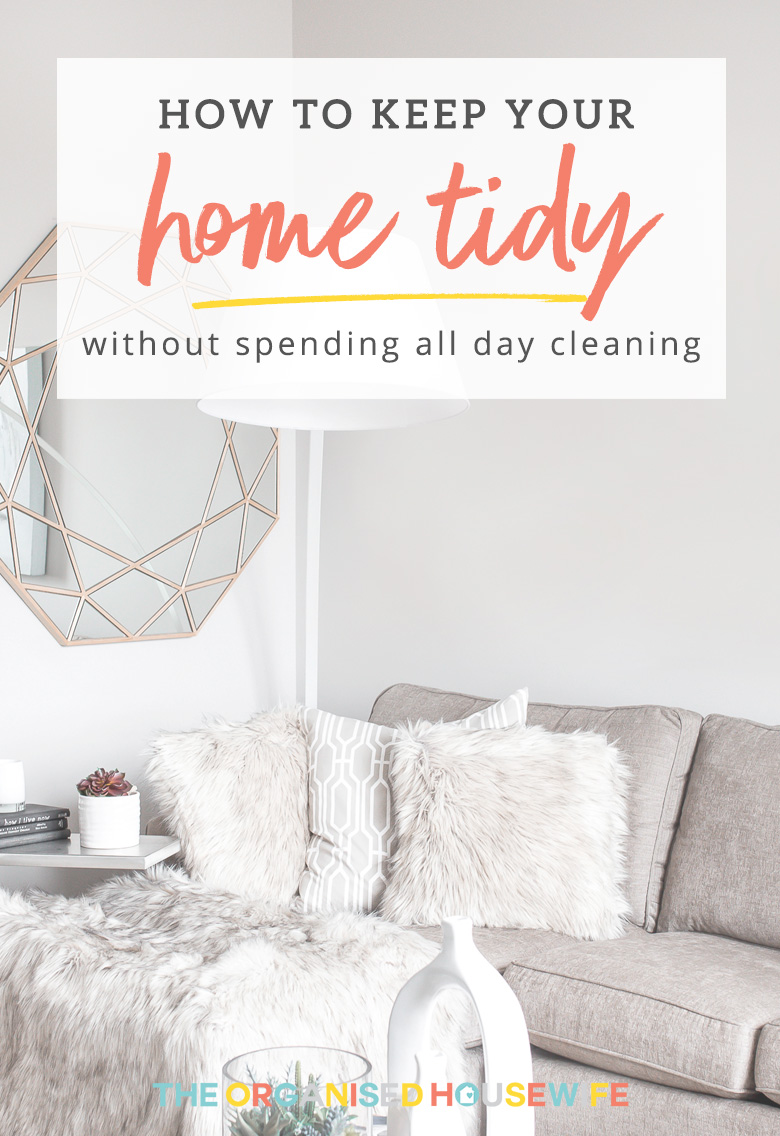 Helpful Tips from my Online Community
When I walk through the house, I pick up things which belong in the direction I am walking and I deposit them there. It's a pain-free way of decluttering or tidying up, that hardly takes any extra time – Kateryna
No matter how tired I am, after I have gotten hubby and the kids to bed, I will tidy a room – Marie
Keep bathroom countertops clear of clutter so at night it's easy to wipe over the bench and sink – Tania

Each night I will do the dishes, wipe the countertops down, tidy up the living and dining room and give the floors a quick sweep. Well, I say quick, but the whole process can take anything from 1 to 3 hours, depending on the day we've had.

It might seem an impossible task for an overworked, exhausted mother, but I honestly sleep better not having to lie in bed worrying about the mess I would have to rush to clean tomorrow morning.

The best part, is in the morning, when I come downstairs and walk into a clean area, it just lifts my mood, like I can face anything today –

Marike
Rehang items that can be re-worn as soon as you take them off, rather than laying them on the floor or bed – Julia
I know Kat mentions this all the time, and at first, I didn't think that such a simple thing would make a difference, but it truly works. I make my bed after my morning shower and it instantly makes the room look tidy and me a little bit chirpier – Sal
Making sure I have put on a load of washing every night has helped me to keep on top of the never-ending mountain of dirty clothes. – Louise
This is another one of Kat's tips that has truly changed my mornings. I empty my dishwasher and pack the breakfast dishes back into it when I am waiting for my kettle to boil for my morning cuppa. – Justine
Clean as you cook – Maddy
---
Struggling to find the motivation to clean your house? Don't know where to start? Feeling lost? Overwhelmed? Disheartened?
I can help! With my Seriously Simple STEP-BY-STEP 20-DAY ACTION PLAN for an Incredibly Clean & Organised Home – Even if you dislike Cleaning, Cooking and Chores!
Do you have way too much on your plate to spend all your day scrubbing floors, picking up toys, sorting the kid's rooms, cleaning the bathroom?
Do you want to make memories with your kids and you don't want those memories to be of you yelling at them all the time?
Do you want to wake up feeling excited, happy and energized and not like a combo of Eeyore and something the cat dragged in on a wet winter's evening?
Do you want to have guests over, book club meetings and enjoy gardening without spending the best part of a whole week prepping and planning for them?
Do you really, truly, deeply want your home to be a haven, a joy to live in?
But then… there are only so many hours in the day and there's only so much you can do. I'll show you how you can give your home the makeover that you've been dreaming of without having to take out a second mortgage on prohibitively expensive cleaning products, or spend every waking minute wiping, mopping, sweeping, scrubbing, only to do it all over again the next day. Join the e-course today.


What is your top tip to keep your home tidy?