This post is sponsored by Fire and Rescue NSW
I enjoy getting cosy during winter.  You'll find me walking around my home in bed socks or slippers and snuggled up on the couch with a blanket watching Netflix!!  Winter in Australia brings a range of safety hazards resulting from severe storms, heavy rainfall, super cold temperatures in some states and potential for fires. But before taking up permanent residence and hibernating on the couch with a serving of my cinnamon scrolls (yes, you need to experience these this winter!) it's essential to ensure I get the home ready for comfort, health and safety by preparing with a few of these simple tips.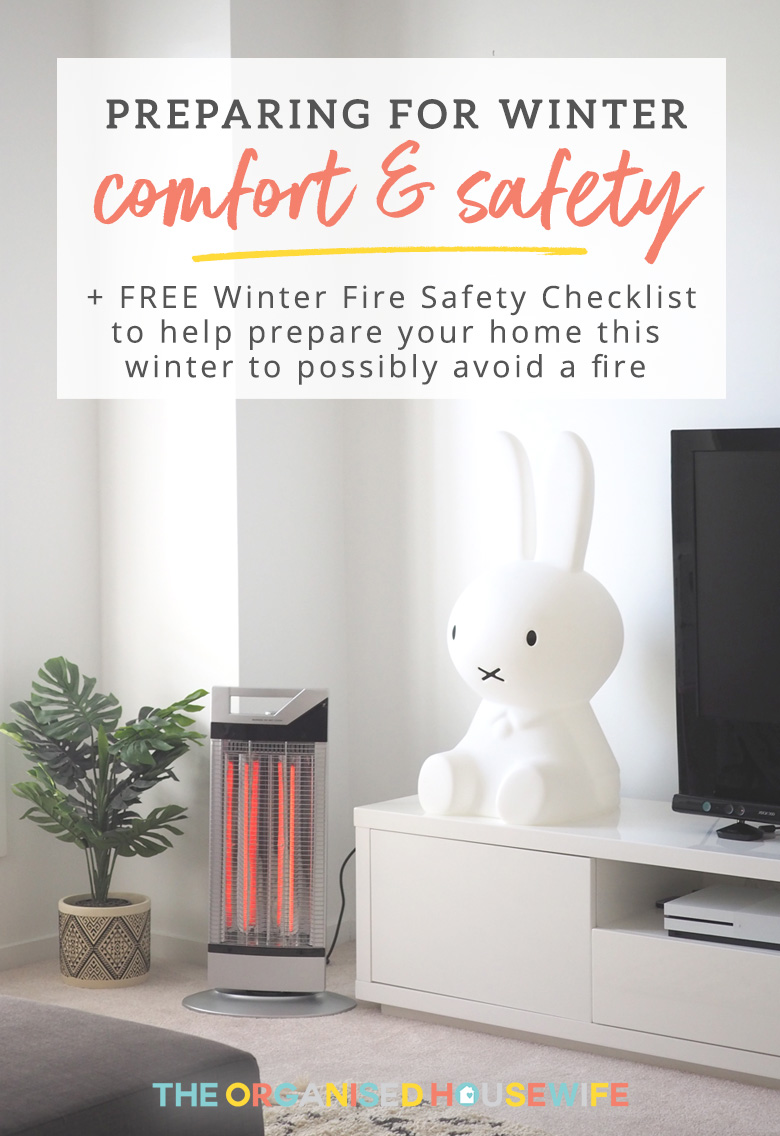 With the cooler months now upon us, Fire and Rescue NSW (FRNSW) is urging residents to take every precaution to avoid a fire in the home. Alarmingly, each year, FRNSW attends approximately 4,500 residential fires in NSW with approximately 30% of them occurring in winter months.
Initially, when you hear FRNSW you may think it only fights fires. Although fire is at the core of what FRNSW does, its firefighters assist in so much more, and are prepared for anything, to help anyone, anywhere and anytime. Its highly trained professionals are spread across an ever-increasing range of emergencies such as:
Delivering education and training and undertaking prevention work at a local, state, national and international level to build resilient communities – reducing both the likelihood and impact of emergencies
All manner of rescues, including Urban Search and Rescue deployments both within Australia and overseas
Hazardous materials incidents
Counter-terrorism supporting Police
Assisting other agencies with emergency medical responses and severe weather-related events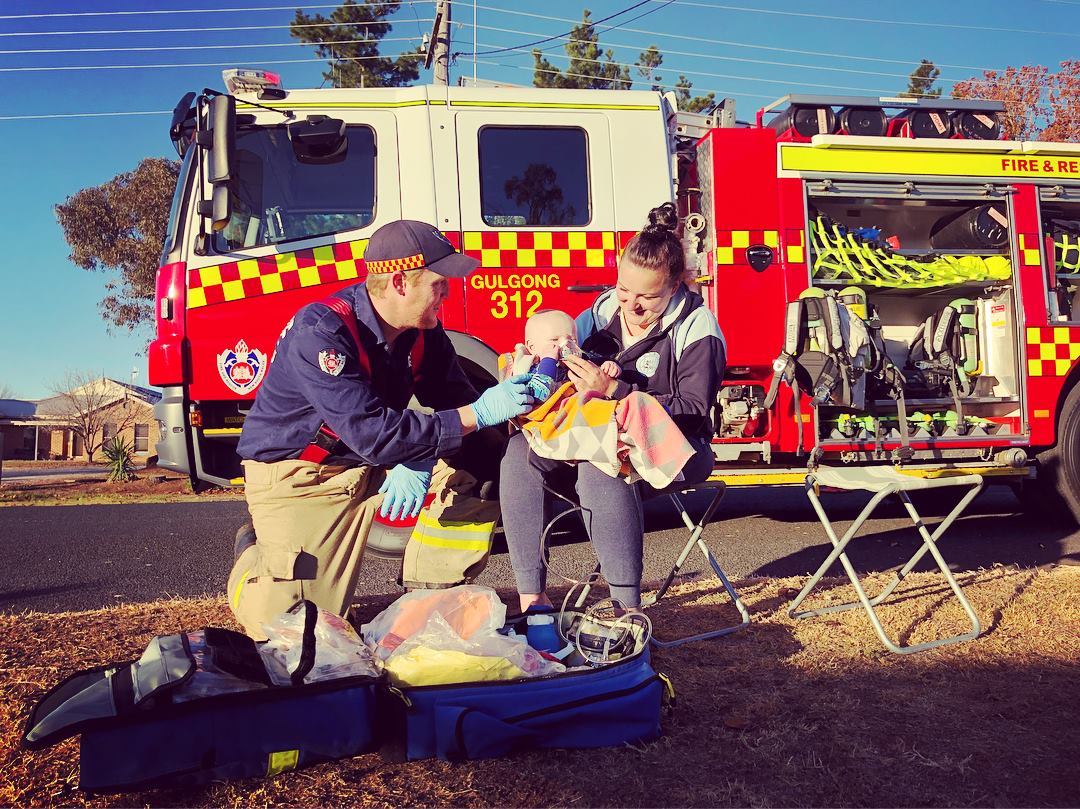 image from Fire and Rescue NSW Station 312 Gulgong facebook page. 
WINTER FIRE SAFETY
You may not realise either, as I always presumed it was during the warmer months, but winter is the peak time of year for home fires. This is due to the higher usage rates for appliances, electric blankets, heaters and other electrical equipment used frequently throughout the cooler season.  It's scary how fast fires can destroy homes and lives. Fires can also take hold within three minutes – the same time it would take you to make a cup of coffee! With these few simple rules, you're on your way to having a safe, fire-free winter:
Smoke alarms– Most importantly, remember that only working smoke alarms save lives. Ensure you have working smoke alarms installed throughout your home and test them regularly;
Heaters– When using home heaters, remember to keep everything in the house a metre from the heater, including clothing, curtains, tablecloths and bedding;
Powerboards– Do not overload powerboards – if they're working too hard they can overheat and catch alight, with potentially tragic consequences;
Candles– Keep candles away from curtains and other flammable materials, and don't let them keep burning after you've gone to bed or left the home;
Lighters– Store matches or lighters in a secure place not accessible by young children;
Fireplace– If you have a fireplace in your home, make sure the chimney is clean, and is properly ventilated. Additionally, place a screen in front of it when in use to prevent embers and sparks from escaping and injuring someone or causing a nearby flammable object to catch fire;
Electric blankets – Check electric blankets for damage or frayed cords before placing on the bed, and never go to bed or leave home with your electric blanket on – always switch it off first;
Clothes dryer– Clean the lint filter from your clothes dryer each and every time you use it;
Outdoor equipment– Do not use outdoor heating and cooking equipment inside your home. The use of this type of equipment indoors could lead to the build-up of carbon monoxide which could be fatal;
Cooking– Never ever leave cooking unattended and always remember to Keep Looking When Cooking;
Fire extinguisher– If possible, keep a fire extinguisher and fire blanket handy in the kitchen;
Safe ways– Make sure you and all your family members know two safe ways out of every room in your home;
Escape plan– You should also have a written home escape plan in case of fire and practice it regularly; and
Phone– In case of an emergency; Get out, Stay Out and Call Triple Zero (000)
  For more information, visit fire.nsw.gov.au.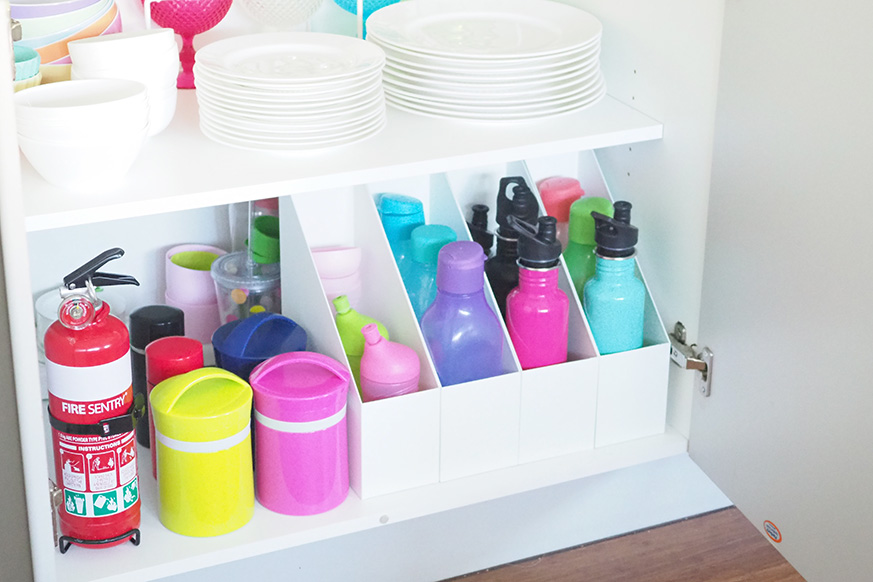 Prevention is always better than remedy so I created this FREE Winter Fire Safety Checklist for you to print and go around the house to help prepare your home this winter to possibly avoid a fire.  Please remember no matter how basic some of these tips may seem, they could save your lives and home!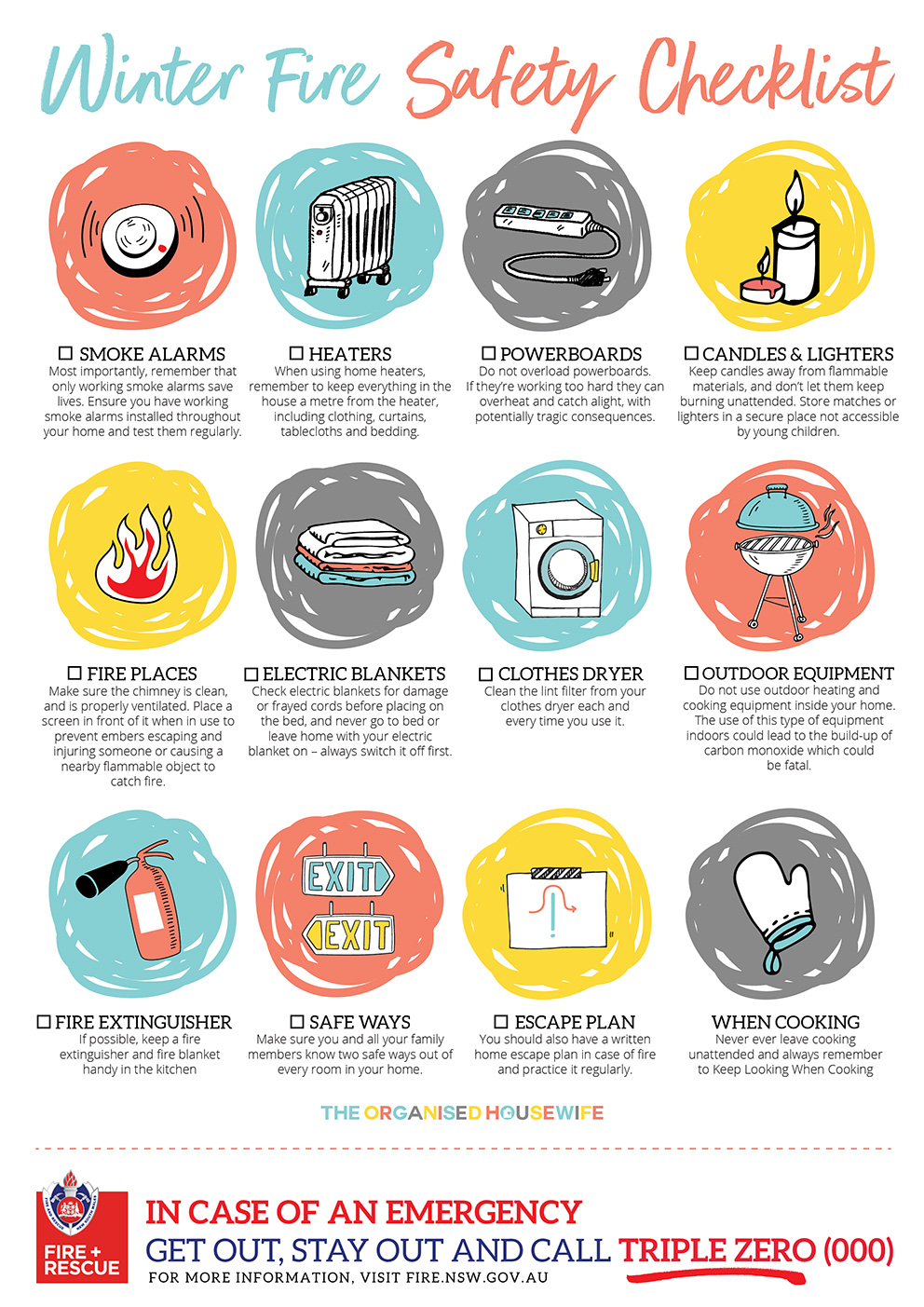 [activecampaign form=47]
WINTER MEALS
Winter is usually the time when comfort food starts to appear on our meal plan, as it's the season for slow cookers, casseroles, bakes and pies. All these meals freeze well, so I usually make extras to fill my freezer to have on hand for the nights I don't want to cook.
  Needing some winter meal inspiration?  I've put some of my favourites into my Winter Dinner Ideas eBook.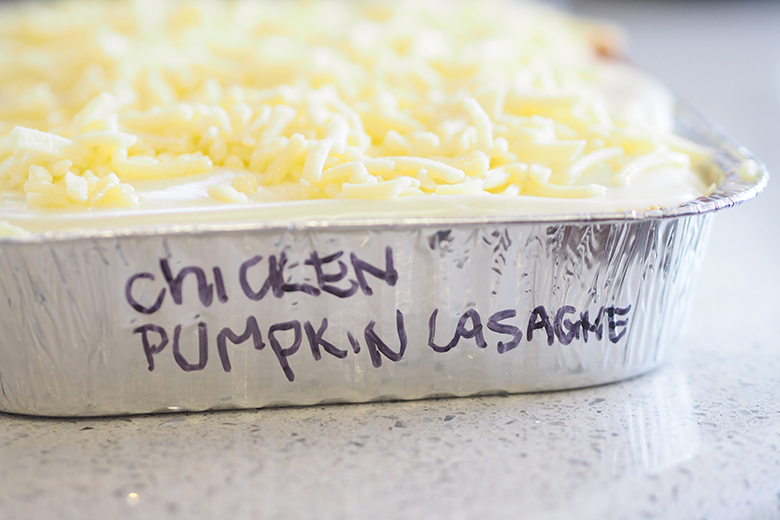 TOSS OUTDATED MEDICINES
Look through your medicine cupboard and see if there are any medications that are past expiry and need to be discarded or replaced so you have it on hand when you need it.  Most medications have an expiry date on the packaging or the printed label.  According to nps.org.au "Most medicines deteriorate with time, which can lead to changes in their chemical composition. These changes can result in the medicines becoming less effective or, in some cases, potentially harmful if they are used after their expiry date."
 Do not flush old medication down the drain or toilet as this can harm fish and wildlife. It is recommended that you take them back to your local pharmacy where they will safely dispose of them.
GET OUT THE WINTER WOOLIES
There isn't enough room in our wardrobes for all clothes so I keep out of season clothes at the top of all our wardrobes and swap them around between the colder and warmer months.  At the same time, I also sort through the clothes and purge any clothes that we no wear or fit into. This is also a good chance to see what clothes we do have so I don't impulse buy and purchase something we really don't need.
 Because I know you'll ask!!  These boots are available online here, I love these boots for foot support as I'm currently dealing with plantar fasciitis in one foot and shopping always ends up painful but these shoes help ease the pain. I purchased the jumper in a recent sale from Witchery and the jeans are from Just Jeans.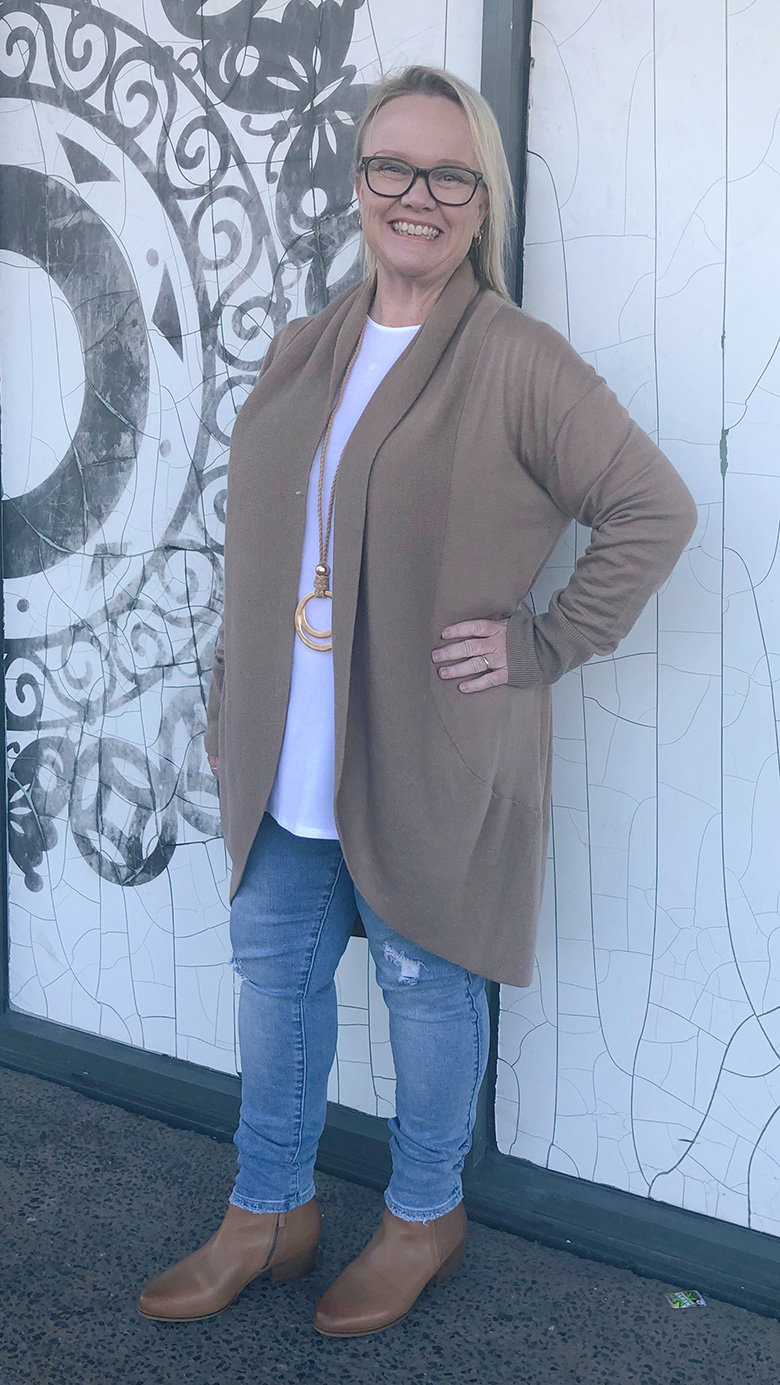 STOCK UP ON ESSENTIAL OILS
To help protect against seasonal threats and support healthy immune function. I like this essential oil to help create feelings of clear, easy breathing. I have been diffusing this frequently over the past few weeks as my kids have had the sniffles and this helps to clear their nose so they can sleep comfortably at night.
 LEARN MORE: about using essential oils.
ADD LAYERS TO THE BED
Get the blankets down from the tops of the cupboards and wash them if you feel that dust may have settled on them during the warmer seasons. Replace bedsheets with cosy flannelette sheets, adding a warmer quilt and throw rugs.
 SHOP THE LOOK:  cushions, throw and quilt.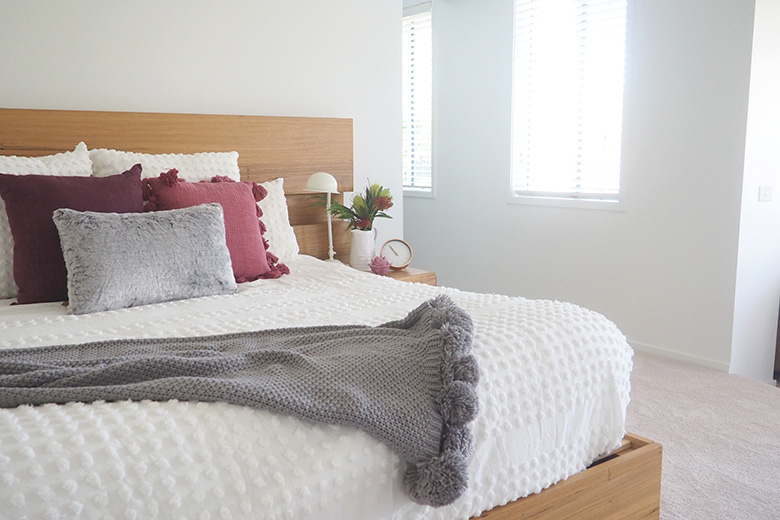 CLEAN AIR FILTERS
Most of us also use the air conditioner to keep us warm on those chilly nights. Vacuum the filters and clean the air vents with a damp cloth to remove dust build and allergens. Not only will this keep your family safe and healthy, it will also save you money on your electricity bill.
 READ MORE:  10 non-toxic dust mite remedies for your home.
CLEAR THE GARDENS
I have quite a few frangipanis in my garden. Over winter the leaves fall off which makes it a lot easier to get into the garden bed and weed it, adding in new plants and add in new mulch ready for spring.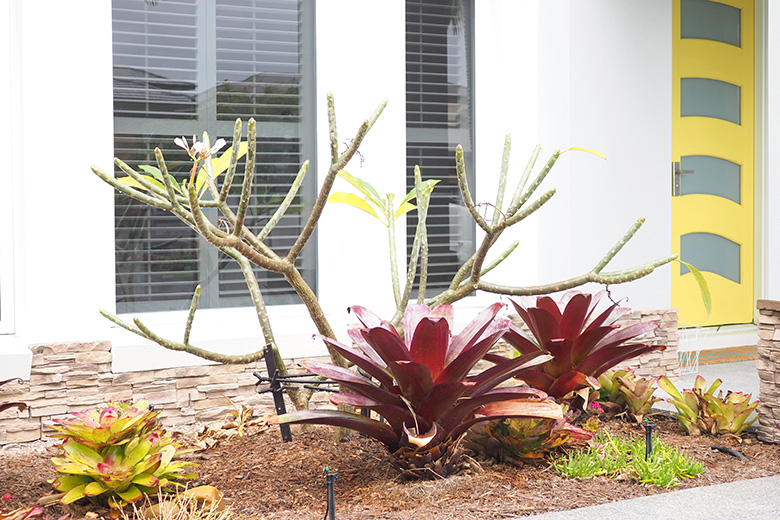 What do you do to prepare for Winter?
This post is run in accordance with my disclosure policy.