This post is sponsored by Luxaflex® Window Fashions
Throughout my adult life I have rented, purchased an established home, rented again while building a house and then late last year purchased an established home again. After living in and finding little faults in each, I have a concept of a dream home in mind. I have the itch to build again (but we aren't we are settled in this home for now). One day I would love to execute what I think would be my perfectly organised dream home.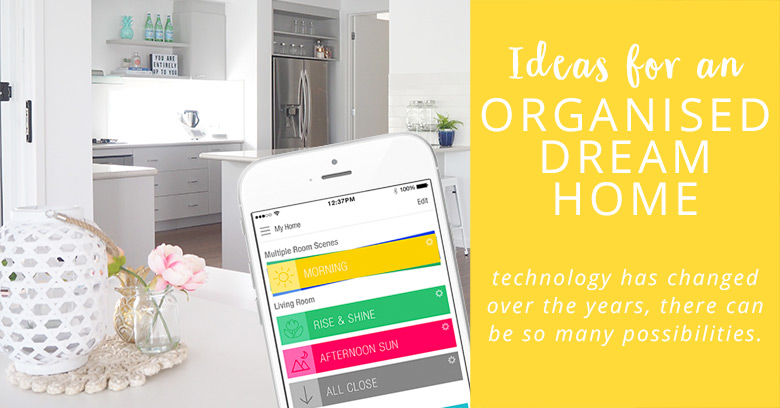 What would the perfect house look like?  Thinking how technology has changed over the years, there can be so many possibilities.  Don't get me wrong, I really like and am very grateful to have the home I live in and a roof over my head. But I get asked this question a lot, if I was to build a house again what would I recommend? First and foremost it needs to be comfortable for a growing family and practical over stylish. Here are a few things I would put into a new house:
FANS IN ALL BEDROOMS
There were no fans in our new house; we installed some upstairs, but too hard to put in downstairs in an established home. There are many benefits to incorporating fans into your home designs, it reduces energy costs, helps with airflow, saves space and safer particularly for children and pets compared to pedestal fans. 
OPEN PLAN LIVING AREA
Our living area is one of my most favorite spaces in our new house.  It's an open plan, which means there are no walls or doors that traditionally separate areas through the kitchen, lounge room and the dining room. I spend a lot of time in the kitchen, it's my happy place as I enjoy baking. Thankfully pottering in the kitchen for a couple of hours doesn't exclude me from the rest of the family if they are watching TV or sitting at the dining table crafting or doing homework, this is my view from the kitchen, with the dining area to the left.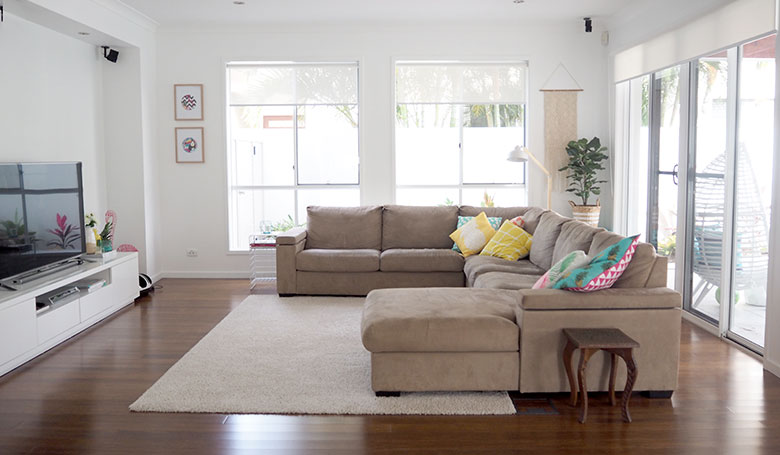 HOME AUTOMATION
Home automation has become a thing these days.  Lighting, music, climate control and security can all be connected to your devices.  Fancy turning your air conditioning on at home while you're at work so the house is cool when you return. Plus we have all had that moment of worry whether we left the iron on, imagine being able to switch it off remotely, genius!
How amazing is technology these days that you can remotely control your window blinds and create systems so that you can automate schedules and configurations to set the mood and save energy in your home. This awesome concept blows my mind, that this is possible, technology today is amazing.  Window coverings are not just for decoration but also help save energy. Some can reduce heat loss in winter and heat gain in the summer.
Luxaflex® Window Fashions introduced the all-new and market leading PowerView™ Motorisation so that Australians will be able to enjoy the next generation of wireless technology in the home.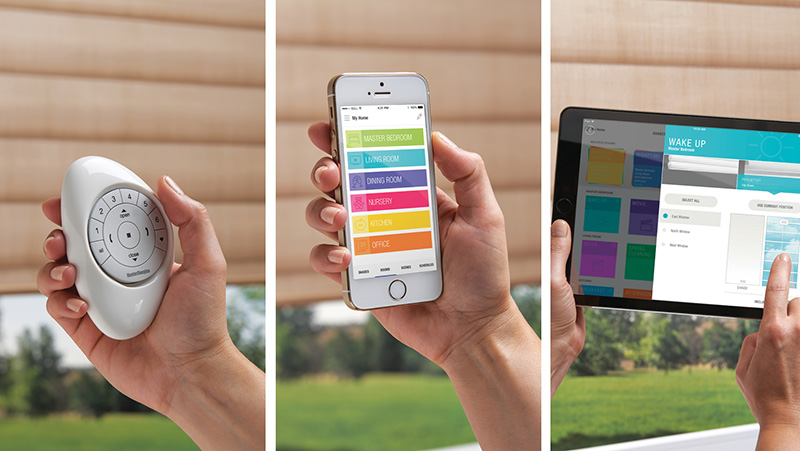 This intelligent operating system, allows homeowners to control their blinds throughout the day with the simple press of a button, tap of a mobile device or by scheduling personalised settings (called 'Scenes') that will activate automatically.
Homeowners can create Scenes to balance different lighting and privacy needs and also adjust window coverings for temperature, privacy and security from across the room or across the world, using the RemoteConnect feature in the PowerView App.

Using a separate IFTTT technology, you can now sync your blinds up to a weather app that will rise when the sun rises and set when the sun sets. If the temperature hits above a certain degree, you can program your blinds to lower as well.

As the blinds are cord-free, they look modern and are safe for pets and children.

Wireless internet is making home automation more accessible for homeowners who are renovating and can't afford more sophisticated systems that require wiring throughout the home. If I was fortunate enough to have this installed I would:
install it in my living area as I have 6 heavy blinds to roll down and this would save my arm
during winter have it set to lower the shades in the afternoon to help keep the house warm
put it in the kids rooms to help them get up on time for school, nothing like sun shining in their face to wake them up!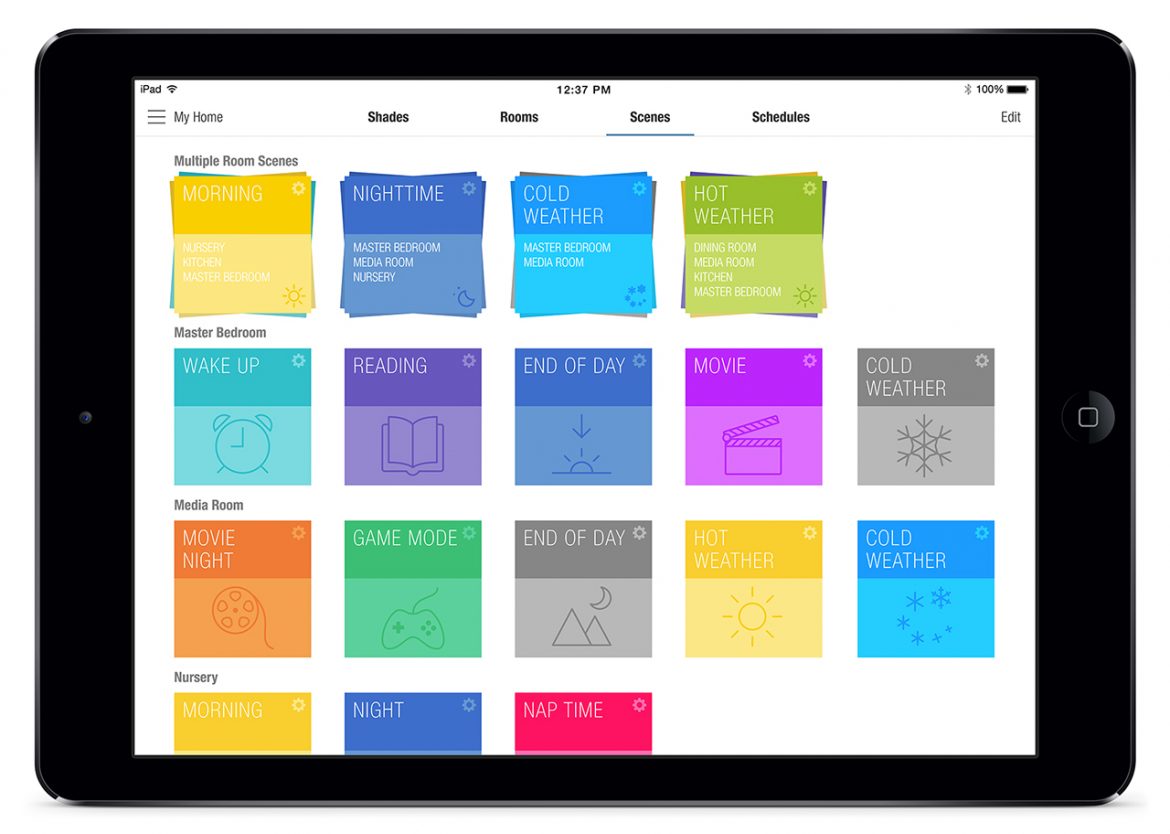 This is the future in window coverings.  PowerView Motorisation is exclusively available in Australia from Luxaflex Window Fashions. Find your closest Luxaflex showroom here: http://www.luxaflex.com.au/showroom/find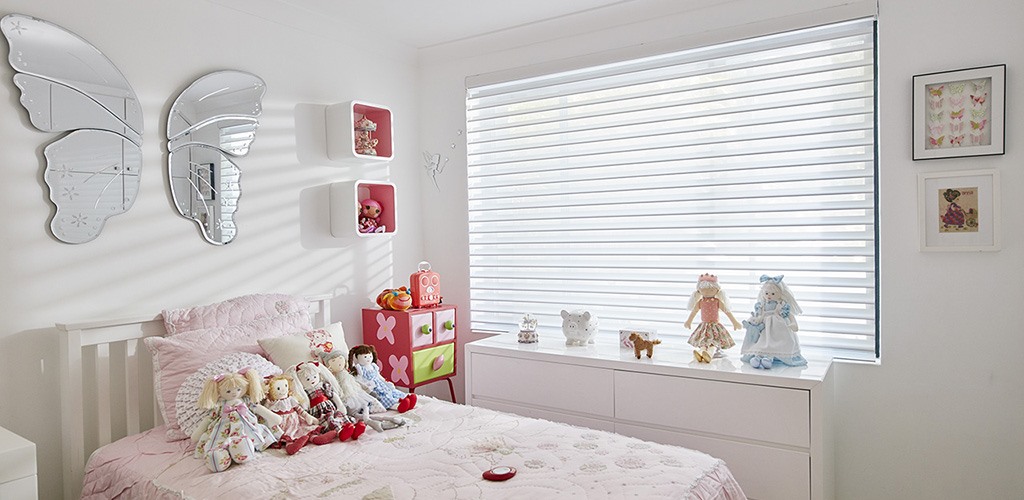 LARGE PANTRY
I am yet to share with you pictures of my pantry, I am totally in love with it and can't complain.  But living in a home with no pantry years ago (madness) made me desire a good sized pantry. Many would love a butlers pantry; that's a walk in pantry with benchtop, a sink, storage space and shelving, similar to a kitchenette.  A butlers pantry isn't on my wish list; I would just be happy with a good sized pantry to hide away the food and bulky appliances.
image credit: makingfinekitches.com.au
MORE THAN ENOUGH STORAGE
With a growing family there is an endless supply of stuff that needs to be stored, kids toys, sports equipment, Christmas decorations, having enough space to fit it all can be a tough task. At a minimum I would ensure each room has enough wardrobe space, linen cupboard in the laundry and upstairs if it's a two story home, a hall cupboard and storage in the garage. Can we ever have enough storage space in our homes? No never!
I am pretty certain I should have unused storage space under our stairs.  A goal of mine next year is to knock a hole in this wall and see if I can make extra storage for bulky items like Christmas supplies, suitcases, etc. Just need to work out what type of person helps with this.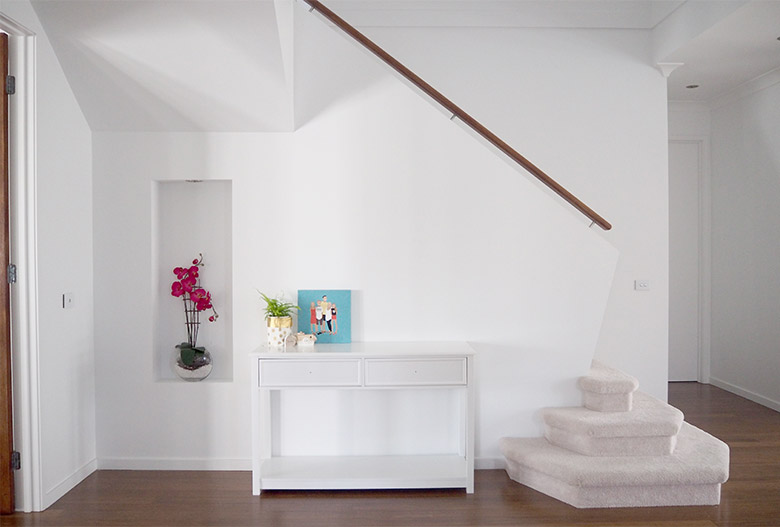 MUDROOM
A mudroom is found in many American homes, and I have just started seeing the trend happening here in Australia. A mudroom is a smaller secondary entryway where shoes, jackets, and school bags can be removed and stored; the purpose is to help keep the interior of the home clean (ie muddy shoes and wet clothes in one place). Even a nook like this in the laundry would contribute to maintaining a home clean organised and more efficient home.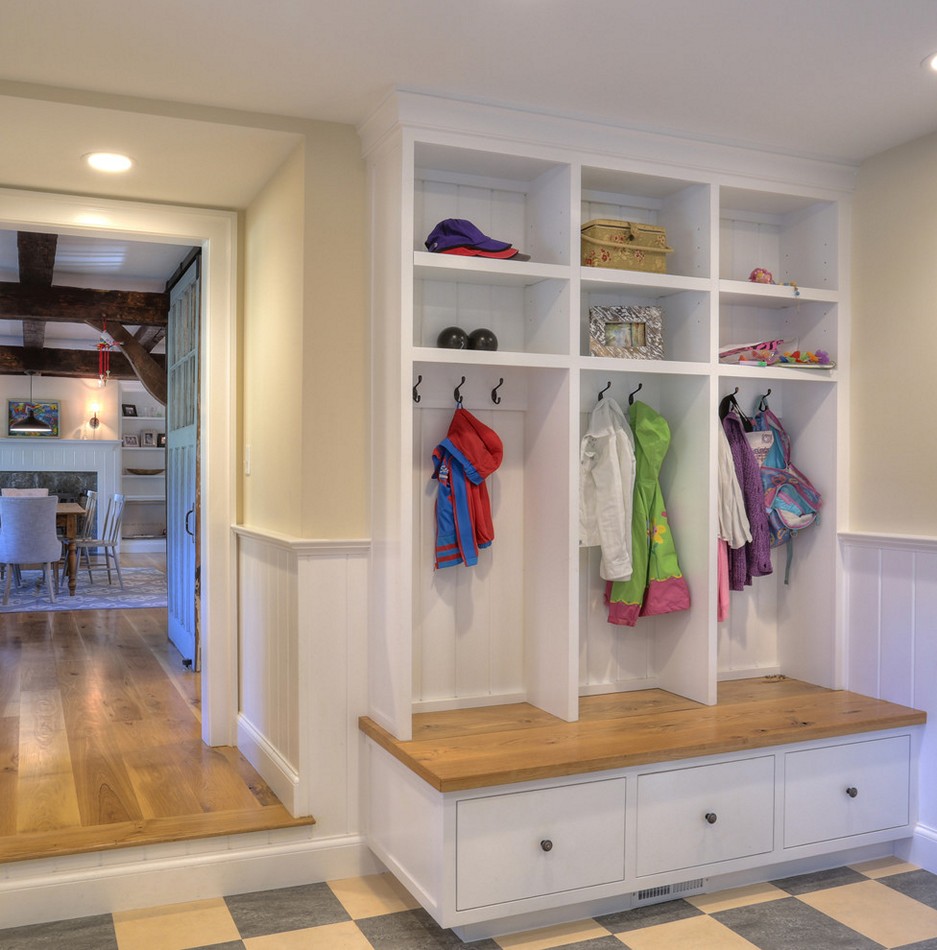 image found via: casualhomefurnishings.com
SEPARATE LIVING AREAS
An important feature for a growing family is to have separate living areas. While we love and adore our kids, it's also important for mum and dad to spend time together, to watch movies or sit and relax while the kids have their space to play or watch TV.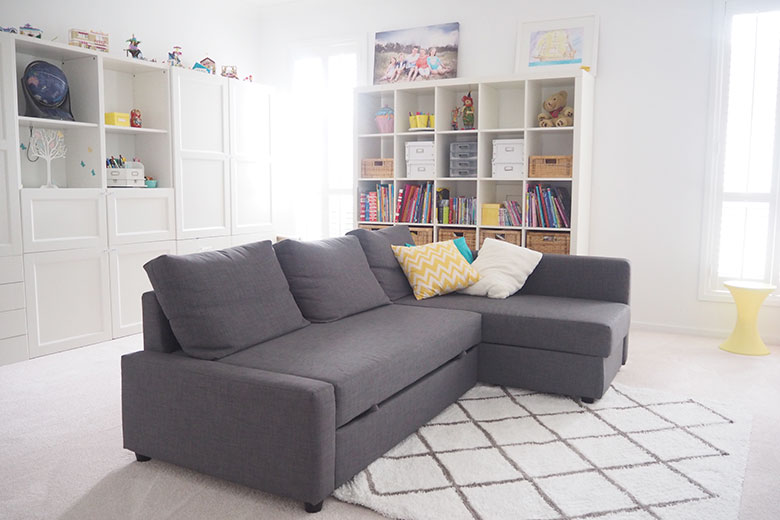 WIFI DOORBELL
This is nuts; there is such a thing as a doorbell that will ring your phone, and it has a built-in video which allows you to see and speak to the person at your door.  I have missed so many deliveries because I didn't hear the doorbell ring, this would be a big time saver not having to run to the post office for parcels.  I can only imagine this may help with security as well.
AMPLE BATHROOM STORAGE
I vote for practicality and storage space over design in the bathroom.  The right vanity can provide enough room for skincare, makeup and hair care products and more.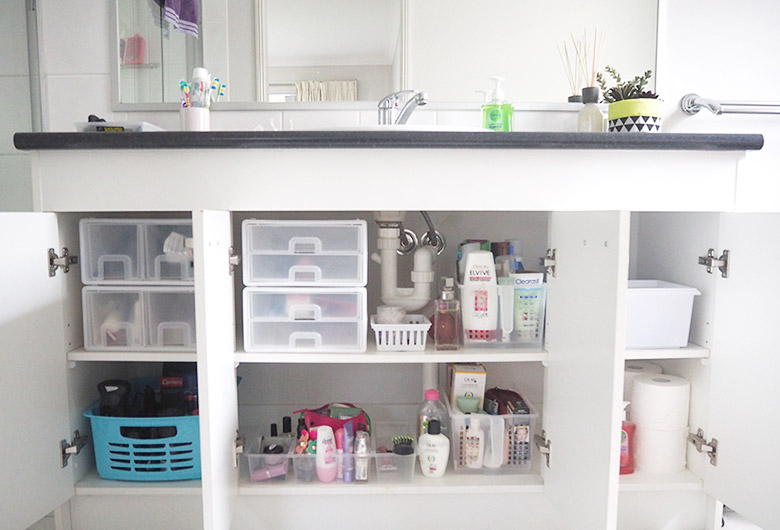 Read more: How to organise a bathroom cupboard.
KITCHEN DRAWERS
My current kitchen has drawers and cabinets and I like the mix of both, but find drawers a lot easier to organise. I have found that drawers comfortably hold more than the standard shelves, and also makes it easier to use the whole space and access everything from front to back.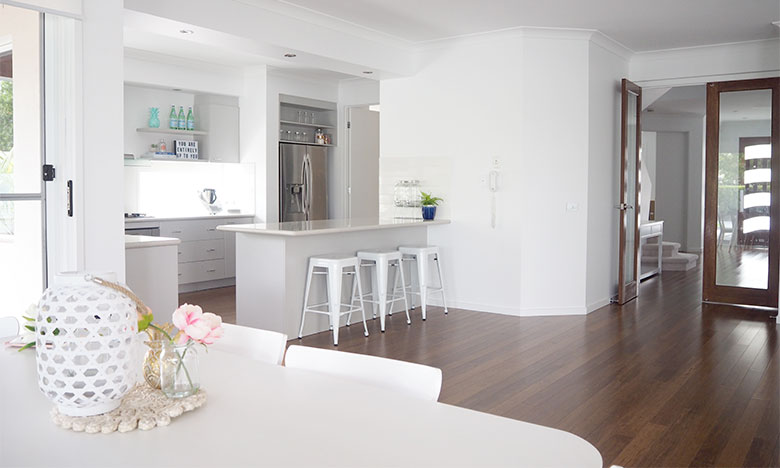 IN BUILT CLOTHES SORTING STATION
You know me, I love to sort my dirty laundry!!  Read all about it here. 
STORAGE IN THE HOME OFFICE
Most home offices don't have a cupboard. When we built our first house, I eliminated a hallway behind our office wall to put in a cupboard.  In our current house, there is no cupboard or space for a filing cabinet in the office, and I find it very frustrating as I'd like to store excess stationery, photo albums, paperwork etc tidily.  I do use this unit which is reasonably helpful.
I asked my readers on facebook recently, Tell me, what is one thing you would want in your next home. If there was no financial challenges or other obstacles?
So many great ideas amongst them, but I could see Abby had a clear vision on her future home:
Storage… EVERYWHERE.. I want built in wardrobes, a laundry with floor-to-ceiling linen cupboards, bench tops and storage shelves, I want a room sized pantry, with room for fridge freezer and I want a built-in dining booth..ensuite and separate bedroom/parents retreat with kids up the other end and their own bathroom etc.. I want grey water recycling, solar panels and hot water system, rainwater tank plumbed in, I want easy care native gardens, a bog deck for entertaining with an outdoor kitchen/bar.. A pool that looks like a natural waterhole with a Bali style gazebo at one end with hammocks and fairy lights.. I want windowsills I can sit and read in.. I want my own craft room or shed for my leatherwork and sewing.. I want a sunken lounge.. Omg lol.. I rent at present but have my dream home in my head.
What would your dream home look like?
This post run in accordance with my disclosure policy