The one habit I do each morning without fail is…. make my bed.  I am a big advocate for making the bed each day. Not only will it make your room look nice and tidy, but you will feel a sense of accomplishment and organisation before your day has even begun.  It's unbelievable how such a simple 2-minute task can put you in a positive mindset for the rest of the day. I've put together a list of reasons why making the bed is worth your time and energy!
Making the bed is a 2-minute daily habit I do each morning without fail.  Even if I am running late I always pull up the sheets, which really only takes a few seconds.  It's putting the pillows and throw on that takes a little extra time…. like another 90 seconds, if that.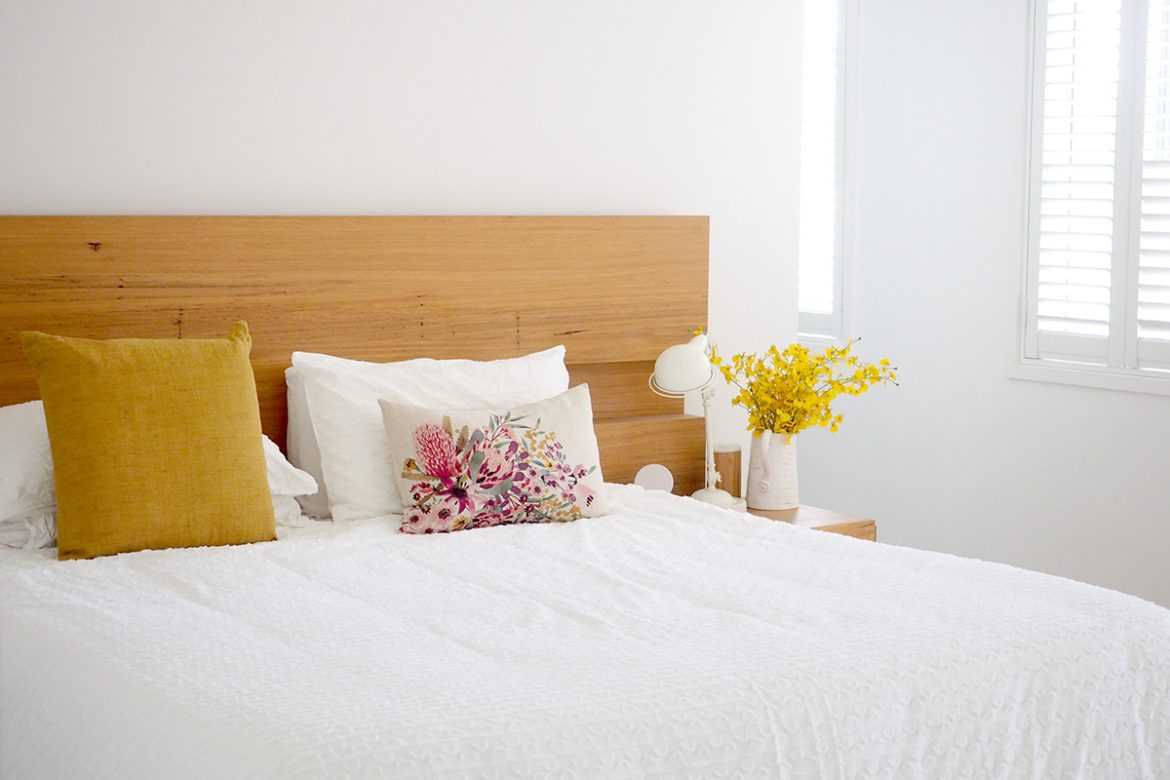 I'm a bit of a 'quilt cover collector' I can pass up a pretty quilt and I am totally loving this look!  I used a round beach towel as my throw over the white quilt cover as I thought it was gorgeous, beautiful soft colours, perfect tones for my bedroom.
REDUCES STRESS
I'm sure that making your bed sits pretty low on the priority list. But it's important to understand how completing even the smallest of tasks lifts a huge weight off our shoulders. By making your bed, you are essentially eliminating clutter. Decluttering is a therapeutic method and helps eliminate stress and tension.
POSITIVE MINDSET
It's true, there's nothing quite like the feeling of hopping into a crisply made bed. It's a two-minute task that has the amazing ability to put us in an elevated state of mind and ignites a positive mood for the day ahead.
INCREASES PRODUCTIVITY
It might not seem like much, but taking two minutes out of your morning to make your bed sets the tone for the rest of the day. That feeling of accomplishment is inspiring and motivates us to tackle the day head-on.
MAKES YOUR ROOM LOOK CLEANER
A messy bed can make a room look unnecessarily untidy and dirty. That's why simply making your bed can make the messiest of rooms look that little bit better.
CREATING GOOD HABITS
Making your bed every morning is a habit that makes you feel good. When you've made the bed, you find other tasks to complete that can prolong that feeling. Organisation gets addictive. These initial shifts in our behaviour help other good habits form, it's a domino effect. Once you start, you realise how simple and quick it is to finish these tasks. Before you know it, you will have created lasting habits and will spill into other rooms of the house.
HEALTH BENEFITS
Besides the mental benefits mentioned, making the best also has physical advantages too. When the covers are pulled up during the day, it means that less dust and allergens are able to find a home between your sheets. Results also collected from the National Sleep Foundation (NSF) suggested that people sleep much better and for longer when they've climbed into a made bed.
SETTING A GOOD EXAMPLE
If you want your kids to start making their bed themselves, you need to set a good example for them to follow. If you leave your bed in shambles every morning, they will simply think that's the norm and copy you. This makes it harder for them to break the habit at a later stage in life. So make sure you encourage your children to make their bed each morning. Monkey see, monkey do!
MAKING YOUR ROOM AN ESCAPE
Can you recollect the feeling of staying in a hotel? Walking into a hotel room where the bed is perfectly made with crisp corners and sharply folded sheets. We can recreate those feelings every day within our own homes! Our bedrooms are our personal escape from the world where you should feel most at peace. Coming home from a long day of work and seeing your bed should make you feel at ease, not distressed. It's your personal retreat, make the most of it.
What one daily habit do you do each day to help you feel more organised?