A shoe storage solution that is easy to construct and can hold up to 50 pairs of shoes, making it a simple organised shoe storage hack!
Do you ever find yourself tripping over shoes that your kids have left at the front door or in the garage? With my household consisting of five people, I've never liked the kids to just take their shoes off and leave them lying around. As you know, I don't like clutter, so I like to have all shoes tidily put away. We have a 'no shoe in the house' policy that has always worked for us. We keep all our shoes on two large shoe racks in the garage. Each one of us has a section that belongs to us (with me having almost a whole rack to myself LOL) and we all keep our shoes nicely put away and ready to go next time for easy access. Keeping them in the garage also keeps any dirt that's on the bottom of the shoes out of the home, and less cleaning for me is always a bonus!! If you find shoes cluttering up bedrooms, hallways and other spaces in your house, consider this option of keeping all the household shoes out in the garage. It will also save you time in the morning with the school rush, as the kids can just grab their school shoes and off you go!!! Here's how we keep our shoes organised. This shoe storage rack was super easy to construct. The kids and I sat down in the garage and built it together.  I actually forgot to take photos of the process because we were having so much fun, but it didn't take very long at all and it works so well with all our shoes. Here's what I have found with this particular shoe rack:
10 tier shoe rack that can hold up to 50 pairs of shoes (less for my family as they all have large feet). I store thongs and sandals on top of each other to save on space.

Sturdy metal frame designed to last. We find a lot of things rust in our garage, but this hasn't shown any sign of rusting out yet, and we've had it over a year.

Waterproof non-woven fabric to hold your shoes, even your gumboots.

Stackable design means it can fit anywhere and is easy to set up. It can also be split into two for lower storage if you wish.

Simple look and colouring for versatile styling.
SHOP: Tiered shoe rack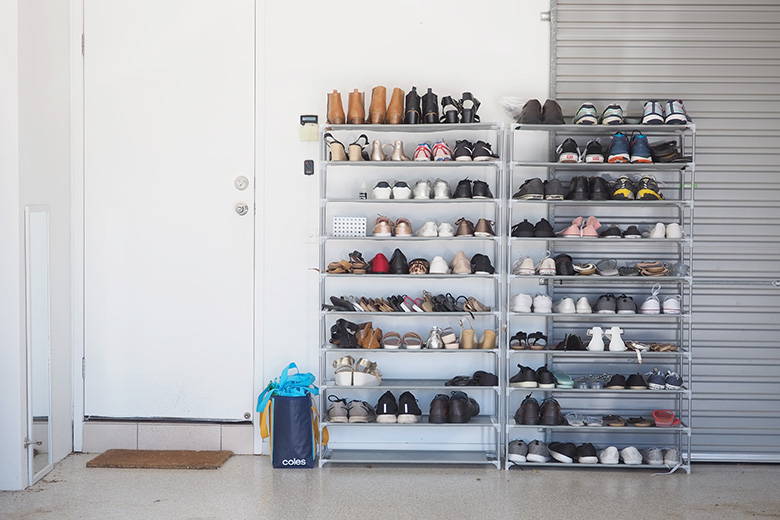 I had to use a hammer to gently push the poles into the corner sockets, but it worked a treat and the whole rack holds together so well. Very sturdy!!!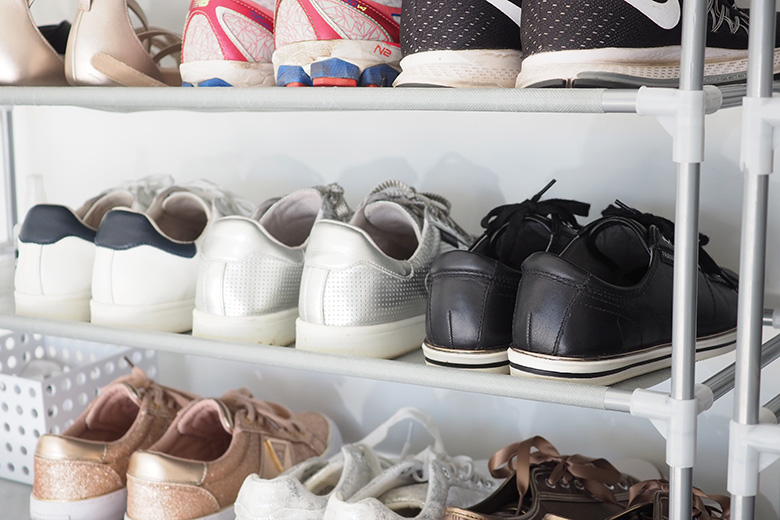 I purchased two racks as we have a lot of shoes.  LOL, who am I kidding, I have a lot of shoes! 1 rack is for all my shoes (bar the bottom two, as that's my son's shoes. Yes he owns only 3 pairs), and the girls and hubby share the right side.  I have a small mirror there on the left (I need a bigger one actually) so I can see if the shoes suit my outfit.