The new 2021 range of planners and calendars have launched, with some exciting new additions joining our collection of popular planners and calendars.
Did you hear the exciting news?! Our 2021 range of planners and calendars has just dropped and I couldn't be more delighted to share the juicy details with you all. The range has blossomed and grown, with more planners, more calendars, and a very playful range of complimentary stickers that ties in well with all these goodies.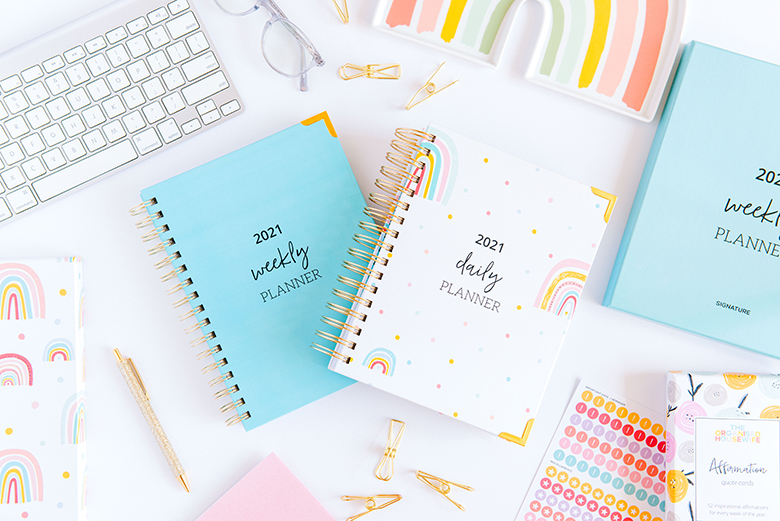 ---
THANK YOU: We've been blown away with how many of you are flooding to the shop to place your pre-orders (thank you!), and we know that this has made the shop very slow for many people. If you have experienced any delays please accept our sincerest apologies, along with a very heartfelt thanks for your continued support and patience. Now let's back to the juicy details of our 2021 goodies…
---
Our popular wall calendar and weekly planner are back as promised, but they bring friends! This year we welcome the 2021 Daily Planner and Family Wall Calendar to our growing collection of stationery must-haves.
Our signature blue and gold colour scheme has also continued, with the playful addition of our new illustrated rainbow design. There's also an adorable mother and baby koala illustration featured on the new Family Wall Calendar that gives a nod to the popular and very on-trend Australiana theme that's kicking about.
All these products been designed in-house, meaning our team has personally ensured that they're not only pretty, but also packed with organisational perks that are absolute game-changers.
Get ready to organise your schedule, stay focused, increase productivity, up the self-love, celebrate life, create better habits, whip your finances into shape… and get ready to reclaim your sanity!
Which 2021 planner & calendar will you be using?
---
Pin this image below to Pinterest!