doTERRA's On Guard essential oil blend – referred to as their "protective blend" – is a wonderful winter companion that helps to strengthen our immune system, as well as being an absolute powerhouse for emotional support.
I am slowly building an A-Z Essential Oil Usage Guide, listing the extensive and therapeutic properties of each of the Essential Oils I have been using along with remedies and benefits for health, beauty and around the home.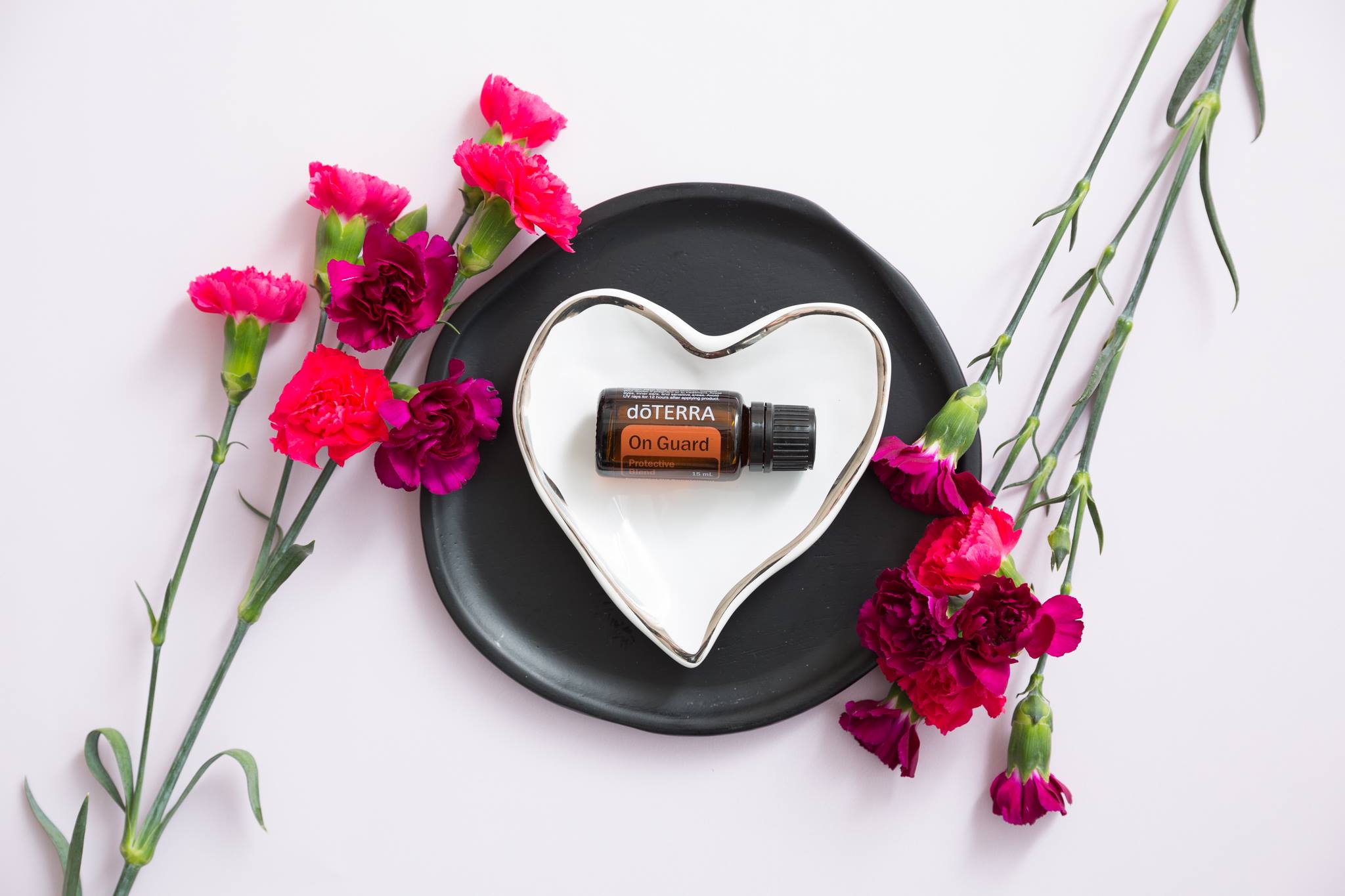 I use doTERRA Essential Oils. You can purchase oils with a 25% discount. There's no minimum spend and there's never any obligation to make another purchase if you don't want to. You do NOT need to place an order every month or on-sell to friends or family. You simply get to save 25%. Read more here.
ABOUT ON GUARD® ESSENTIAL OIL
'On Guard is generally used to shield individuals from bacteria, mould, and viruses. This blend's protective properties, however, extend beyond the physical level by aiding individuals in warding off energetic parasites, domineering personalities, and other negative influences. On Guard strengthens one's immune system, which governs the ability to defend against attacks from physical pathogens and negative energies.' – this is an excerpt from the Emotions and Essential Oils 7th Edition Book, available from in my shop.
Ingredients: Wild Orange Peel, Clove Bud, Cinnamon Leaf, Cinnamon Bark, Eucalyptus Leaf, and Rosemary Leaf/ Flower essential oils.
Aromatic Description: Warm, spicy, camphoraceous, and woody

ON GUARD® ESSENTIAL OIL BENEFITS
Supports a healthy immune system.
Energising and uplifting aroma.
Gives individuals the strength to speak up for themselves and to maintain clear boundaries.
Add to water for an effective disinfecting all-purpose cleaner for surfaces.
Use a couple of drops in the final rinse or instead of fabric softener to freshen laundry
GREAT USES FOR ON GUARD® ESSENTIAL OIL
On Guard supports the body's natural antioxidant defence system and protects healthy immune and respiratory function:
Sniffle Season Relief – Diffuse On Guard Protective Blend anytime you are concerned about what's going around schools, sports arenas, churches, and other crowded venues.
Get Turbo Charged – Mix a few drops of On Guard with 2 drops Lemon essential oil and honey or agave nectar in a teaspoon to soothe your throat during the winter. Use your On Guard roller on your neck.
An Ounce of Prevention – Some people amp up their Zinc or Vitamin C intake (via orange juice) every autumn. If this is you, add a few drops of On Guard to your juice for added protection.
Your Mouth Will Thank You – Try swishing On Guard with a bit of water after dental work. You can also apply On Guard directly to your teeth and gums (or add a drop to your toothpaste) to soothe irritated gums. For a clean toothbrush, store it overnight in a small glass of water with 3-5 drop of On Guard.
Clean Your Carpets – Add 15 drops of On Guard to a cup of corn starch or baking soda. Mix, sprinkle and rake on carpet then allow to sit for up to an hour. Then, vacuum it clean.
Eradicate That Oven Cleaner Smell – Caked on black oven gunk does not easily come off. After your oven's self-clean cycle, spray a mix of purified water, On Guard, and Lemon essential oil onto the oven interior. This will clear up all of the greasy smells as well as the smell of the oven cleaner.
Culinary Delight – add a drop of On Guard to a bowl of water with sliced apples or pears. It tastes yummy, is a great way for little ones to take On Guard and the Wild Orange in the oil prevents the fruit from browning.
Oily Force Shield – On an emotional level, On Guard supports and inspires feelings of capability, self assurance and strong self resolve. If you're feeling vulnerable, bullied, experiencing conflict in the workplace or at home, or find yourself surrounded by someone with a negative energy you just don't like, rub On Guard over the chest area and the heart to create an "oily force shield" of protection.
Supports Introverts – having a hard time being around people or for anyone who is experiencing susceptibility to the peer pressures of life.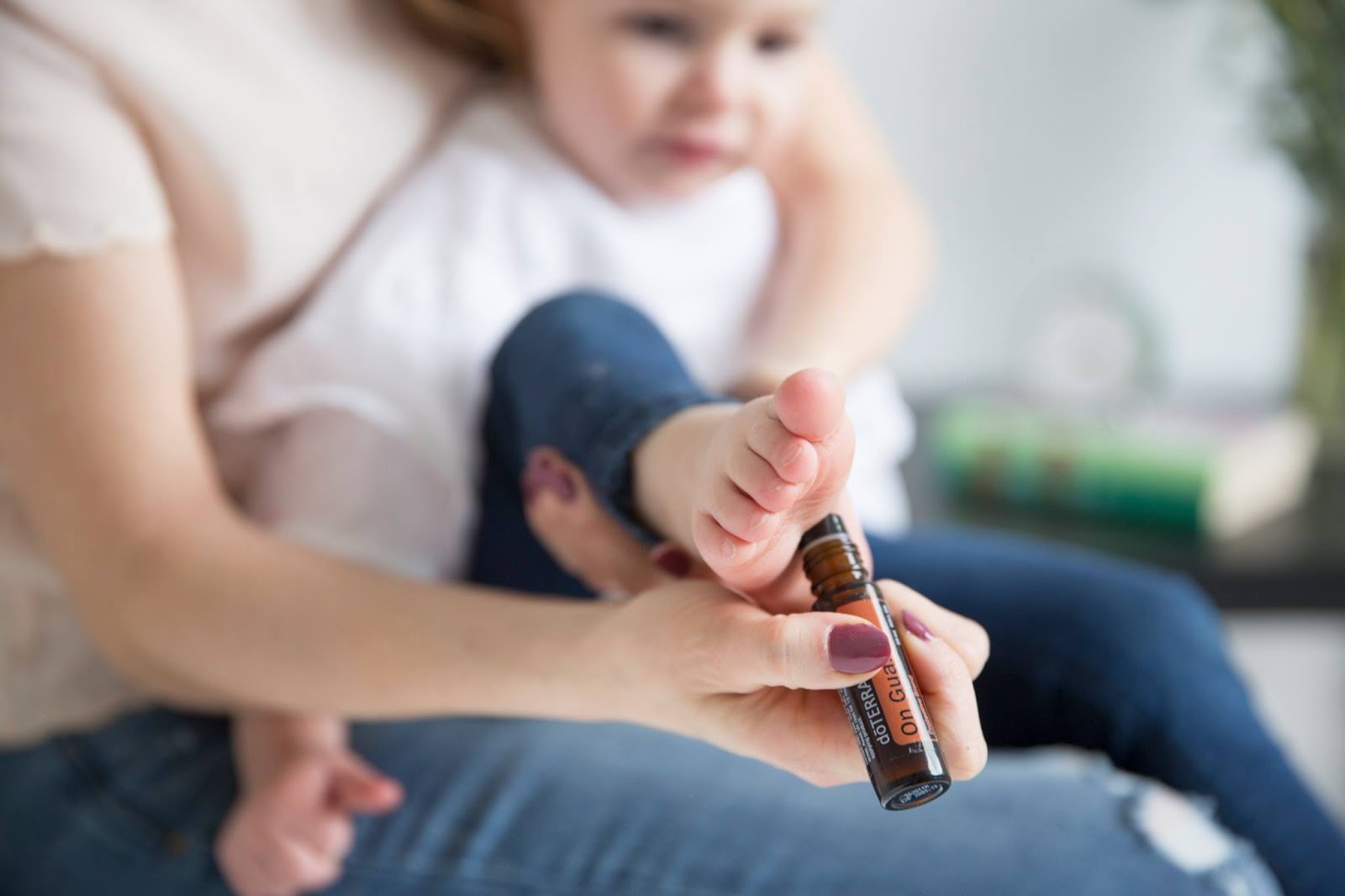 As one of doTERRA's best selling brands, On Guard can be used on surfaces throughout the home as a non-toxic cleaner. When diffused, On Guard provides a pure and uplifting aroma.
If you're not wanting to make your own products though, doTERRA have taken the hard work (and guesswork) out of it, with their extended range of On Guard products. Now you can get all the benefits of the On Guard essential oil, but in the form of a soothing mist, laundry detergent, toothpaste, foaming hand wash, and cleaner concentrate.
BENEFITS OF THE ON GUARD® PRODUCTS
On Guard Beadlets or On Guard Lozenges help to soothe a sore throat and support your immune system at the first sign of illness.
Apply doTERRA On Guard Touch to your little one's feet to minimise effects of seasonal threats and provide an energising and uplifting aroma.
On Guard Sanitising Mist cleanses hands by killing bacteria on the skin through an extremely fine, quick drying mist. Infused with a natural apple extract, the moisturising formula will not dry out the skin leaving hands feeling soft and smooth. Perfect for travel, school, work and on-the-go families.
On Guard Foaming Hand Wash should be at every sink! Fill an empty dispenser bottle to the top of the On Guard sticker line with soap, then fill halfway again to the top with water. The dispenser is quite large and you want to leave enough room for the pump. If you would like to use less soap – making it more cost effective – fill halfway up the sticker (although it will not be as sudsy).
On Guard Laundry Detergent is an ultra-concentrated 6x laundry detergent with 10ml of On Guard blend in every bottle. It is colour safe for washable fabrics at all temperatures and is free of synthetic fragrances, dyes and toxins making it a more gentle choice for your family as well as the environment.
On Guard Cleaner Concentrate is an amazing product and can be used in many ways. Make natural and safe cleaning solutions such as a multi-purpose cleaner, a bathroom cleaner, dishwashing liquid and for the tough jobs, apply concentrate directly on designated area and let soak (avoiding direct use on hardwood floors and natural stone). A little goes a long way.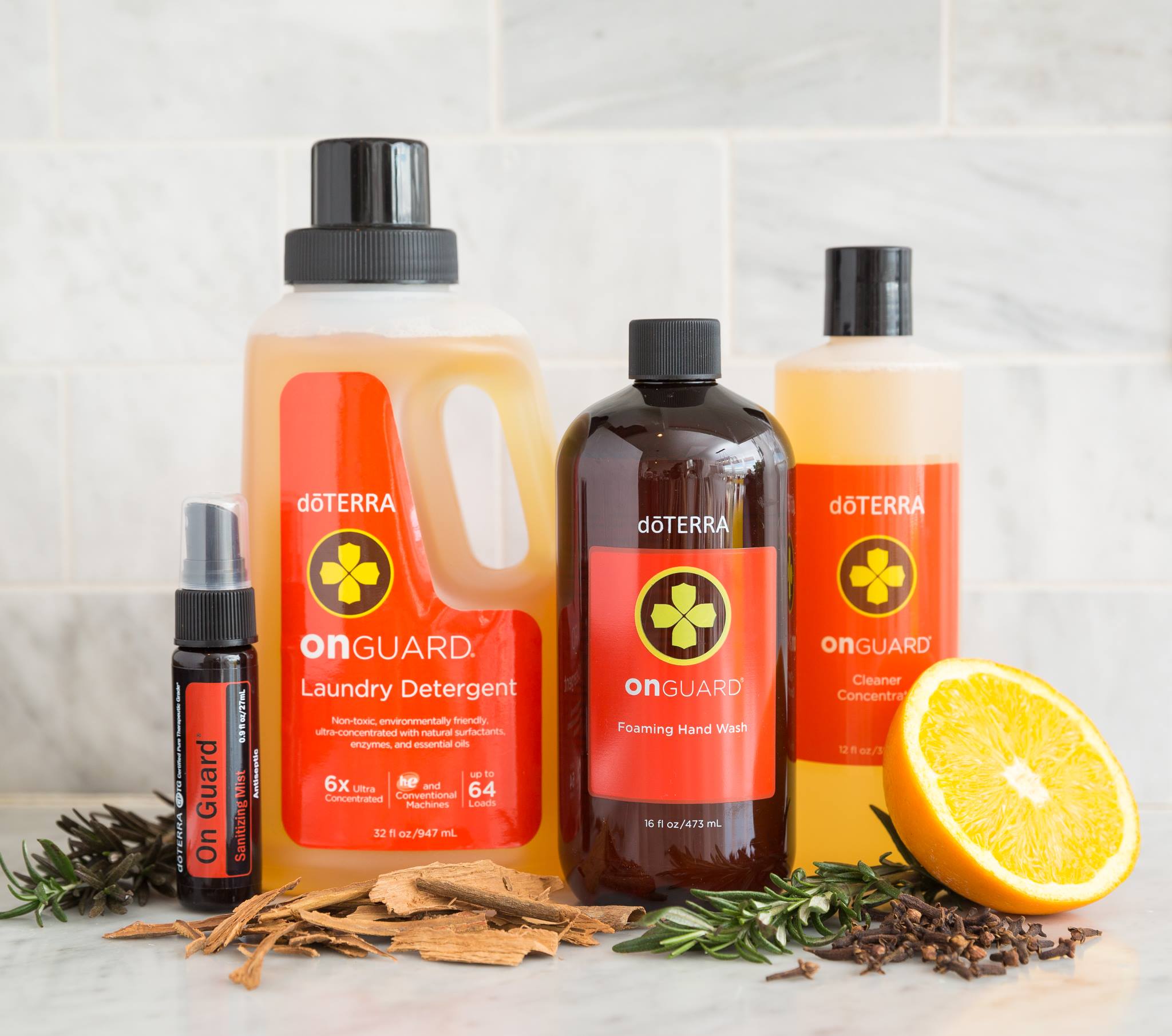 READ MORE & ORDER HERE: doTERRA Essential Oils Products
DIFFUSER BLEND IDEAS
I prefer to diffuse my On Guard as I'm not a big fan of the smell, but the extra oil does help cleanse the air.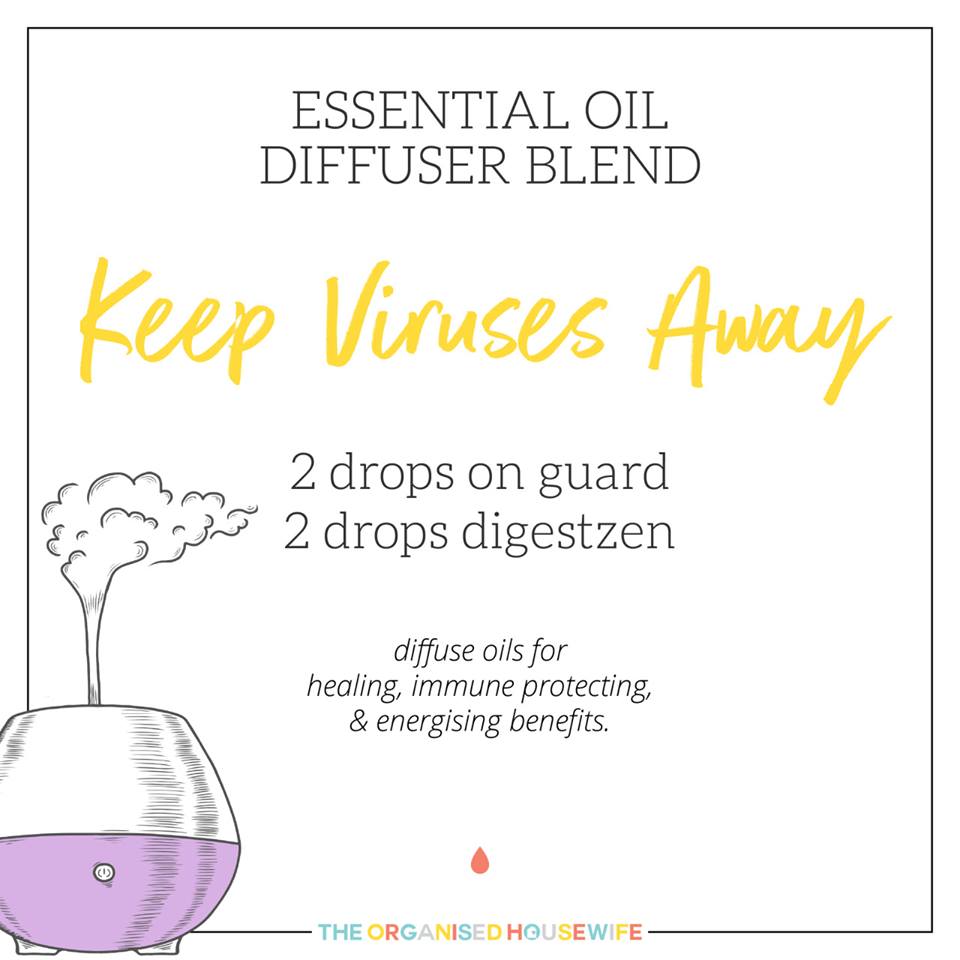 DIRECTIONS FOR USE
On Guard is one of the "HOT" oil blends. Always dilute On Guard Blend with Fractionated Coconut Oil especially for children. On Guard is best applied heavily diluted to the soles of the feet. If immune threats are high then use more often and with a roller bottle up and down the spine and back of the neck. Take some time to massage the blend in. This will help the oil penetrate the skin, bring blood flow to the area and make your application more effective. I like to use it on my children every day. It can easily be used together or alternated with some of the other powerful immune supportive oils – Tea Tree, Thyme & Oregano.
Diffusion: Use three to four drops in the diffuser of your choice.
Internal: Dilute one drop in 120ml of liquid.
Topical use: Apply one to two drops to the desired area. Dilute with doTERRA Fractionated Coconut Oil to minimise any skin sensitivity.
Cautions – Possible skin sensitivity. Keep out of reach of children. If you are pregnant, nursing, or under a doctor's care, consult your physician. Avoid contact with eyes, inner ears, and sensitive areas. Avoid sunlight or UV rays for up to 12 hours after applying the product.

Join my private Facebook group The Organised Housewife – Essential Oils.