Lemongrass Essential Oil Blend is a great oil for massages. Lemongrass provides a pungent, smoky aroma, and offers to purify and toning benefits for the skin.
I am slowly building an A-Z Essential Oil Usage Guide, listing the extensive and therapeutic properties of each of the Essential Oils I have been using along with remedies and benefits for health, beauty and around the home.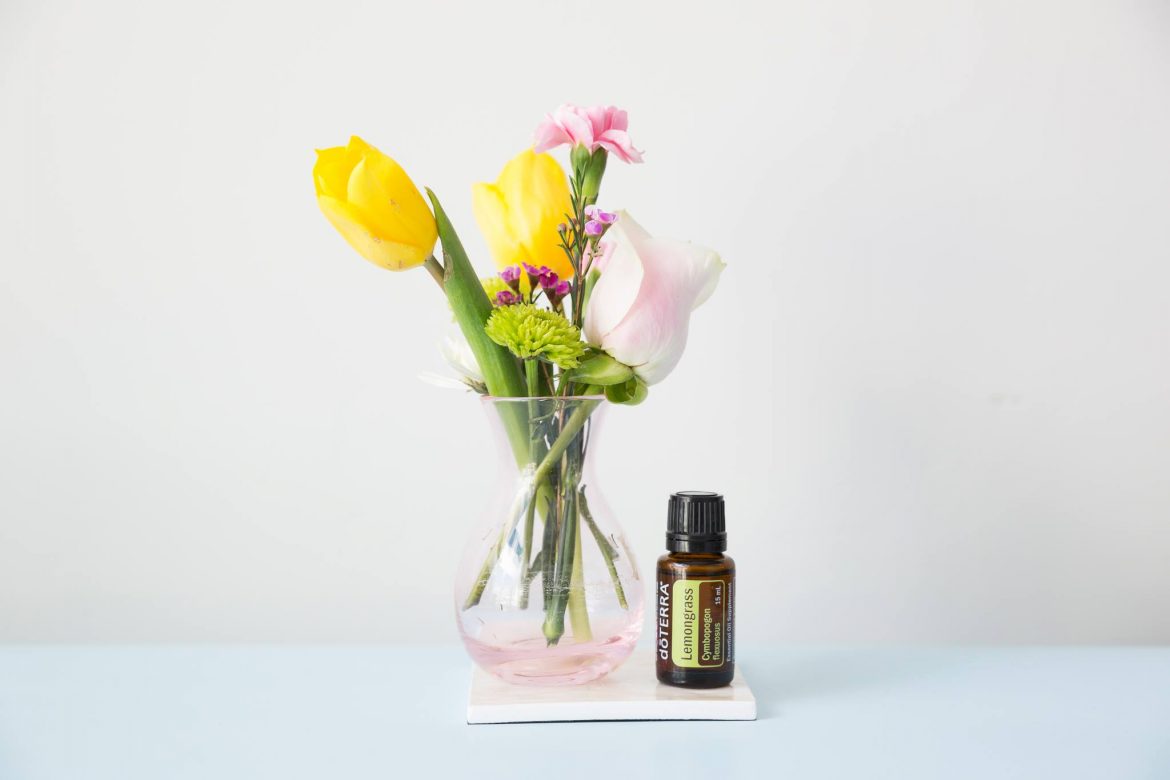 I use doTERRA Essential Oils. You can purchase oils with a 25% discount. There's no minimum spend and there's never any obligation to make another purchase if you don't want to. You do NOT need to place an order every month or on-sell to friends or family. You simply get to save 25%. Read more here.
ABOUT LEMONGRASS®
ESSENTIAL OIL

A tall, perennial plant, Lemongrass has a subtle citrus flavour and is used in Asian cuisine in soups, teas, and curries as well as with fish, poultry, beef, and seafood. In addition to its unique flavour, Lemongrass essential oil promotes healthy digestion and acts as an overall tonic to the body's systems when ingested.* It's also purifying and toning to the skin, and is frequently used in skin care products for these benefits. Lemongrass is an ideal oil to use in massage therapy. Lemongrass has a pungent, herbaceous aroma that can heighten awareness and promote a positive outlook.

Aromatic Description: Citrus, herbaceous, smoky
LEMONGRASS® BENEFITS
Supports healthy digestion when taken in a capsule*
Combine with a carrier oil for a soothing massage
Apply diluted after a long run for a refreshing feeling
GREAT USES FOR LEMONGRASS® ESSENTIAL OIL
For Calm Massage – Combine equal parts Fractionated Coconut Oil and Lemongrass oil for a massage after a hard workout.
Flavouring Food – Use to flavour entrées and meat dishes while promoting healthy digestion.*
Blends – well with Basil, Cardamom, or Spearmint.
Moisturiser – Dilute oil, then rub or spritz on skin before going outside.
Insect Repellant – Lemongrass essential oil naturally repels insects.
Negative Emotions – Toxic or negative energy, despairing, holding on to the past, hoarding, darkness, spiritual blindness.
Positive Properties – Spiritual clarity, cleansing, nonattachment, simplicity, discerning, releasing what is no longer needed.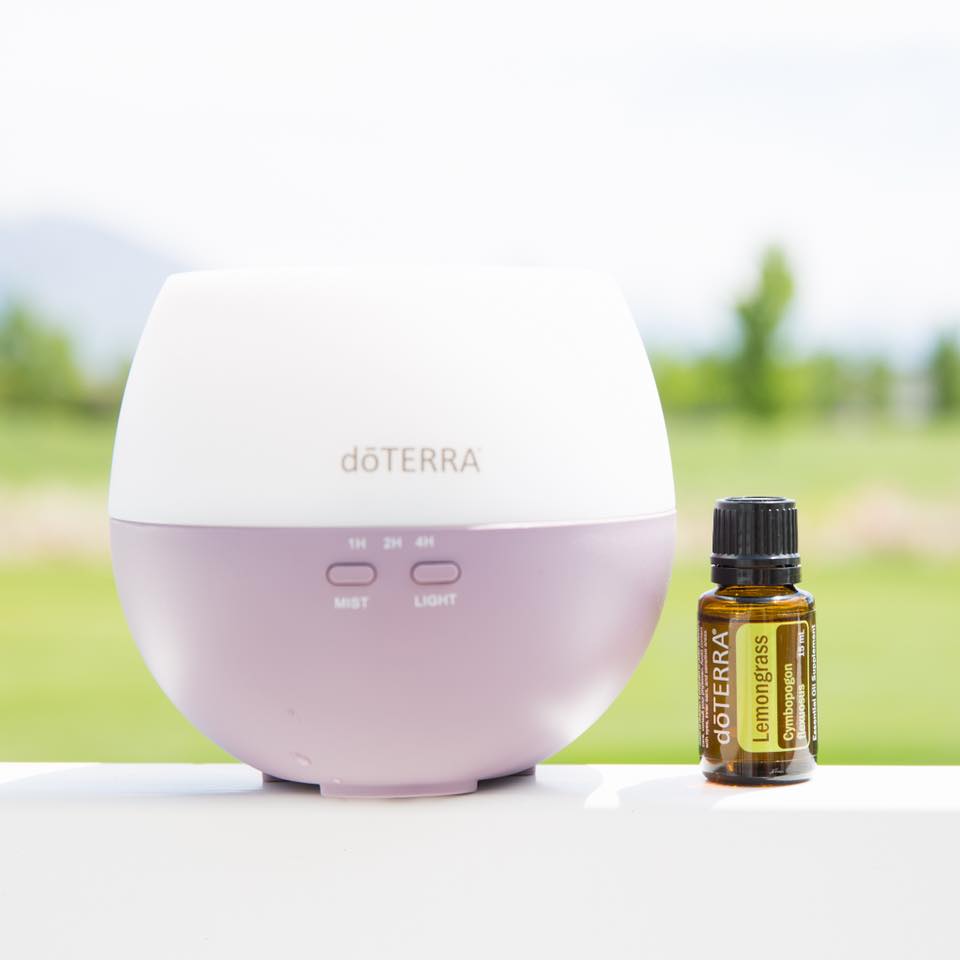 When using Lemongrass together with other essential oil combinations, you get so many more benefits from this beautiful oil, try some of the diffuser blends I've listed below.
READ MORE & ORDER HERE: doTERRA Essential Oils Products

DIFFUSER BLEND IDEAS
Negativity Be Gone – 3 drops lime + 3 drops bergamot + 3 drops lemongrass
Good Vibes – 2 drops lemongrass + 2 drops tangerine + 2 drops spearmint
Safe Haven – 4 drops frankincense + 5 drops lemongrass + 3 drops wild orange + 2 drops peppermint
Refreshing – 3 drops wild orange + 2 drops lemongrass + 1 drop peppermint
Clear your Head – 3 drops lemongrass + 2 drops peppermint + 5 drops lavender
Revitalising – 4 drops lemongrass + 4 drops lavender
In the wilderness – 3 drops lemongrass + 3 drops eucalyptus + 2 drops lavender
Stress Relief – 3 drops patchouli + 3 drops lemongrass + 4 drops rosemary
Bye Bye Bugs – 3 drops lavender + 3 drops clove + 3 drops lemongrass + 2 drops tea tree
Immune Support – 2 drops frankincense + 2 drops lavender + 2 drops oregano + 2 drops lemongrass
Citrus Burst – 4 drops tangerine + 2 drops lemongrass
Morning Bliss – 3 drops grapefruit + 3 drops lime + 2 drops peppermint + 2 drops lemongrass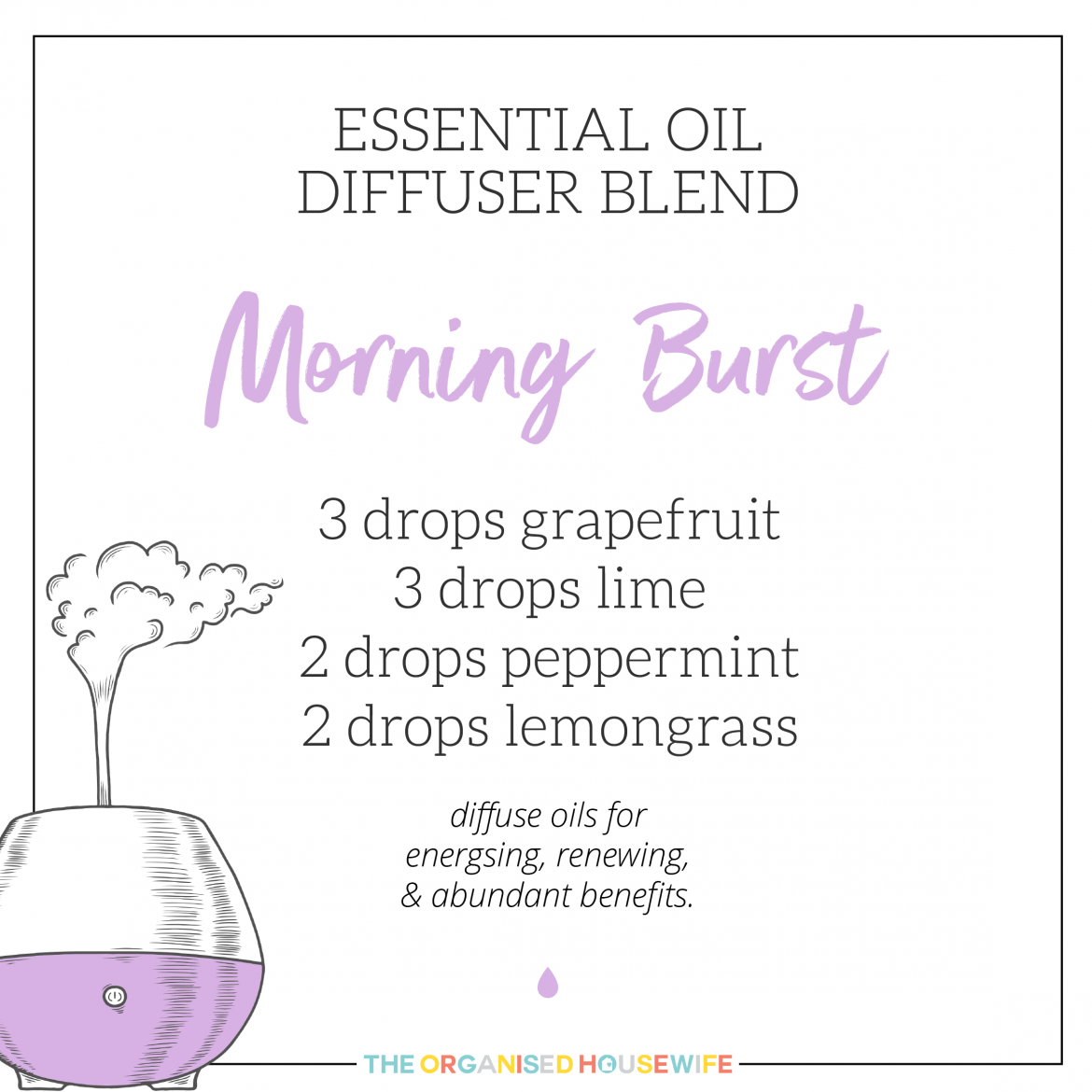 DIRECTIONS FOR USE
Diffusion: Use three to four drops in the diffuser of your choice.
Internal use: Dilute one drop in 120 mL or 1/2 cup of liquid.
Topical use: Apply one to two drops to the desired area. Dilute with a carrier oil to minimise any skin sensitivity. See additional precautions below.
Possible skin sensitivity. Keep out of reach of children. If you are pregnant, nursing, or under a doctor's care, consult your physician. Avoid contact with eyes, inner ears, and sensitive areas.

Join my private Facebook group The Organised Housewife – Essential Oils.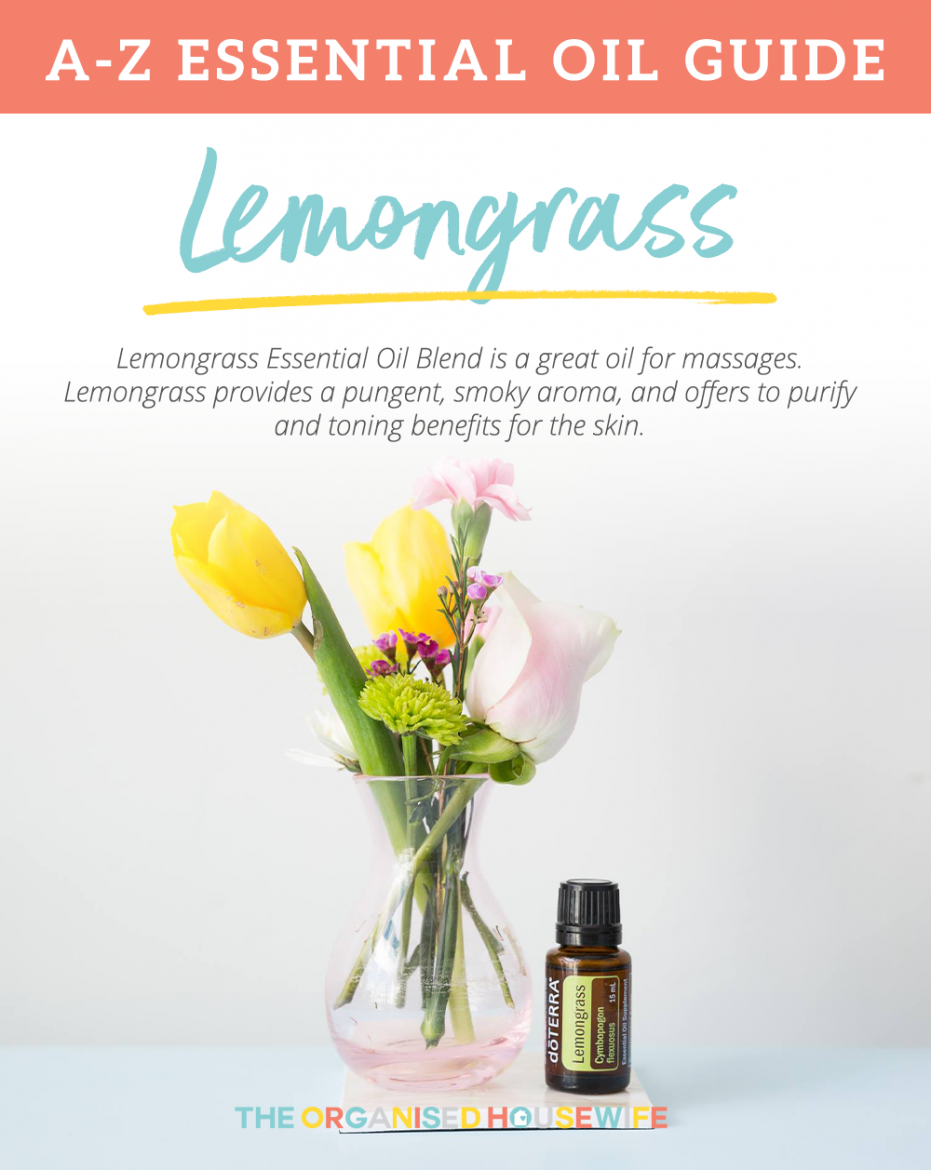 WHAT'S YOUR FAVOURITE ESSENTIAL OIL?