Grapefruit Essential Oil is one of my favourite oils.  I really love the scent, it's fresh and brings back memories of my childhood when I used to have breakfast with my Nanna, she always had a grapefruit and toast.  Grapefruit Essential Oil can provide an uplifting environment due to it's invigorating and energising aroma, while acting as a purifying agent when added to a skin care routine. This was actually the first essential oil I owned and from there I haven't looked back.
I am slowly building an A-Z Essential Oil Usage Guide, listing the extensive and therapeutic properties of each of the Essential Oils I have been using along with remedies and benefits for health, beauty and around the home.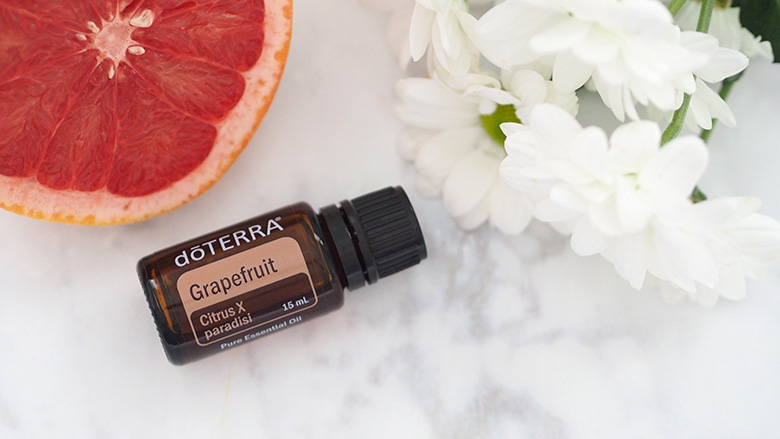 I use doTERRA Essential Oils.  You can purchase oils with a 25% discount. There's no minimum spend and there's never any obligation to make another purchase if you don't want to. You do NOT need to place an order every month or on-sell to friends or family. You simply get to save 25%. Read more here.
About Grapefruit Essential Oil
Grapefruit Essential Oil is described as an energising aroma, due to it's fun, floral and invigorating aroma. It is known for it's clarifying effects and ability to uplift mood. It can be used in skin products to promote healthy looking skin and dim blemishes. It is also used when people are looking to lose weight due to an active ingredient found in Grapefruit that supports healthy metabolism and reduces appetite.
Aromatic Description: Citrus, floral, fruity
Primary Benefits
Improves the appearance of blemishes
Supports healthy metabolism
Uplifts mood
7 Great Uses for Grapefruit Essential Oil
Add 2-3 drops in a diffuser to stop sugar cravings
Add 1-2 drops to your water to support a healthy metabolism and detox
Apply several drops into bath water for a clarifying effect
Rub into your wrists, neck or chest to uplift mood
Diffuse 2-3 drops in a diffuser to freshen your house and the air
Add a few drops to your teenager's facial products to improve appearance of blemishes
Add a few drops to Reusable Homemade Antibacterial Wipes.
My Favourite Grapefruit Essential Oil Diffusing Blends
Good Morning Sunshine – 4 drops Grapefruit + 5 Drops Wild Orange + 2 drops Lime
Sunshine Burst – 3 drops Wild Orange + 3 drops Grapefruit + 2 drops Lemon + 1 drop Bergamot
Sunkissed – 2 drops Juniper Berry + 2 drops Grapefruit + 1 drop Wild Orange + 2 drops Lime
Finding Balance – 5 drops Balance + 2 drops Grapefruit
Energy Boost – 4 drops Grapefruit + 4 drops Rosemary + 4 drops Lime
Bubblegum – 5 drops Grapefruit + 3 drops Ylang Ylang + 1 drop Eucalyptus
Workout Blend – 2 drops Peppermint + 2 drops Grapefruit + 2 drops Lemon
Good Morning – 3 drops Grapefruit + 3 drops Lavender + 2 drops Lemon + 2 drops Peppermint
Mojito Surprise – 2 drops Peppermint + 2 drops Grapefruit + 2 drops Lime + 2 drops Citrus Bliss
Summertime – 2 drops Grapefruit + 2 drops Lavender + 1 drop Peppermint + 1 drop Lemon
Revitalizing –  3 drops Bergamot + 1 drop Lemon + 2 drops Grapefruit + 1 drop Ylang Ylang
Directions for Use
Diffusion: Use three to four drops in a diffuser
Internal: Dilute one drop in liquid
Topical: Apply one to two drops to desired area
Cautions – Possible skin sensitivity. Keep out of reach of children. If you are pregnant, nursing, or under a doctor's care, consult your physician. Avoid contact with eyes, inner ears, and sensitive areas.
How do you use Grapefruit Essential Oil?
Join my private Facebook group The Organised Housewife – Essential Oils.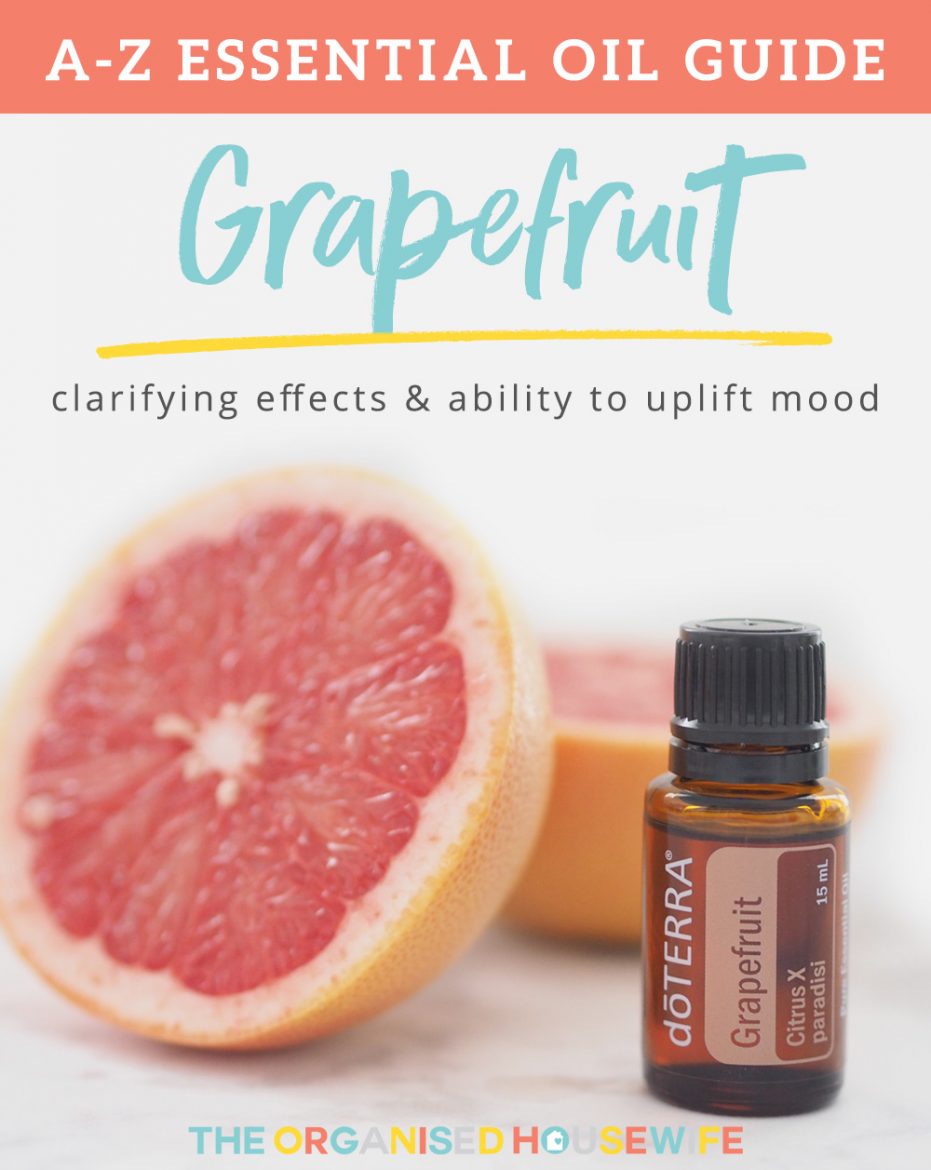 7 THINGS I DO EACH DAY TO KEEP THE HOME CLEAN AND ORGANISED
Subscribe to my weekly newsletter to receive blog updates in our inbox + this FREE eBook sharing some of my top tips that you can adapt in your own home.