Eucalyptus essential oil can be used to cleanse surfaces and the air, as well as promote feelings of relaxation and clear breathing. This essential oil is steam distilled from the eucalyptus leaf and is sourced in Australia. Eucalyptus radiata trees are often referred to as narrow-leaved peppermint due to the long and narrow leaves and the fibrous bark it produces, which when crushed provides a peppermint-like aroma.
I am slowly building an A-Z Essential Oil Usage Guide, listing the extensive and therapeutic properties of each of the Essential Oils I have been using along with remedies and benefits for health, beauty and around the home.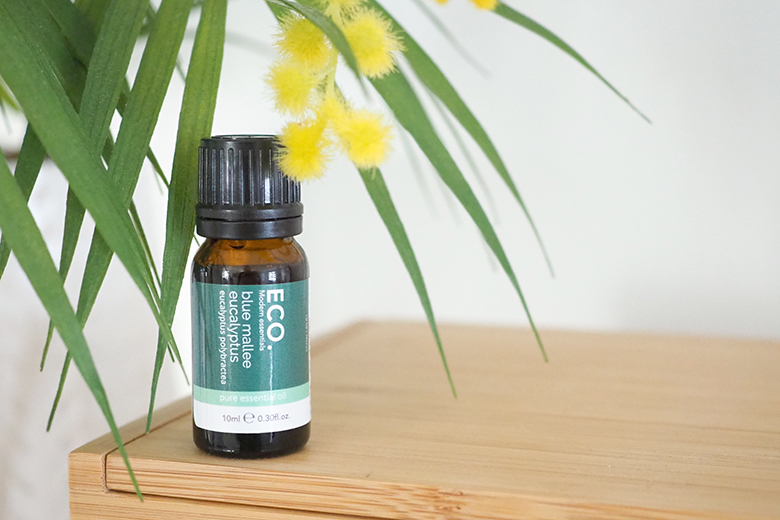 ABOUT EUCALYPTUS ESSENTIAL OIL
The strong medicinal aroma of Eucalyptus demonstrates its powerful effect upon the physical and emotional bodies. Eucalyptus oil supports the soul who is constantly facing illness. They may get well for times and seasons, only to return to a common cold, allergies, or congestion in the sinuses and respiratory system.
Eucalyptus addresses a deep emotional or spiritual issue of the need to be sick. It reveals patterns of thinking that continually create poor health. These benefits may include thoughts such as "I don't deserve to be well", "I am the sort of person that is always getting sick", or "The only way I can get a break is to get sick". Eucalyptus gives individuals courage to face these issues and beliefs. It encourages them to let go of their attachments to illness. – this is an excerpt from the Emotions and Essential Oils 7th Edition Book.
Aromatic Description: Cool, distinct, sterile
EUCALYPTUS ESSENTIAL OIL BENEFITS
Helps you feel clearer and calmer.
Promotes feelings of relaxation.
GREAT USES FOR EUCALYPTUS ESSENTIAL OIL
Revitalise skin – Add one drop to moisturiser and apply to skin for revitalising benefits.
Promote vitality and clear mind – While showering place a few drops in the hands and then place over nose and inhale deeply to invigorate, promote vitality and clear the mind.
Clear sinuses – Diffuse two to three drops of Eucalyptus essential oil to clear sinuses and open airways.
Treat hair lice – Comb a few drops of Eucalyptus essential oil through the hair to get rid of lice.
Relieve muscle tensions – Massage Eucalyptus essential oil into tension points on body for relief.
Freshen a room –  Combine 2 drops each of Eucalyptus + Lemon + Peppermint + 2 teaspoons epsom salt + fill a 250ml spray bottle with water for a fresh room scent.
Make a multi-purpose cleaner – For a sparkly clean bathroom that smells enlivening and fresh, combine 4 drops Grapefruit essential oil + 10 drops Lime essential oil + 6 drops Eucalyptus essential oil + fill a 250ml spray bottle with water.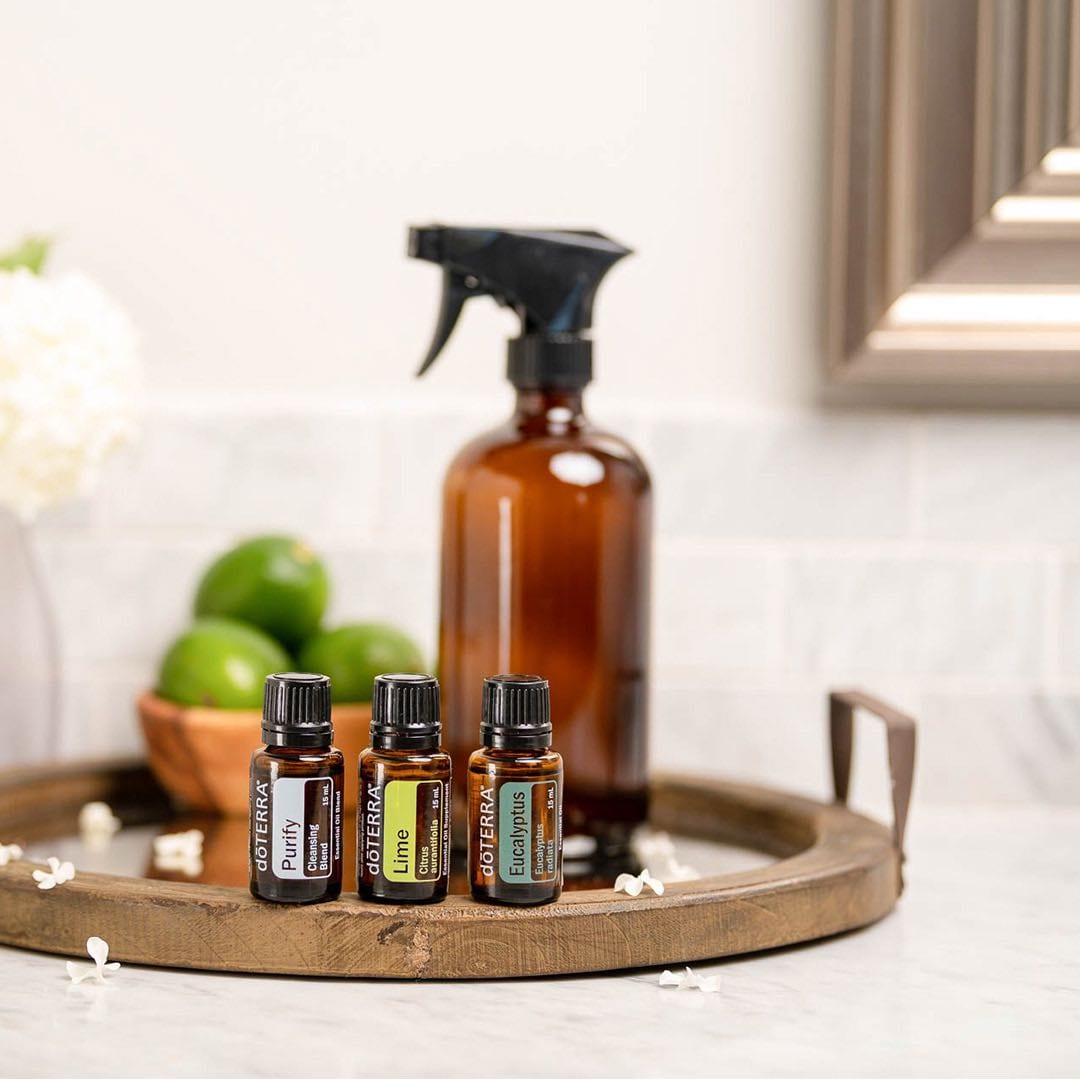 Eucalyptus trees are sometimes referred to as Gum Trees, and are tall, evergreen trees that grow up to 50 feet in height. The main chemical components of Eucalyptus Radiata are eucalyptol and alpha-terpineol, making it an ideal oil to diffuse or apply topically for that distinct fresh, clean and calming scent of Eucalyptus oil. Eucalyptus is effective in promoting a sense of calmness and balance, and its cleansing properties can be beneficial for the skin and for cleansing surfaces and the air. Eucalyptus can be found in mouth rinses to freshen breath and promote oral hygiene.
  SHOP HERE: All Essential Oils Products
DIFFUSER BLEND IDEAS
Citrus Dreaming  – 3 drops eucalyptus + 3 drops wild orange + 2 drops cedarwood + 2 drops frankincense
Fire and Ice – 3 drops cinnamon + 2 drops eucalyptus + 2 drops motivate
Call It a Day – 2 drops eucalyptus + 2 drops myrrh + 2 drops lime
Clearing the Air – 3 drops eucalyptus + 3 drops frankincense + 3 drops arborvitae
Surprise Party – 3 drops eucalyptus + 3 drops grapefruit + 2 drops ylang ylang
Crisp Air – 2 drops lavender + 2 drops lime + 2 drops eucalyptus
Sunday Relax – 1 drop lime + 2 drops tangerine + 2 drops eucalyptus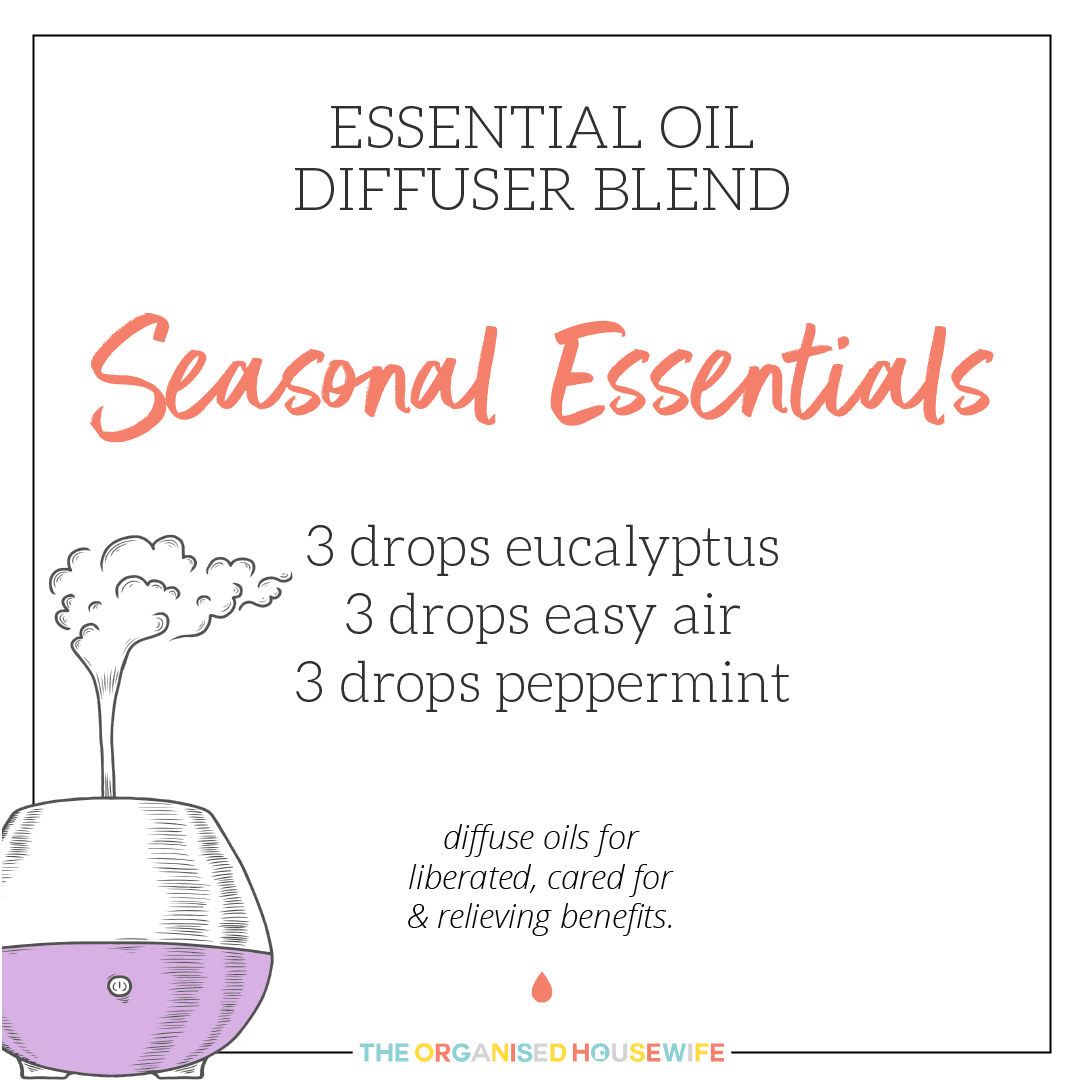 DIRECTIONS FOR USE
Diffusion: Use three to four drops in the diffuser of choice.
Topical use: Apply one to two drops to desired area. Dilute with a carrier oil to minimise any skin sensitivity. See additional precautions below.*
*Possible skin sensitivity. Keep out of reach of children. If you are pregnant, nursing, or under a doctor's care, consult your physician. Avoid contact with eyes, inner ears, and sensitive areas.

Join my private Facebook group The Organised Housewife – Essential Oils.