Easy Air Respiratory Essential Blend is a refreshing aroma that can be used to create feelings of clear, easy breathing. I have been diffusing this frequently over the past few weeks as my kids have had the sniffles and this helps to clear their nose so they can sleep comfortably at night.
I am slowly building an A-Z Essential Oil Usage Guide, listing the extensive and therapeutic properties of each of the Essential Oils I have been using along with remedies and benefits for health, beauty and around the home.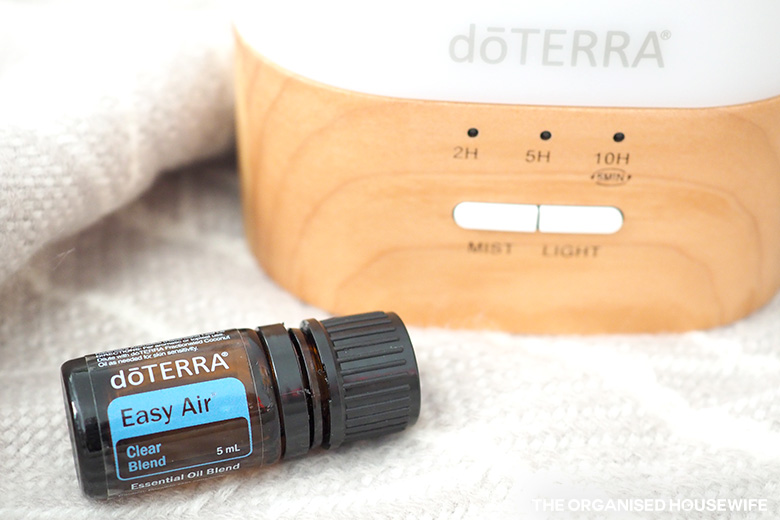 I use doTERRA Essential Oils.  You can purchase oils with a 25% discount. There's no minimum spend and there's never any obligation to make another purchase if you don't want to. You do NOT need to place an order every month or on-sell to friends or family. You simply get to save 25%. Read more here.
ABOUT EASY AIR® 
CLEAR BLEND 

ESSENTIAL OIL

doTERRA Easy Air is a remarkable blend of essential oils including Laurel Leaf, Peppermint, Eucalyptus, Tea Tree, Lemon, Cardamom, Ravintsara, and Ravensara. doTERRA Easy Air can be applied topically to the chest, back, or bottom of feet, or diffused at night time to calm the senses before a restful night's sleep.

Aromatic Description:  Minty, hot, fresh, airy
EASY AIR® BENEFITS
Feel clear and calm when breathing.
Ideal to be applied before a restful night sleep.
Be equipped to deal with seasonal threats.
GREAT USES FOR EASY AIR® ESSENTIAL OIL
The 'On Ramp' to Sleep – For a more restful sleep during seasonal respiratory discomfort, diffuse Easy Air at bedtime or keep in a roll on bottle by the bedside, in the car or your purse. Roll it on the chest, bottom of feet or upper lip as needed.
Feel Clear and Free – Put a drop of Easy Air and a drop of Wintergreen essential oil in a sink of hot water. Then, place

 

a damp towel over your head and inhale deeply. It's surprising how much this helps.
Working Out in a Building – Forced heating and cooling, sweaty bodies, dust and your lungs…bad combo. Apply before exercising to invigorate and enhance breathing during your workout.
Leavin' on a Jet Plane, Bus or Train – Confined spaces can sometimes have stagnant air, which can be claustrophobic. While in these spaces, free yourself mentally and emotionally by applying Easy Air.
Stuck in a Desk, Small Office or Cube – It's easy and convenient to just place a drop of Easy Air in your palm, rub the palms together and take a deep breath from your cupped hands. Supporting healthy airways will improve your concentration.

 

It may help everyone around you relax too.
College Dorm Room Fix – College dorm rooms aren't known for their vast size or light airy appeal. When you combine a 'first time on their own' roommate with unknown cooking preferences, sweaty workout clothes, or interesting hygiene habits, Easy Air is the great equalizer and your best friend.
It's a Zoo in Here – Staying at someone else's home, with someone else's pets (with their aroma, dander or musty smell) doesn't need to be a problem. Try rubbing Easy Air on your chest and under your nose before entering a pet-filled house.

 

Great for musty campers and caravans as well.
Boost Brain Power – Easy Air Respiratory Blend contains Eucalyptus essential oil which is known to help stimulate mental activity and wake up your mind.

 

The powerfully beneficial oils of Peppermint, Lemon, and Tea Tree are all included in Easy Air and are perfect if you are feeling under the weather.
One Of Mum's Bag Of Tricks – Place a couple drops on the pillow of any child who needs Easy Air but refuses to apply the oil. The oil helps to distract them from whatever reason she can't sleep and helps maintain breathing.

 

Oh, and the added benefit is that Mum and Dad get to rest as well!
Another Tool In Your Habit Breaking Arsenal – Overcoming nagging habits is tricky to say the least. Occasionally lingering side effects affect breathing. Easy Air Respiratory Blend will help you kick bad habits by promoting easier breathing while maintaining lung and throat health.
A Dynamic Duo – Put a drop of Easy Air on the filter of the CPAP machine for even more support during the night.

 

Even without a CPAP machine, it's good to keep a roller bottle of Easy Air nearby to swipe on the chest and under the nose of whoever is keeping you awake by snoring gone ballistic.
Help For Your Airways When You Have Cold Feet in the Winter – A popular way to warm your tootsies in the winter is to warm a cloth bag (filled with rice or corn kernels) in the microwave and place it at the foot of your bed at night. Add a few drops of Easy Air in the bag to make it an aromatically soothing experience as well, opening stuffy airways.
No Gadgetry Required – Diffusing is great, but when you don't have a diffuser handy, simply add a drop of both Easy Air and Frankincense into the palm of your hand.

 

Then, make a fist with a small opening over the oils and breathe in through your fist. This simple technique does wonders.
An Invigorated Senior Citizen's Home – Let's face it, as we citizens become senior, our energy and passion to make things fresh and invigorating may wane. A senior care centre does not have to smell like one.

 

By simply diffusing Easy Air, you can change the whole feeling of the place—and make it a more pleasant experience for residents as well as visitors.
DIFFUSER BLEND IDEAS
Energising Breath – 1 drop Easy Air + 2 drops Bergamot + 2 drops Wild Orange
Snoring Husband – 3 drops Easy Air + 2 drops Eucalyptus + 2 drops Vetiver
Chesty Cough – 3 drops Easy Air + 2 drops Frankincense
Germ Fighter – 2 drops Easy Air + 2 drops Tea Tree + 2 drops OnGuard
Winter Blues Boost – 3 drops Easy Air + 2 drops Wild Orange + 3 drops Lime
Respiratory Support – 2 drops Easy Air + 2 drops OnGuard
Sleep Tight – 2 drops Easy Air + 2 drops Lavender
Breezy Bliss – 2 drops Easy Air + 3 drops Citrus Bliss
Restful Sleep –  2 drops Easy Air + 2 drops Lavender + 2 drops Frankincense
DIRECTIONS FOR USE
Diffusion: Use three to four drops in the diffuser of choice.
Internal use: Apply one to two drops to desired area. Dilute with carrier oil to minimise any skin sensitivity. See additional precautions below.
Possible skin sensitivity. Keep out of reach of children. If you are pregnant, nursing, or under a doctor's care, consult your physician. Avoid contact with eyes, inner ears, and sensitive areas. Avoid sunlight or UV rays for up to 12 hours after applying product. Application to skin may increase sensitivity to sunlight.
How do you use Easy Air Essential Oil?
Join my private Facebook group The Organised Housewife – Essential Oils.