DigestZen essential oil blend is a wonderful companion to aid in the digestion of food, soothe occasional upset stomachs, and reduce uncomfortable gas and bloating.
I am slowly building an A-Z Essential Oil Usage Guide, listing the extensive and therapeutic properties of each of the Essential Oils I have been using along with remedies and benefits for health, beauty and around the home.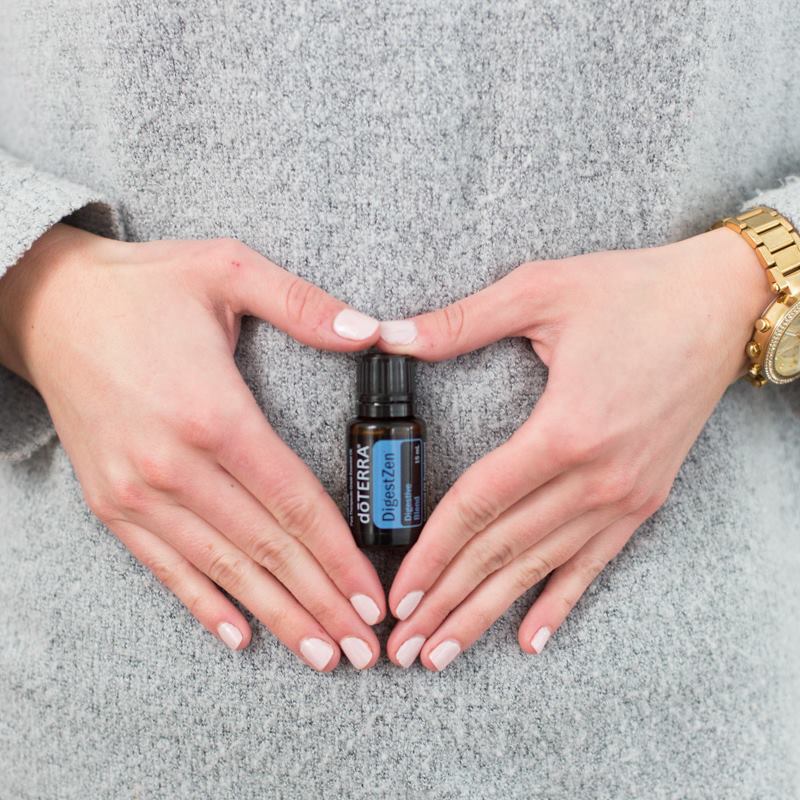 image credit doterra.com
I use doTERRA Essential Oils.  You can purchase oils with a 25% discount. There's no minimum spend and there's never any obligation to make another purchase if you don't want to. You do NOT need to place an order every month or on-sell to friends or family. You simply get to save 25%. Read more here.
ABOUT DigestZen® 
Digestive Blend 

ESSENTIAL OIL

DigestZen is known as doTERRA's "tummy tamer" blend due to its ability to aid in digestion, soothe occasional stomach upset, and maintain overall digestive health.* This unique blend contains Ginger, Fennel, and Coriander to help ease occasional stomach discomfort, including motion sickness and indigestion, while Peppermint, Tarragon, Anise, and Caraway aid with digestion and help maintain a healthy gastrointestinal tract. DigestZen is great to have on hand when stomach upset occurs and is safe and effective. It's a healthy, natural, and gentle way to soothe an upset stomach or maintain a healthy digestive system.*

Aromatic Description:  Spicy, sweet, minty, licorice
DigestZen® 
Digestive Blend 

ESSENTIAL OIL BENEFITS
Aids in the digestion of foods*
Soothes occasional stomach upset*
Helps reduce bloating, gas, and occasional indigestion*
GREAT USES FOR DigestZen® 
Digestive Blend 

ESSENTIAL OIL
Add a few drops to water – to take internally or rub on the stomach before flying or taking a road trip for a calming aroma. Add to water or tea to maintain a healthy gastrointestinal tract.*
A Holiday Helper – After a big holiday feast, massage oil on your stomach after big meals to help digest all holiday fare with ease.
While travelling – take with you when travelling or trying new foods to soothe occasional stomach upset.*
Tame a Tummy – Rub on your child's tummy when they have an occasional tummy ache. Apply before bedtime and it will help them sleep soundly too

 

Dilute 1 drop of DigestZen with fractionated coconut oil and massage onto baby's tummy when upset.
Moo Moo…Boo Boo – Try taking a Veggie Capsule filled with DigestZen when you have too much dairy in the belly.
A Sailor's Little Buddy – For a happy cruise ship experience, be sure to bring along DigestZen. Those all you can eat buffets are hard to turn down and DigestZen will help bring some balance to your tummy.
Over the River and Through the Woods – Long road trips are good for family bonding. Don't let those winding roads ruin the experience Try diffusing DigestZen in the car from time to time to keep everyone's stomachs calm.

 

A great thing to have on a sailing or fishing boat too.
Turbulence is on the Horizon – Flying to new destinations is fun but turbulence is often a problem for the stomach. When travelling by plane, make sure DigestZen goes with you.
Kick Tension & Pressure – this blend certainly helps calm an upset stomach but can also be applied to the temples to help relieve tension and sinus pressure.
A Buy Person's Pal – When we get too busy, often our diet suffers. We opt for late night eating, faster than fast food, skipped meals, over indulgences and more. If your hectic schedule turns into hectic digestion, try DigestZen.
Greasy Foods, Angry Belly – Cafeteria foods are usually packed with grease that can cause discomfort. Be preventative by taking a Veggie Capsule full of several drops of DigestZen before you set foot in a cafeteria.
Kids Won't Take a Capsule – To get things moving, put a drop in your child's bath water and support healthy digestion.
A Regularity Ranger – The next time you feel stomach churn or feelings of indigestion, help yourself stay comfortable and regular by adding a drop to your water or rice or soy milk daily.
A Great Neutraliser – Use 1-2 drops in 4-6 ounces of water as a mouth rinse with water at night if you've eaten a meal with strong smells, like garlic, onion, curries and more. If you like the taste of black liquorice, you will love the taste of DigestZen because it contains Fennel essential oil.
Carefree at the carnival – First a funnel cake and then the teacup ride. Make sure you bring DigestZen along so you can have fun with the rest of the family.
Take-out – This digestive blend will soothe even the strongest kick that your favourite local take-out can deliver.
Unfamiliar Restaurant Relief – When you travel or venture out to an unfamiliar restaurant, it's easy to have digestive distress. Prevent discomfort by taking DigestZen in a Veggie Capsule to prevent or lessen the effects of certain foods.
image below adding a few drops to coffee.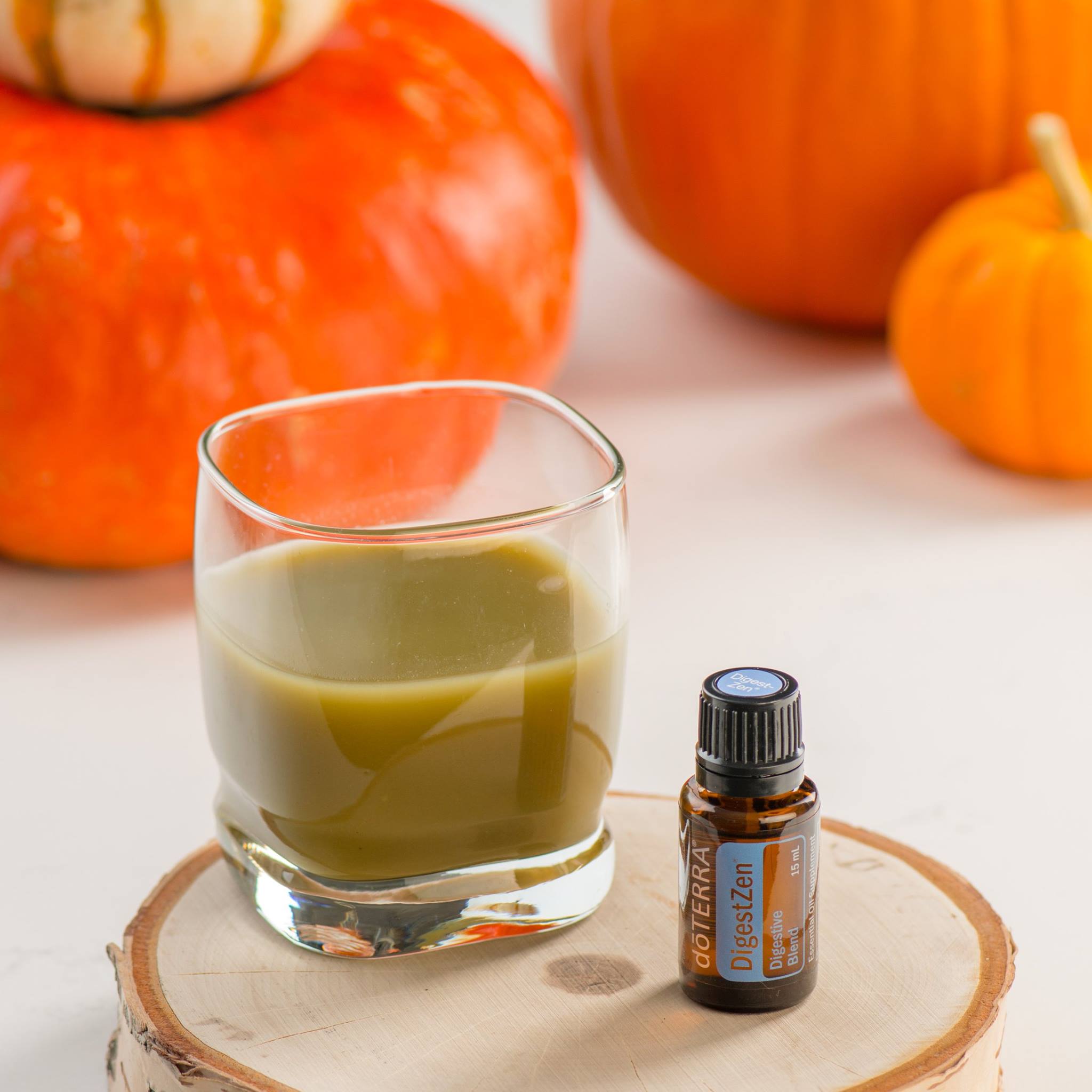 image credit doterra.com
DIFFUSER BLEND IDEAS
Tummy Blend – 2 drops DigestZen + 2 drops Peppermint + 3 drops Lemon
Morning Sickness – 1 drop Ginger + 1 drop Peppermint + 2 drops DigestZen + 3 drops Lemon
Motion Sickness – 1 drop Ginger + 1 drop Peppermint + 2 drops DigestZen + 2 drops Wild Orange
Keep viruses away – 2 drops OnGuard + 2 drops DigestZen
Ease Stuffy Nose – 2 drops Tea Tree + 2 drops DigestZen
Pain Away – 1 drop Frankincense + 2 drops DigestZen + 2 drops Wild Orange
DIRECTIONS FOR USE
Diffusion: Use three to four drops in the diffuser of your choice.
Internal use: Dilute one drop in 4 fl. oz. of liquid.
Topical use: Apply one to two drops to desired area. Dilute with doTERRA Fractionated Coconut Oil to minimize any skin sensitivity.
Possible skin sensitivity. Keep out of reach of children. If you are pregnant, nursing, or under a doctor's care, consult your physician. Avoid contact with eyes, inner ears, and sensitive areas. 
How do you use DigestZen® 
Digestive Blend

?

Join my private Facebook group The Organised Housewife – Essential Oils.