A guide to using doTERRA's Copaiba Essential Oil, which is a superb oil for calming anxious minds, supporting healthy cardiovascular, immune, digestive, nervous, and respiratory systems, as well as promoting clear blemish-free skin.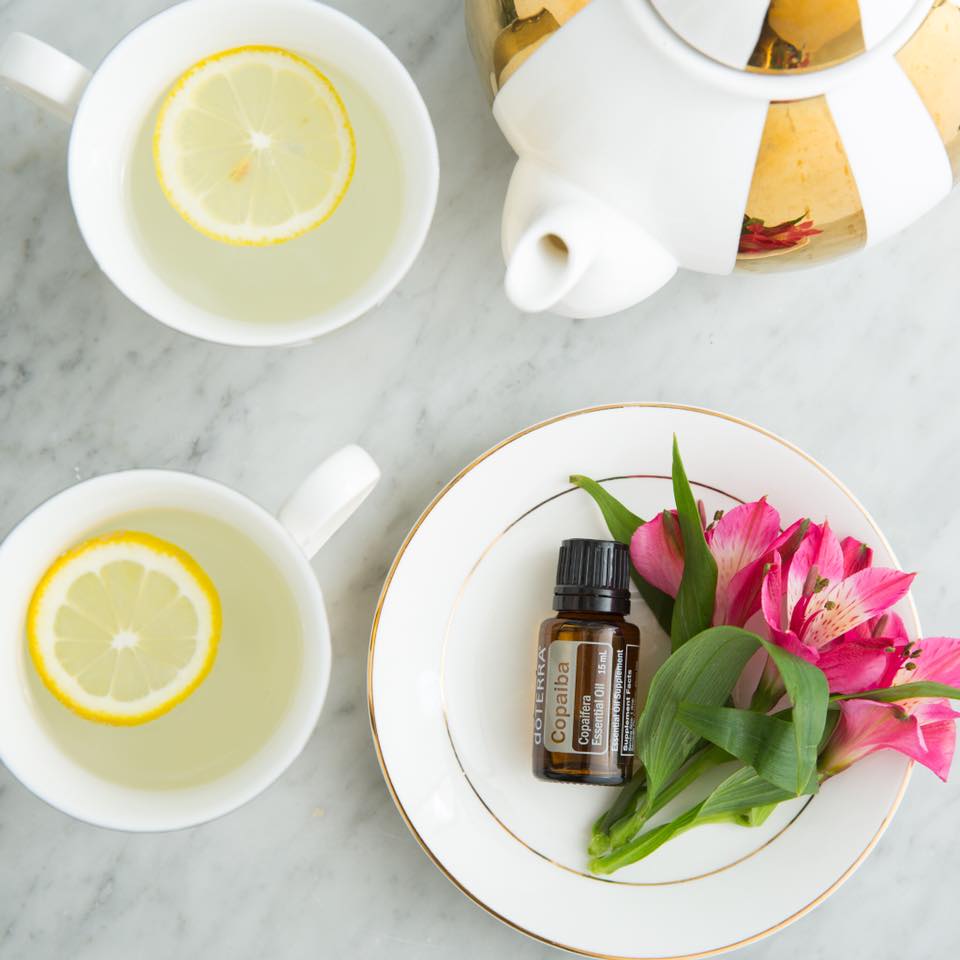 I am slowly building an A-Z Essential Oil Usage Guide, listing the extensive and therapeutic properties of each of the Essential Oils I have been using along with remedies and benefits for health, beauty and around the home.
I use doTERRA Essential Oils. You can purchase oils with a 25% discount. There's no minimum spend and there's never any obligation to make another purchase if you don't want to. You do NOT need to place an order every month or on-sell to friends or family. You simply get to save 25%. Read more here.
ABOUT COPAIBA ESSENTIAL OIL
Copaiba essential oil is derived from the resin of the Copaiba tree which can grow upwards of more than 100 feet and can be found in tropical South America. Copaiba oil is widely used in cosmetic products including soaps, creams, lotions, and perfumes. Since the 16th century, Copaiba essential oil has been utilised in traditional health practices by the natives of north and northeastern Brazil. Similar to Black Pepper essential oil, Copaiba can help soothe anxious feelings and it can be applied to the skin to promote a clear, smooth complexion. Taken internally, Copaiba essential oil supports the health of the cardiovascular, immune, digestive, nervous, and respiratory systems.* Although Copaiba does not contain psychoactive cannabinoids, the main component caryophyllene may be neuroprotective and have cardiovascular and immune benefits.* It's also a powerful antioxidant that promotes immune health.*
Copiaba invites individuals to connect with their past. It offers a deep intertwining energy that links experience to experience to unveil the deeper meaning and messages showing up in one's life – this is an excerpt from the Emotions and Essential Oils 7th Edition Book, available in my shop.
Aromatic Description: Spicy, woody
COPAIBA ESSENTIAL OIL BENEFITS
Creates a calming atmosphere when diffused.
Promotes the appearance of clear, smooth skin and reduces the appearance of blemishes.
THE CHEMISTRY BEHIND COPAIBA ESSENTIAL OIL
When it comes to Copaiba essential oil, one thing everyone wants to know about is the cannabinoids.
Our bodies naturally produce cannabinoids in the endocannabinoid system. Our bodies respond differently to various forms of stress, this system helps to manage anxiety, inflammation, and other psychological responses. It does this through the cannabinoid receptors, of which there are two types: CB1 and CB2 (CB1 works with the brain and central nervous centre while CB2 works with the immune and endocrine systems). For a more common example of this at work in your body, consider the "runner's high". The two components at work here would be the slight euphoria (CB1) and the soothing of the discomfort in the muscles and joints (CB2).
Cannabinoids are, put simply, molecules that act on either or both of these receptors, but activated CB1 and CB2 receptors create very different bodily responses. When certain cannabinoids activate CB1, you get a psychoactive response—a drug-induced "high". CB2 is different, when it is activated by beta-caryophyllene (again, the main component of Copaiba essential oil), you get some encouraging therapeutic results, including support for healthy inflammatory response, easing discomfort, and a beneficial effect on mood – but with NO psychoactive side effects.
So beta-caryophyllene is the key here. And Copaiba essential oil contains 55% beta-caryophyllene. By comparison, other essential oils like Clove and Helichrysum contain between six and twelve percent beta-caryophyllene.
Studies have shown that the therapeutic benefits of oral supplementation (one to two drops of Copaiba essential oil) may provide noticeable results (CB2 activity) in humans.
GREAT USES FOR COPAIBA ESSENTIAL OIL
Use daily to support body systems – One to two drops in your water, juice, or teas. Take one to two drops under the tongue in the morning, or add one to two drops to a veggie capsule to take internally.
Head Pain Relief Roller Blend– 8 drops Copaiba + 6 drops Frankincense + 6 drops Lavender + 2 drops Peppermint + fill roller with Fractionated Coconut Oil.
For your skin – Copaiba has the capability of keeping your skin clear and clean while reducing the appearance of blemishes. To take advantage of this benefit, add Copaiba to your toner and apply to your face in upward circular motions, or apply it directly your skin before applying moisturiser.
For whole-body wellness – Most of the body can benefit from Copaiba—it supports the cardiovascular, immune, digestive, nervous, and immune system.* South Americans have used Copaiba resin for the health of many of these same systems. To take advantage of these benefits, add one to two drops to water, juice, or make your own tea using warm water and honey.
To calm occasional anxious feelings – When you're facing a stressful day ahead or feeling worried, diffusing Copaiba's woody scent can help calm any anxious feelings you may be experiencing.
As a way to protect and support your cells – Take one to two drops in a veggie capsule to take advantage of the antioxidants—the substance that stops potential damage to your cells from oxidation.*
To unwind – Diffuse it in your room and focus on the scent to fall into a meditative state. Or, you can also use in a calming bath by adding two to three drops to body wash before mixing it in the water.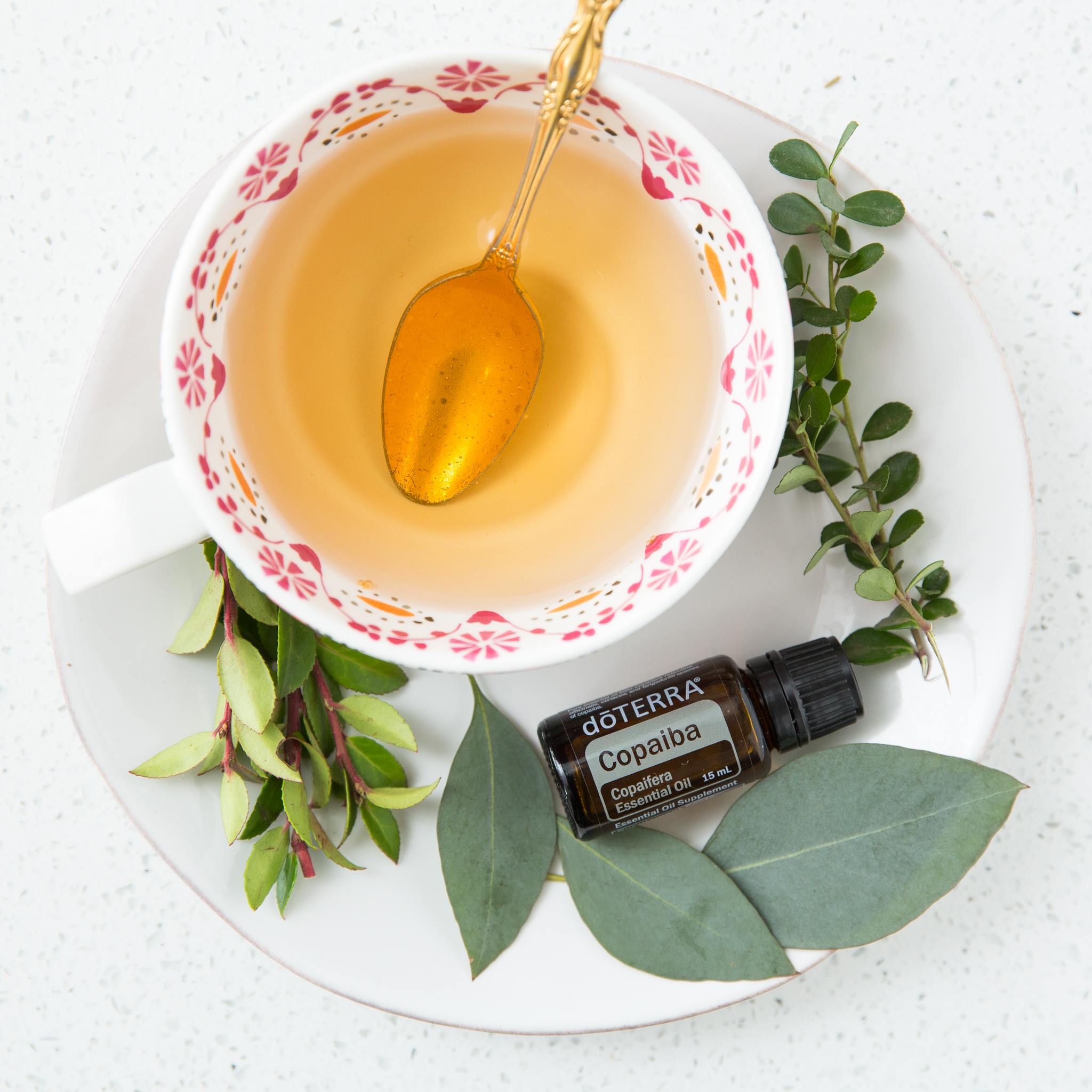 Copaiba's main constituent is a sesquiterpene, Beta-Caryophyllene, which is also found in Black Pepper, Melissa, Clove, and Rosemary essential oils, but the difference is that Copaiba is composed of more than 50% beta-caryophyllene. This gives Copaiba a unique edge in supporting a healthy nervous and immune function, as well as providing soothing and relaxing properties to the body.
READ MORE & ORDER HERE: doTERRA Essential Oils Products
DIFFUSER BLEND IDEAS
Panic Stations – 3 drops Frankincense + 3 drops Copaiba + 3 drops Easy Air
Apple Orchards – 2 drops Douglas Fir + 1 drop Copaiba + 1 drop Frankincense
Bright Ideas – 4 drops Copaiba + 2 drops Frankincense + 1 drop Ylang Ylang + 1 drop Geranium
Night Night – 3 drops Lavender + 2 drops Copaiba
Calm the littlies – 3 drops Copaiba + 3 drops Lime + 2 drops Cedarwood
Bath Time – 2 drops Lavender + 1 drop Copaiba + 1 drop Geranium
Focus – 2 drops Copaiba + 2 drops Peppermint + 2 drops Rosemary
Winter Walk – 2 drops Douglas Fir + 2 drops Copaiba + 2 drops Cedarwood + 1 drop Arborvitae + 2 drop Lime
Ease Discomfort – 2 drops Frankincense + 2 drops Copaiba + 2 drops Yarrow|Pom + 2 drops Turmeric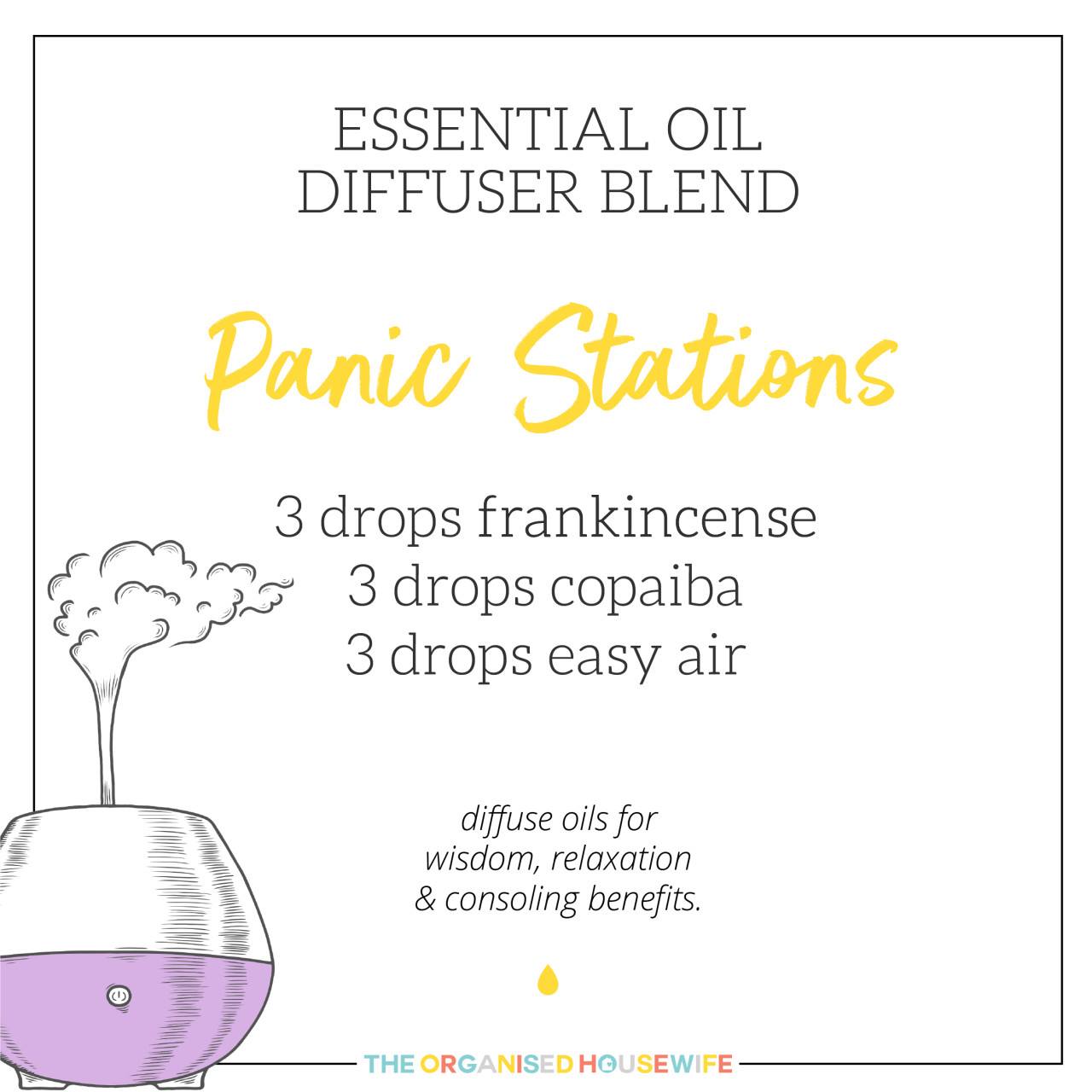 DIRECTIONS FOR USE
Aromatic use: Use three to four drops in the diffuser of choice.
Food additive use: Add 1-2 drops to food.
Topical use: Dilute one to two drops with a carrier oil, then apply to the desired area. See additional precautions below.
*Possible skin sensitivity. Keep out of reach of children. If you are pregnant, nursing, or under a doctor's care, consult your physician. Avoid contact with eyes, inner ears, and sensitive areas.

Join my private Facebook group The Organised Housewife – Essential Oils.