7 easy and super quick ways to use essential oils around the house to add some lovely fresh scents to your home. Essential oils smell wonderful and can lift your mood as well as having a range of other benefits.
Using essential oils around the home has many benefits, plus they make your home smell lovely and inviting. It always makes me feel happier when things smell nice. Essential oils are great to use as natural cleaning alternatives, and they can have a wide range of health benefits. Read below for some super easy tips to use essential oils around your home, that can be completed in less than 60 seconds each.
Add Scent to Your Dryer Balls
One of my favourite ways to use essential oils, would have to be adding a few drops to my wool dryer balls as it gives the laundry a beautiful fresh smell. I always use dryer balls when I run the dryer, as they help the washing to dry quicker with less wrinkles. Then when I put the dry laundry on my bed to fold, my room fills up with the same lovely scent, which also lingers on the clothes as well. It's a win, win, win!
Linen Cupboard Deodoriser
Add some of your favourite essential oil to a container of bicarb soda and keep the jar in your linen cupboard as a deodoriser. Bicarb soda is a natural deodoriser and odour eliminator, and the essential oil will add a lovely pleasing scent.
Toilet Roll Diffuser
Add a few drops of essential oil to the inside of the cardboard on a toilet roll. This will add an inviting scent to your bathroom as long as the toilet roll lasts.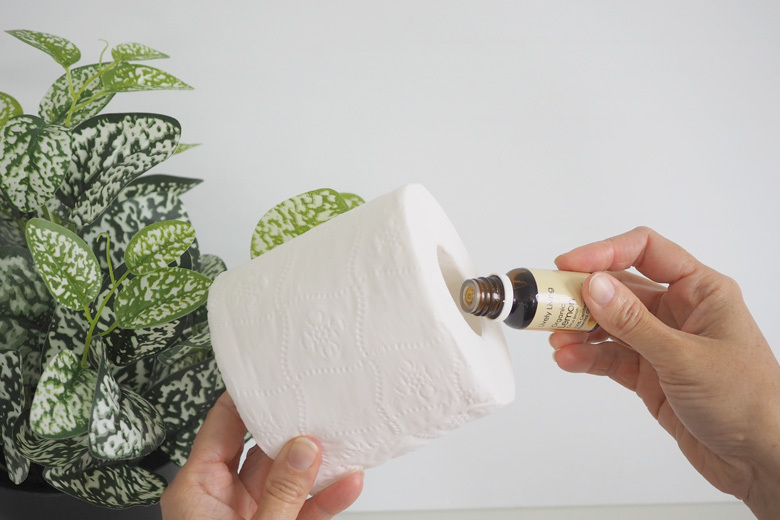 Shower Decongestant
Add some drops of eucalyptus essential oil into corner of shower just before you have a nice hot shower to help relieve nasal congestion. The combo of the hot water, steam and the antiseptic and expectorant properties of the eucalyptus oil will work wonders!
Wardrobe and Drawer Magic
Add a few drops of an essential oil scent you love to some cotton wool balls and pop them into your clothes drawers or on a shelf in your wardrobe. This will add a lovely scent to your wardrobe and clothes. Making opening your socks and underwear drawer a pleasure!
Natural Fabric Softener
I have long used plain white vinegar as a budget-friendly laundry softener, as I don't like the artificial chemical softeners available in stores. Just add some of your favourite essential oil to the vinegar for a lovely scent.
Diffuser
One of the easiest and quickest ways to enjoy essential oils in your home or at work is to use a diffuser. Diffusing oils to enjoy their aromatherapeutic properties has many benefits, as well as adding some some lovely scents to your home. I use my diffuser on a daily basis. I diffuse essential oils for so many different reasons: as a soothing and calming sleep aid, to help me feel more energetic, to add therapeutic oils, like eucalyptus oil, to the air when I am sick, for stress relief, to help me concentrate when working and even to lift my mood.
How do you like to use essential oils in your home?
BOOST YOUR IMMUNITY WITH ESSENTIAL OILS
Support your family's immune system this cold and flu season, with three organic essential oil blends that will also protect them from harmful exposure to toxins. Continue Reading