This is a guest post by Laura from Smarter Admins
A few months ago, I moved house. I moved from a spacious place that was (very) run down to a house that is (a lot) smaller but in beautiful condition. It's lovely to be living in such nice surroundings, but I'm struggling to keep my clutter under control. I don't have the luxury of space that I had become accustomed to and I need to adjust to a life not unlike an Ikea or Howard's Storage World catalogue.
In particular, my desk in the spare bedroom has been looking dire: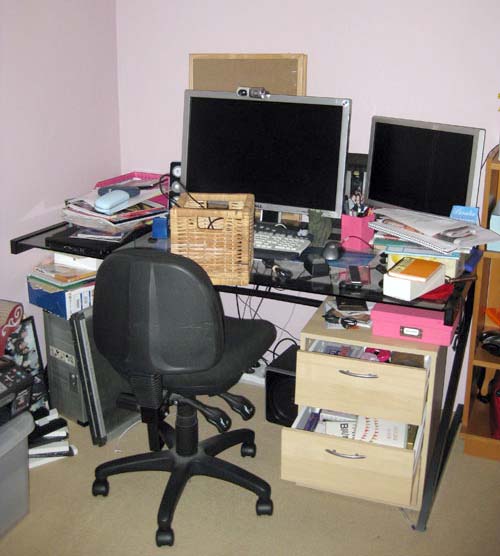 I spend far too much time at my desk and as you can see it has turned into absolute chaos. I have no idea how to find the bills I need to pay by next week.
It was inevitable that I would reach breaking point and catch desk claustrophobia. I cracked and needed to get on top of the clutter, stat!
Here are the three key steps I undertook to transform my desk space and found it much more manageable to get my head around the ordeal. Because, let's face it, decluttering, reorganising and cleaning aren't fun chores, are they?
1. Declutter
First, I selected some motivational music – I find the Glee soundtracks to be great for this – and then removed all the paper and junk off the desk. I spread out on the floor and started collating the paper into piles according to filing, relocation or recycling. I found homes for all the other bits and pieces like USB cables, chargers and stationery. This takes a lot of time, so when you're at this point, find a way to keep yourself motivated and on task. You could treat yourself to something delicious every now and again.
It feels so good to shift all the STUFF!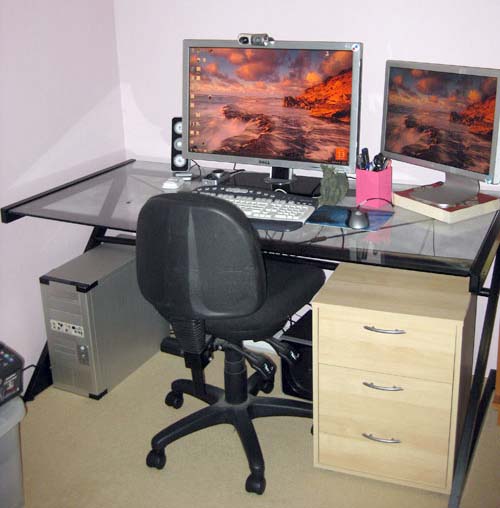 2. Evaluate your desk space
Once I'd decluttered the desk area, I took a long look at what was left. Ideally you want to have very few items on your desk, save for your computer and frequently-used bits and bobs. I evaluated my need for two monitors on my own desk and decided to cut this back to just one monitor. I decided to keep two paper trays on my desk (one for "to-do" items and one for "filing"). Everything else I am going to try to keep stored on shelves or in drawers. Take this time to clean your space from top to bottom; spray'n'wipe the desk, vacuum the floor, tidy up the cables at the back of the desk and around the power point.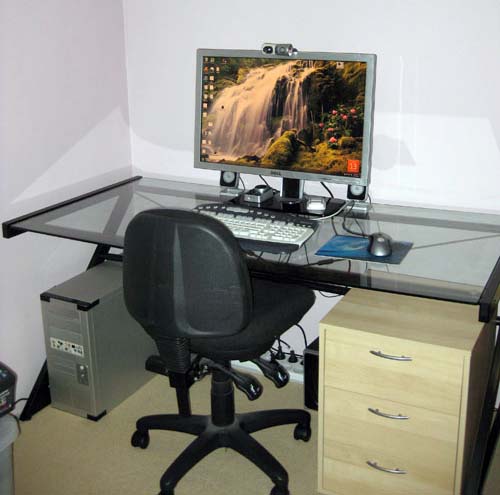 3. Reorganise your desk space
I thought long and hard about what I wanted to achieve for my desk and the next step was to make it happen! When you reach this stage you may find that you need to change your storage solutions or the layout of your space. Because my desk is in a small bedroom, I've kept the desk in the same spot, but I've promised myself to keep my desk as tidy as possible. I've decluttered so well that I have more space in my desk drawers, allowing me to get a lot of the basics off my desk, like my stapler and sticky tape dispenser. I've got two paper trays in my favourite colour to keep my papers together and I've kept my all-important cup of pens on the desk too. My drawers are neatened up courtesy of various storage baskets and the like and now that everything has its place, reducing the chance of me having a messy desk relapse.
I do love being inspired by quotes and photos and hung up an el-cheapo pin board next to the desk so that I can stay inspired and motivated without invading my nice, clean space.
And, without further adieu, here is my very shiny, clean, decluttered and organised desk: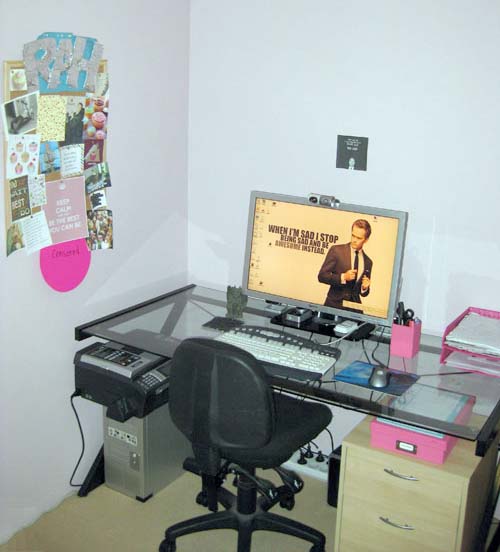 I feel so much better having a clean space where I can sit, go through my jobs list and not feel claustrophobic from the mess.
Now what?
Of course, one should never rest on their laurels when it comes to tidiness and already I'm thinking about what else I can do to my workspace.
I'd really love to look into becoming paperless, but it will take a lot of work to start with. There are lots of blogs out there with great tips for how to go paperless and they do a great job of making it seem simple. But the next thing I am doing is getting a floating shelf installed above my desk. I like the floating shelves because the brackets are hidden, leaving a nice, clean display. I plan to use the shelf to store practical things like folders but also knick-knacks and special photos.
I hope that, if nothing else, I've inspired you to never let your desk get as messy as I mine got! But remember, if your desk doe become cluttered, it doesn't have to take a lot of effort to reverse it!
Laura is the publisher of Smarter Admins, Australia's first blog dedicated to tips and tricks for office administration professionals. Laura also has a stationery obsession.
Find Smarter Admins:  Blog  |  Facebook  |  Twitter