This post is sponsored by Kia's All New Soul
Recently I visited the final winner of the  'Win The Organised Housewife for a day' competition, Leeanne, hubby and six kids, from Melbourne, Victoria. With thanks to Kia Australia I was able to visit Leeanne and drive to the various shops to pick up my supplies around Melbourne in the zippy little Kia Soul.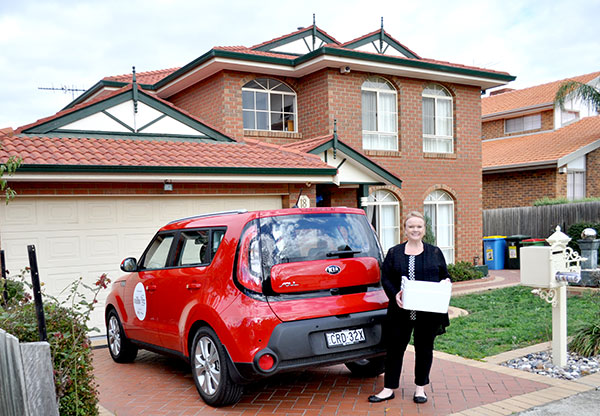 Organising the pantry, on a budget
Leeanne moved into her new home a little over a year ago.  She is trying to make all the rooms, cupboards and areas of the home work best for her family.  Leeanne has 6 kids and you can just imagine the one cupboard that is hard to keep under control….. the pantry. Perhaps this is the busiest cupboard in the home, hands big and small in and out all day rummaging through the food.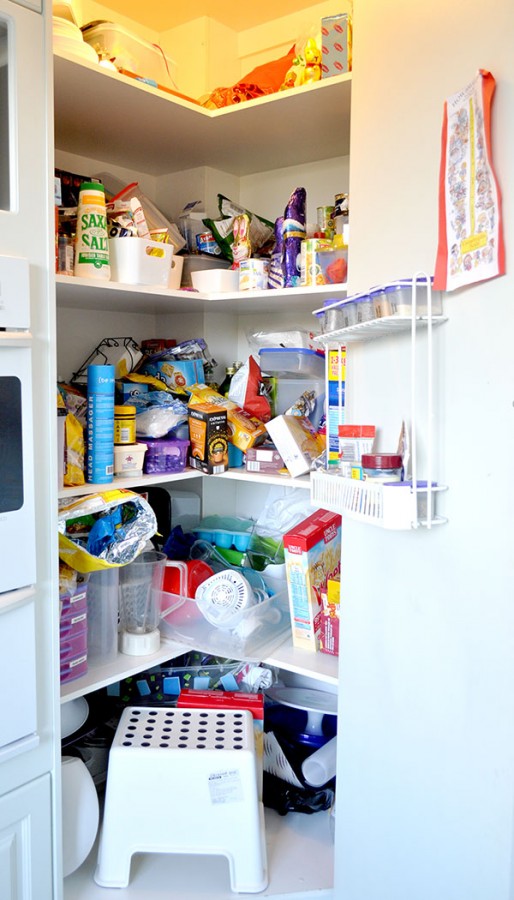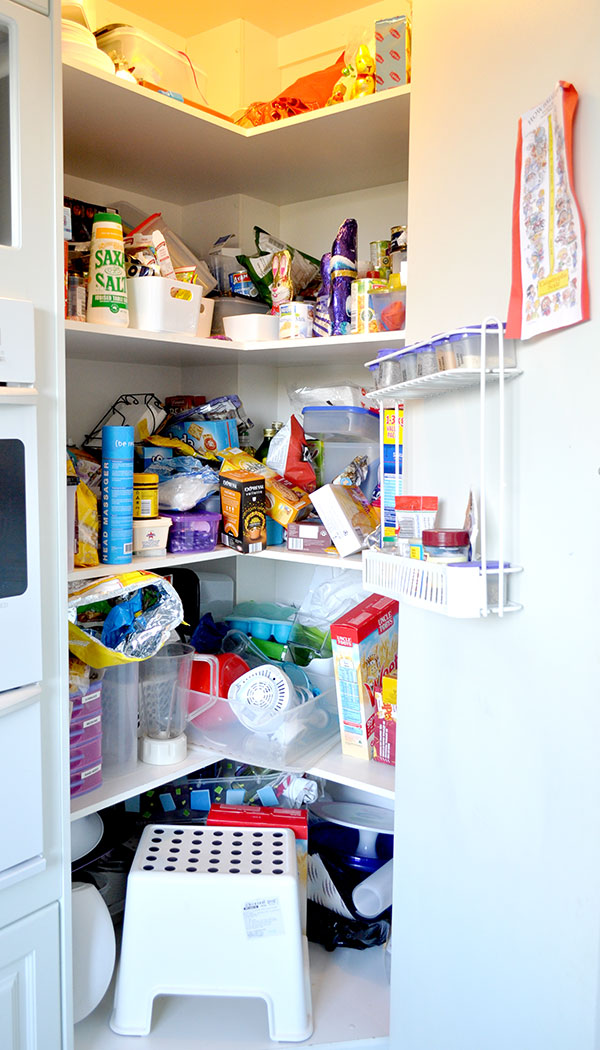 Along with the pantry Leeanne struggles to keep the kitchen bench clutter free.  Kids school books, mail and gadgets tend to pile up and frustrates Leeanne as it constantly looks messy.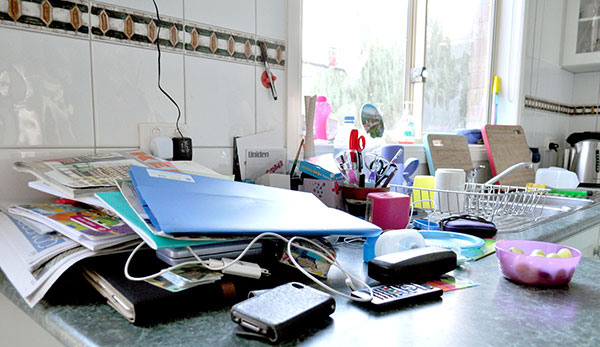 The action plan:
Remove everything from the pantry and assess the best storage solutions
Sort through the paper clutter and create an area outside of the kitchen specially for it
Organise under the kitchen sink
See how we transformed this pantry in the video below
The Pantry
Looking in I can understand how this one little cupboard is frustrating Leeanne, and if you know me well enough by now, I am totally smiling and looking forward to organising this pantry, I'm in my element!!
I can see in the back of the pantry a good supply of air tight containers, unfortunately they are so far back it's hard to reach and all the other food products were just piled on top of each other.  Which would make it very hard to find what they are after and the possibilities that food was lost, stale or out of date before used.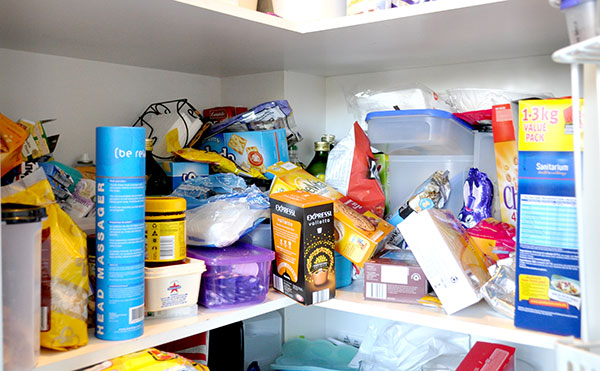 The top of the shelf is really hard to get to or even see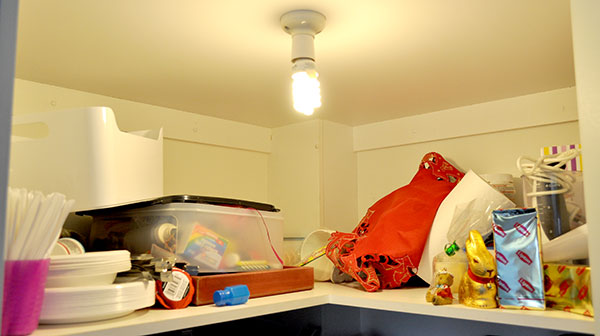 We removed everything out of the pantry, sorting all the like items together to make it easier for me to determine what items I needed to better organise the pantry.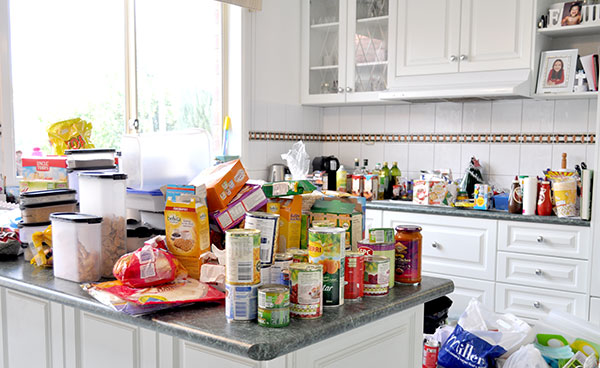 We used the ironing board to make extra bench space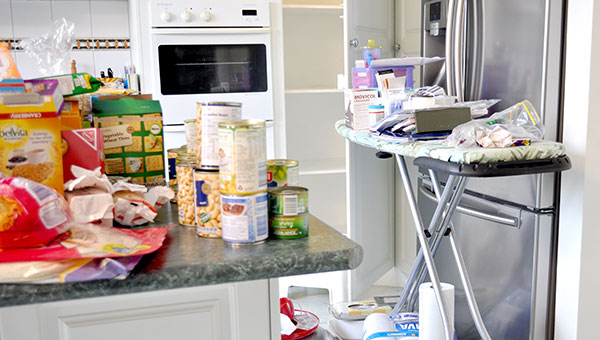 Once everything was out we determined an improved way of organising the pantry, gave it a clean and headed to the shops.  Once back I put the big storage items into the pantry.  Working with these items as our base to organising the pantry.  I used 2 large 16L plastic drawers from Big W ($17.00 each) in the bottom shelf along with the white plastic Variera boxes from Ikea ($5.99 each), which will be very easy to clean if needed.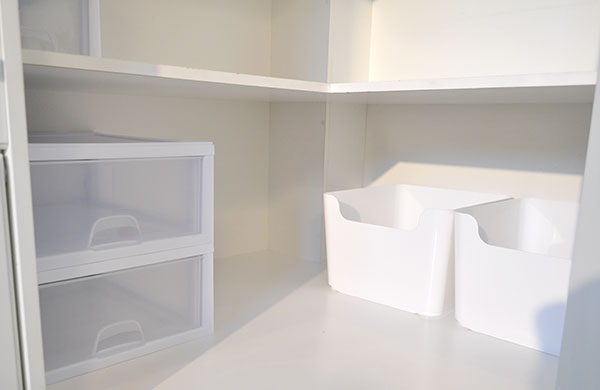 Now the bottom of the pantry holds all the extra food/double ups (which is a great idea when products are on special), bags of chips and medications.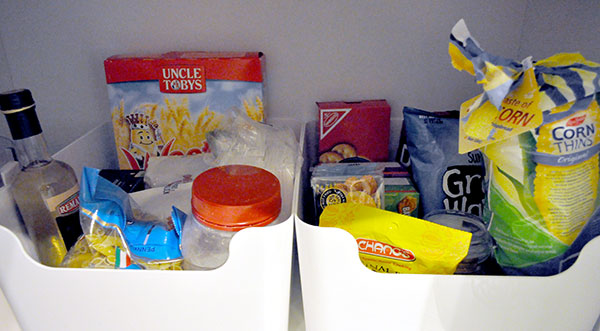 Most pantries have a good stock of cans, stacking them on a tiered shelf will make it easier to find what you need.

 I couldn't find a budget friendly shelf organiser so I improvised and created my own.  I found 2 inexpensive long slim baskets ($3.00 each – from a discount store), turned them upside down and the cans sat on top of them perfectly.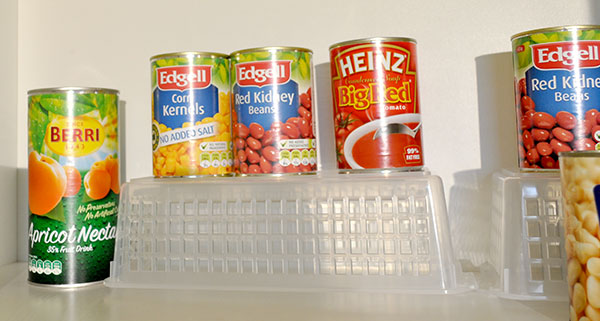 A lot of clutter from the pantry was boxes of snacks for the kids, by simply taking the snacks out of the boxes and placing them into the 5.7L Plastic drawers ( $10.00 each – Big W) it created so much extra space.  This also allows the kids easy access to pack their lunches or have a treat after school.  Plus it gives mum a good indication at a glance of what she needs to stock up on when doing the grocery shop.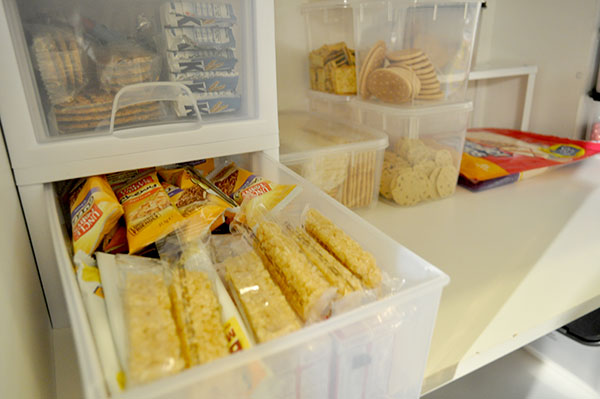 Taking partially opened packets of biscuits out of the box and placing them into an airtight container (Decor 1.75L – $5 – Big w) will help to keep them fresh.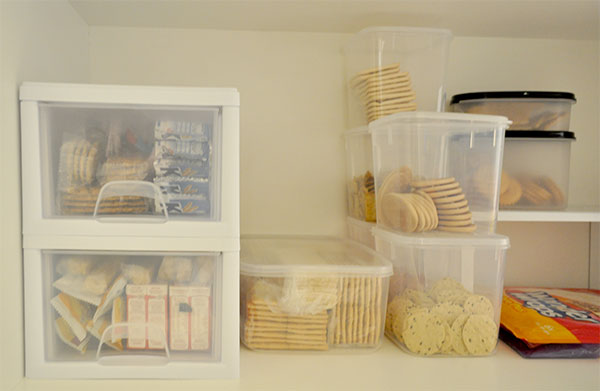 Oils and sauce are stored together.  Herbs, spices, noodles and packet mixes are all stored in plastic Variera Box (3.99 – Ikea).  Now Leeanne can grab a box, search for the herb she is looking for then place the box back.  The box is sitting on top of a Variera Shelf Insert ($4.99 – Ikea), which helps to create more storage space if needed.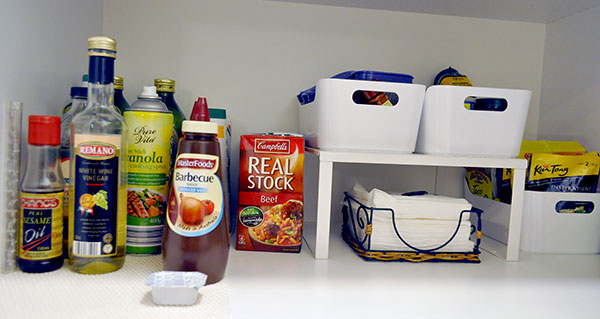 Surprisingly we didn't purge very much food, instead finding better storage solutions, which then created room so that the family can now easily reach the airtight containers that were hiding at the back of the shelves.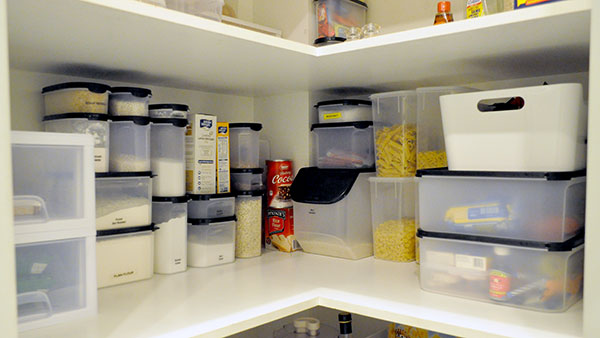 In the top of the pantry we stored away party supplies and appliances that are not used often in the Variera boxes ($5.99 each – Ikea)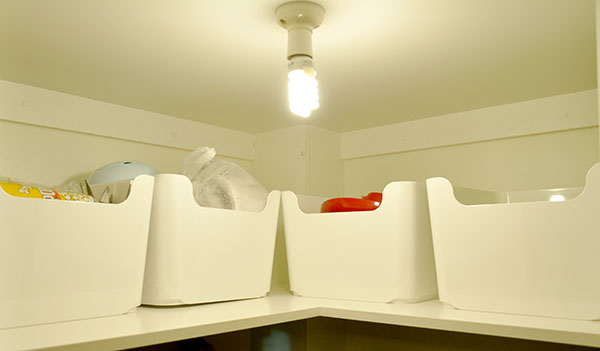 This pantry has had a complete makeover, simply adding a few inexpensive storage items, removing packets and storing them differently, has just improved this space immensely.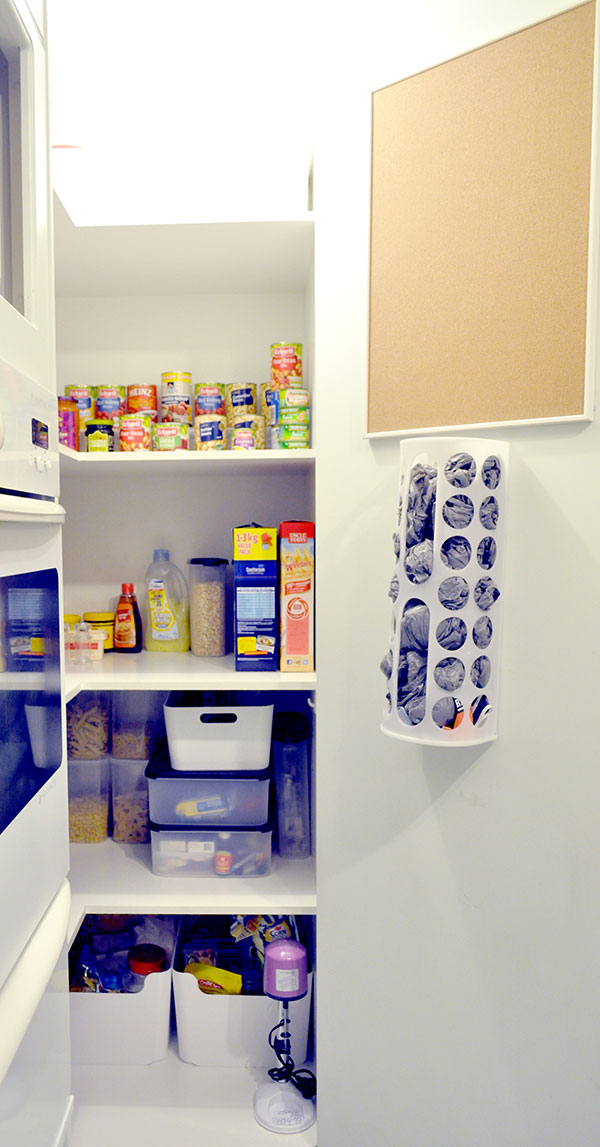 The paper clutter
Along with the kid's school books Leeanne had little paper piles through her kitchen, bills and hubby's papers.  This can easily happen especially as Leeanne doesn't have a designated office desk she has made her kitchen her space to look after the bills.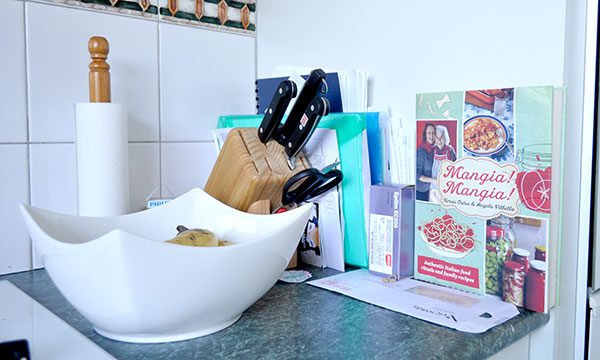 I purchased a Besta modular unit ($370, 5 x legs, 3 x doors, 1 x extension unit, 1 x shelf unit) from Ikea to have as a designated area for all the kid's school books, mail, bills etc.  Each of the younger school children have their own Tjena boxes ($5.99 each), removing their books off the kitchen bench and into their own boxes.  They will now be able to grab their box, put onto the dining table to do their homework, pack up all items back into the box and neatly store away.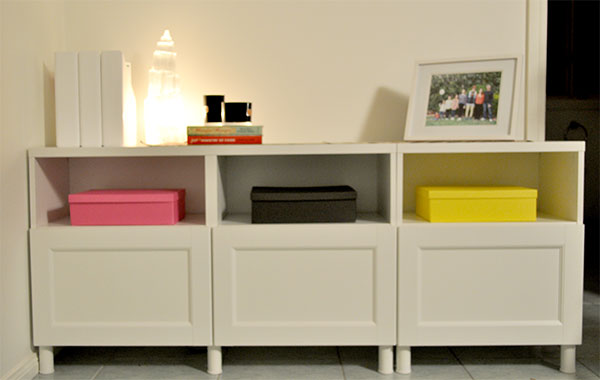 I used the Pluggis Magazine files from Ikea ($14.99 set of 2) to sort mail, bills and hubbys paperwork.  Simply by turning the holders around makes them look a lot tidier, hiding the paper inside.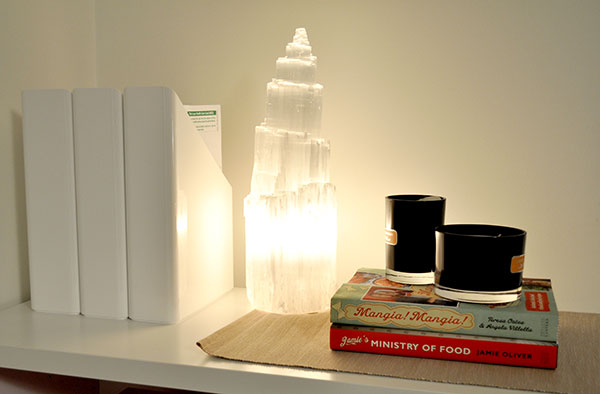 Now inside the unit Leeanne can store the dishes that aren't used frequently, before they were taking up space in the bottom of her pantry.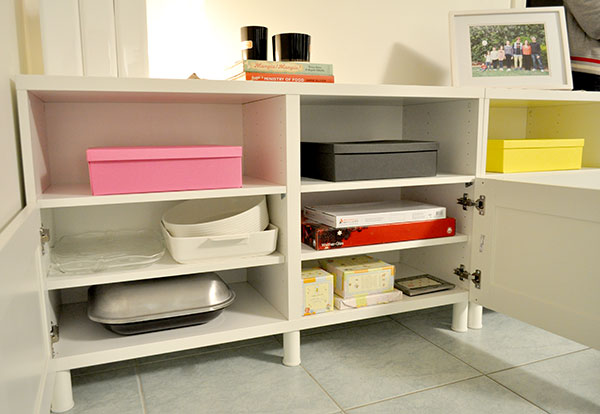 Now the kitchen is beautifully tidy and paper free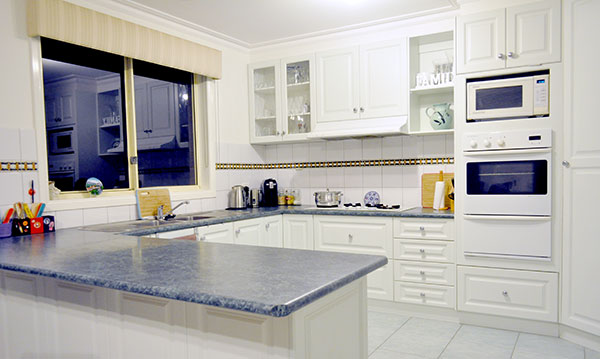 Under the Sink
One other change Leeanne wanted to see in her kitchen was to organise under the sink.  It really frustrated her that her tea towel had nowhere to hang, she just poked into one of the cupboard doors.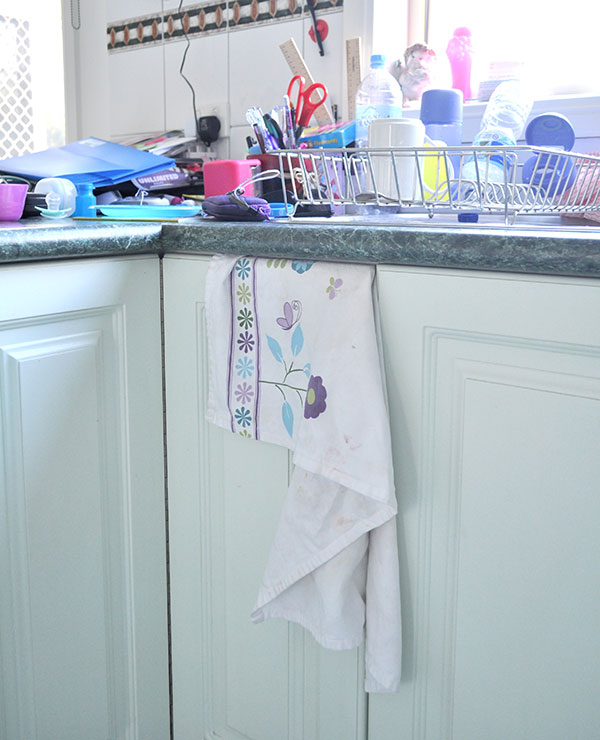 With a very small shelf at the bottom of the sink it made this area really hard to get at, needing to get on hands and knees to see what is under there.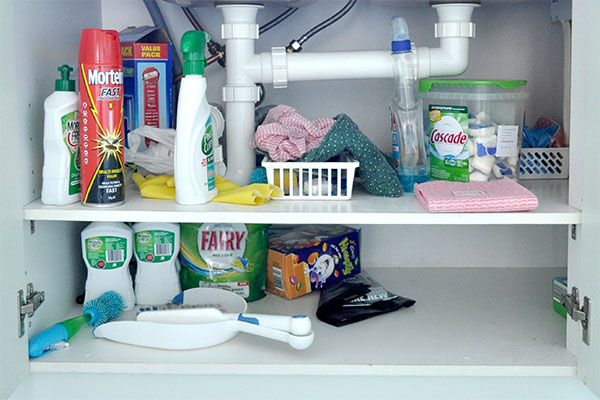 Simply adding in a few plastic baskets ($12.50 set of 4 – Big W) the family can simply slide out a basket without bending down too much.  We added a caddy to the door to hold dish sponges and brushes ($17.00 – Big W)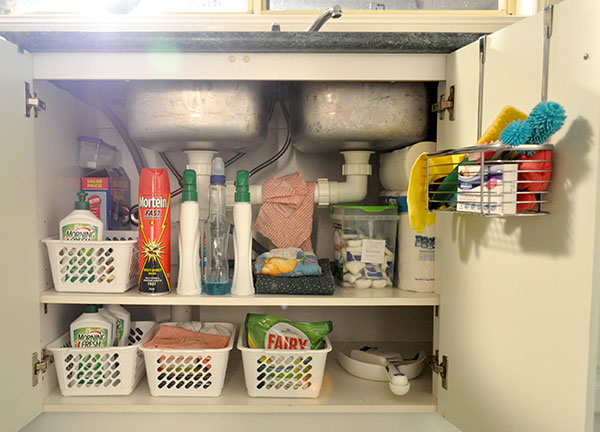 And a towel holder onto the front of the door ($12.00 – BigW)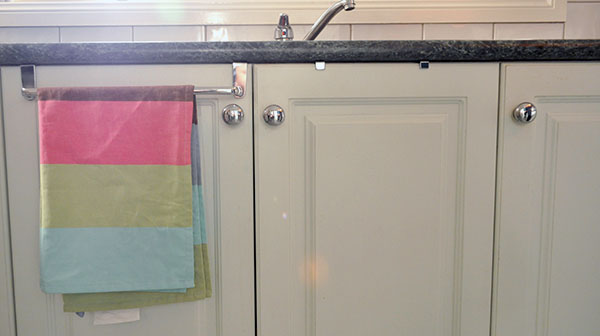 I am so truly grateful for Leeanne allowing me to come into her home and getting my pantry organising groove on, it was so much fun.  She has said her new pantry makes her feel like she has lost weight, it's no longer overwhelming and it will make crazy time in her kitchen so much easier.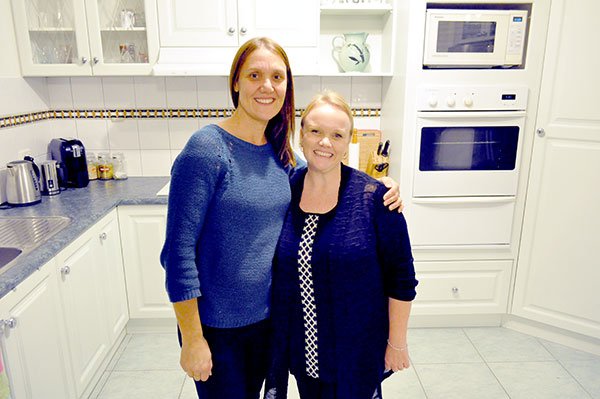 What part of your kitchen drives you nuts?