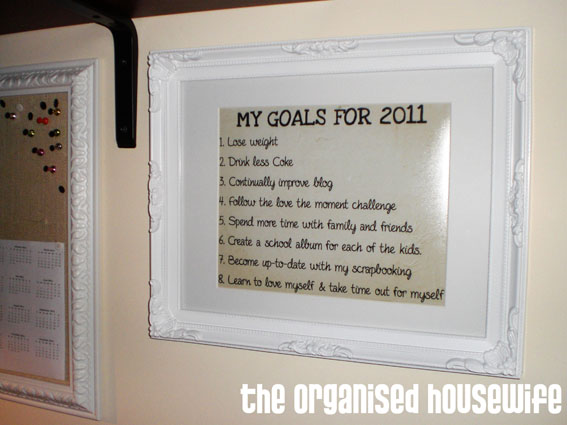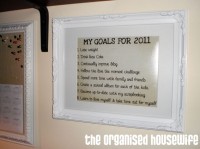 Continuing on from my post yesterday I was going to ask if you are still on track with the goals you set yourself at the beginning of the year?
What were your goals? Did you write them down? Do you have a reminder to keep on track? I framed my list and placed them above my desk as a constant motivator.
Item 3 on my list – Improve Blog
When I first started this blog 11 months ago, I never in my wildest dreams imagined it would be as popular as it is today. Currently there are 8,300 plus followers on facebook, and a constantly growing number of readers on the website, thus giving me the desire to continually improve content and overall presentation of the website.
I recently created a Vision Board, also called an Inspiration or Dream Board. To help me find direction and determine the path I want to lead The Organised Housewife. Hubby too has his own dreams for the future so together we shared this board.
This vision board can be purchased from kikki.k. It is lightweight, being held up with a few 3M adhesive strips so won't damage the wall. Looks beautiful with the canvas covering the cork, being framed in a thick white wood. Thank You to Kikki.k for sending me this board after they heard on twitter that I was wanting to create a vision board for the blog. I then purchased the gorgeous clear push pins from kikki.k on a recent visit. These pins are great as they won't cover the images.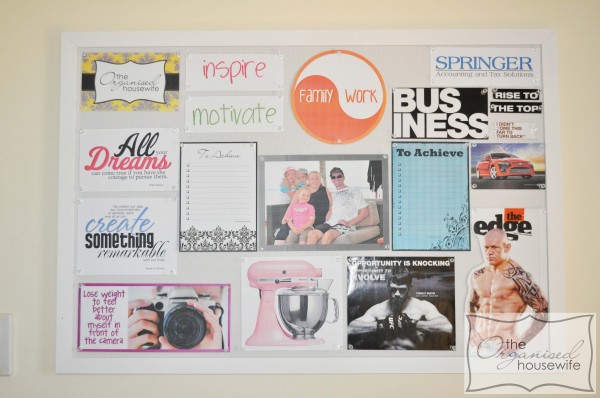 Firstly, we placed a family photo in the middle, as everything we do is for our family. We also placed the Family/Work image as we want to have a definitive balance between family and work.
My goals
Dreams
All your dreams can come true if you have the courage to pursue them. I have my dreams and know the next step I want to take the blog, this little note is to encourage me to stay on the path.
Create
No matter our age, our circumstances, or abilities, each one of us can create something remarkable with our lives. This time 12 months ago, I was a Stay at Home mum who needed something to occupy my time, so I started a blog. Now, I have this wonderful website, helping many wonderful readers that are reaching out for advice and people are now recognising me in public as 'The Organised Housewife'. This is keeping me real, telling me that yes it is possibly that I, the SAHM from the Gold Coast can help and encourage readers to have clean and organised homes.
Motivate and Inspire
I love that my blog is helping so many women that have either just had a baby and lost control, depressed and don't know where to start, a hoarder who needs simple tasks to break their pattern, somebody who works full time and needs easy ways to do the housework or somebody just needing a few tips and ideas. I will continue to motivate and inspire each of you.
In front of camera
This is a mission also for 'The Organised Housewife' as I don't want to be shy to stand in front of the camera, do some video reviews and more how to's. I'll get there…I'm on my mission!
Pink Kitchenaid
I would love a kitchenaid, preferably a pink or white one 🙂 This has been on my wish list for many many years. I hear from those that have one how great they are. I bake…alot… and would be just delighted to be able to afford to buy one to keep on my bench top as pride for my efforts with this blog.
To Achieve
I have a few other goals, which I hope you don't mind, I won't share publicly. More so behind the scene's things I want to add to the blog, statistics I would love to reach and a few other things I need to put into action. Hubby and I have both written down what we need to do to achieve these goals on our lists here: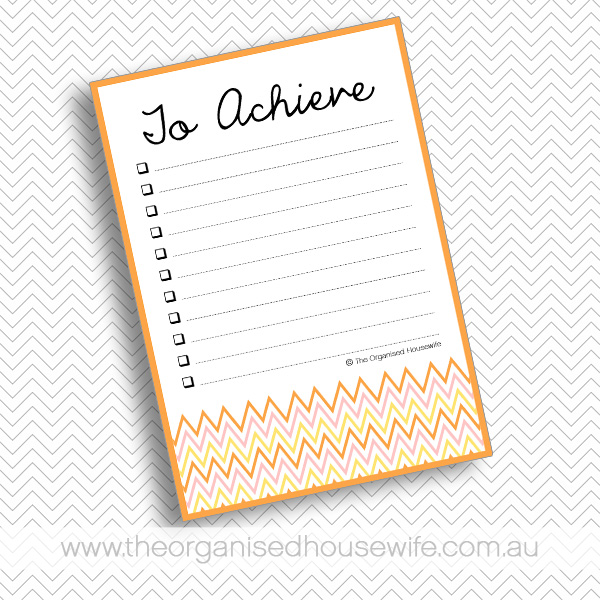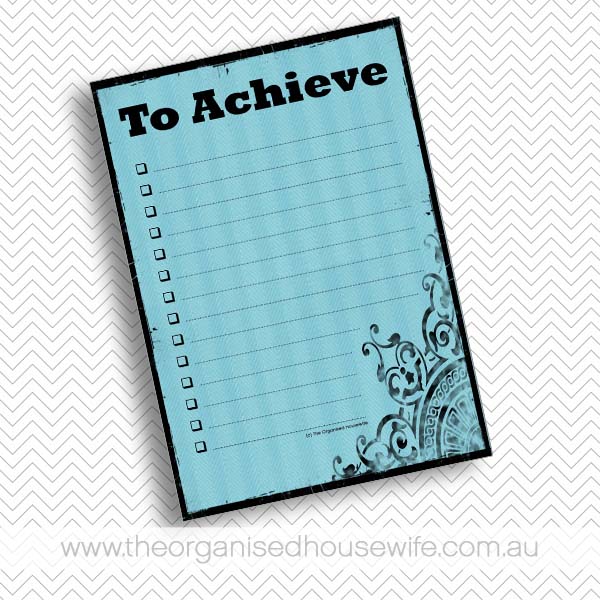 Mr Organised Housewife's Goals
In the near future he is starting up his own business. Using encouraging clippings found from magazines to help motivate his journey. In his spare time he enjoys Mixed Martial Arts, hence the very ripped man in the corner, is his inspiration.
What have I done so far to improve the blog?
Since the beginning of the year I have changed the look of the website and made navigation via categories easier. I have recently updated the sidebar, recipes and printable section, making it more user friendly.
I have also installed a shop making a few printables available for purchase. I hope you are all enjoying the checklists and routine charts. I spend alot of time being 'The Organised Housewife' responding to Facebook wall posts, questions being emailed, the newsletter and behind the scenes creating content and taking photos. Having this shop selling printables at very low fees is my way of helping to pay for the running costs and time I spend on the blog.
Blog Nomination
I would also like to thank my wonderful readers who nominated me for Connect 2 Mums AusMumpreneur Best Blog for 2011. I feel so honoured to be thought of and am very grateful…thank you. Voting starts in a few weeks.
Have you created a dream board for your blog or business?
Do you know the path you want to take it?
Other wonderful Dream boards
Sunny Mummy
Seven Cherubs
Jules Bright Blog