My son recently turned 15, he is an amazingly caring and considerate young man, who always helps out around the house without me asking, I'm a lucky mumma.  I am very thankful that he has his dad's genes and is quite tall (I don't like being short, I'm so glad all my kids are tall, see image below). He's a good 40cm or more taller than me. I noticed earlier this year that his feet hang over the end of his single bed, which he has never complained about, but I thought it was probably time to upgrade him to a bigger bed. So for his birthday, I gifted him a bedroom makeover.  I'll show photos of the makeover in another post, but today's post I wanted to share with you the mattress I chose for him as many watched the makeover in my instagram stories and wanted my opinion on the mattress.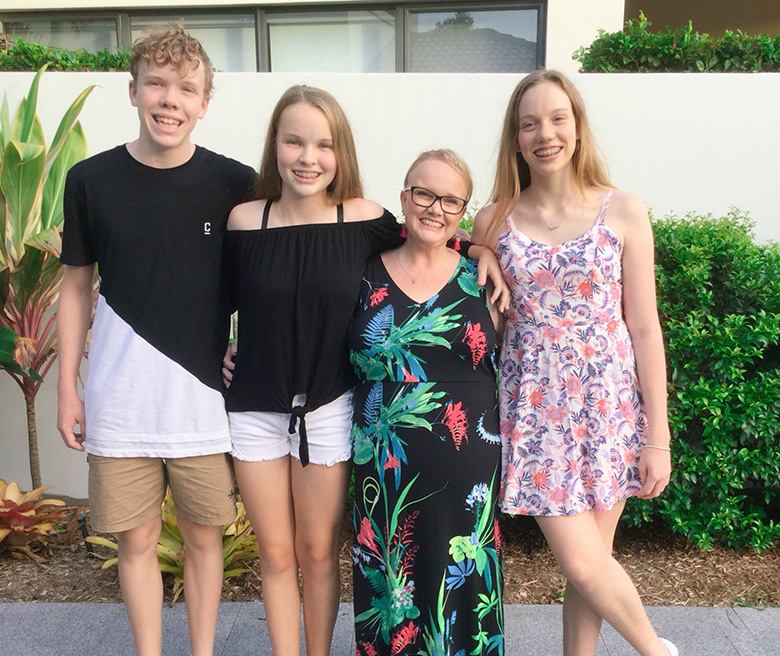 Mr 15 and I initially went to bedding shops testing all different types of mattresses, he laid on so many they all started to feel the same.  I then remembered Koala.  I have seen Koala mattresses advertised over the years and have always been intrigued by the concept. I did worry about ordering a mattress online and not being able to test it first, but I took the plunge and hoped he liked it, the 120-night risk-free trial helped sealed the deal where we can return it if he didn't like it.  I ordered the mattress online and it arrived at my door the next day…. super fast delivery (even faster if you live in Sydney, Melbourne, Brisbane, Perth and Adelaide, they'll deliver in 4 hours).
Koala mattresses are Australian-made and combine impressive bedding technology of comfort and support layers in their mattresses. Mr 15 has described the bed as "not too hard and not too soft it's just right" he sounded just like Baby Bear in the Goldilocks nursery rhyme.  He continued with "It's cosy and comfortable yet my back feels supported when laying on my side and back". He sounds like an old man talking about back support LOL, but in all seriousness, he has had issues with his back in his teenage years.
The unique K-4 Comfort Layer has Koala's famous zero disturbance technology.  This is probably how I remember them as I have watched many video's of people jumping on the mattress and not tipping over the wine.  I had to try it, as you can see in the video below I had my hands close by to catch the glass when Mr 15 jumped on the mattress but I didn't need to as it barely tipped over. Although, the glass did move slightly but that would be because of the base of the bed we purchased doesn't support stability when jumping.  However, since I ordered the mattress Koala have released their own range of timber bed bases, which look very chic and would reduce the movement even more.
The bed comes all boxed up and the queen size wasn't too heavy for two of us to carry up the stairs.  You can see in the video above it's wrapped in plastic which compresses it for travel. When I went to remove the plastic, the bed popped up beautifully.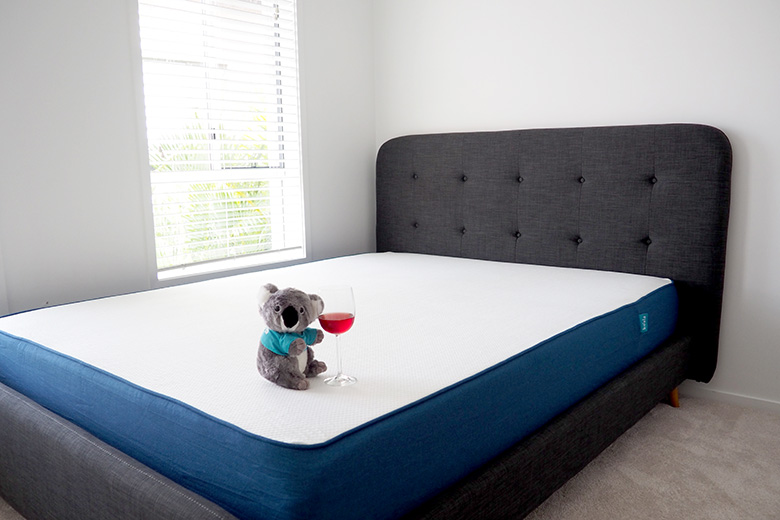 Mr 15 enjoys sleeping on his mattress so we won't be returning it! He also loves the size of his new bed and not getting cold toes!  The bed frame is from James Lane.
HOW TO PURCHASE A KOALA MATTRESS
If you have been considering buying one, give it a go, remember you have a 120-night risk-free trial, free shipping and no hassle returns and they also off Afterpay if you need this option.
LEARN MORE ABOUT KOALA:  visit Koala website here with a special offer for The Organsied Housewife community get $100 off and check out my coupon codes for Koala here.
When you buy a Koala Mattress you'll get a cute little soft koala teddy, but most importantly, you'll also be adopting a real live Koala in a partnership with the Koala Hospital in Port Macquarie.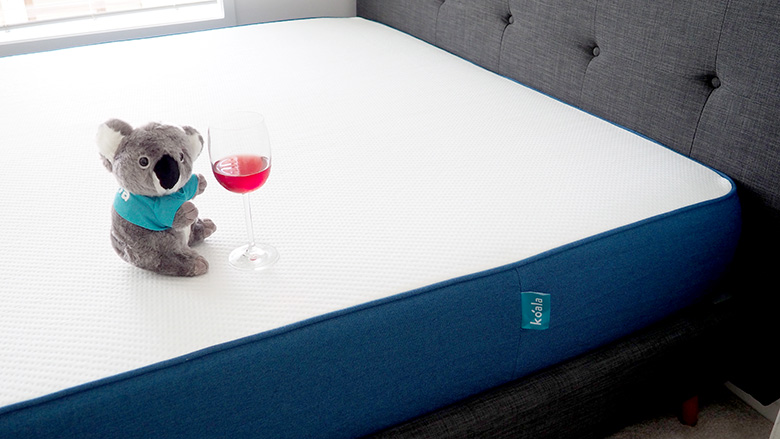 Please note: this post contains affiliate links. Purchases made using these links provide a small amount of commission to me (at absolutely no extra cost to you). Thank you for using the link and supporting The Organised Housewife.