Making your bed in the morning is a great, simple 5-minute task that can leave you feeling accomplished and organised for the rest of the day. Kelly, one of my 20 Day Program members recently reached out to our online community with her annoyance at how frustrating it is to make the bed when the doona keeps moving in the cover. She got some great responses and handy tips on how to get the doona to stay put so I thought I would share them with you to perhaps make the task of making your bed that little bit less painful!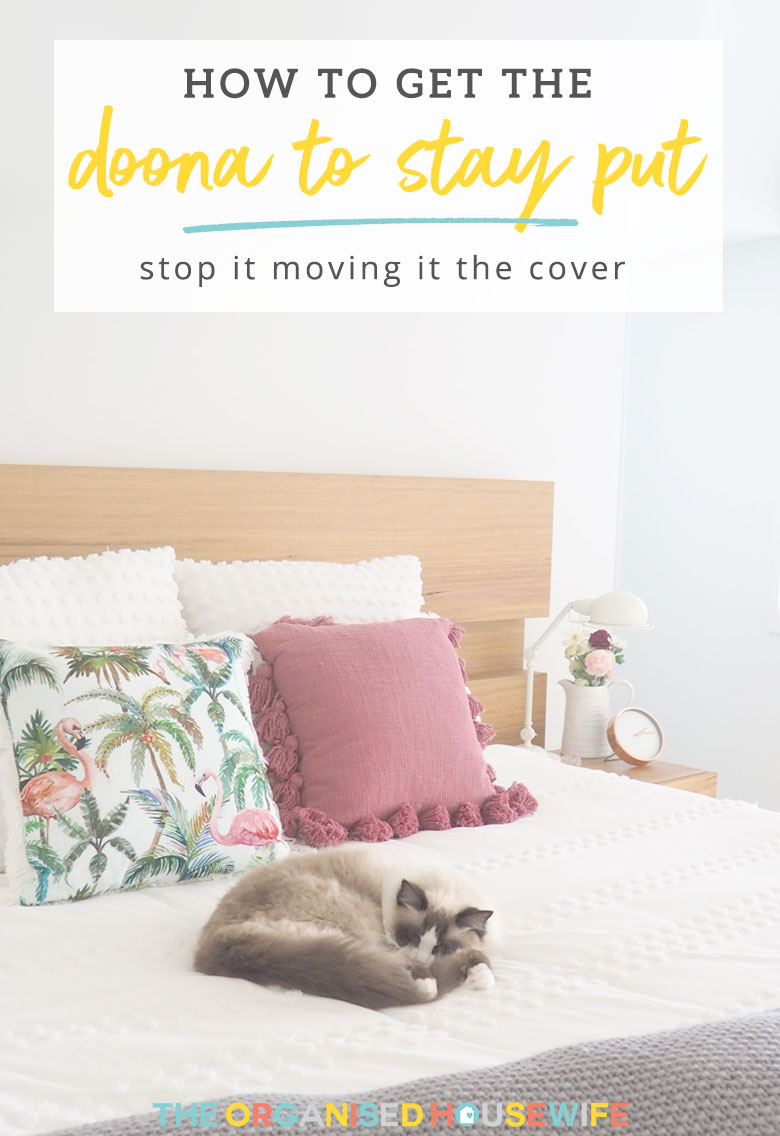 My king size doona wriggles around in its doona cover!!! Any suggestions as to how I can keep the corners in the corners???
Sew Ribbons or Buttons to the corners
I use a wide matching satin ribbon in each corner at the foot of the bed, grab a handful of doona and cover and tie a bow, like you would on pigtails. Works a treat. – Judy K
Sew satin ribbons into the corners and tie your doona to each corner. – Tashi W.
Sew a loop of elastic in each corner of inner and a button in each corner inside of cover, hook elastic over buttons, doesn't slip down – Donna F
You could sew buttons on quilt corner about 5 cm in each top side. Turn quilt cover inside out and work out placement for loops. Buy some cotton tape and make a loop the button just fits in and sew to seam so they match. When changing quilts just turn inside out sling loops over buttons turn other way and viola – Kaz L
I sew buttons on the corners of the doona , then sew loops of thin elastic to the inside corners of the doona cover. I then put the cover on as normal, but loop the elastic over the button. – Tiffany E
Sew a button in the corner of the doona cover and then an elastic loop to the doona and attach… – Caroline R

Make use of Nappy pins
If you use baby nappy pins they are less likely to undo and poke you. I also put them halfway along each side if I have enough, makes it that much less likely to wiggle! – Beth T
Nappy pins through the corners. You can do it from the inside so you cant see them on the outside. – Lisa P.
Old school nappy pins or large safety pins! From the Inside or the outside if you're not fussy on being able to see them. – Amanda H.
Switch to a Coverlet/Comforter
I now have changed to a quilted coverlet – no more turning the doona cover inside out to grab the doona . – Robyn K.
I hate when that happens so solved it by buying a comforter. All in one and no more quilt shake to get it back in place – Amanda M.
I've given up and gone to comforters now! The comforters cover is unable to be removed, it is sewn on. – Michelle M.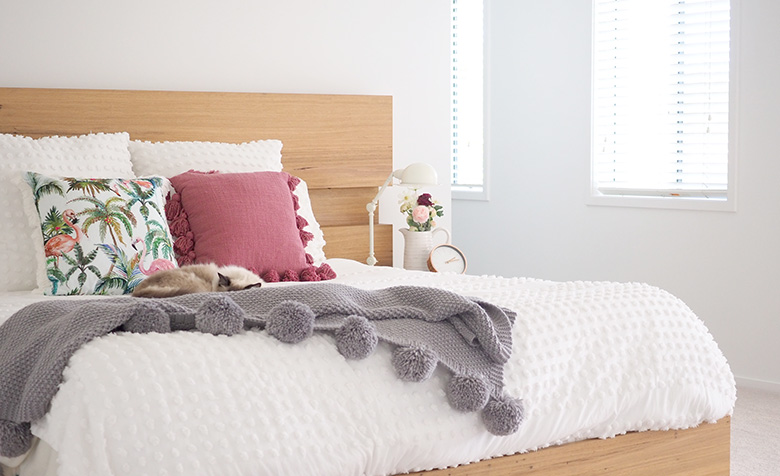 I just bought this gorgeous Flamingo print cushion from Adairs to add some Spring vibes to my existing cushion and blanket.
Use Hair ties
Quick easy fix. Hair tie or rubberband over the top done up tightly in each corner. Might not look super pretty but my bedroom is not for show and no one see it but our family and I have better things to do with my time. – Cathy P.
I use hair bobbles/ties on the corners after changing a king-size duvet cover at 5'1″ tall I have no energy left to sit stitching things – Kim-Georgina G
Other tips
I put 1 quick stitch into each corner when I change the cover. – Jenny S
I sew tabs or press studs to the inside of each corner and tie/clip the doona to it. Put the cover inside out to tie/clip it together then pull one side over to put the cover on. Works brilliantly – Kristen B
I always buy a doona one size larger than the cover and it's such a game changer – nice and full! We have a queen-sized bed: queen cover over king quilt – Tahlia C
I do sewing alterations, a customer had the same problem; I sewed velcro diagonally across every corner of the doona and inside the doona cover. It worked so well she brings in her new covers. – Deb S
What is your top tip for stopping the duvet from moving in it's cover?