Declutter your bedside table so your bedroom is a relaxing and restful space. Bedside tables can easily become a dumping ground for clutter at the end of the day. My tips to declutter it and keep it organised.
A clutter free environment is crucial for when I want to have a clutter free mind. This is why I like to set the right tone from the moment I open my eyes. My bedside table is the first thing I see when I wake up (or if I'm lying the other way it's my hubby's), so I like to keep it tidy. If I see clutter first thing in the morning I start the day grumpy (similar to how I feel when I see a messy kitchen) – and that's no fun for anyone.
Whilst I don't keep much on my bedside table, what I do keep has a purpose and a place.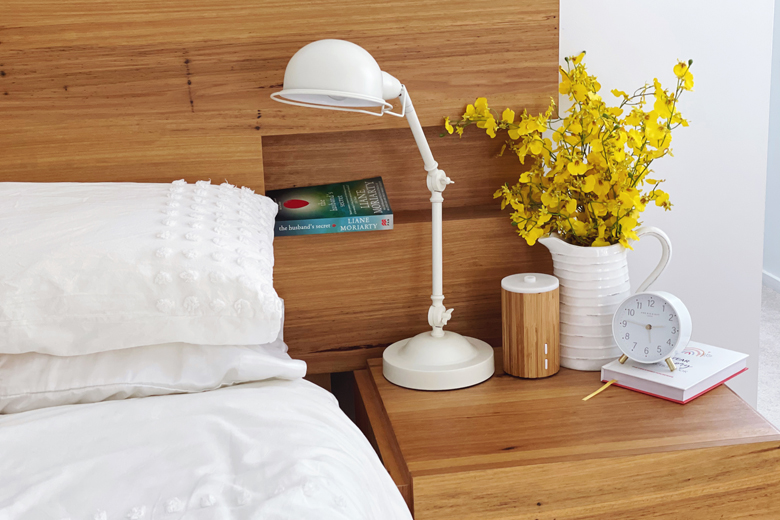 I don't keep very much on my bedside table – my lamp, diffuser (which has been very helpful during winter to ease a cough I have niggling), flowers and a clock. I removed my illuminating alarm clock a few years ago as I was going through a period where I couldn't sleep. I would lie there at night watching the time pass and I got so frustrated. I typically wake before everyone else so don't need an alarm each morning, but on the days I do I set my iPad or phone.
REMOVE THE CLUTTER FROM YOUR BEDSIDE TABLE
Look at your bedside table, as well as inside the drawers. See what storage solutions aren't working.
Remove everything from the bedside table and drawers, grouping like items together.
Determine what items you haven't used in over 12 months and consider purging them.
Clean your bedside table removing any built-up dust.
Add any new and/or your current storage products in your drawers to help you keep it organised.
Place items back in a tidy and organised manner.
I also keep inside my bedside table drawers really minimal. I've used our clear crystal micro trays, they come in a range of different sizes so I can make them fit perfectly into my drawer. I keep things that I usually use every night and a few items that are really sentimental to me.  
This is my 5 year memory reflection book, it is a beautiful way to journal and easily look back on the previous year, available in my shop here.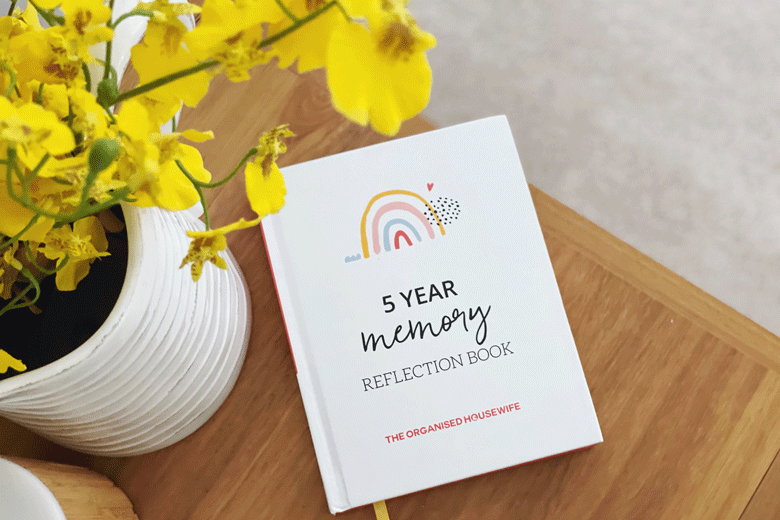 MAKE REFLECTION A DAILY HABIT
Make reflection a daily habit. Take the time each day to stop and reflect on your day. Writing down the highlights of your day or things that you are grateful can help you find some calm and insight. Continue Reading
Bamboo Charcoal Air Purifying Bags
Bamboo Charcoal Air Purifying Bags are a natural alternative to chemical air fresheners.
These large activated charcoal bags can be used in your wardrobe, pantry, bathroom, bedroom, suitcases, gym bag, laundry, pet areas – basically anywhere you want to eliminate odours or absorb moisture.