This post is sponsored by Olay
I wasn't taught about fashion or beauty when I was growing up, and I remember when I hit puberty and my skin started to change I wasn't sure what to do, use on my skin or that I needed a regular skin care routine, my Mum and I didn't talk about things like that.  However, one day when visiting my Aunt I saw she was using the pink bottle of 'Oil of Ulan', the popular brand changed its name in 1999 to the now well-known Olay who is the world's #1 facial skin care brand. I tried it and loved the smell and feel on my skin, so from that day on and all through my teenage years I used the Olay pink lotion on my face. When I was getting my makeup done for my wedding (I was in my early 20s), the makeup artist asked me what cleanser I used on my skin?  I didn't, I used wipes to remove my make-up and then moisturised, that was the extent of my skin care routine. She then proceeded to tell me about the importance of cleansing your skin, but I must admit I didn't really follow through with her advice, at the time my skin was lovely, soft and wrinkle free and I was already attached to my 2 system wipe and moisturise rut.  Now I'm in my late 30s I wish I had taken the time to create a better skin care routine all those years ago, I have many lines on my face which I am sure could have been avoided if I took better care of my skin.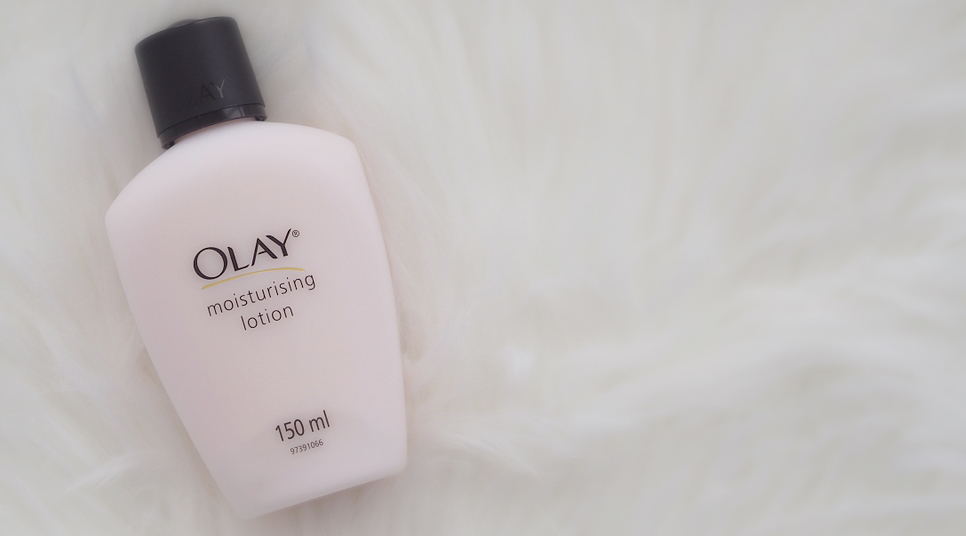 All my 3 kids (twins are 13, youngest is 11) are at this starting point in their life of needing to look after their skin (help me, I have 3 children hitting puberty at once! ). I don't want them to be afraid to ask questions, I am helping them understand the changes and how to properly look after their skin, to clean their face to clear away the pimples and blackheads and prevent it from drying by using moisturiser. Getting it right in the beginning.
As I mentioned above I used the Olay pink lotion for many years, it did keep my skin soft and prevented it from getting too oily, I also used acne cream when I needed to. When I noticed my kids skin getting a little dry, without hesitation I purchased them the Olay in the pink bottle, because that's what I used.  However, since that initial purchase I realised each child needed their own moisturiser to suit their specific skin type and keeping with the brand I have used for so many years one continues to use the Olay Complete with Sunscreen and the others use the Olay Fresh Effects range, which is great for the tweens and teens.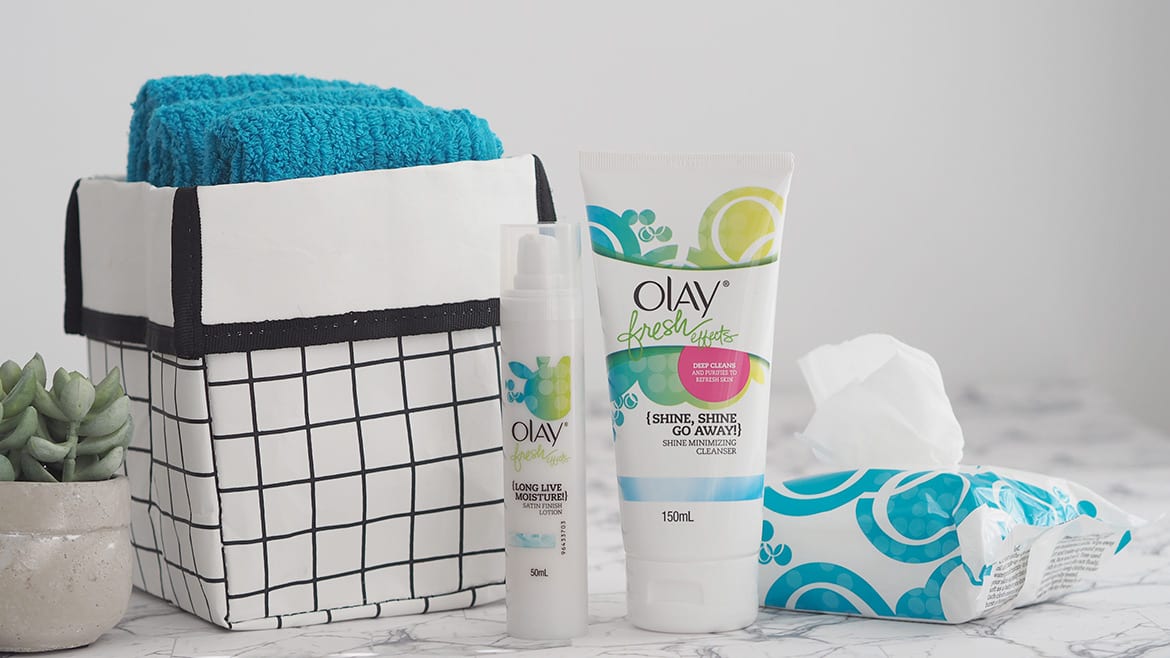 Having a good skin care routine will help keep your skin in a better condition, give your skin a youthful glow, reduce the signs of ageing.  However, as we get older the products we use on our skin need to change too, I have been using the Olay Regenerist Micro-Sculpting Cream for a while. Recently I was introduced the Olay Regenerist Miracle Duo.
OLAY REGENERIST MICRO-SCULPTING CREAM – I have been using the Olay Regenerist Micro-Sculpting Cream for some time now.  It is a thick cream which quickly absorbs into the skin; I find it light and non-greasy on the face.  It smoothes down to a matt finish which I prefer as it doesn't leave my face shiny. The cream helps to reduce the appearance of fine lines and wrinkles by hydrating, exfoliating and smoothing the skin.  After I have cleaned my face in the evening, I use the night version of this cream, which is specially designed to repair and hydrate the skin through the night. It's a non-greasy gel-like consistency that really softens my skin. I tiny bit of the cream goes a long way.
OLAY REGENERIST MIRACLE BOOST – Over the years I have heard about serums to help improve the look of your skin, but as my skin care routine has been very basic I haven't tried many. Although earlier this year Olay sent me some of the Miracle Boost Youth Pre-Essence to add to my skin care routine.  The Olay Regenerist Miracle Boost Youth Pre-Essence starts the renewal of a million surface cells and helps visibly reduce fine lines, pores and firms the skin. The packaging is unique, the auto-dropper dispenser ensures you get the perfect amount to apply to the face and neck, therefore not wasting any of it. It soaks into the skin quickly leaving it to feel hydrated and smooth. It does say to use this before serum, but I don't use fancy stuff like that.  I have been using it together with the Micro-Sculpting Cream as suggested by Olay. They say this will give the best results in radiance and wrinkle reduction.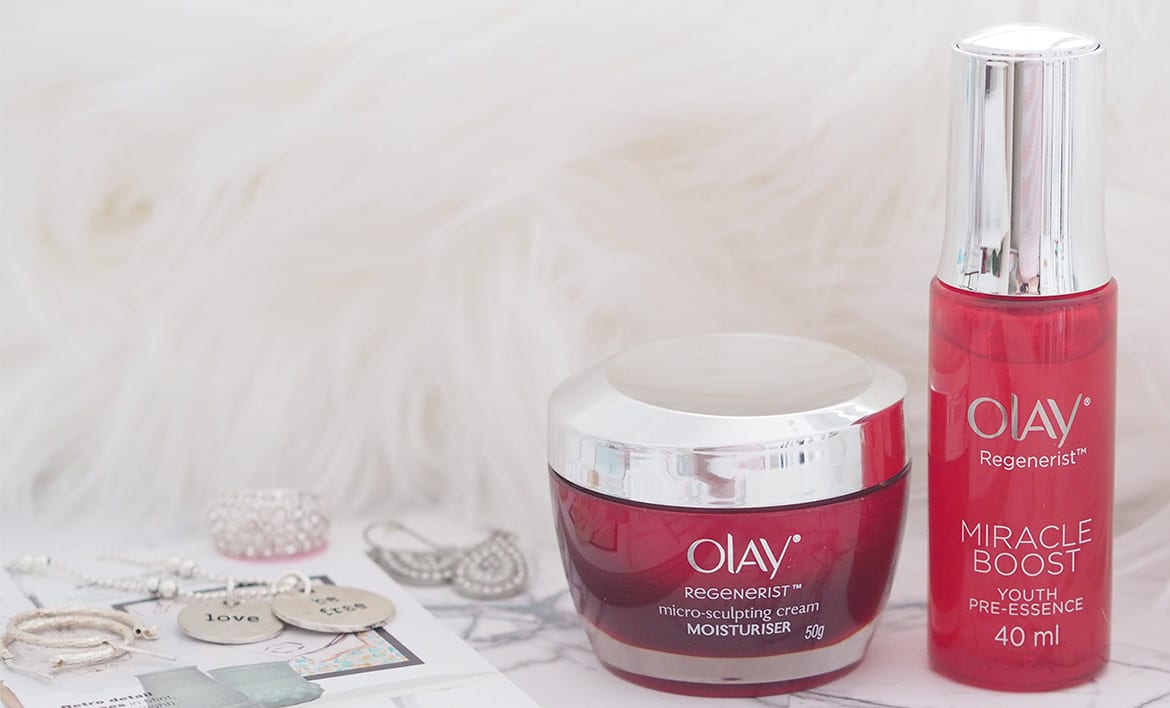 OLAY REGENERIST MIRACLE DUO – using the Olay Regenerist Micro-Sculpting Cream and the Miracle Boost Youth Pre-Essence together this duo is proven to boost cell renewal and provide 2x more anti-ageing active penetration to reveal skin that can look up to 10 years younger.  I have been using it for a few months now and have been delighted with the result.  I can't tell what it's doing under my skin, but on top I can see some results, my skin feels and looks nourished and my pores have reduced, resulting in less breakouts.  I do visibly notice that my skin feels firmer, especially around my lips.
Creating a skin care routine
It's important to ensure you purchase products for your skin type, ie oily, normal skin, dry, combination, sensitive and for your age. This is really important as if you don't have the right product it will be ineffective on your skin. Below is the skin care routine I am teaching my kids, like I said trying to teach them the right way to achieve clear skin and prevent long-term ageing.
1. Cleanse
Cleanser removes dirt, oil and makeup.
its' important to cleanse your skin twice a day
in the mornings to remove any toxins the skin eliminates during the night
in the evenings to remove make up , dirt, sweat, dead skin cells and excess oil
rinse away the cleanser with warm water, as too hot or too cold may irritate and damage the skin
if possible, dry face with a clean face cloth
your skin shouldn't feel tight or dry after cleansing, if it is, try a gentler product
I find it easier to cleanse and rinse my face in the shower. Sometimes I may skip this step by using a makeup wipe instead.  For the kids, I get them to cleanse in the shower in the evenings and if they don't shower in the mornings to use a makeup wipe to remove any oil built up overnight.
2. Exfoliate
Exfoliating the skin removes build-up for dirt in pores and dead skin cells. Only exfoliate once or twice a week in place of your cleansing routine.
helps to reduce blackheads and breakouts
improve uneven skin tone
remove make-up before your exfoliating routine
get into the creases of your nose and chin which are prone to develop blackheads
I also exfoliate the top of my hands to help with the ageing skin.  I make sure the kids know only to do this once or twice a week, if they do it anymore it dries out the skin too much.
3. Toner
Toner restores the skins natural pH level after cleansing, and also removes the last bit of makeup that the cleanser may not have removed.
hydrates and replenishes the skin after cleansing
reduces redness and dry patches.
use a cotton pad to apply to the skin
do not rinse off
To be honest… I don't do this step and haven't added it to my kids skin care routine either.
4. Pimple Cream
Pimple cream helps to achieve clear skin and reduce the signs of large red blemishes. Pimple cream needs to be applied before the moisturiser to allow it to seep into the pores.  If applied after the moisturiser it will not penetrate into the skin.
don't pick pimples, not only does it make the skin look red, it will lead to scars
resist the urge to touch your face, you can transfer bacteria and oil from your hands to your face, which then can get trapped into the pores causing blemishes
It's also a good idea to change pillow case covers in between sheet washes.  Pillows can collect a build up of dirt and sweat while we are sleeping, which then transfers back to your skin creating breakouts. Read more about how often you should wash your sheets here.
5. Sunscreen
The Cancer Council recommends that sunscreen be applied to clean skin underneath your make-up and before moisturiser. By applying moisturiser first, the sunscreen won't be able to interact with the skin the way it should, therefore making it less effective.
I use sunscreen on my face on days I know I need really good sun protection, ie standing in direct sunlight at the girls weekend netball games, then apply my moisturiser over the top a few minutes later.   I use a moisturiser with sunscreen in it under my makeup on days when I am running around town and then I use my moisturiser  for the days I am at home and not needing sun protection.  
5. Treatment
Boost the penetration of anti-aging actives of your moisturiser to increase skin cell metabolism and renewal for youthful skin.
This step is just for me, not the kids. I don't apply this over the top of sunscreen. 
6. Moisturise
This step can not be avoided. Moisturising your face twice a day will keep your skin, hydrated, smooth and soft.
will improve skin tone and texture
there are moisturisers specially designed for the eye area to prevent ageing
apply it all over your face, neck and chest
It's best for the kids to use a light moisturiser that contains sunscreen.
Kids Skin Routine Charts
Kids find it hard to remember so 'as I love a good chart', I made a skin routine print for the kids to remind them the steps to take to look after their skin. Two out of three of my kids have eczema so it's important they look after their full body. Available in my shop in a few variations.
Use coupon code OLAY to download this routine chart from my shop for FREE, offer valid until 26th May 2016.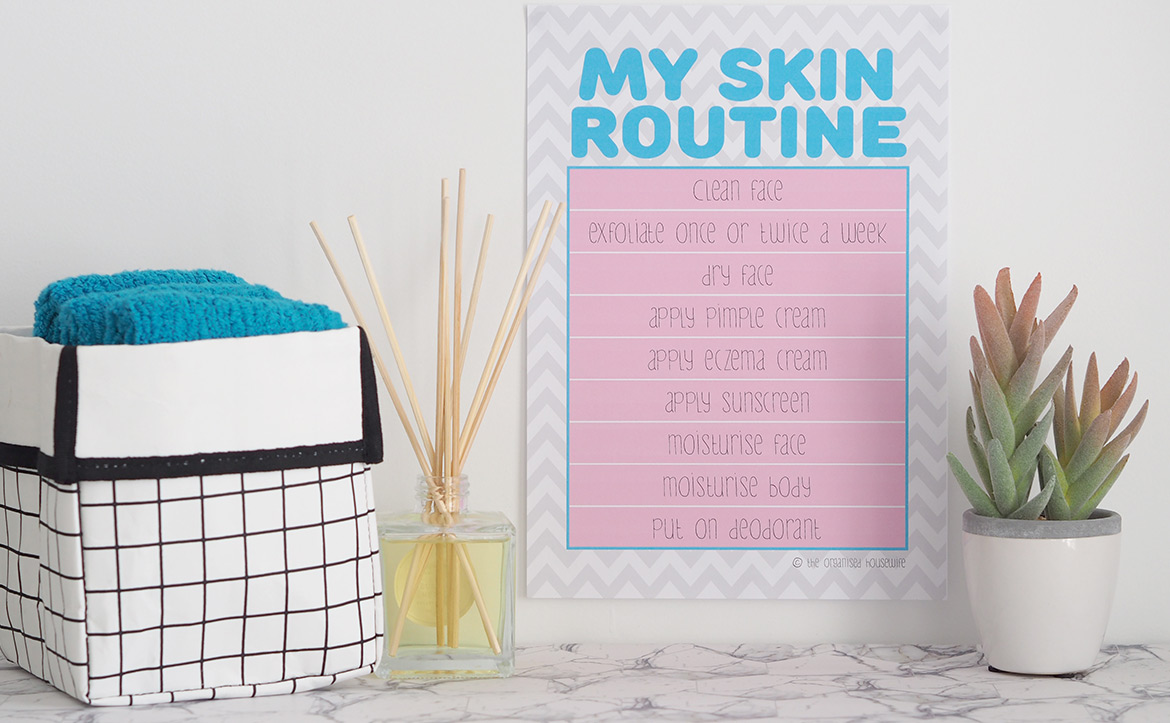 For more info on the Regenerist regimen and ingredients, visit: http://olayingredients.com.au/
---
What top skin care tip will you teach your kids?
---
This post was coordinated by The Remarkables Group and run in accordance with my disclosure policy