A simple spring overhaul for the mind, body and home can help you cast off the cobwebs of winter, and get you ready for the gorgeous new season that's knocking on your door + a fabulous GIVEAWAY!
Move over winter, beautiful glorious spring has arrived… and I love Spring! Now's the time to open up the windows and let the fresh air and brilliant sun pour in – and the best way to enjoy this change of season is with a little spring overhaul that goes way beyond just cleaning.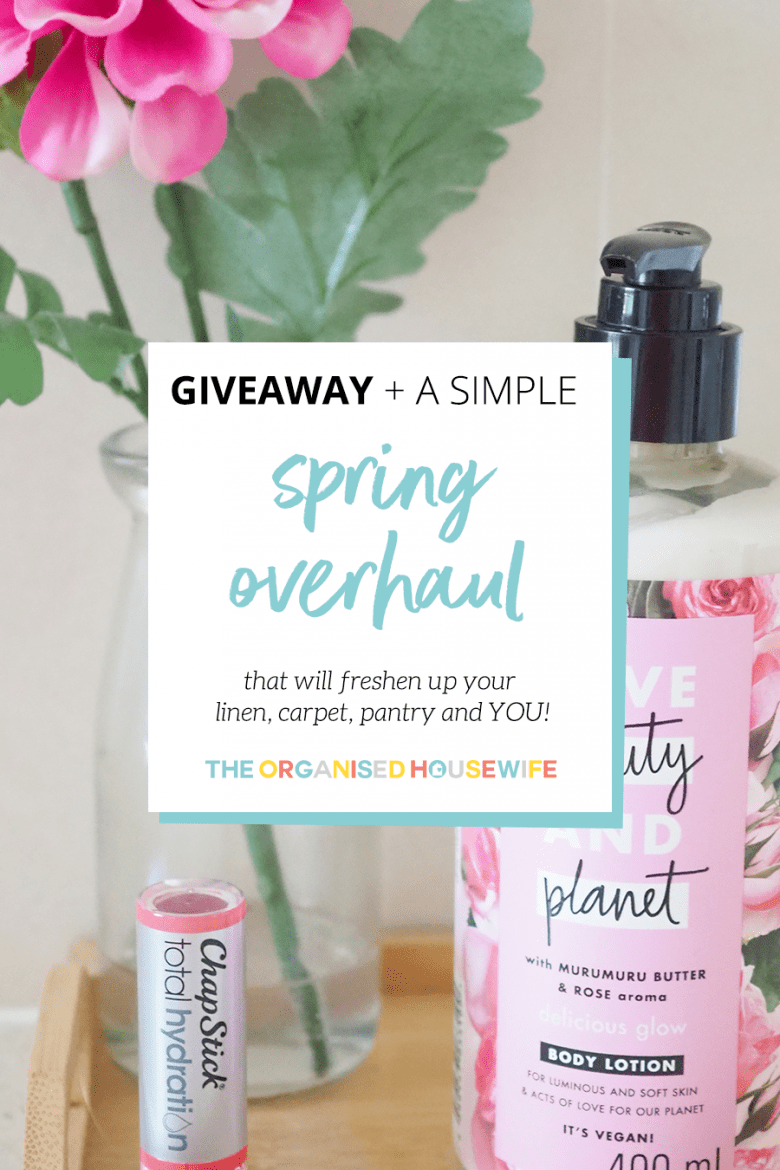 In partnership with Woolworths
---
An important update
- Some Woolworths online services (such as Pick Up and Delivery Now) have been paused due to the extraordinary levels of demand for groceries. Woolworths apologise for any inconvenience this may cause and thank you for your ongoing patience during this difficult time.
NEW EXCLUSIVE COUPON CODE – SAVE $$ AT WOOLWORTHS
Here is this month's NEW exclusive coupon code for all of The Organised Housewife community. When you place your next Woolworths online order and
spend $180 or more, use this code to get $12 off your next pick-up or delivery order!
View code here
.
---
During the colder months winter food can accumulate in our pantries and freezers, linen and carpets can start to feel a bit stale, and even our legs (which may not have seen the light of day in a while) can benefit from a little TLC.
Freshen Your Linen
The linen cupboard can start to smell a little musty in the cooler months, but this can easily be rectified with both a homemade DIY and a commercial option.
DIY LINEN CUPBOARD DEODORISER – by simply filling a mason jar with baking soda and a few drops of your favourite essential oil you can deodorise your linen cupboard – or any room in the house for that matter!
Replace the metal insert in the lid with thick paper or cardboard, and insert a few holes so that the deodorising and neutralising properties of the baking soda can work their magic. When you notice the scent starting to fade, just give the jar a little shake to reactivate. Replace after 3 months.
If you think there is mould or mildew in your linen cupboard, eliminate it, then use this disinfectant surface spray to help eliminate odours.
READ MORE: Easy DIY Homemade Cupboard Deodoriser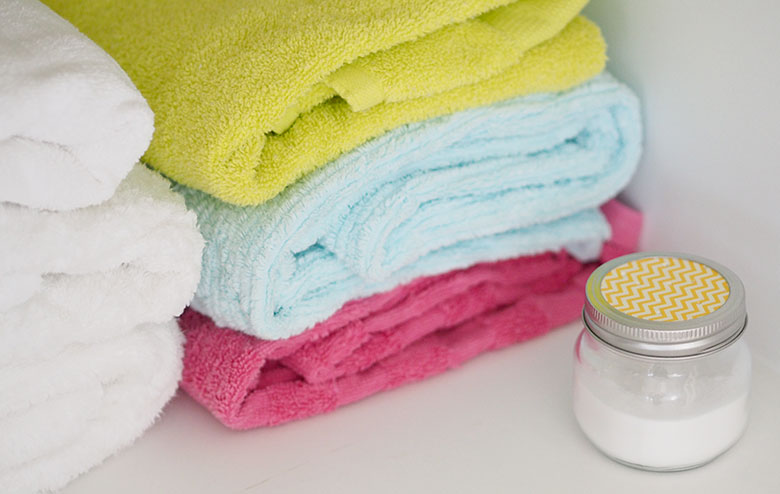 LINEN SPRAY – for a readymade store-bought alternative, consider using an organic air freshener and linen spray like this Organic Choice Air Freshener Lemongrass & Cedarwood. These sprays can be sprayed directly on to fabrics such as linen, curtains, carpets, and upholstery to quickly and easily freshen up the home. Especially if you have a dog like mine who likes to sit on the couch.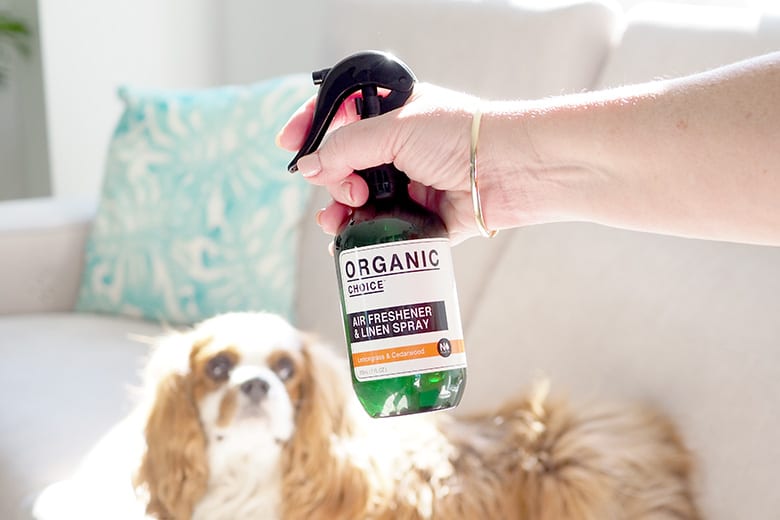 Breathe Life Into Your Carpets
Commercial carpet cleaning can be expensive and often unnecessary. Sometimes a simple spot clean is all that's needed to revitalise a room again. As with my linen cupboard tips above, your carpets can be freshened up with both a DIY and a commercial option.
DIY HOMEMADE CARPET CLEANER – I created my own carpet cleaner years ago, to contend with the inevitable mess of kids and cats and I love it! It's incredibly budget friendly, works an absolute treat, and all the ingredients can easily be purchased off the supermarket shelves. To use this homemade Carpet Cleaner you'll need: paper towel, water, vinegar, bicarb soda, and a spray bottle.
READ MORE: Homemade Carpet Cleaner – Pet Stains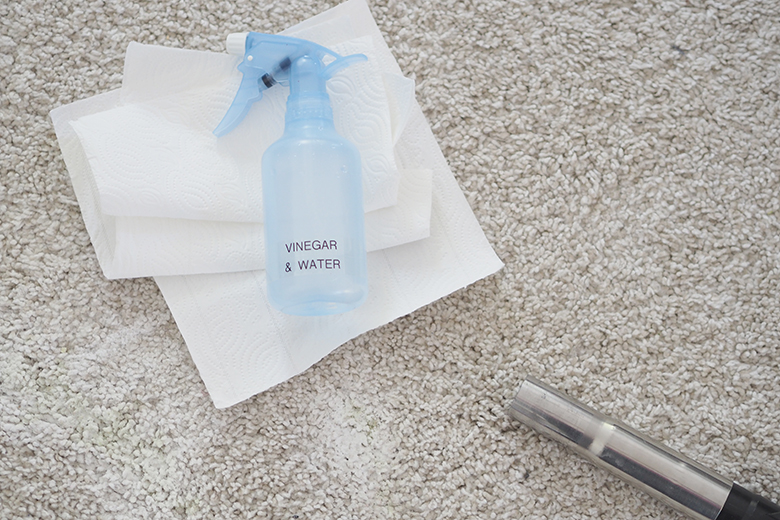 STORE-BOUGHT CARPET CLEANERS – whether you're wanting to spot remove stains, get in and clean larger high traffic areas which is super easy to do with this Floor Carpet Foam, or simply improve the overall odour of your carpets, there are HEAPS of ready-to-go options available on the supermarket shelves!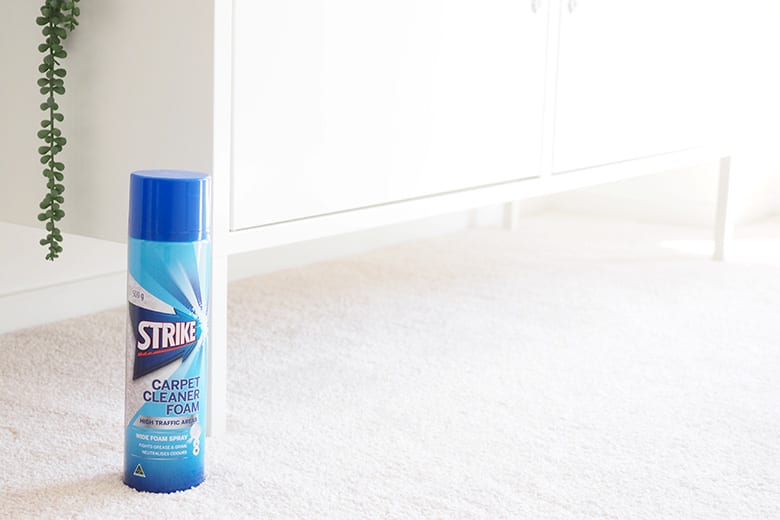 Overhaul Your Pantry, Fridge + Freezer
There are certain foods – like porridge and soup – that are definite winter foods! Spring marks the perfect time to use up these winter meals, making room instead for fresh salads, creamy yoghurts, and seasonal fruit and veggies.
USE UP THE FOOD – check expiry dates on tins in the pantry, and use up the ones that you're unlikely to use throughout summer (like soup and baked beans). Frozen meals and meat shouldn't be kept in the freezer for more than 3 months, so make sure you use these up too!
CLEAN THE SHELVES – whilst you're pulling out all the food, you might as well clean the shelves in the fridge and pantry. You can easily do this my Homemade Natural Fridge Cleaner (perfect for the fridge), my Homemade All Purpose Cleaner (great for the pantry), or for a convenient ready made option this Vanilla Fresh Wipe & Deodorizer smells so good and is safe to use near food.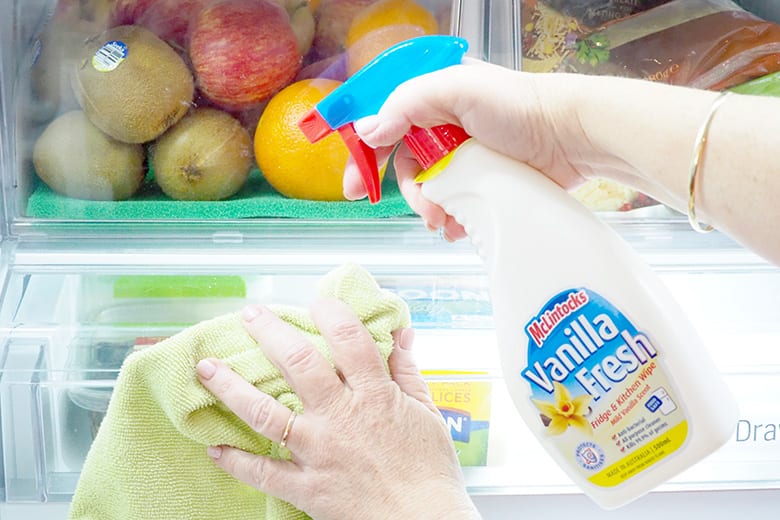 STORAGE – when re-stocking your pantry, fridge, and freezer, invest in good square or rectangular containers (circular ones don't utilise the space as well) that are stackable, air-tight and freezer safe. Food containers like these ones are affordable, readily available from the supermarket, and can be used in the pantry, fridge, or freezer (I use them to store corn and peas in my freezer). These are new containers that help keep produce fresher longer – I haven't used them yet, but I'm intrigued.
Pamper Yourself!
Don't forget yourself! Taking a little time for ourselves is so important, and if you're anything like me you'll have relished in the coverage your winter wardrobe provided. Now is the time though to nourish our dry winter skin, rid our bodies of the hair we've been hiding under those winter woollies, and get our glorious glow on!
SPRING SKIN REFRESH – Look refreshed using with these 3 simple products.
SILKY SMOOTH – that extra skin may have served to keep you warm in winter, but it's now time to let your radiant self shine through. An exfoliating brush, body wash, and a good moisturising body lotion is all you need to kick start this process. I find exfoliating gloves like these really easy to use, and a longer body brush like this one is perfect for the harder to reach areas.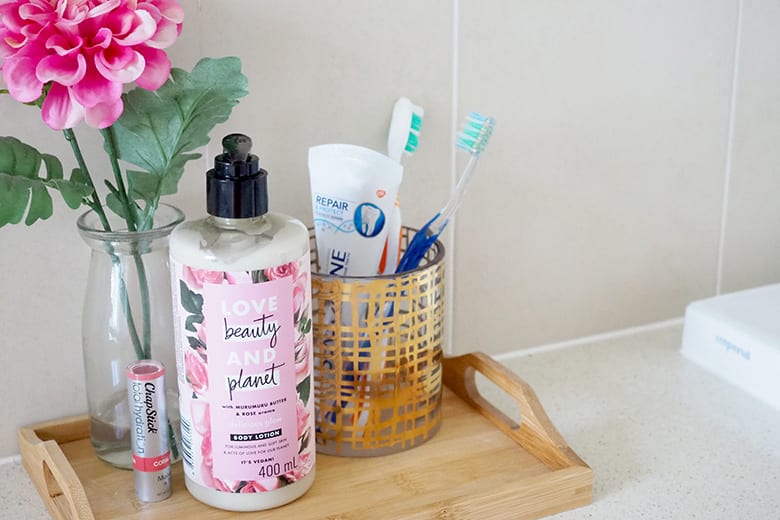 FUZZ FREE – going from a gorilla to a goddess has never been easier! There is now a huge variety of women's hair removal products available from your local supermarket (you can check out some here) – from wax strips and creams, to more razors then you could ever possibly need!
SAVE $$ – Don't forget, when you shop online and spend $160 or more, you can use this code to get $15 off your next pick-up order. Use this coupon code.
Woolworths have some great savings when ordering online, checkout these bundle and save options for:
---

THIS GIVEAWAY IS NOW CLOSED – Congratulations Liz D!
1 LUCKY READER WILL WIN A SPRING OVERHAUL PACK!
For one lucky person to win this fabulous prize: 1 each: Woolworths Select Floor Carpet Foam, Chapstick Total Hydration Lip Tint, Love Beauty & Planet Body Lotion, Balnea Exfoliating Glove, White Magic Stay Fresh Fridge Mat, Mclintocks Vanilla Fresh Fridge Wipe & Deodorizer and Organic Choice Air Freshener.
HOW TO ENTER:
Share in the comments below: "What needs a spring overhaul in your home?"
---
GIVEAWAY TERMS AND CONDITIONS – This giveaway runs in accordance with my disclosure policy, please read the terms and conditions below:

1. Entries must be made on The Organised Housewife blog, comments on social media are invalid. 2. Entries close 11.59pm AEST Wednesday 25th September 2019. 3. One entry per household and open to Australian residents only. 4. This giveaway is a game of skill. The judge's decision is final and no correspondence will be entered. 5. The total prize pool is valued at $44.54. 1 winner will receive this pack, not redeemable for cash. 6. Winner will be contacted by email, please ensure you leave your email address. 7. If I have not received a reply from the winner within 7 days the prize will be forfeited and awarded to the entry judged to be the next best. 8. The Organised Housewife will take no responsibility for any delay, loss or damage to prizes sent to winners.