This post is sponsored by Dettol
Bathroom vanities can be small and compact, with needing to store so much in them it makes it hard to keep it tidy and organised. Read further for my 7 tips to organise a bathroom cupboard, along with an organised makeover I did on my friends bathroom.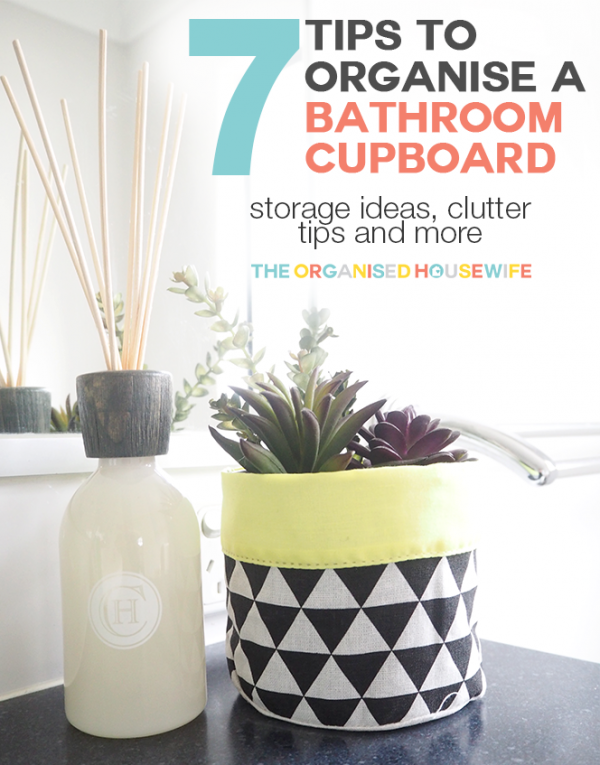 A friend of mine was frustrated with her bathroom, she struggled to find what she wanted, the bathroom cupboard lacked good storage and the clutter had found its way on top of her vanity.  I was happy to help, much like a girl in a candy store to organise her bathroom to make it more manageable.

7 TIPS TO ORGANISE A BATHROOM CUPBOARD
STEP 1 – Purge
Take everything out of the cupboards, as you do this sort (as described below) and throw out anything that you no longer need, use or is out of date such as:
Bottles of shampoo, soap or lotions that have too little to save in it
Colour of makeup you will not wear
Expired medications
Lotions, shampoo, styling products etc that you will not use
Samples
Old toothbrushes/makeup brushes
Rusty razors
Hair styling tools you have not used in over 12 months
Toys that are mouldy and you don't have time to clean
Things that don't belong in the bathroom cupboard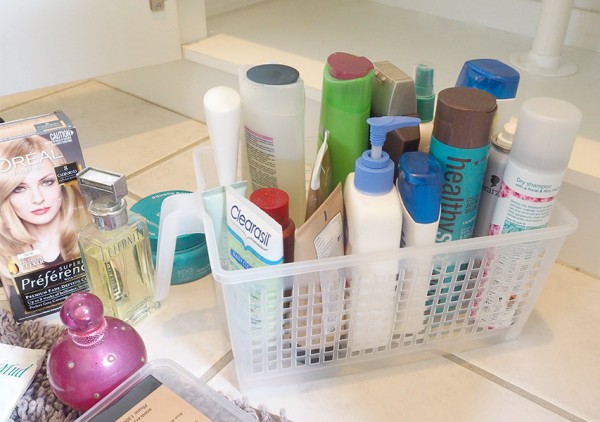 Basket above is from a local dollar discount store, but can also be found at Kmart and Howards Storage World.
STEP 2 – Sort
As you remove all the items from the shelves organise them into like piles eg. makeup, lotions, shampoo, first-aid etc.  This will make it easier for the store and organise process.
STEP 3 – Clean
Wipe over shelves removing all dust and dirt so then you can place storage items and products back onto clean surfaces.
STEP 4 – Make a plan
By taking all items out of the cupboard and sorting into like piles this will give you a good idea of what storage product you will need to improve the organisation of this space, ie plastic drawers, shelves, baskets etc.
Due to lack of storage underneath the bathroom vanity makeup and other daily products were left on top of the vanity. However, my friend would prefer a clutter-free benchtop.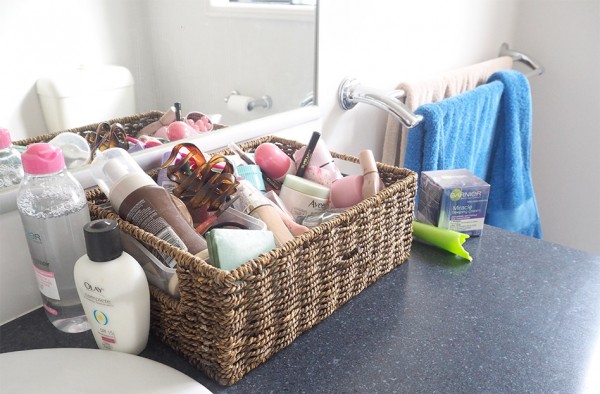 After work her hubby put items from his pockets into a box on top of the vanity. This didn't leave much space on top.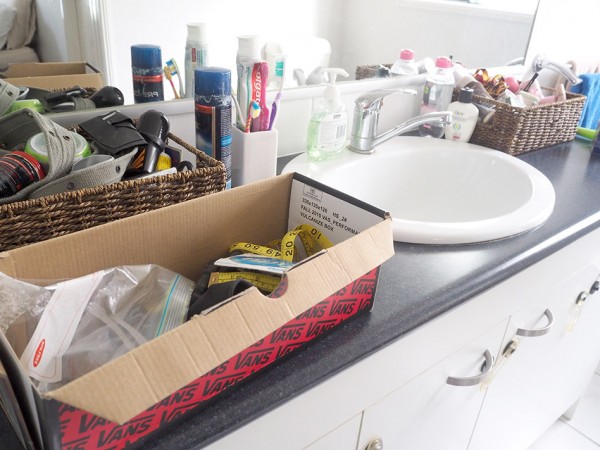 I found a better storage solution for all her daily products, which I will show you in more detail below.
As a visual reminder to keep her vanity top clutter free I decorated it with a sweet smelling diffuser and pretty pot of succulents. I hope that she can look at these to remind her to simply place items back underneath when finished to help keep her bathroom tidy.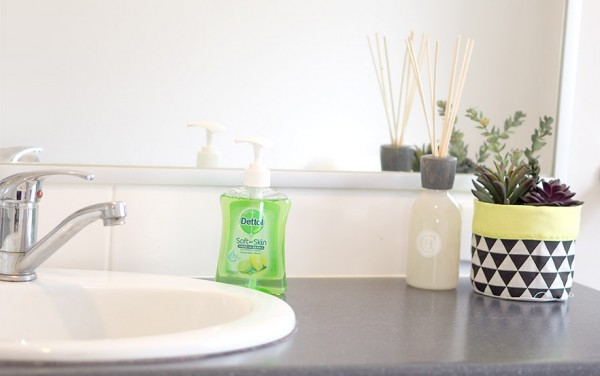 One product to always have on top of the vanity is handwash. Dettol Liquid Hand Wash new 'soft on skin' formula leaves your hands soft and moisturised for 3 hours and kills 99.9% of germs.  I like how it give my hands a beautiful smell after I walk away from the bathroom. Also available in Foam Handwash and No-touch Refill.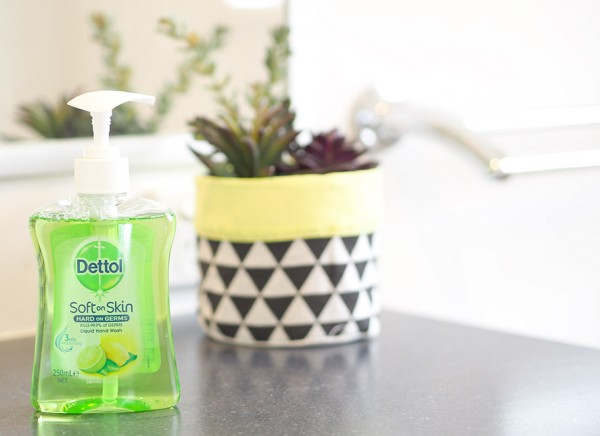 I sorted through her hubby's box, finding many items that could be put back into his tool shed and I placed a smaller plastic container on the vanity for his glasses, gloves etc.  Using a smaller box means less space to store clutter.
STEP 5 – store and organise
Place new storage solutions into cupboard and start organising, remembering to keep like items together.
I have used plastic drawers from Kmart to help organise different items.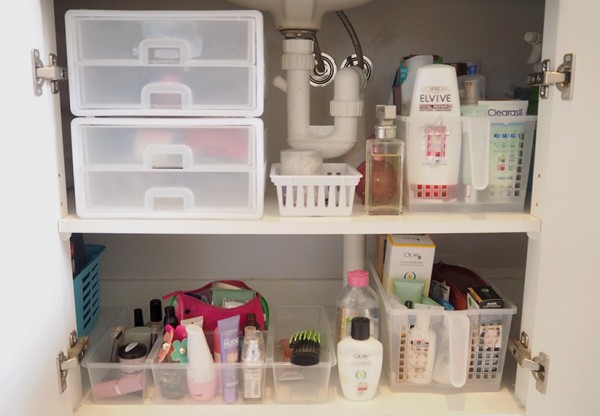 To make it easier for her to use her daily products I placed them into this plastic insert from Ikea, which can easily be moved to the vanity when in use and then placed back under the bench.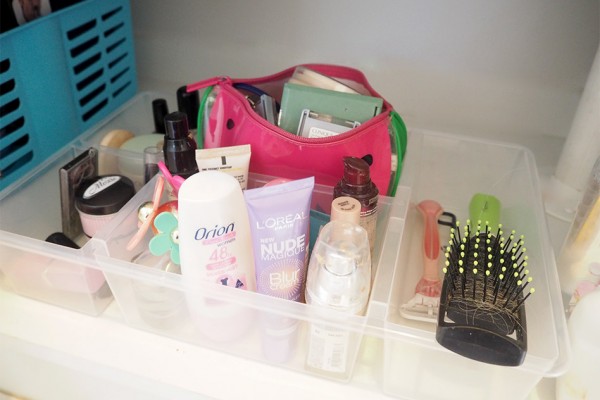 Plastic drawers are a great use of space and made storing like items together much easier.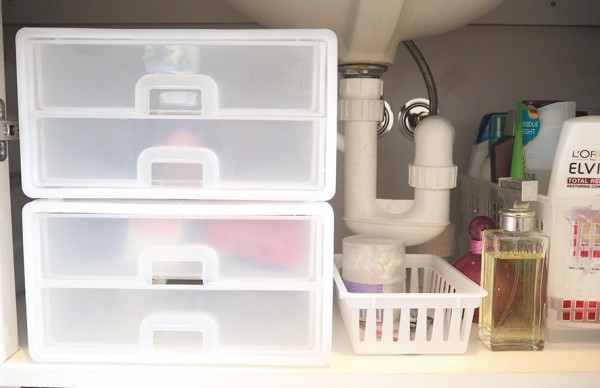 Now a dedicated drawer for all new toothpaste, toothbrush etc supplies.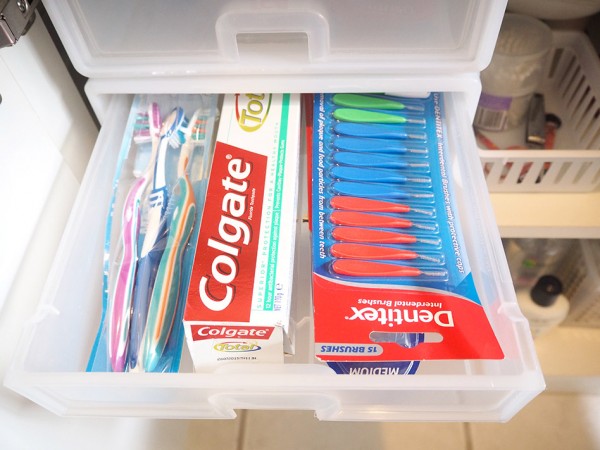 Plastic baskets with handles makes it easier to pull the basket in and out and prevents bottles from falling over and making a mess.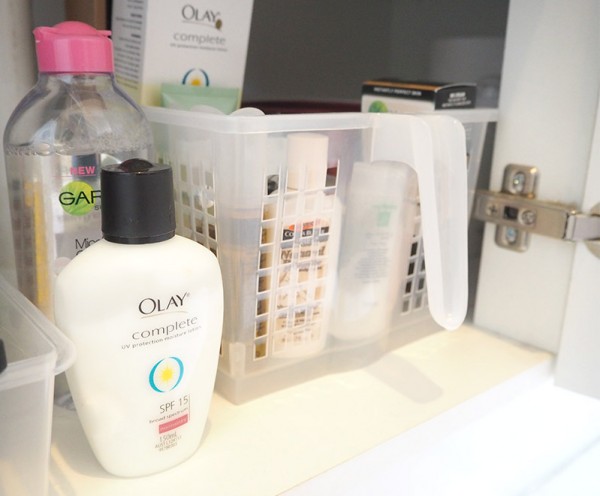 Ladies products are discreetly stored in a lidded box, this box is available from The Reject Shop.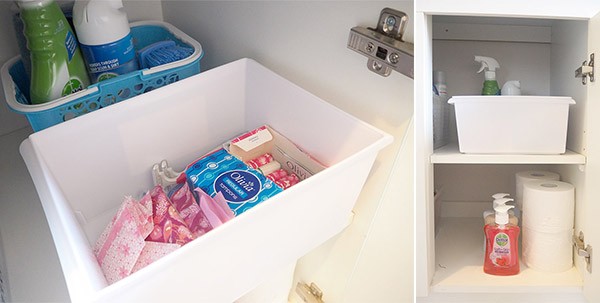 I placed most of her husbands products that were on top of the vanity, underneath in a storage basket (available from The Reject Shop) so he can easily pull out the basket like a drawer, find what he needs and push back in.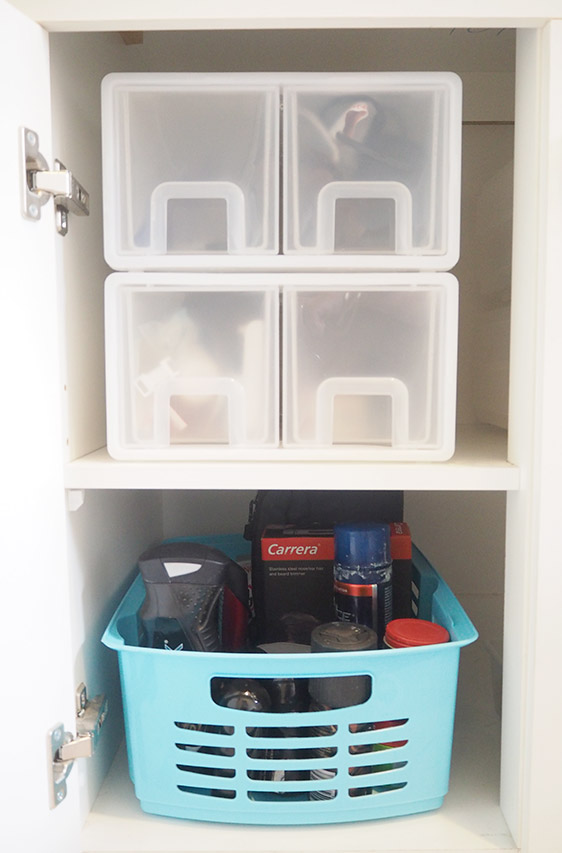 In the plastic drawers (available from Kmart) I placed his electric shaver, razors and first aid items.

Use small plastic baskets for those products that you use frequently making them easy to get to.

STEP 6 – label
You could go that extra step and label each of your baskets, drawers etc to make it easier to find items when you need them. You could use a label machine or write-on-labels.
STEP 7 – maintain
Now that your space is tidy and organised, do the best you can to keep it that way.
1. If you have not used a product in a year, purge it.
2. Don't place items that don't belong in the bathroom in your cupboard.
3. Store extra supplies like soap, toilet paper in your bathroom cupboards for easy access.
The NEW Dettol Soft on Skin Liquid Handwash comes in a range of different fresh fragrances: Lemon & Lime, Aloe Vera, Raspberry & Pomegranate, Vanilla & Coconut and Rose & Berry, they will moisturise and revitalise your hands along with helping to keep the family healthy, killing 99.9% of germs.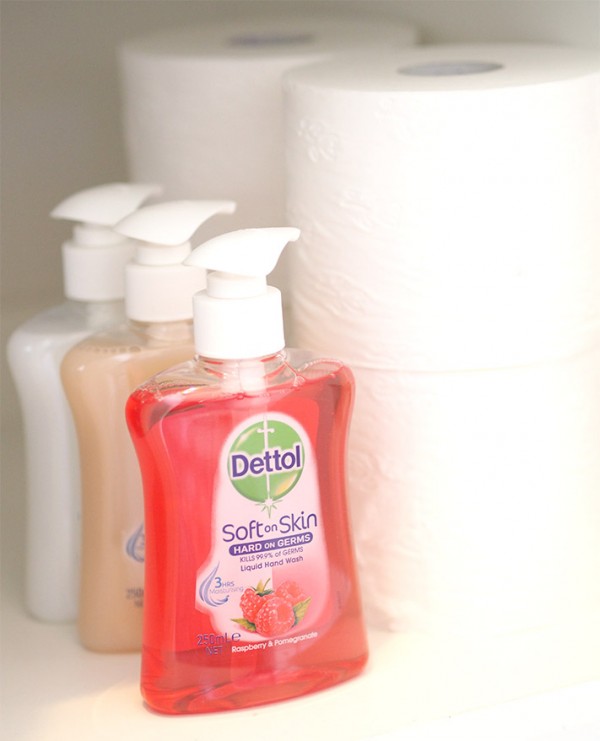 4. Make cleaning easy by keeping a caddy of cleaning supplies at easy reach. Read more about the shower cleaning kit here.
My friend has a child-safety lock on her bathroom cupboard so she is able to keep them safely out of reach from children.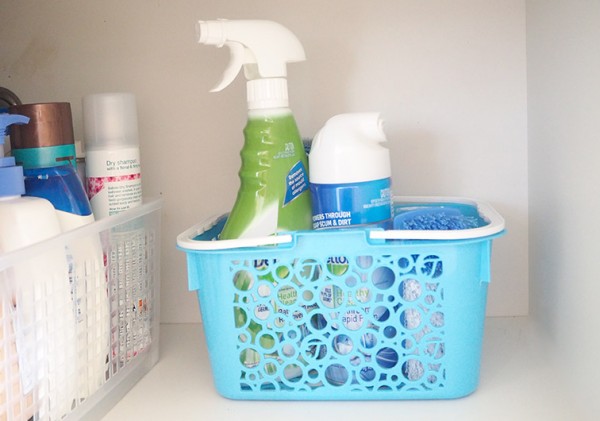 After – an organised bathroom cupboard

This bathroom has was a mess, now it's so beautifully tidy and organised!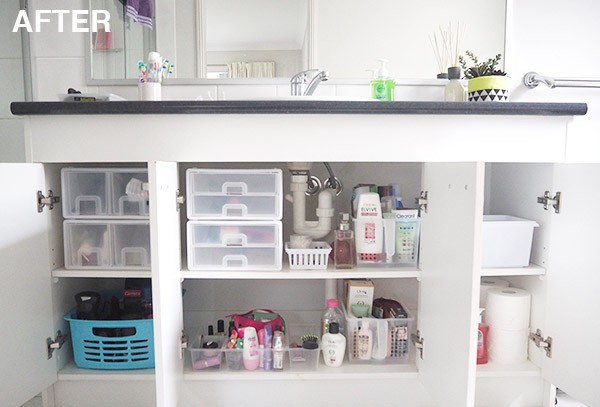 The vanity top is clutter free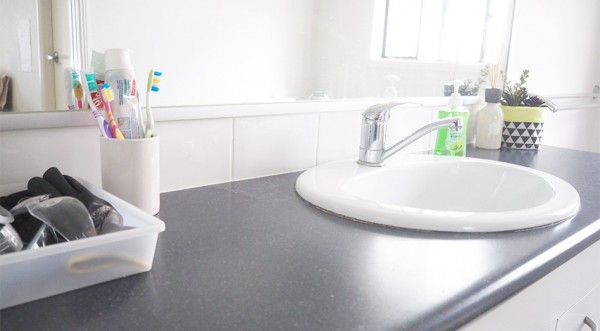 My friend says "I should have done this years ago, I no longer feel guilty or stressed when I open my vanity. I can also see everything I own which means I no longer buy conditioner or hand soap if I don't need it. It's such a great feeling to have a clear surface, it sounds silly but it has a calming effect!" Music to my ears, I had so much fun organising her bathroom cupboard and very thankful she allowed me to photograph the process to share with you all.  Hope this helps you to organise your vanity.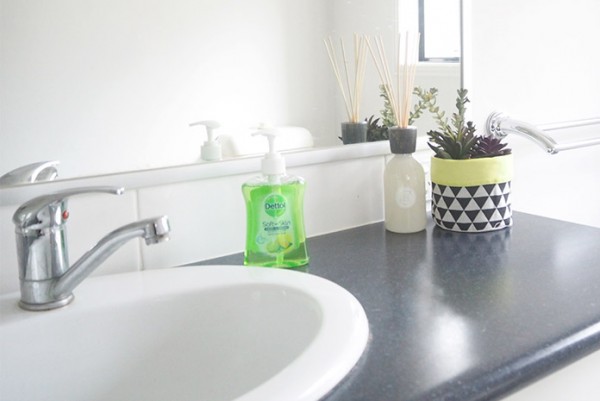 What's your best tip to keep your bathroom cupboard organised?
This post was coordinated by The Remarkables Group and run in accordance with my disclosure policy.