Plan your weekly dinners with this 7 day plant-based meal plan that's fit for a blended family of vegetarians and meat eaters too!
A few weeks ago one of my lovely team members shared her vegetarian meal plan with us, and more specifically how she caters to meat eaters and a vegetarian under the same roof. It seems that she's not alone though, with many of you reaching out to tell me that dinnertime in your homes is often a mix of meat and vegetarian meals too. Tess has kindly shared another of her weekly vegetarian family meal plans with us this week. Enjoy!
Find more of my meal planning tips here:
Grocery Shopping List Pad
Weekly Planner Pad

ARE YOU ON INSTAGRAM? – If you make any of these recipes, please share a photo, tag @theorgansiedhousewife and add hashtag it #TOHDinners – I'd love to see what you're cooking!
MONDAY
Pesto Salad – the trick to keeping the meat eaters happy in a home with vegetarians, is to serve dinner in sides. This means you can easily use the bulk of the meal for everyone, with an additional side of meat. Tess often enjoys a pesto salad for her meal whilst the boys have it as a side with their steak.
Find this Rocket Pesto Pasta Salad recipe here.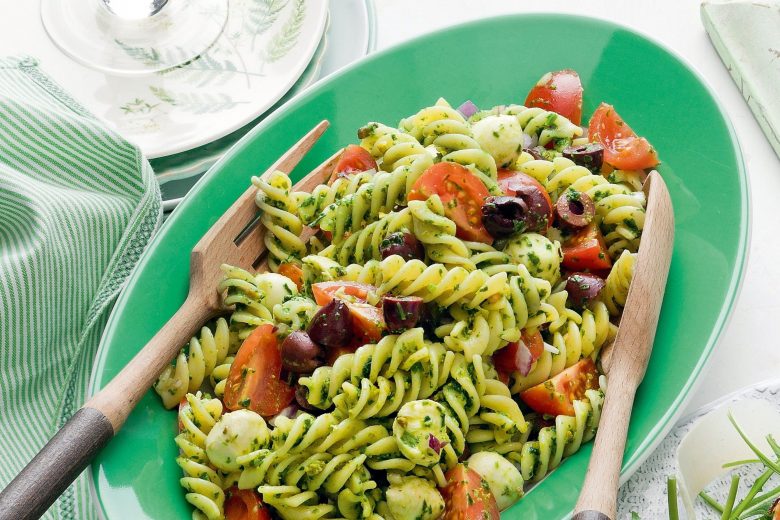 TUESDAY
Mushroom Burgers – perhaps one of the easiest meals to switch up into a meat-eaters delight, is a mushroom burger. A few beef patties added to the boys' burgers will keep the herd happy.
Find this Portobello Mushroom Burger recipe here.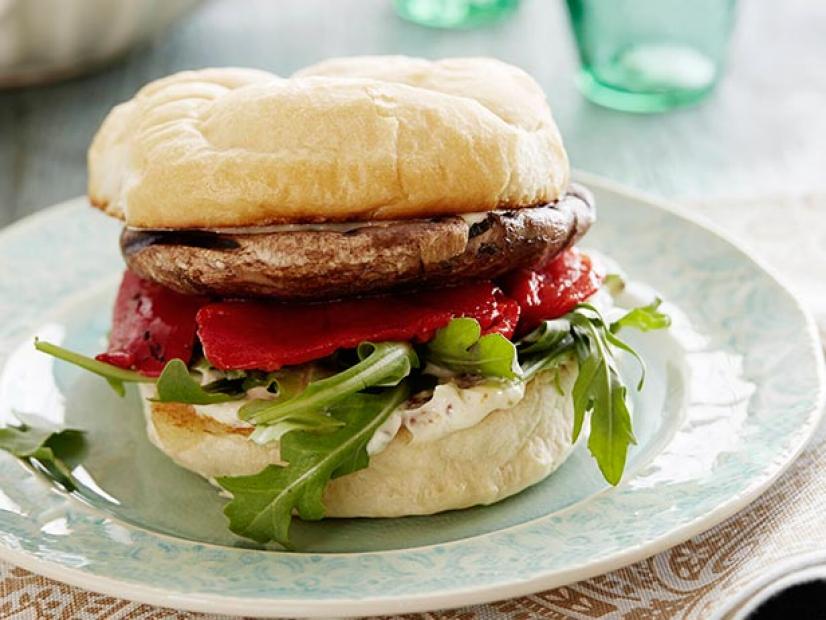 WEDNESDAY
Veggie Pie – call it a vegetable pie, a quiche or a veggie flan – either way it's delicious (and easy!). Egg based meals like this vegetable pie always go down a treat with the children and adults alike in Tess' home, and she doesn't even add a side of meat to this dish, just a simple salad.
Find this Impossibly Easy Vegetable Pie recipe here.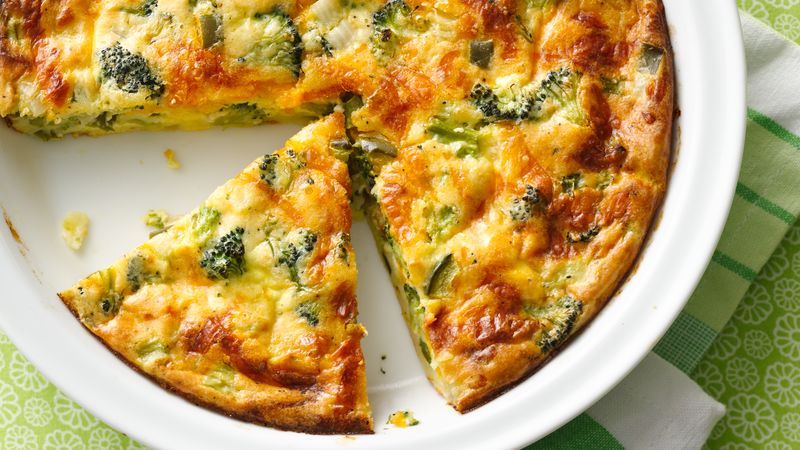 THURSDAY
Stir Fry – chop enough veggies for everyone, and then prepare the stir fries in two different pans. Add chicken to one pan and tofu to the other. Simple.
Find this Tofu Stir-Fry recipe here.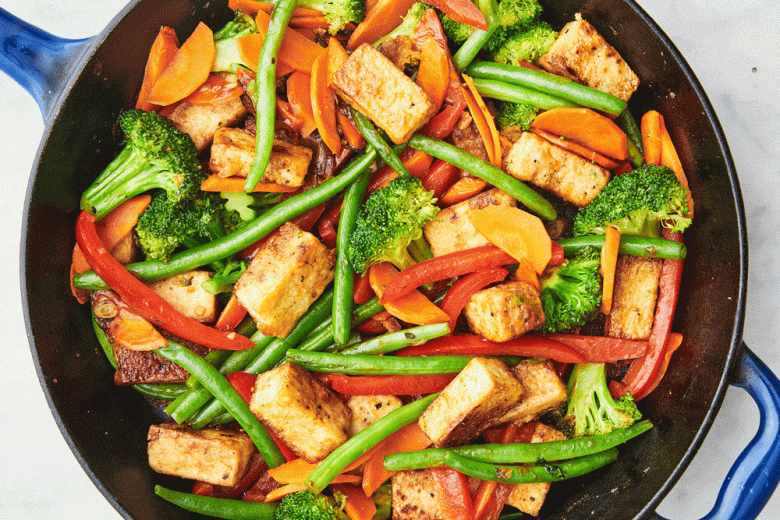 FRIDAY
Thai Takeaway – Friday night is always takeaway night in Tess' home. Asian-inspired meals are a big winner (because they easily cater to meat eaters and vegetarians).
SATURDAY

Pumpkin Soup – as the weather starts to cool down, it's a lovely time to start on the toasty warm soups. A bowl of creamy pumpkin soup, a dash of cream and a fresh buttered french stick is always a winner with the meat eaters and the token veggo in Tess' home.
Find my Creamy Roast Pumpkin Soup recipe here.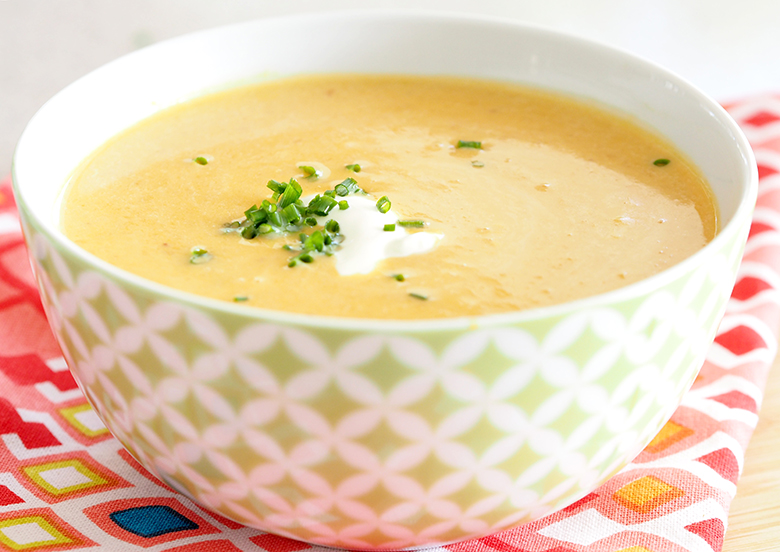 SUNDAY
Sausage and Veg Pasta Bake – if a recipe contains sausages, these can easily be substituted for veggie sausages to make the meal meat-free. When creating bakes like this, Tess makes a big one (with meat) for the family and a smaller veggie one for herself.
Find my Sausage and Vegetable Pasta Bake recipe here.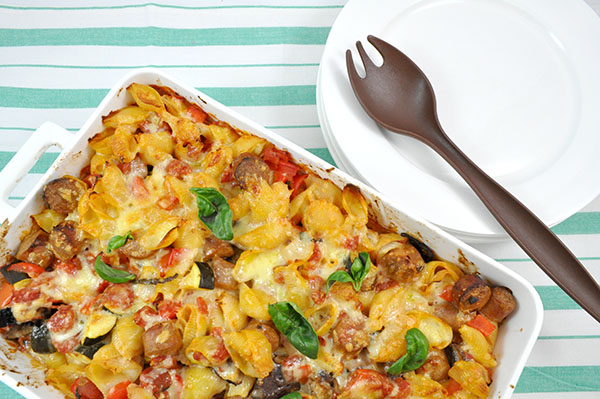 BAKING
Chocolate Brownie Cookies – these are delicious! They bring together the gooey goodness of a brownie with the chocolatey chewiness of a cookie. Just remember to roll them into big balls before putting in the oven (this will prevent them going flat).
Find my Chocolate Brownie Cookie recipe here.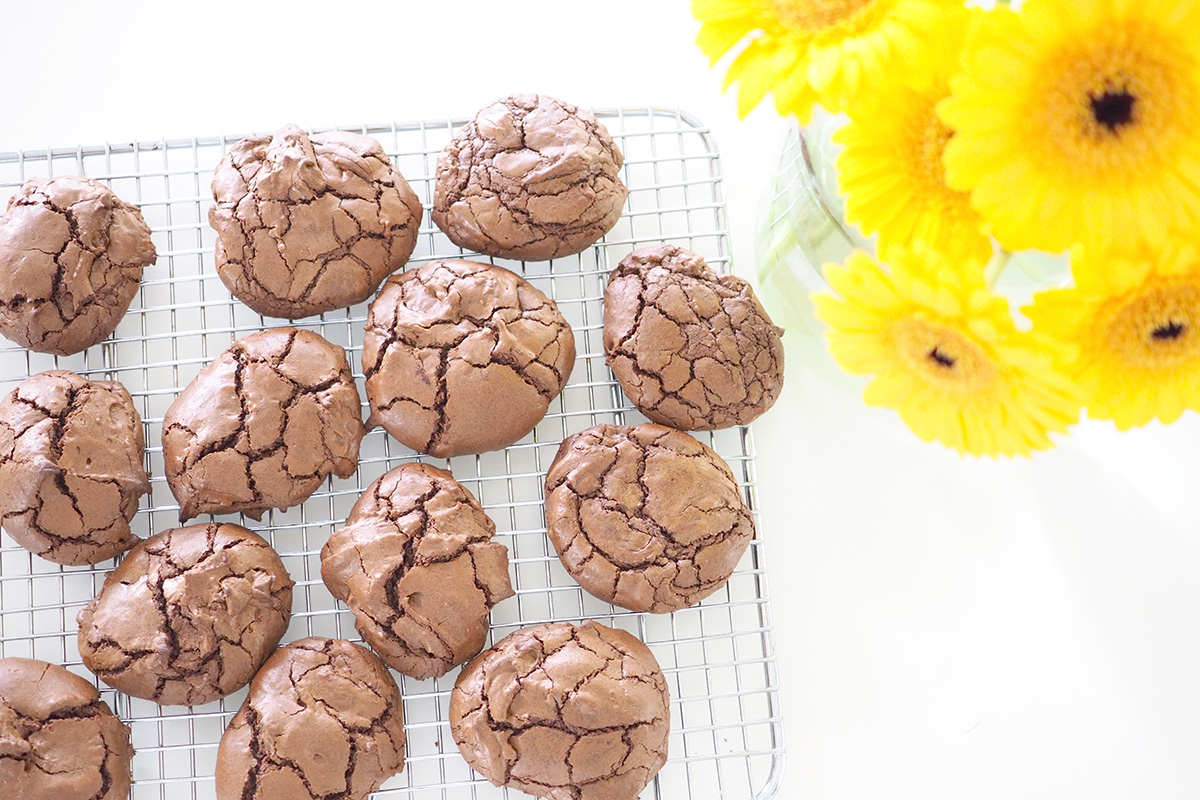 What is on your meal plan this week?
Please share your family's weekly meal plan in the comments below. I'll pick one to share every few weeks instead of mine as it's great to get variety and share what other families eat too!
---
Pin this image below to Pinterest!