A vegetarian family meal plan that can be easily tweaked to suit both vegetarians and meat-eaters who dine together in the same home.
I have always wondered how to accommodate meat-eaters and vegetarians in the same house when it comes to dinner time. My daughter has recently expressed a desire to stop eating meat and I'm at a loss as to how to do this. One of my team members is a vegetarian in a house full of meat-eaters and kindly offered to share her meal plan with us all. Tess has four boys and a man in her home who all love their meat. This is her weekly meal plan which covers how she manages to accommodate everyone at mealtime (and also a timely meal plan for anyone who is struggling to get meat from the supermarkets at the moment!).
Find more of my meal planning tips here:
Grocery Shopping List Pad
Weekly Planner Pad

ARE YOU ON INSTAGRAM? – If you make any of these recipes, please share a photo, tag @theorgansiedhousewife and add hashtag it #TOHDinners – I'd love to see what you're cooking!
MONDAY
Sausage and Veggie Bake – I'm told that vegetarian sausages aren't overly appetising, but they take on the taste of what they are cooked with. This dish means the sausages and veggies take on the yummy tastes of all the delicious spices. Tess does up a small baking tray with veggie sausages and another larger tray with beef sausages for the rest of the family then serves both with parmesan cheese and rice.
Find this One Pan Healthy Sausage and Veggies recipe here.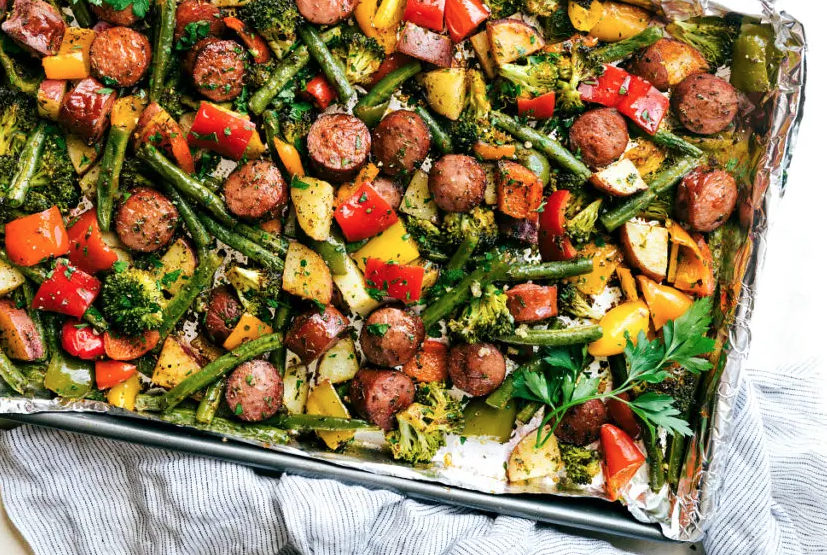 TUESDAY
Spinach and Feta Pie – a pie or sometimes mini pies like the ones below are prepped in advance so they can be easily popped in the oven. Apparently the whole family – meat-eaters and the vegetarian – love these. Sometimes a ready-made spinach and feta quiche like this one is bought from the supermarket instead. This dish is teamed with a side of chips or steamed veggies.
Find this Spinach and Cheese Filo Pies recipe here.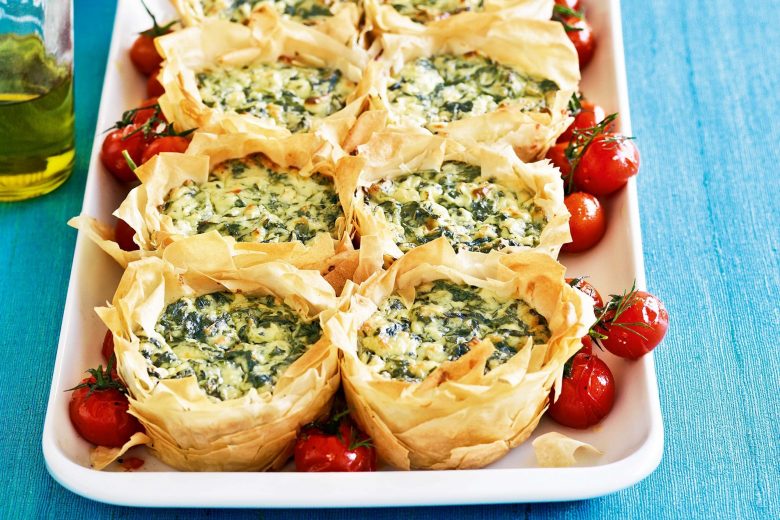 WEDNESDAY
Eggs, Avocado and Beans – this is an easy dinner that the kids love too! Sometimes sausages are added for the meat-eating people in the house, and quinoa is included for the token vegetarian. Apparently quinoa is great for vegetarians because it contains a high protein content (which is obviously important for someone who's not eating meat).
Find this Quinoa Bowl with Avocado and Egg recipe here.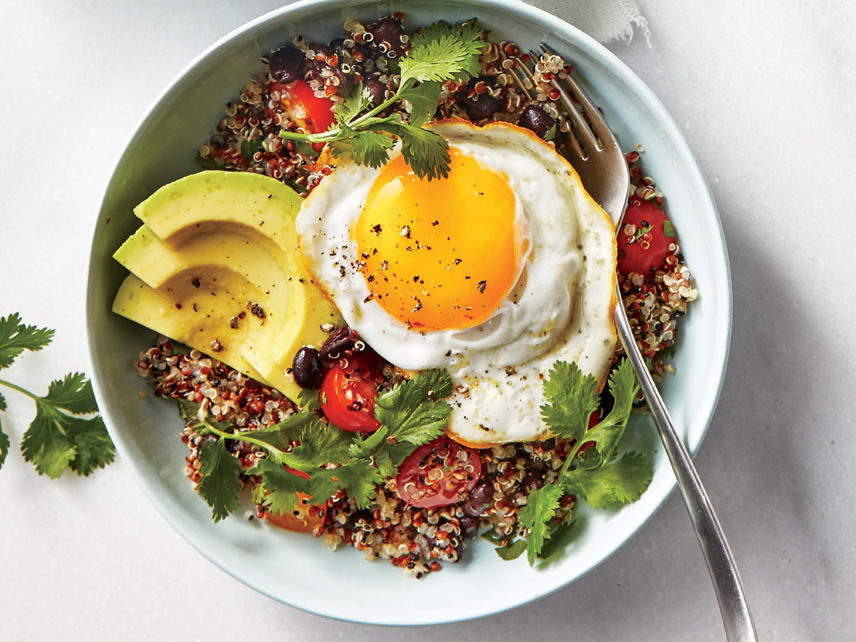 THURSDAY
Asparagus, Ricotta and Pea Salad – Tess tries to experiment with a new salad each week (this is her new favourite!) and will often have a large bowl to herself and serve the boys a steak with this as a side salad. The whole family enjoys crunchy bread with this meal.
Find this Asparagus, Ricotta and Pea Salad recipe here.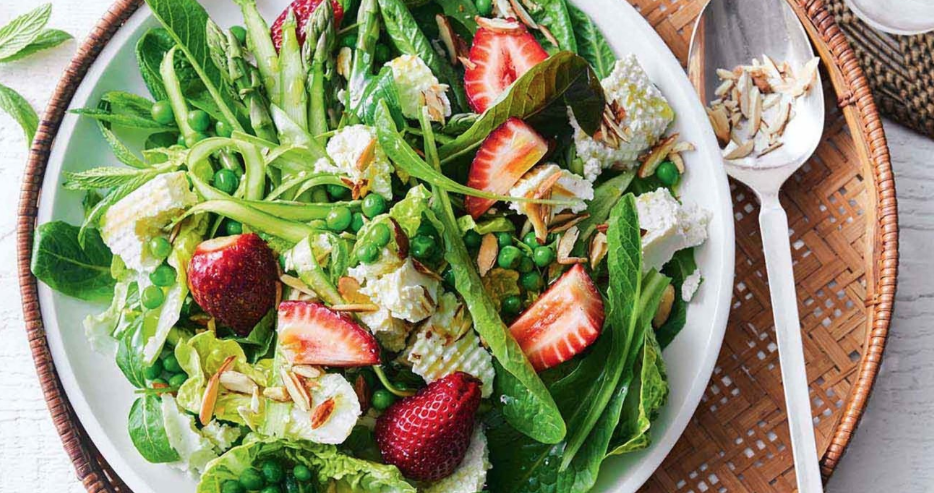 FRIDAY
Indian Takeaway – anything Asian-inspired is a popular choice for a takeaway night in this home as there are so many vegetarian options to choose from.
SATURDAY

Veggie Stir-Fry – stir-fries are an easy dish to make as a meat and vegetarian option. Tess cooks the meat first until it's nearly ready, then takes it out and cleans out the pan. She then cooks the veggies, removes her serve, and adds the beef back in. Serve with noodles, rice or even cauliflower rice.
Find this 30-Minute Cauliflower Rice Stir-Fry recipe here.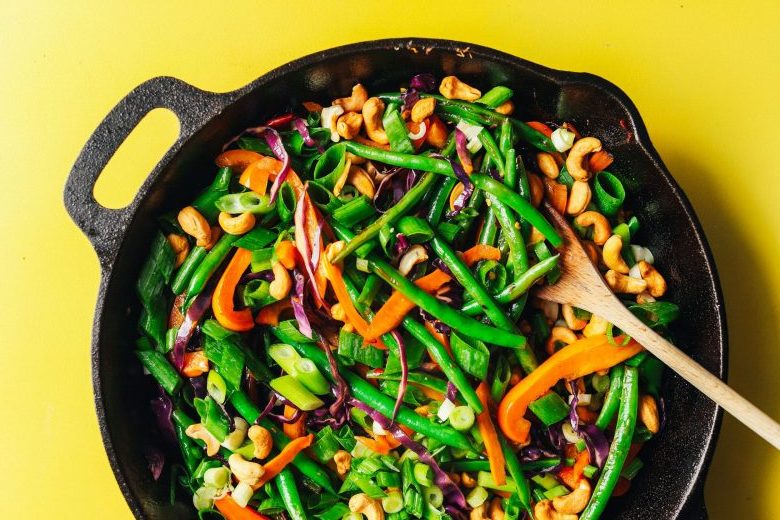 SUNDAY
Black Bean Tacos – tacos are always a super easy idea. Tess has hers with black beans, avocado, basic salads and sometimes quinoa, then preps fish or chicken for the boys to add to theirs. Simple.
Find this Quinoa and Black Bean Tacos recipe here.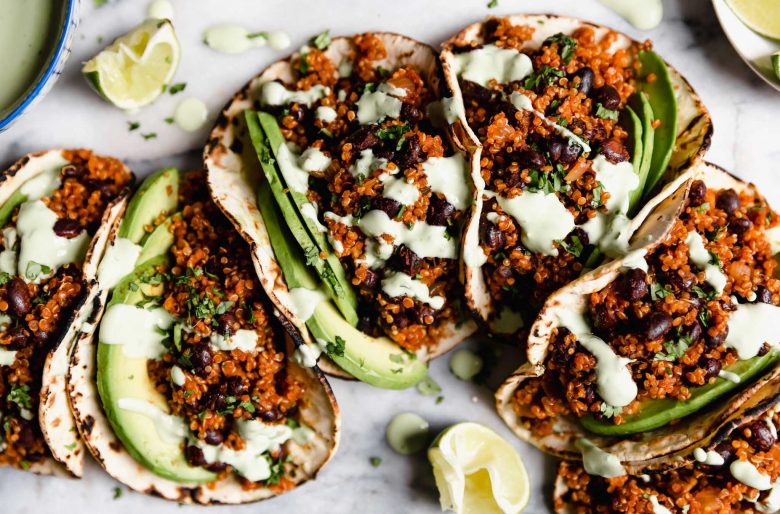 BAKING
Blueberry Muffins – I am told that the boys in this household love the recipes in my Lunch Box Recipe Cookbook and that this muffin recipe is one of their favs. These blueberry muffins were made on the weekend and popped in the freezer to make for easy lunchbox snacks throughout the week (for the boys and for Tess too – LOL!).
Find this Blueberry Muffins with Crunchy Topping recipe in my Lunch Box Recipe Cookbook.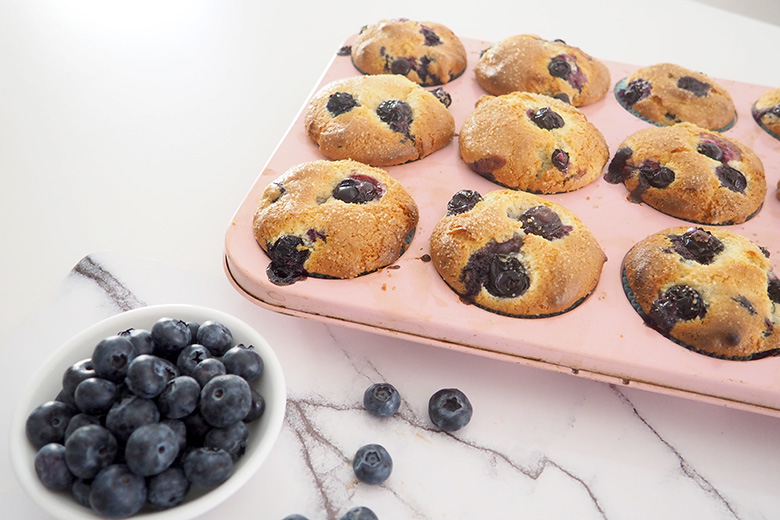 What is on your meal plan this week?
Please share your family's weekly meal plan in the comments below. I'll pick one to share every few weeks instead of mine as it's great to get variety and share what other families eat too!
---
Pin this image below to Pinterest!