One of my lovely readers Katrina (great name) kindly shared her weekly meal plan. She exclaimed, "I love meal planning, it certainly makes dinner time less stressful and grocery shopping quicker and easier!" I totally agree and that's why I make it a priority to sort out my meal plan for the following week.
MEAL PLANNING TIP
Each week I am going to share one meal planning/grocery budget tip to help you through this process.
Balance your meals – Meal planning allows you to balance your meals throughout the week. This allows our family to eat a balanced variety of meals, as it's healthy and easier to pick a meal to cook. Mainly, it makes meal planning easier. I asked our Facebook community and learnt that many families have the same meals regularly on particular days of the week. Here are some of their suggestions:
MONDAY – mince meat, mexican or meatless
TUESDAY – tacos
WEDNESDAY – whatever is in the fridge
THURSDAY – pasta
FRIDAY – BBQ, fish and chips, takeout, homemade pizza or leftovers
SATURDAY – spaghetti, family favourite or burgers
SUNDAY – roasts or something easy
Do you have a plan like this for your family? Please share below!
Find more of my meal planning tips here: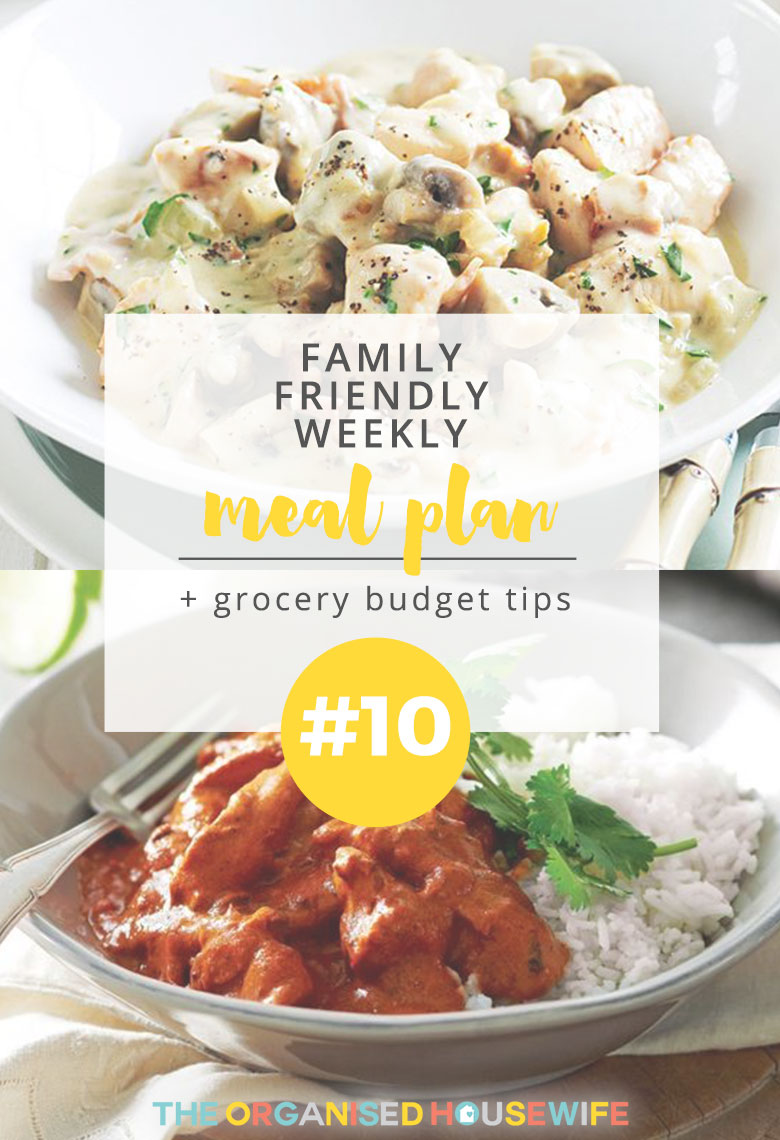 MONDAY

Butter Chicken – Like I have mentioned before, curries are just such a good cold weather meal. I love butter chicken too and I included a recipe from my blog.
RECIPE: Easy Butter Chicken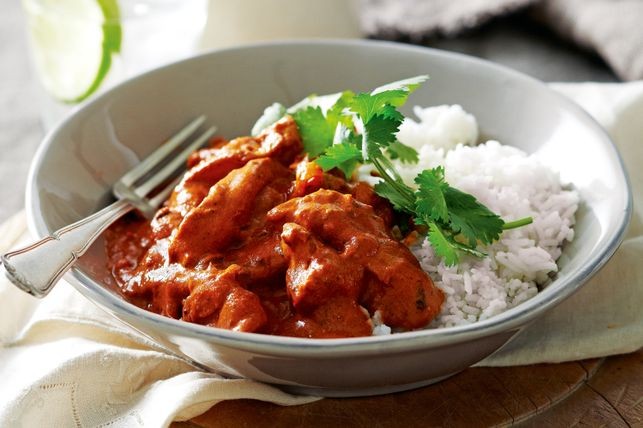 TUESDAY
Hidden Veg Lasagne – Lasagna is another favourite meal in my household. I usually find I have plenty of leftovers for the night after too.
RECIPE: Hidden Veggie Lasagna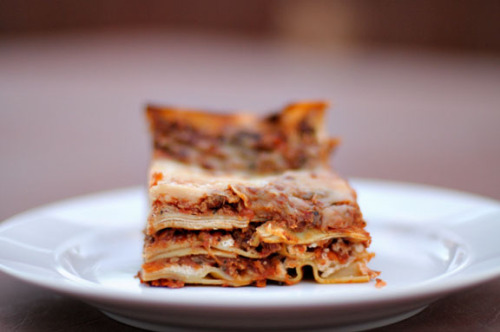 WEDNESDAY
Lasagne Leftovers
THURSDAY
Spiced Pork Tenderloin, Brown Rice, Pumpkin Spinach and Feta Salad  – You could make the salad and then add pieces of the pork throughout for a lighter meal. I have a salad like this on my blog using chicken instead.
RECIPE: Roast Pumpkin and Chicken Balsamic Salad or Grilled Moroccan Spiced Pork Tenderloins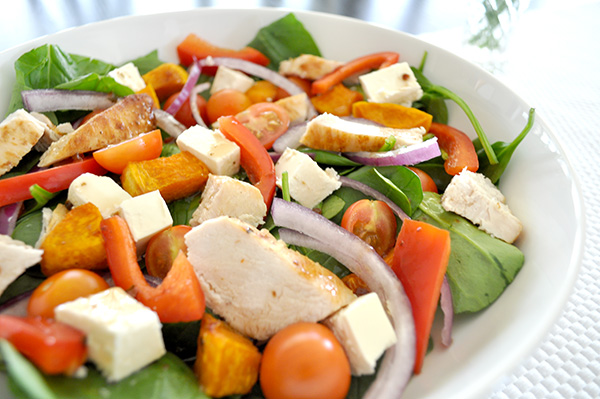 FRIDAY
Chicken and Mushroom Creamy Casserole – If you're tired, hungry and short of time, this is a great, easy meal for you.
RECIPE: Speedy Chicken and Mushroom Casserole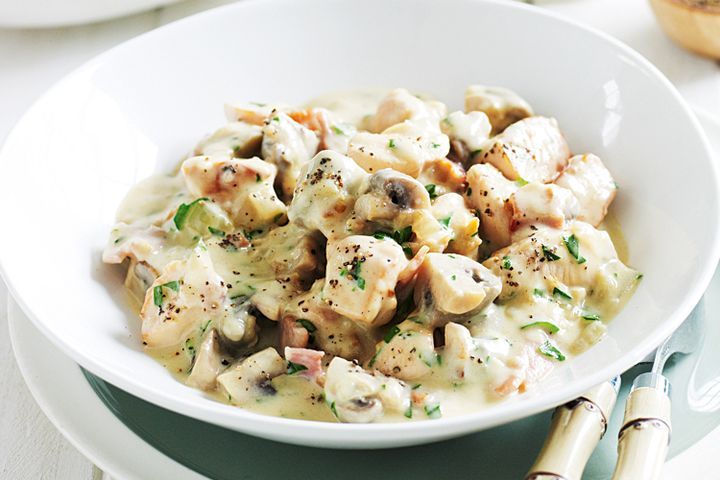 SATURDAY

Slow Cooker Chicken Cacciatore – Italian classic that is easily made in a slow cooker. Freeze the leftovers!
RECIPE: Slow Cooker Chicken Cacciatore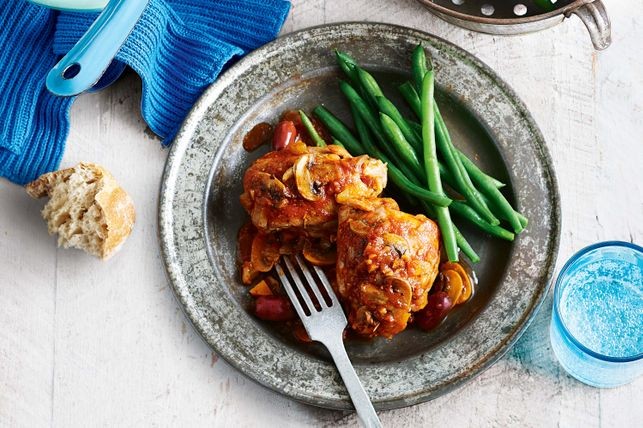 SUNDAY
Roast Dinner – There is no greater way than to end the week with a delicious roast dinner. I think they taste even better the next day for lunch too.
RECIPE: My collection of delicious roast dinner ideas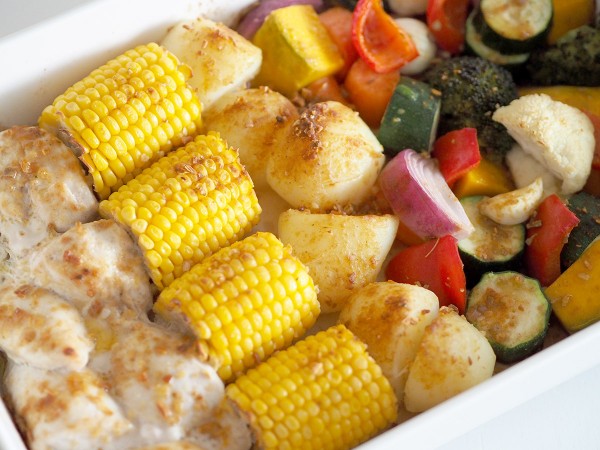 BAKING
Crunchy Chocolate Chip Cornflake Cookies – Kat didn't include a sweet so I added in these deliciously crunchy chocolate chip cornflake cookies. They make 30 and are freezable.
RECIPE: Crunchy Chocolate Chip Cornflake Cookies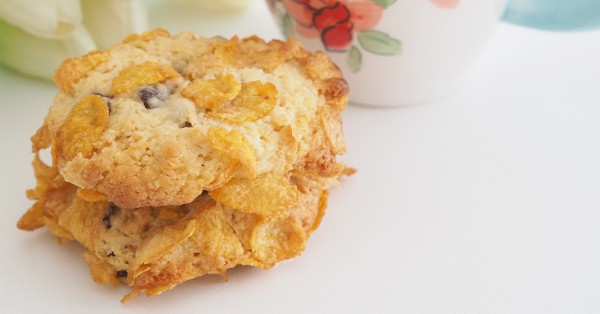 What is on your meal plan this week?