A reader-inspired weekly meal plan that's bursting with simple, home-cooked meals that stem from the traditional 'meat and 3 veg' approach.
This week's meal plan comes courtesy of a reader who understands the importance of being organised when it comes to meal planning. Gem and her family live on a farm 50kms from town, and getting into town has been especially difficult lately with the kids at home. Her hubby often does jobs on the farm that prevent her from being able to leave the kids in his care whilst she ducks out. This has meant Gem has had to be super prepared – and here's her meal plan to prove it!
Find more of my meal planning tips here:
Grocery Shopping List Pad
Weekly Planner Pad

ARE YOU ON INSTAGRAM? – If you make any of these recipes, please share a photo, tag @theorgansiedhousewife and add hashtag it #TOHDinners – I'd love to see what you're cooking!
MONDAY
Hot Dogs – hot dogs are such a simple meal, and they can be enjoyed in so many ways! Gem served her family potato gems with their hot dogs, but the options are near endless. If you're looking for inspiration, take some from the American Hot Dog Bar suggestions in the recipe below.
Find this All-American Hot Dog Bar recipe here.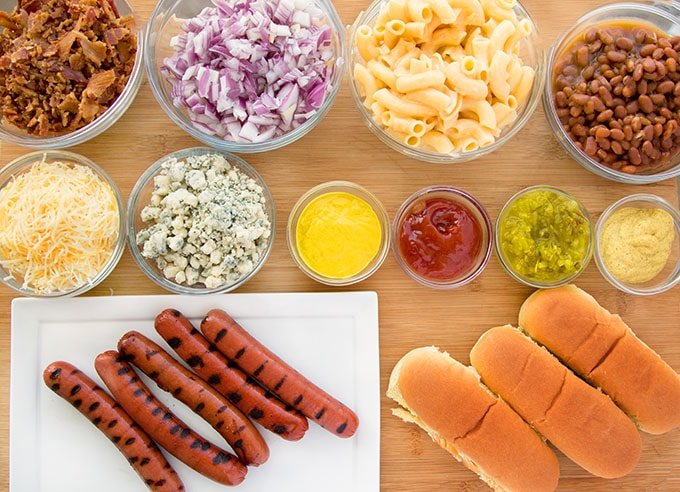 TUESDAY
BBQ Meatballs with Veggies – BBQ meatballs served with mashed potato and steamed veggies is something my family eat a lot of too! Leftover BBQ meatballs can also be used to make spaghetti bolognese or served mashed on toast.
Find my Easy Slow Cooked BBQ Meatballs recipe here.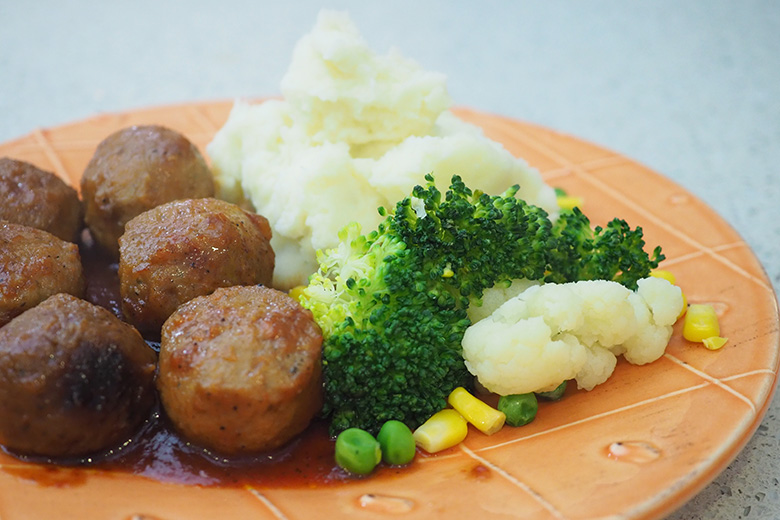 WEDNESDAY
Pork Chops with Veggies – Gem dished up some honey mustard pork chops with roast spuds and steamed veggies (yum!!!). If you're wanting to make your chops and veggies in the one baking dish, check out this tasty looking recipe below.
Find this Pork Chops with Maple-Roasted Vegetables recipe here.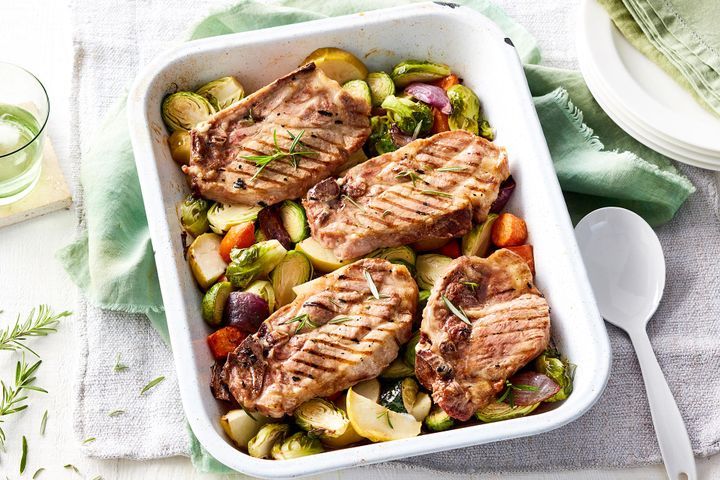 THURSDAY
Kebabs and Rice – kebabs are so versatile! You can whip up your own on or buy them readymade from the supermarket. Gem dished up chicken kebabs with a continental fried rice packet for her family, but you could do beef, lamb, or even veggie kebabs.
Find this Sweet and Sour Pork Kebabs with Fried Rice recipe here.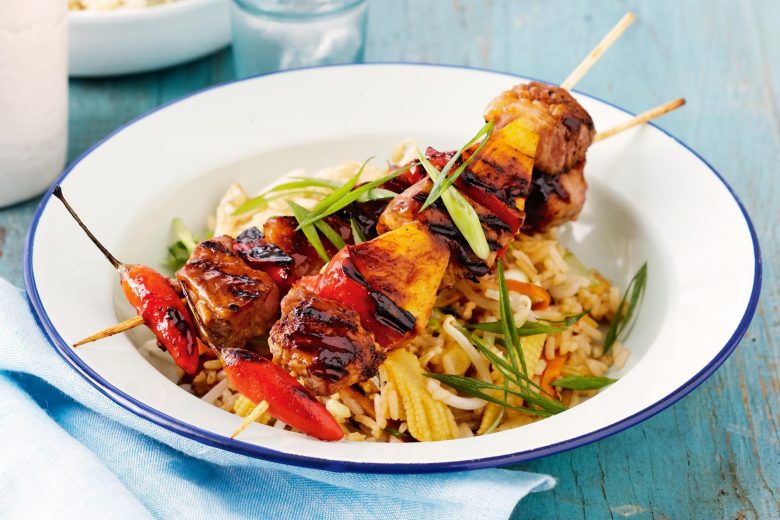 FRIDAY
Hamburgers – hamburgers are a fabulous meal fit for a family! Gem served her hamburgers with the lot – think eggs, beetroot and grilled pineapple. The best bit about burgers is they can be served simple with just cheese, or you can get really fancy depending on everyone's tastes.
Find 28 Burger recipes here.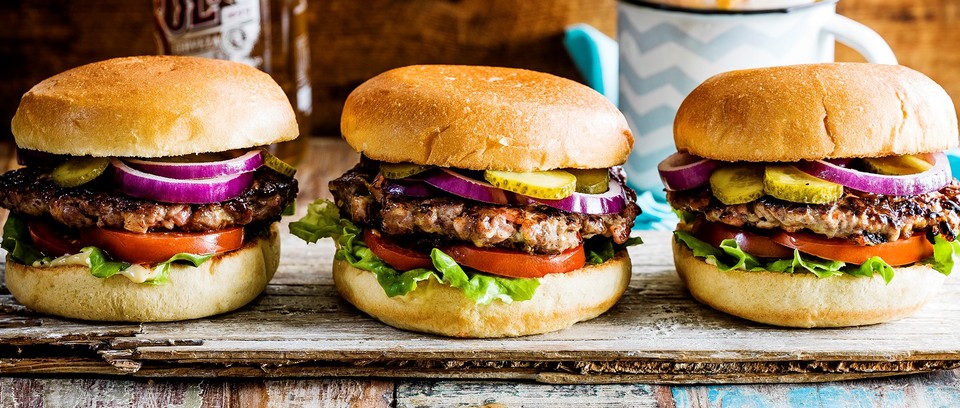 SATURDAY

Pasta Bake – I love a good pasta bake, and Gem's pasta bake sounds like it was delicious! She served up a Ravioli Bake fashioned from a Legos packet that she turned into a bake. Bakes are an easy meal that can be made in advanced, and are a great way to take the pressure off at dinnertime.
Find my Quick Beef and Corn Pasta Bake recipe here.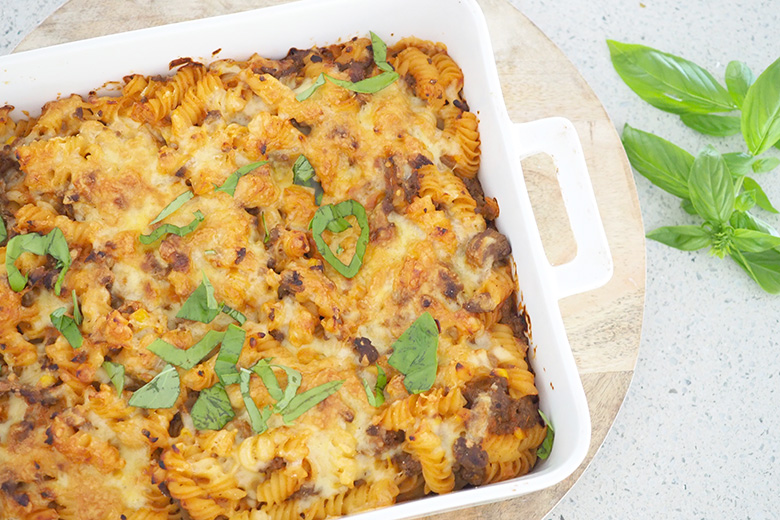 SUNDAY
Silverside with Veggies – Gem dished up silverside with all the trimmings – roast potato, pumpkin, carrot, broccoli, and cauliflower in a white cheesy sauce. Sounds like the ultimate Sunday night meal to me!
Find my Slow Cooked Silverside recipe here.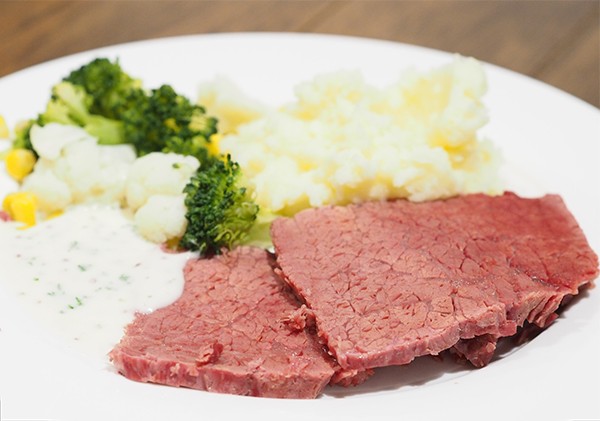 BAKING
Banana Weet-Bix Muffins – Gem said she was planning to bake a batch of muffins and a slice for morning teas during the week in her home. I made Banana Weetbix Muffins in my home this week, so I thought I'd share this recipe with you below.
Find my Banana Weet-Bix Muffins recipe here.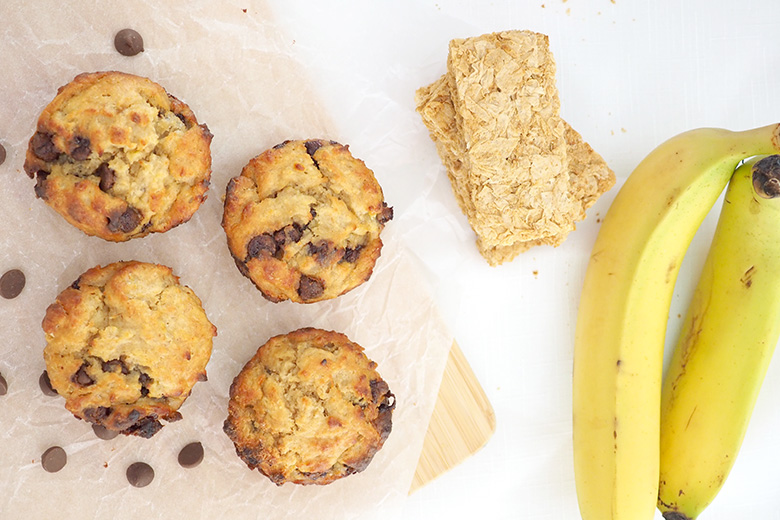 What is on your meal plan this week?
Please share your family's weekly meal plan in the comments below. I'll pick one to share every few weeks instead of mine as it's great to get variety and share what other families eat too!
---
Pin this image below to Pinterest!