A weekly meal plan that will cater to families craving a quick fix at dinner time, as well as those wanting to spend a little longer in the kitchen.
With a mix of super easy meals, and feeds that are a little more fancy, I am confident that this week's Family Meal Plan will serve up dinner inspiration that will cater to the fussiest of tastes. Enjoy!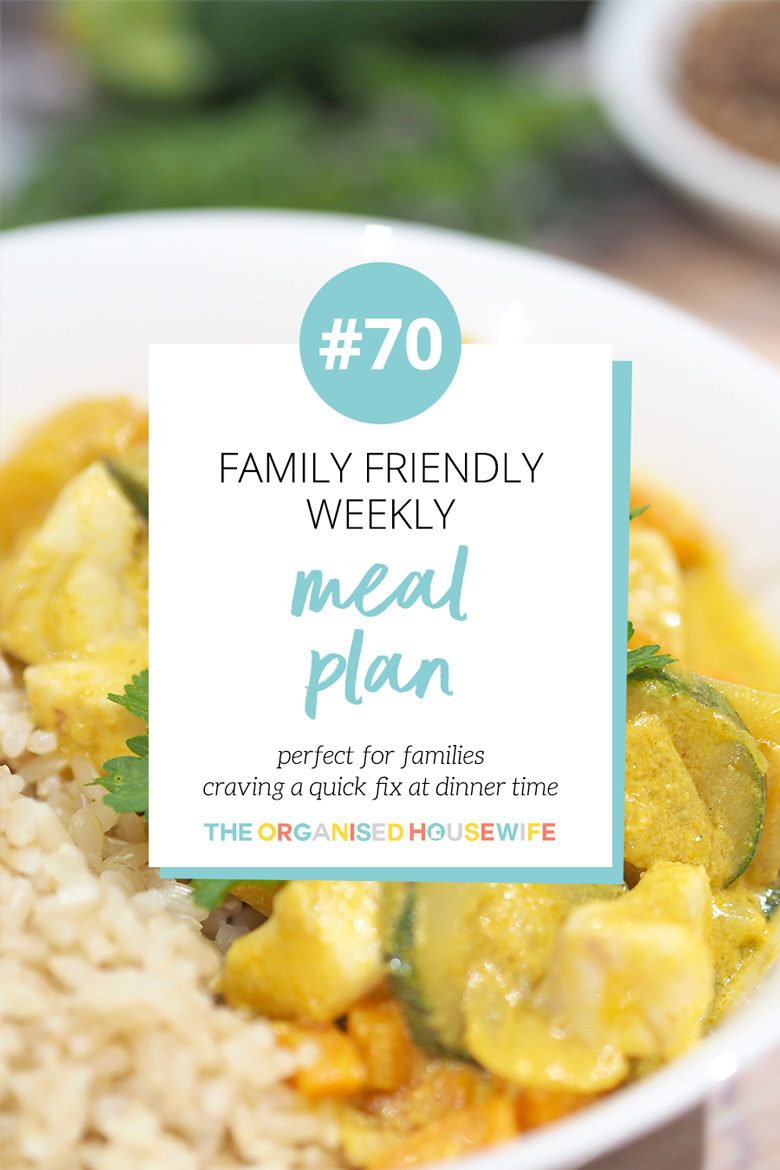 Find more of my meal planning tips here: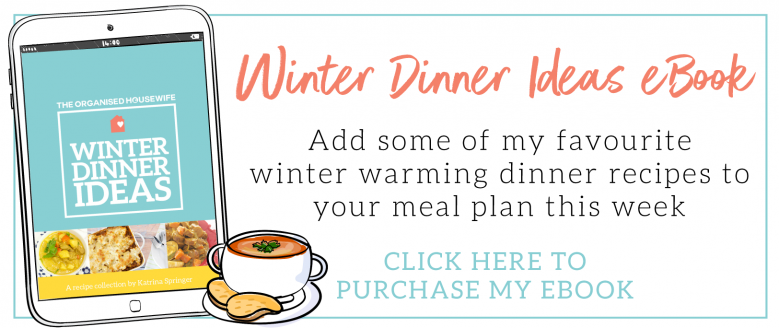 ARE YOU ON INSTAGRAM? – If you make any of these recipes, please share a photo, tag @theorganisedhousewife and add the hashtag #TOHDinners – I'd love to see what you're cooking!
MONDAY
Quick Beef Curry – I love warm winter food on a cold night (this recipe is also in my Winter Dinner Ideas eBook), and curries are no exception! This meal only takes 30 minutes to cook, and is full of flavour and deliciously tender vegetables.
Find my Quick Beef Curry recipe here.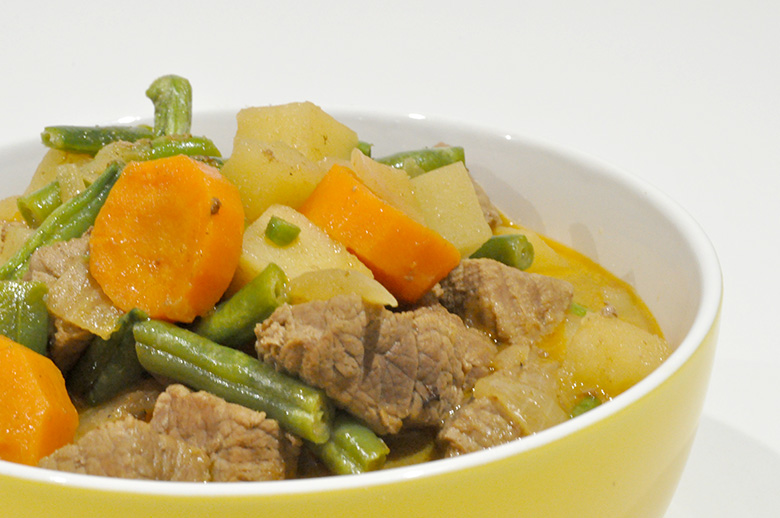 TUESDAY
Taco Casserole – this dinner is so fun, and my kids absolutely love it! Ground beef, pinto beans, and tomatoes spiced with chilli powder bubble under a crunchy, gooey topping of tortilla chips and two cheeses in this quick and easy, kid-friendly casserole.
Find this Taco Casserole recipe here.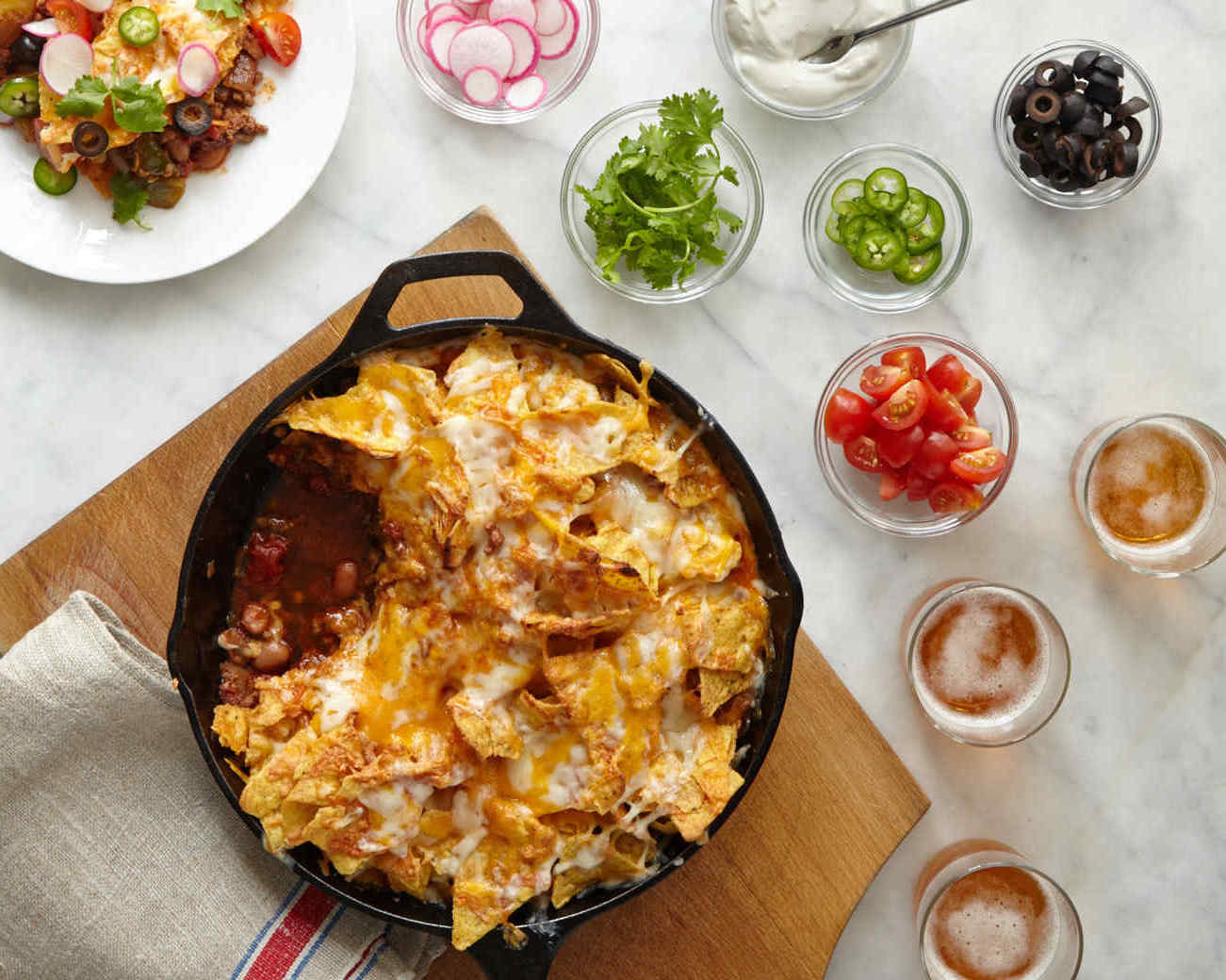 WEDNESDAY
Chicken with Mushroom Sauce and Veggies – very rarely do I make a meal that I don't rate, but this unfortunately would have to be one of them. I followed a recipe for this meal but won't share it because frankly, I wasn't overly impressed. Oh well, we can't win them all.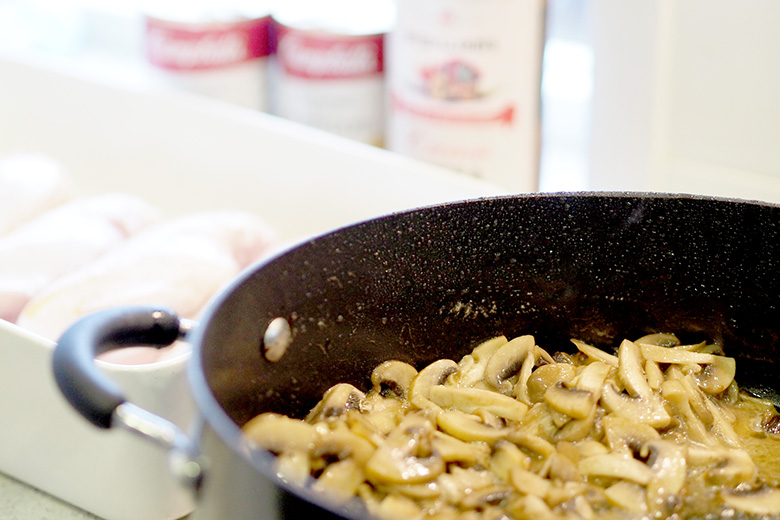 THURSDAY
Eggs on Toast – don't be afraid to give yourself a break one night! Eggs on toast are a very underrated meal – teamed with multigrain toast, they become the ultimate poor man's dish and will surely satisfy the hungriest of little vegemites.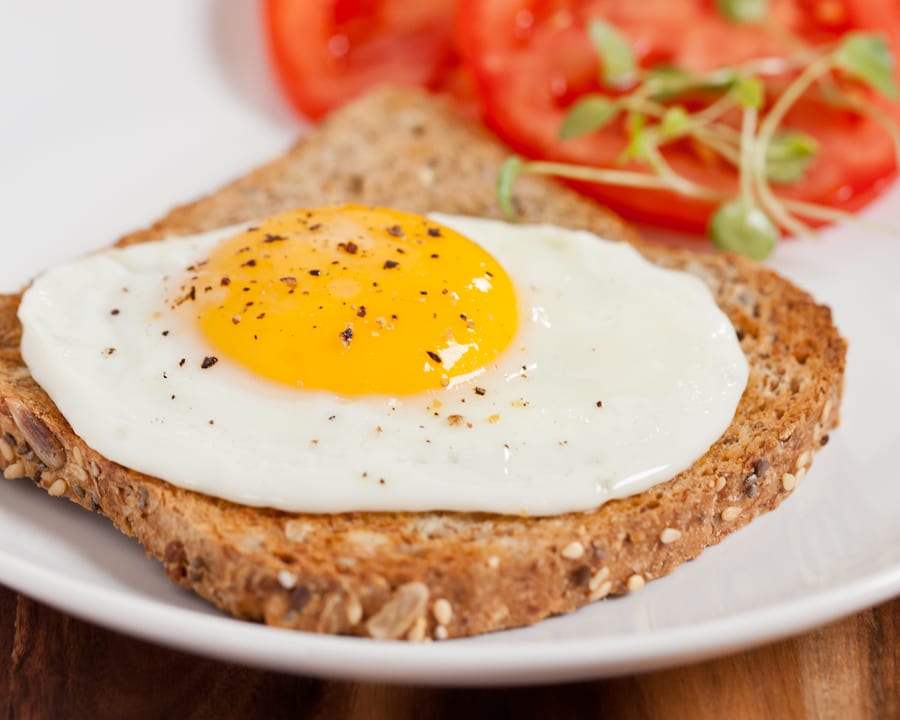 FRIDAY
Chicken Burgers – my family finished the school week off with burgers, which I made a little healthier than the traditional sloppy hamburger by using chicken and vegetable rissoles for the patties. They pack a punch in the veggie arena, and taste pretty good as leftover the following day too!
Find my Chicken and Vegetable Rissoles recipe here.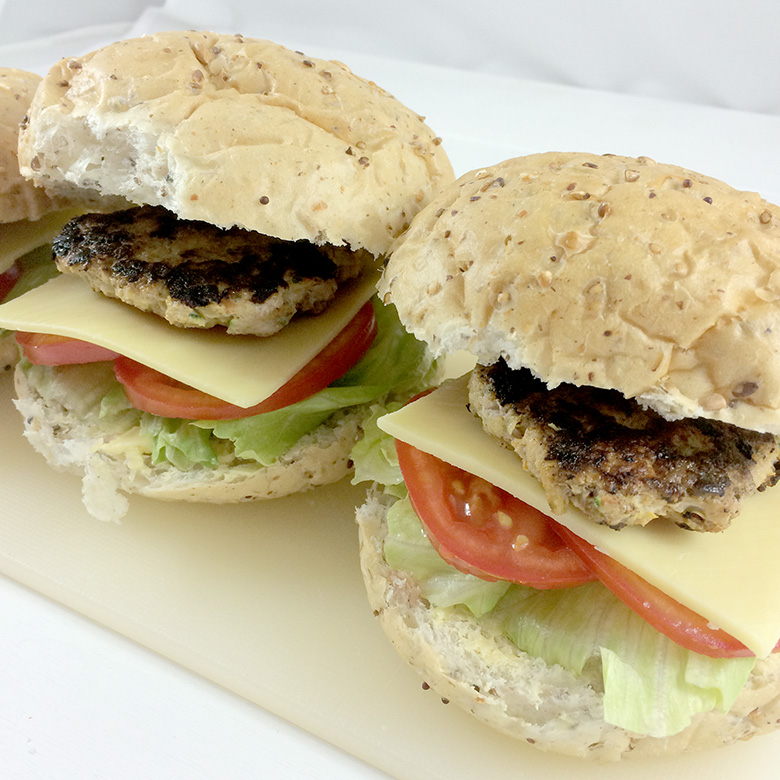 SATURDAY

Fish Curry with Rice – I always try to get more fish into my family's diets, as it's not something we instinctively cook. This dish was really easy to put together and is filled with loads of vegetables, onion, zucchini, carrot and pumpkin. I served ours with brown rice.
Find my Mild Fish Curry with Rice recipe here.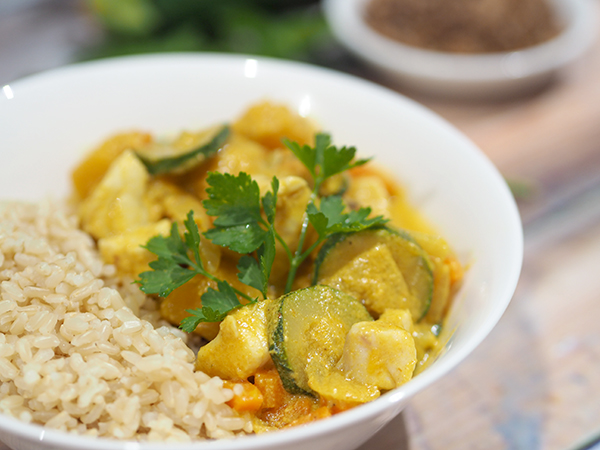 SUNDAY
Roast Pork – a tasty crispy roast pork to finish off the week. I served it with caramelised apples and onion, roast potatoes, and glazed carrots and spinach. I also removed the rind from the roast and put it under the grill to crackle further… ooh it crackled up a treat!
Find my Roast Pork with Caramelised Apples and Onions recipe here.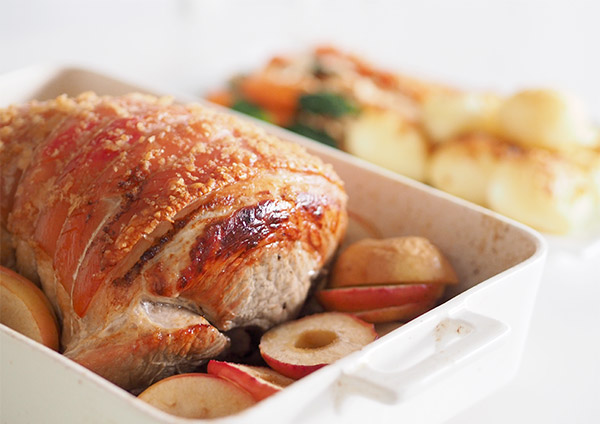 BAKING
Almond and Pumpkin Seed Bliss Balls – my daughter stumbled upon this very tasty recipe a week ago when pottering around in the kitchen. They're really yummy, nutritious, and so easy to make! I decided to make a few extras as they are not lasting long in our house.
Find my Almond and Pumpkin Seed Bliss Balls recipe here.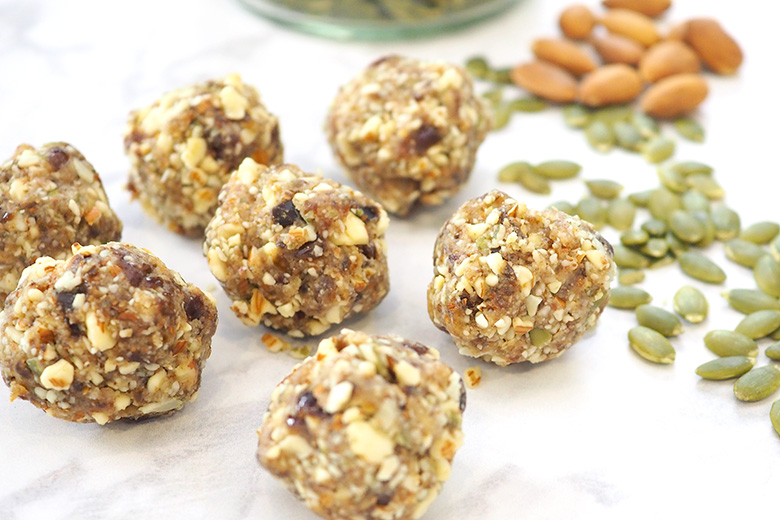 What is on your meal plan this week?
I would truly love for you to share your family's weekly meal plan in the comments below (email me photos too if you wish), I'll pick one to share every few weeks instead of mine as it's good to get variety and share what other families eat too!