Each week, I aim to inspire you with a variety of yummy recipes in my weekly meal plans that are quick, easy to make, and delicious, so that the whole family will enjoy them. Be inspired by some of the meals in this week's Family Meal Plan, because they have been inspired by you!!!
Dinner time is a meal that a family can get together, have a chat and catch up on the day. So often you get run down from a hard day and by the time dinner comes around, you are in a panicked state, stressing about what to cook for the evening meal. I aim for my weekly meal plans to help make this process easier for you each night and make feeding your family so much simpler. I asked the community recently what they were cooking for dinner and this inspired me to add a few of your ideas for this week's weekly family meal plan.
Find more of my meal planning tips here:

ARE YOU ON INSTAGRAM? – If you make any of these recipes, please share a photo, tag @theorganisedhousewife and add hashtag it #TOHDinners  – I'd love to see what your cooking!
---
MONDAY
Creamy Chicken and Pumpkin Pasta – A reader said that she loves to make a Creamy Chicken Pasta. My Creamy Chicken and Pumpkin Pasta dish is a wonderful family meal, and it will get some healthy vegetables into everyone too.
  Find my Creamy Chicken & Pumpkin Pasta recipe here.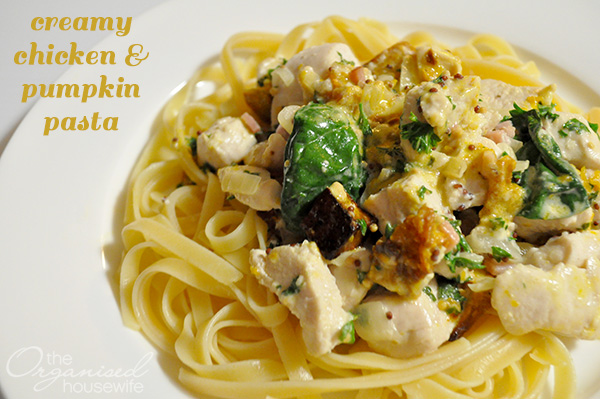 TUESDAY
Thai Chicken Salad – Mmmm nothing like a good Thai Chicken Salad. This one came up a few times from the community. I really like this recipe because the colours of the vegetables are so vibrant and it oozes a healthy dinner appeal. Nice and light, with exactly the right amount of everything, plus it's a really yummy version.  I usually make a double batch of it to have for lunch the next day.
  Find this Thai Chicken Salad recipe here.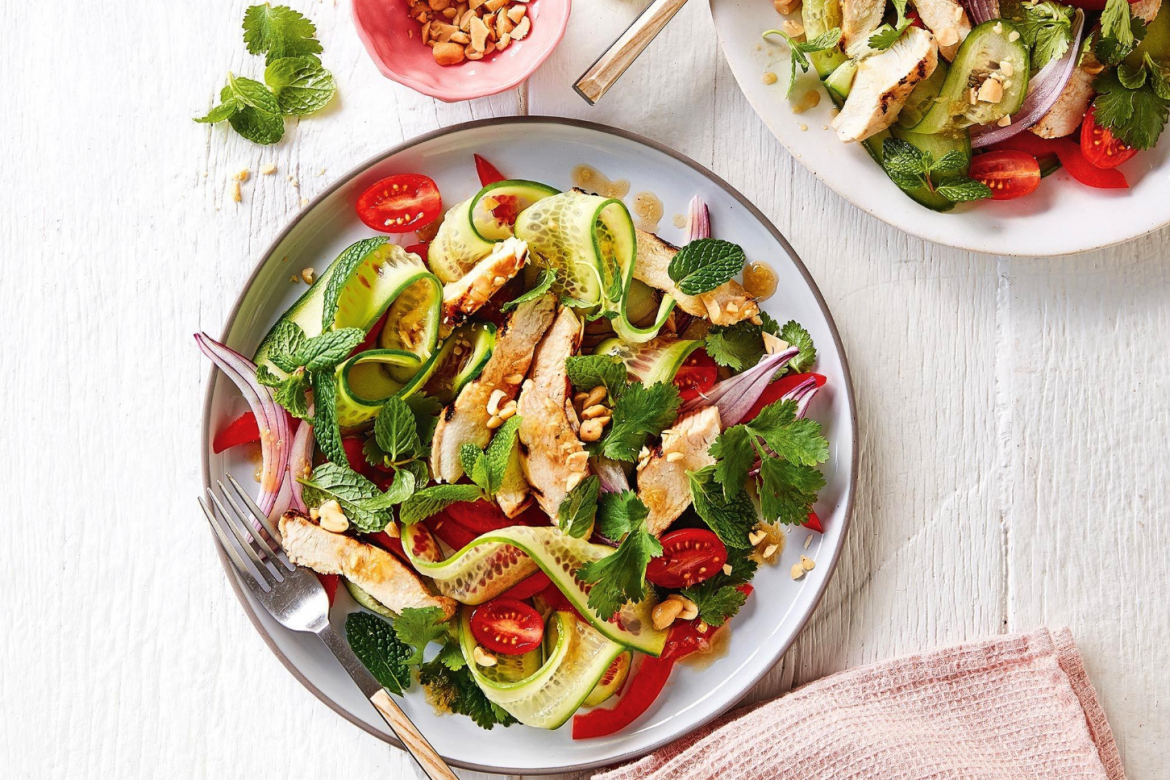 WEDNESDAY
Chinese Chicken Stirfry  – I love making stirfry because it's such an easy dish to make and apparently, so do you!! My Chinese Chicken Stirfry is very easy to make, so try to entice your teens to give it a go in the kitchen. It's delicious and it's a very well balanced evening meal that the whole family will enjoy.
  Find my Chinese Chicken Stirfry recipe here.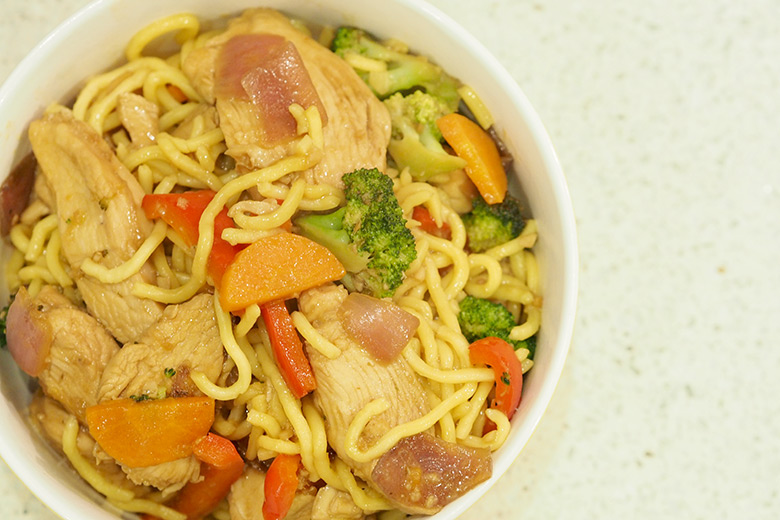 THURSDAY
Crispy Oven Baked Fish – I get really busy on Thursdays and get home late sometimes, so it's a night I get my kids to help out with dinner and this is a great recipe that they make. A simple dish with some much-needed salad. Can't go wrong.
 Find my Crispy Oven Baked Fish recipe here.

FRIDAY
Chicken Tacos – Another recipe that's mentioned a lot by you. Chicken Tacos are great on a Friday night because they're simple to make and if you have teenagers, they will usually do the work for you. We love tacos in my household.
  Find this Chicken Tacos recipe here.

SATURDAY

Quick Shepherd's Pie – Another one mentioned by you. This is my Quick Shepherd's Pie and I really should make this again soon because it's such a yummy pie. As the cooler weather approaches, this is going to be one of my go-to dinners on my weekly meal plans.
  Find my Quick Shepherds Pie recipe here.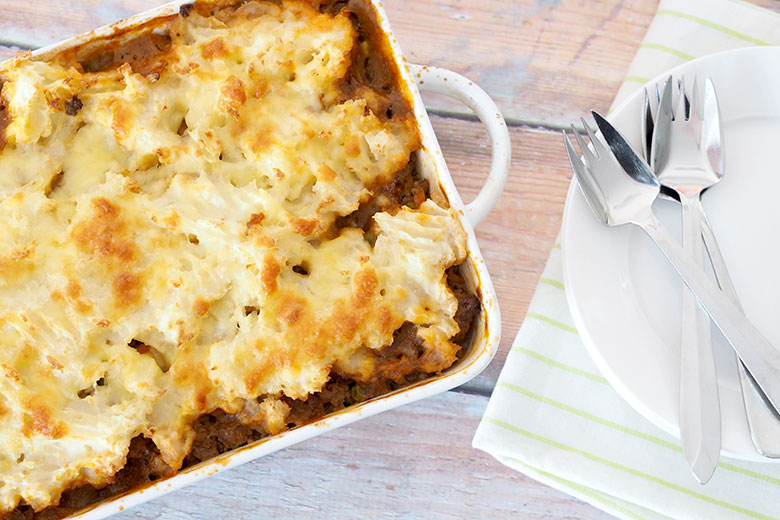 SUNDAY
Best Ever Dahl – I'm curious how this one tastes but a friend of mine makes this one regularly, so when I told her that my community asked for a dahl recipe, she really did say that this is one of the best dahl recipes out there. Definitely trying this one myself soon.
  Find this Best Ever Dahl recipe here.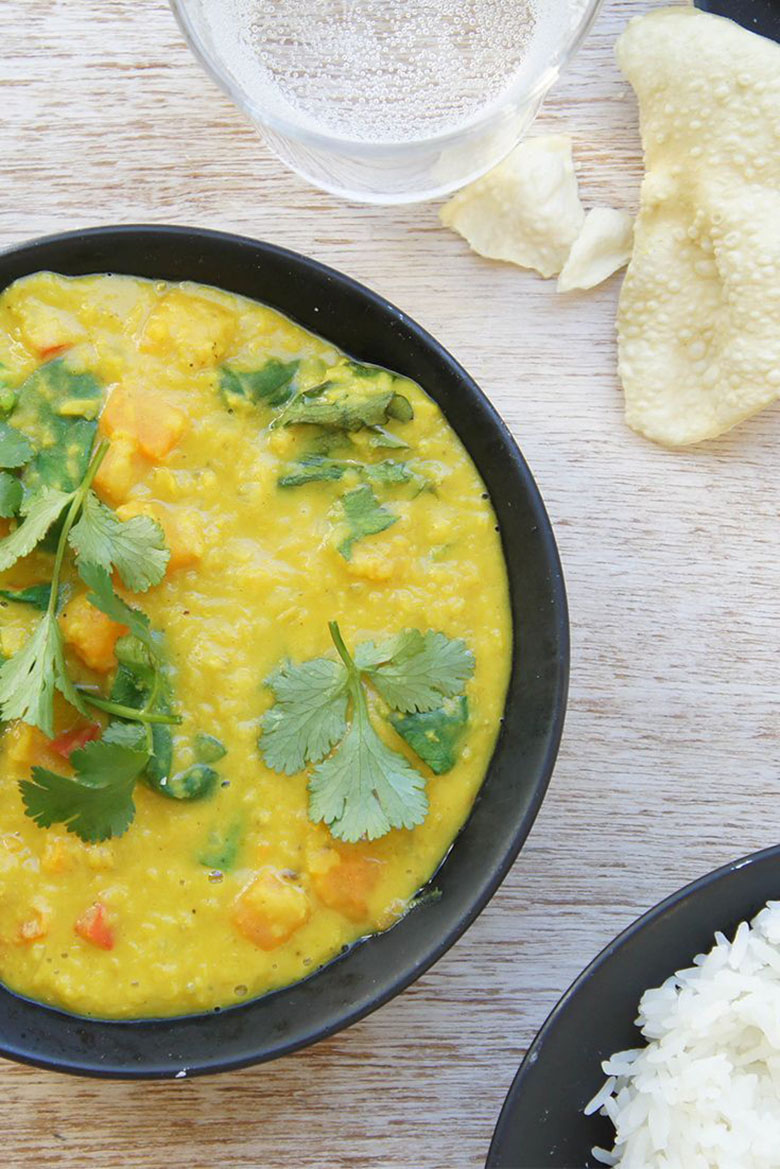 BAKING
Ham, Cheese & Pineapple Muffins – One of my new recipes from my new cookbook that's available for pre-order now. These are so yummy and everyone loves them. I usually bake several batches because they go pretty fast. They're also great to have on hand for the kids as snacks.
  Find my Ham, Cheese & Pineapple Muffins recipe here.
What is your go-to family meal?
I'm curious, do you have an emergency meal you make for dinner when lacking time?