A week's worth of family dinner ideas to help inspire your meal planning. Find a wide variety of meal ideas, including beef salad, chicken pasta bake, salmon patties and heaps more!
There is great variety of options in this week's meal suggestions. When planning out the family dinners I try to include a range of different meals and make sure I'm using a variety of different meats so that we don't end up eating chicken every other night LOL! I hope you find some dinner ideas to add to your family's meal plans for the week.
Find more of my meal planning tips here:
Meal Planning Printables
Grocery Shopping List Pad
Weekly Planner Pad


ARE YOU ON INSTAGRAM? – If you make any of these recipes, please share a photo, tag @theorgansiedhousewife and add hashtag it #TOHDinners  – I'd love to see what you're cooking!
MONDAY
Nachos – Want a hearty, filling, homemade nachos recipe that is both easy and quick but also extremely tasty? I suggest this amazing dish that's packed with flavour (as well as beautiful to look at!).
  Find this Nachos recipe here.
TUESDAY
Chicken Pasta Bake – this is a quick and easy dinner idea for a busy weeknight. This bake only takes 20 minutes to prep and you can add in extra veggies and pasta if you want to bulk this meal out even further.
  Find my Creamy Chicken Pasta Bake recipe here.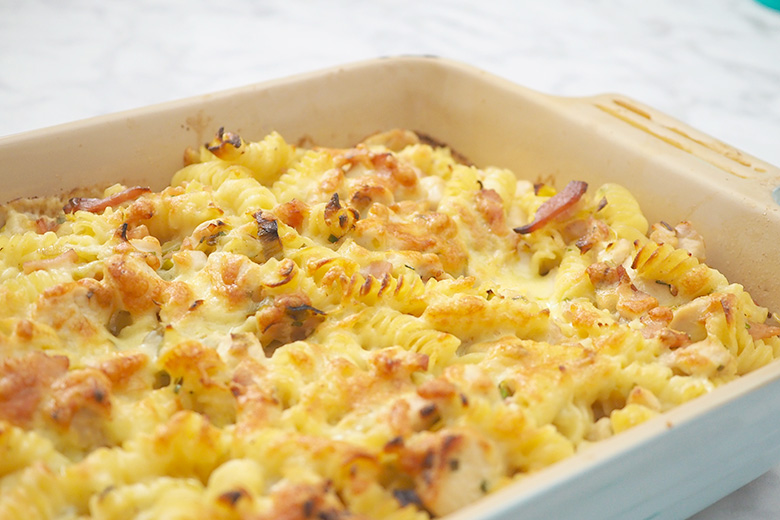 WEDNESDAY
Pork Chops and Veggies – pork chops are such an easy mid-week meal. They can be cooked on the BBQ, stovetop, or in the oven with some roast veggies. We had our pork chops with steamed veggies – although this baked recipe below looks delicious!
  Find this Pork Chops with Roasted Baby Veg recipe here.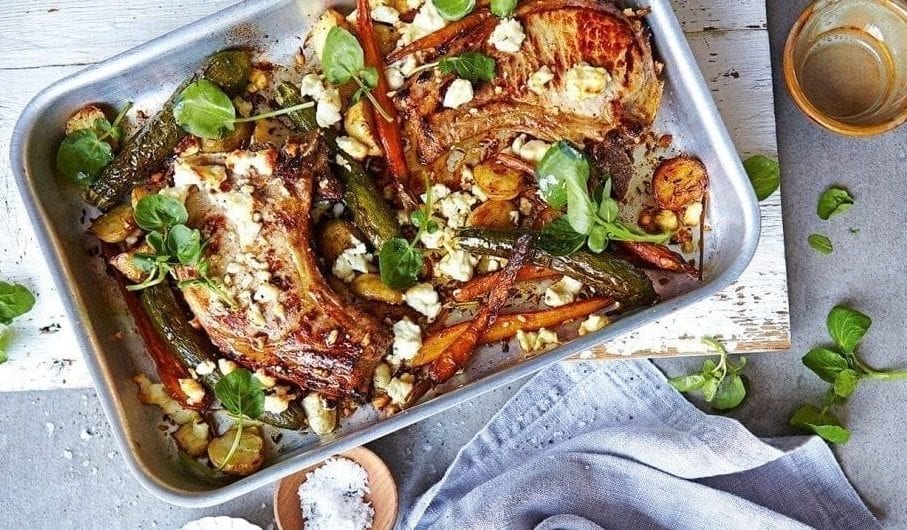 THURSDAY
Salmon Patties – My recipe for this meal can be made with salmon or canned tuna, then served with a delicious salad or steamed vegetables. I always nearly have the ingredients for the patties in my pantry, so it's a great option for the night before a grocery shop.
  Find my Salmon Patties recipe here.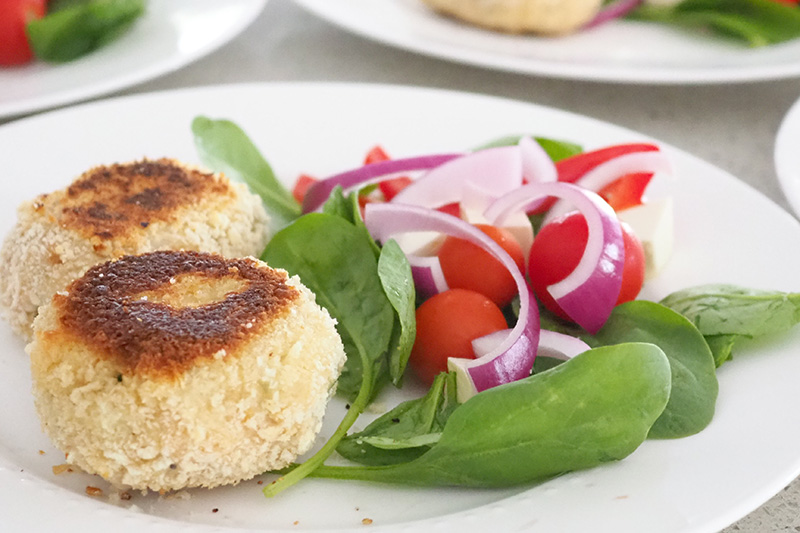 FRIDAY
Thai Beef Salad – a simple and nutritious meal idea. You could use a readymade salad kit like this one here from the supermarket and adding in chicken or red meat. Simple and yummy!
  Find this 15-Minute Thai Beef Salad with Rice Noodles recipe here.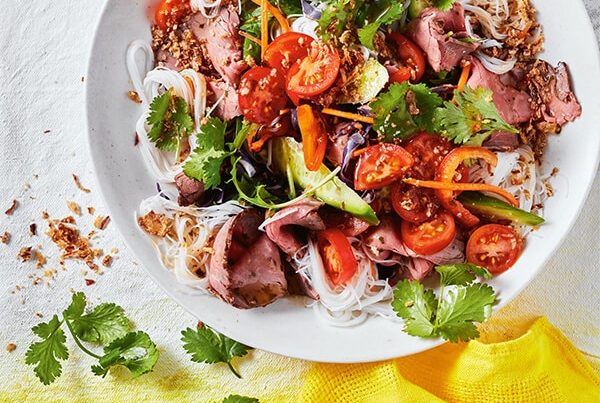 SATURDAY

Pulled Beef Burgers with Chilli Mayo – I love to cook this meal on a day when I am pottering around at home, and can just leave the meat to slowly cook away. It's a nice change to the traditional beef burgers I'd normally cook.
  Find this Pulled Beef Burgers with Chilli Mayo recipe here.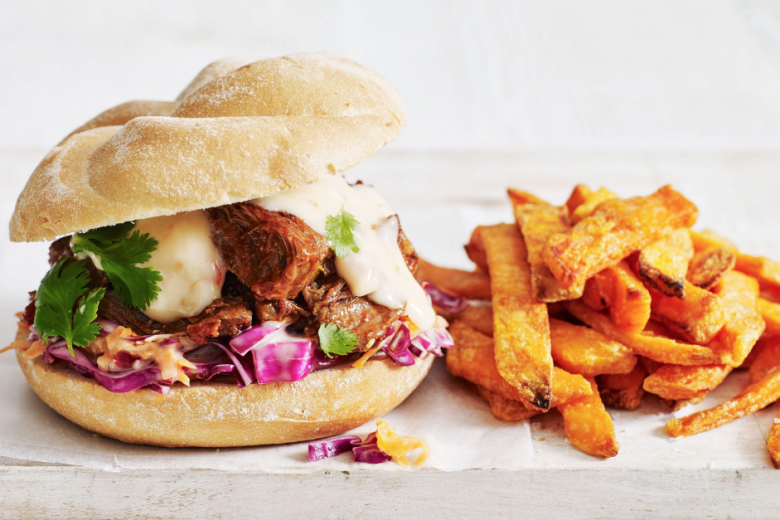 SUNDAY
Coconut Lamb and Cauliflower Rice – this meal tastes and looks great is dairy and gluten free. The Coconut Lamb is packed full of flavour and the cauliflower rice is a healthy alternative to rice. You could add some steamed veggies to the side to up the vegetable content even more.
  Find this Coconut Lamb and Cauliflower recipe here.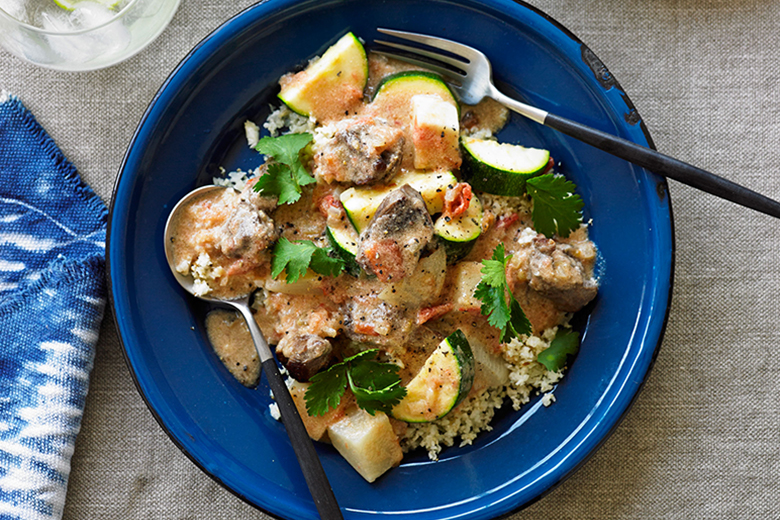 BAKING
Peanut Butter Coconut Balls – these bliss balls only require four ingredients, plus they're vegan and dairy-free, and oh so delicious!
  Find my Peanut Butter Coconut Balls recipe here.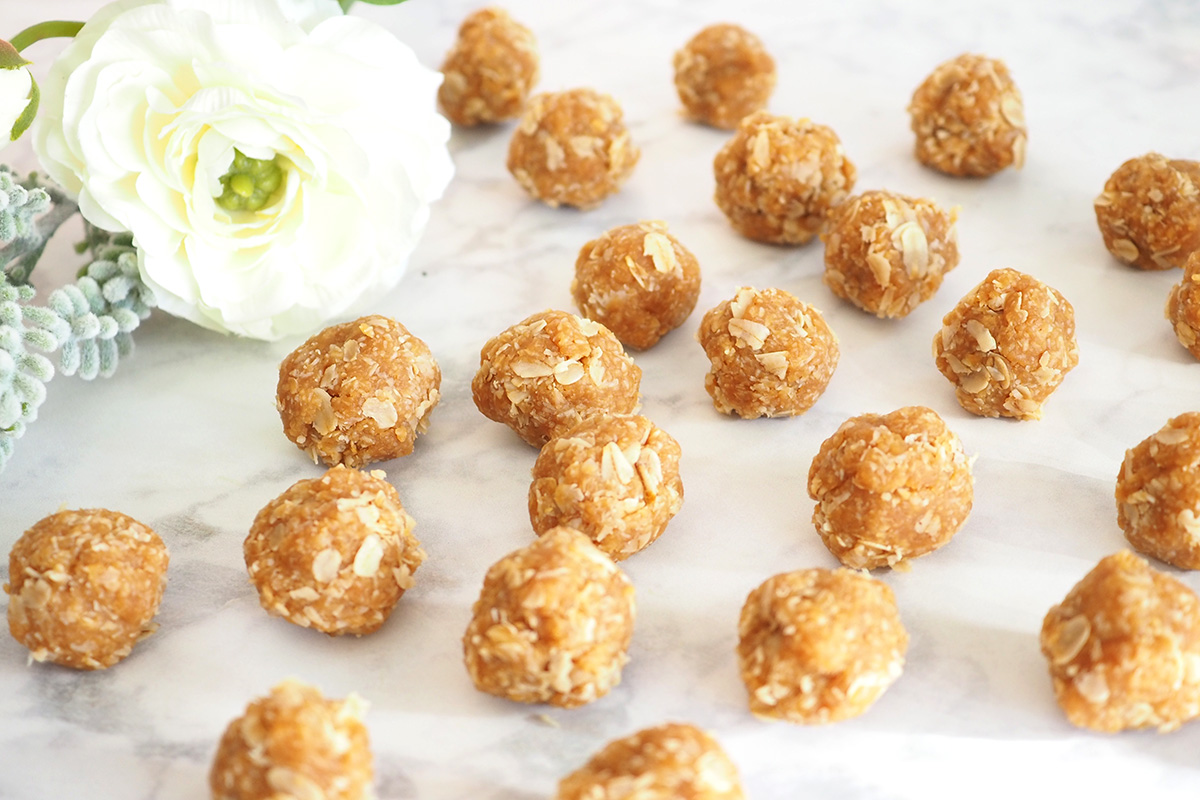 What is on your meal plan this week?
Please share your family's weekly meal plan in the comments below. I'll pick one to share every few weeks instead of mine as it's great to get variety and share what other families eat too!
---
Pin this image below to Pinterest!