A 7 day family meal plan that has a wide variety of dinner ideas for the week. Find recipes for gnocchi, fish burgers, chicken rainbow salad, a Sunday roast and more!
This week's meal plan is full of healthy and delicious family meal ideas that are fairly quick to prepare and cook.  On busy weeks I love meals that can be thrown into the slow cooker in the morning or quickly prepped and cooked at night, whilst making sure they are still nutritious and healthy options. I hope you find some some ideas for your family dinners this week below.
Find more of my meal planning tips here:
Grocery Shopping List Pad
Weekly Planner Pad

ARE YOU ON INSTAGRAM? – If you make any of these recipes, please share a photo, tag @theorgansiedhousewife and add hashtag it #TOHDinners  – I'd love to see what you're cooking!
MONDAY
Beef Ragu Gnocchi – this meal is absolutely delicious and a firm favourite in our house. Fussy eaters won't even notice the carrot and celery in it. Mop up the delicious remnants with a nice garlic bread.
  Find this Beef Ragu Gnocchi recipe here.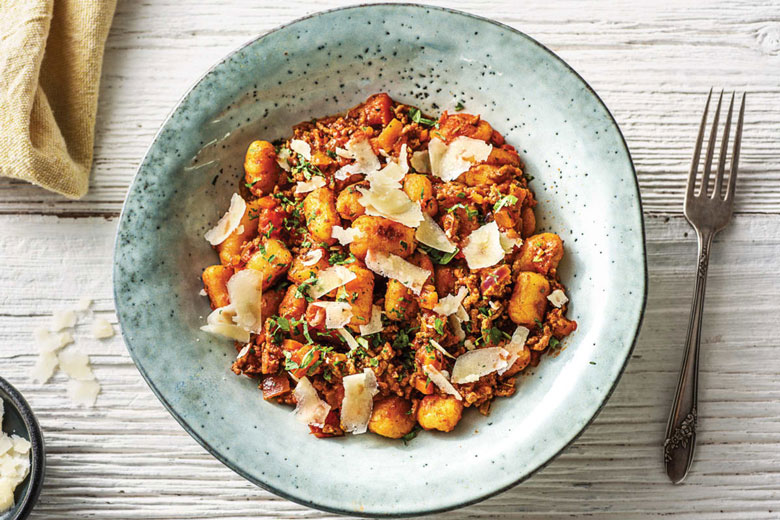 TUESDAY
Chicken Rainbow Salad – you will definitely feel like you are getting your required vegetables for the day with this salad, I love the miso dressing to make it a little bit different.
  Find this Chicken Rainbow Salad recipe here.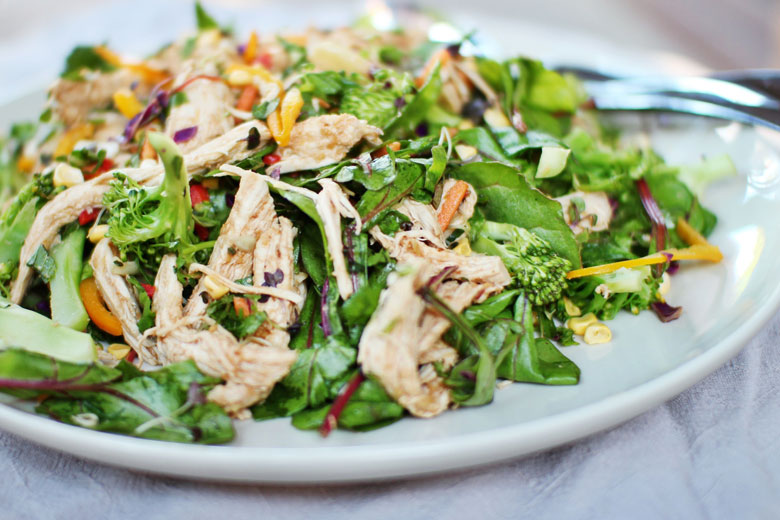 WEDNESDAY
Sausage and Vegetable Bake – this recipe is a quick and easy one to throw together and pop into the oven. It's perfect to feed a hungry crowd for dinner.
  Find my Sausage and Vegetable Bake recipe here.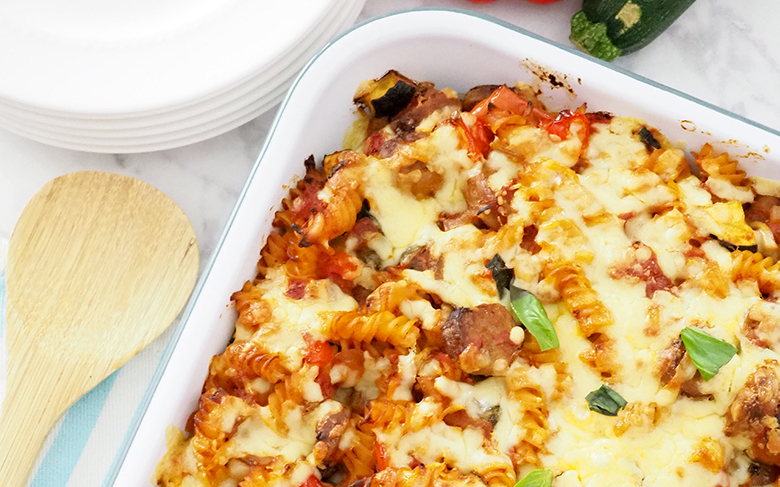 THURSDAY
Fish Burgers and Chips – this dinner is bound to be a hit with the family with the flavour combination of the fish, crunchy slaw and chili mayonnaise. If you're pressed for time, use pre-crumbed fish pieces and a ready made tartare sauce.
  Find this Crumbed Fish Burger with slaw recipe here.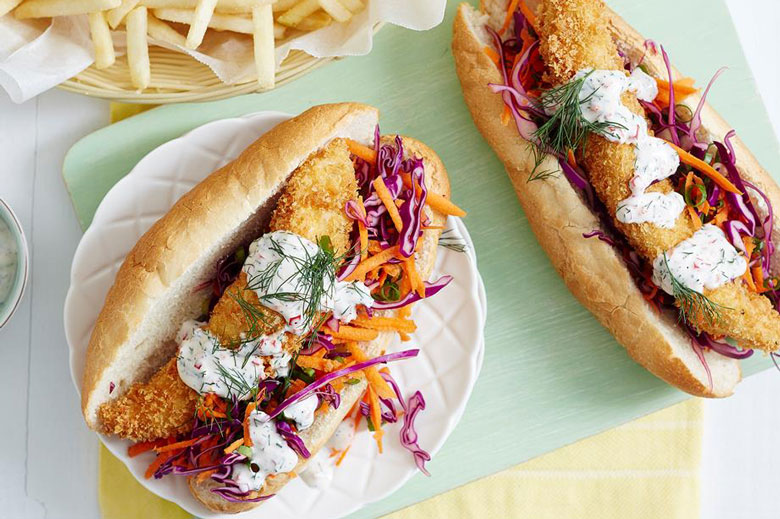 FRIDAY
Salami and Broccolini Frittata – This is a quick meal to make and tastes delicious, perfect for dinner with a side salad. The leftovers also make a great breakfast the next day.
  Find this Salami and Broccolini Frittata recipe here.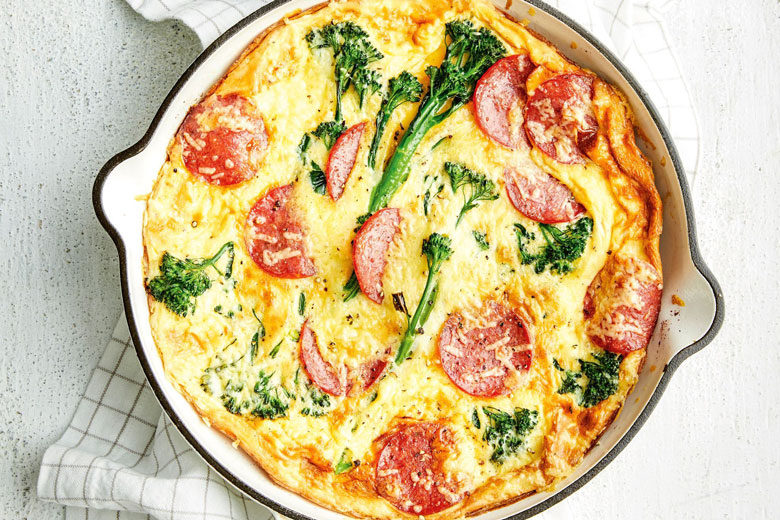 SATURDAY

Mexican Salsa Chicken Wraps – I love my slow cooker Mexican Chicken recipe for how versatile it is. We are having it on wraps with guacamole this week, but you could have it on top of rice with a fresh Mexican style salad, or maybe in oven baked enchiladas. Check out the recipe for five different meal ideas.
  Find my Slow Cooker Mexican Salsa Chicken recipe here.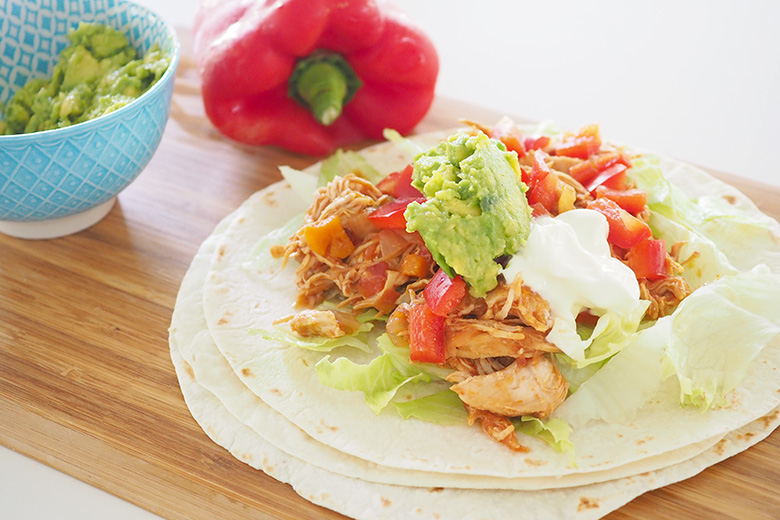 SUNDAY
Roast Pork – sometimes you just feel like a hearty roast dinner on Sundays! It's guaranteed that everyone makes sure they are home for dinner that night if they know a roast is on the menu.
  Find my Roast Pork and Caramelised Apples recipe here.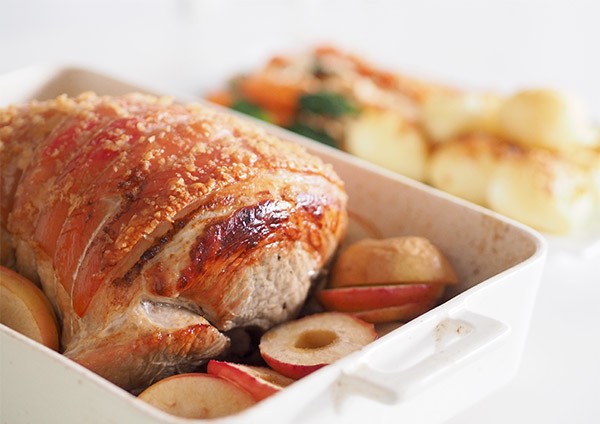 BAKING
Rocky Road Cookies – for a sweet chocolate treat for afternoon snacks this week, I feel like making up a batch of these delicious cookies.
  Find my Rocky Road Cookie recipe here.
What is on your meal plan this week?
Please share your family's weekly meal plan in the comments below. I'll pick one to share every few weeks instead of mine as it's great to get variety and share what other families eat too!
---
Pin this image below to Pinterest!