This 7-day meal plan is packed with some tasty family friendly recipes –  plus a recipe for chocolate raspberry muffins for a lunchbox snack for the kids!
I love to get as much variety into my family meal plans as possible. One method I use to add variety is to try one new to me meal each week. If you do this for a month or two you may find some great new family favourite recipes to add to your rotation! I'm keen to try the shakshuka recipe below later this week. All of the recipes on this week's meal plan are flavoursome, simple to make, and family friendly.
Find more of my meal planning tips here:
Grocery Shopping List Pad
Weekly Planner Pad

ARE YOU ON INSTAGRAM? – If you make any of these recipes, please share a photo, tag @theorgansiedhousewife and add hashtag it #TOHDinners  – I'd love to see what you're cooking!
MONDAY
Bruschetta Topping Chicken – Oven baked chicken topped with a fresh tomato medley similar to what bruschetta is generally topped with. I like to serve it with some roast potatoes and steamed greens.
  Find my Bruschetta Topping Chicken recipe here.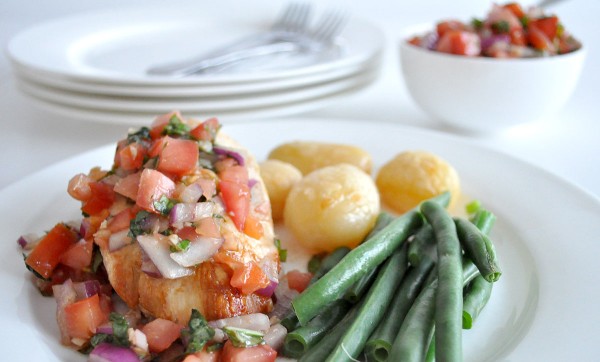 TUESDAY
Beef Chow Mein – this recipe is a family favourite and is fast and easy to prepare. I always like to make extra so there is plenty of leftovers.
  Find my Beef Chow Mein recipe here.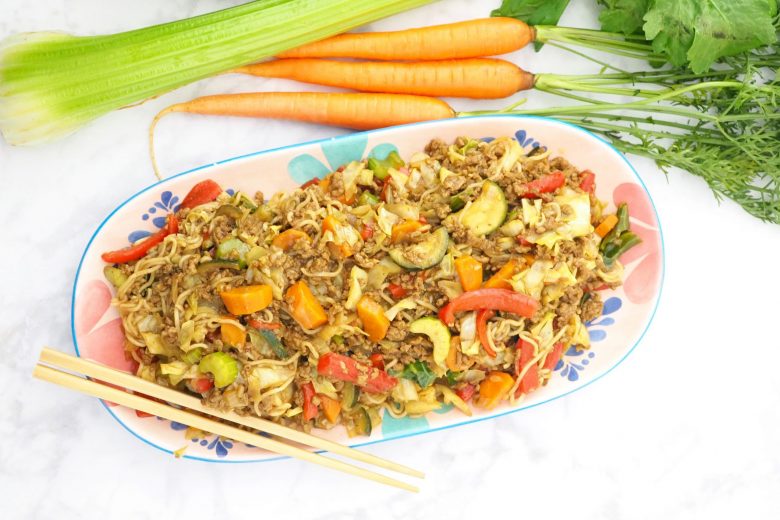 WEDNESDAY
Shakshuka – a flavoursome Middle Eastern dish with spices, tomatoes and eggs. Often eaten as a breakfast dish but why not make it for an easy dinner. I'm going to serve it with some nice crusty bread.
  Find this Shakshuka recipe here.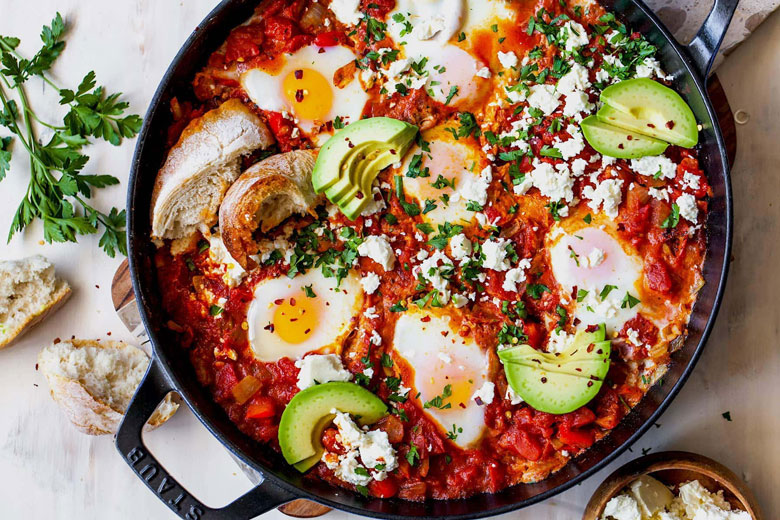 THURSDAY
Haloumi, Pumpkin and Rocket Salad – this is a salad of quite strong flavours, yet they all work perfectly together. I like to add some bacon when I make this salad and then it is filling enough to be a complete meal.
  Find this Haloumi, Pumpkin and Rocket Salad recipe here.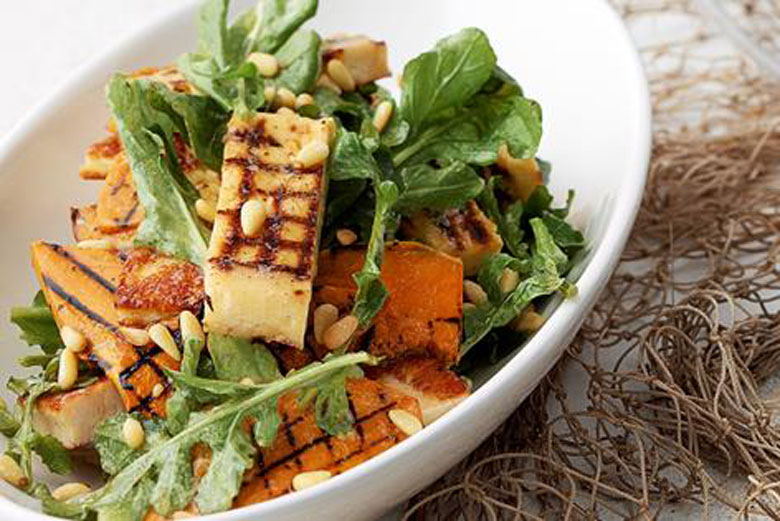 FRIDAY
Homemade Pizzas – who doesn't love pizza on a Friday night? When we have homemade pizzas these days, I like to make up some bases and provide a range of toppings so everyone can top a pizza to their personal tastes!
  Find my Pizza Dough Recipes and Pizza Topping ideas here.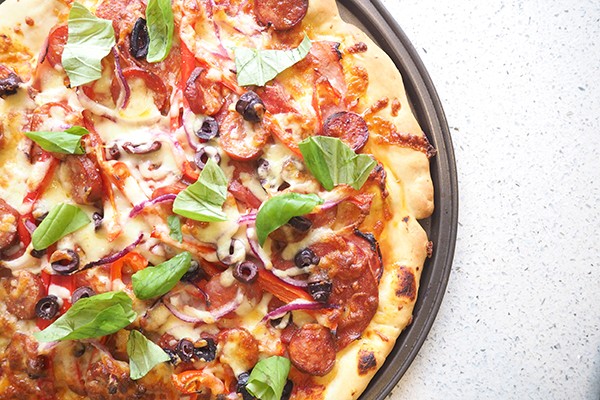 SATURDAY

Fend For Yourself – sometimes it's nice to have a night off from cooking. Also if you have heaps of leftovers in the fridge, it is so much less wasteful to have a leftovers night so everything is eaten up.
SUNDAY
Chicken Pesto Pasta – there is something so comforting about a nice pasta dish. You could make a pesto from scratch, or use a jarred one to save time. I like to add some chicken stock, cream, spinach leaves and semi sun-dried tomatoes for a flavour explosion!
  Find this Chicken Pesto Pasta recipe here.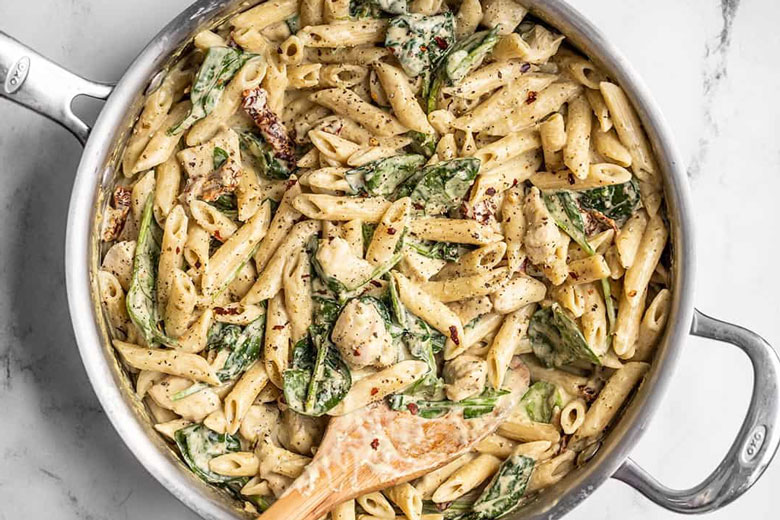 BAKING
Chocolate Raspberry Muffins – these muffins have a delicious chocolate flavour with a burst of berry sweetness. Perfect for school lunchboxes too!
  Find my Chocolate Raspberry Muffins recipe here.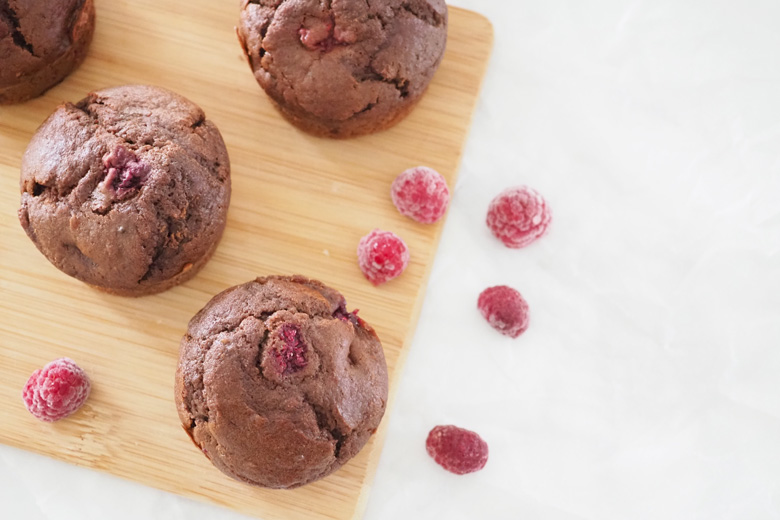 What is on your meal plan this week?
Please share your family's weekly meal plan in the comments below. I'll pick one to share every few weeks instead of mine as it's great to get variety and share what other families eat too!
---
Pin this image below to Pinterest!