This week's family meal plan sounds absolutely delicious with such great variety and has been kindly contributed by one of our community members.
It's great to make sure there is a good range of different types of meals during the week. This seven day meal plan is packed full of different options including pasta, chicken, lamb and pork recipes and comes from Tracey-Lee, a lovely community member. I think I will be adding some of these family dinner ideas to my own meal plans very soon.
Find more of my meal planning tips here:
Magnetic Meal Planner
Grocery Shopping List Pad
Weekly Planner Pad

ARE YOU ON INSTAGRAM? – If you make any of these recipes, please share a photo, tag @theorgansiedhousewife and add hashtag it #TOHDinners  – I'd love to see what you're cooking!
MONDAY
Chicken Fajitas – this packed full of flavour recipe is sure to be a crowd pleaser. It's an easy meal to include heaps fresh vegetables into, and to customise for individual family members' tastes and a great one to make extra of, for lunches the next day.
  Find this Chicken Fajita recipe here.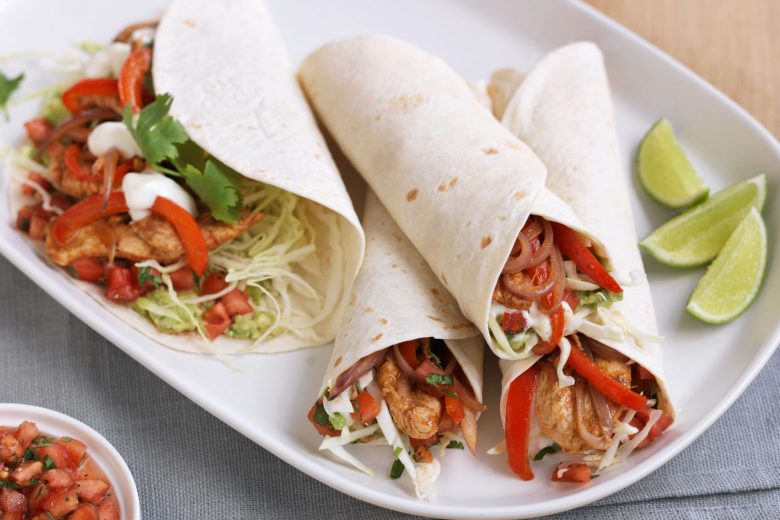 TUESDAY
Herb and Citrus Oven Roasted Fish – This is a recipe is one with a definite wow factor with herbs, capers, lemons and layers of potato. Plus it's so good for your health to eat fish regularly. Why not pair it with a fresh garden salad or some steamed greens.
  Find this Herb and Citrus Oven Roasted Fish recipe here.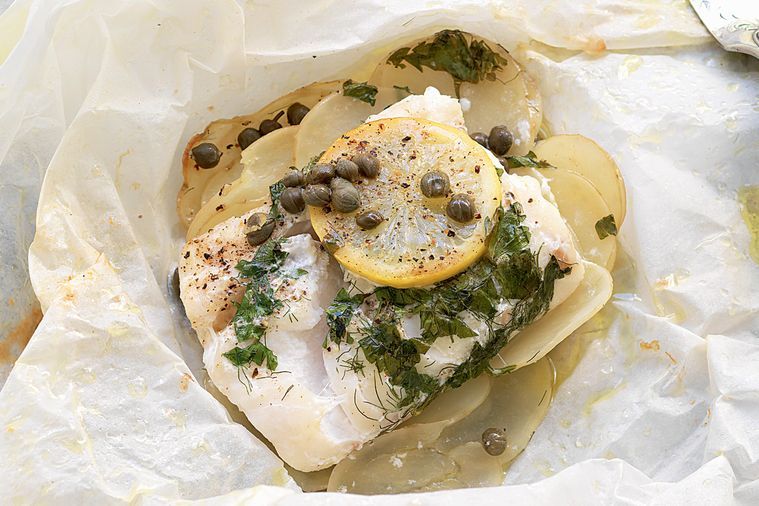 WEDNESDAY
Healthy Creamy Carbonara – there is just something so comforting and satisfying about pasta. Carbonara with cream and bacon really is the ultimate kind of pasta comfort food. This recipe is a lighter alternative that still fulfils that pasta craving.
  Find this Healthy Creamy Carbonara recipe here.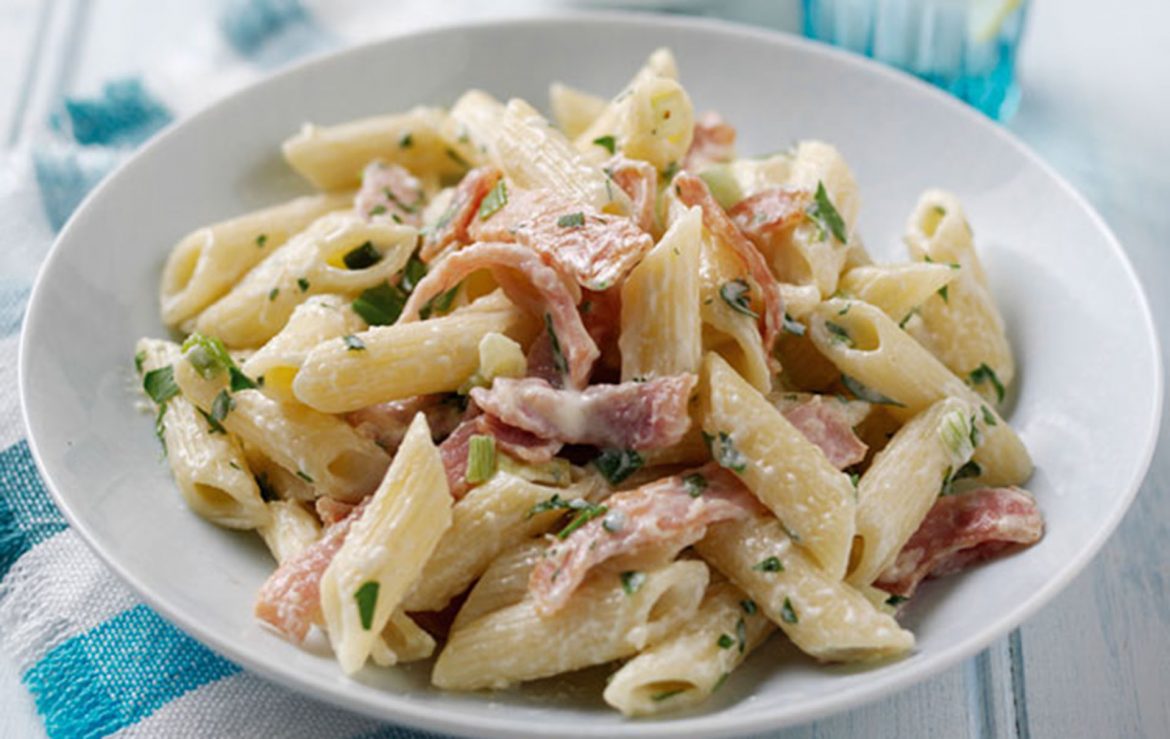 THURSDAY
Coconut Lamb and Cauliflower Rice – this meal tastes and looks great is dairy and gluten free. The Coconut Lamb is packed full of flavour and the cauliflower rice is a healthy alternative to rice. You could add some steamed veggies to the side to up the vegetable content even more.
  Find this Coconut Lamb and Cauliflower recipe here.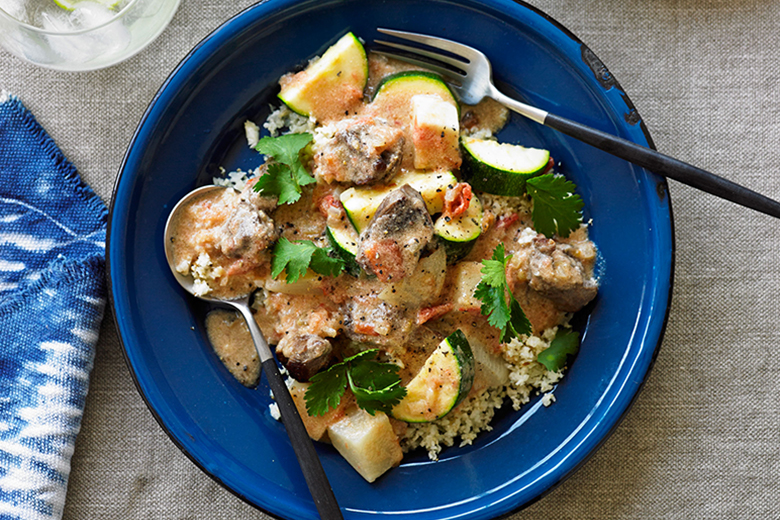 FRIDAY
Curried Sausages – Tracey-Lee has one of my childhood favourite meals on her meal plan, Curried Sausages always remind me of my Nan who used to make it for me. I like adding boiled eggs to mine. Try serving it with mashed potato and some steamed green beans.
  Find my Curried Sausages recipe here.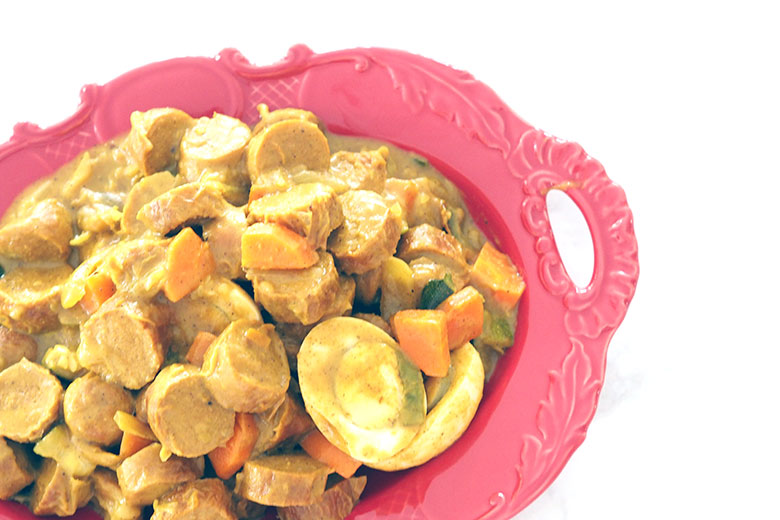 SATURDAY

Teriyaki Chicken Sushi Rolls – Sushi is such a fun family food to make together but it can be a little fiddly if you're not used to making it so it's a great Saturday dinner idea when you might have a little bit more time to make it. Tracey-Lee just had Teriyaki Chicken Rolls on her meal plan but why not try a few other combinations, tuna and cucumber is one and I love fresh salmon and avocado.
  Find this Teriyaki Chicken Sushi Roll recipe here.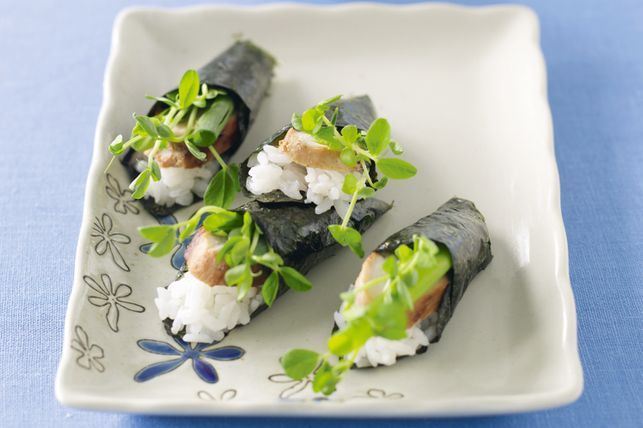 SUNDAY
Roast Pork with Vegetable Salad – A roast on Sunday is a family favourite dinner. Tracey-Lee is having a vegetable salad with her roast. A salad of a medley roasted vegetables tossed with rocket leaves would be delicious or some slightly steamed greens to add some freshness.
  Find my Roast Pork recipe here.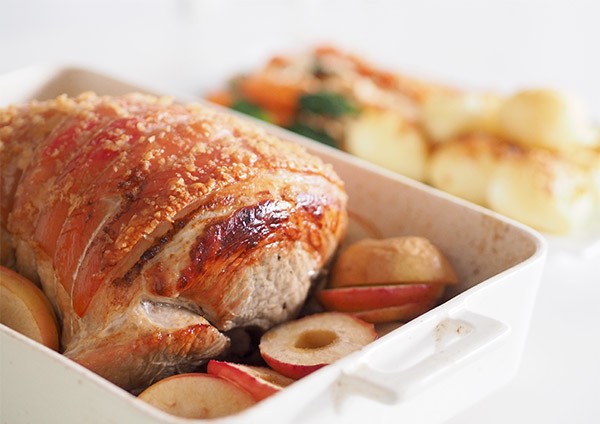 BAKING
Blueberry and White Choc Chip Muffins –  Muffins are such a delicious treat for the family and a great addition to lunchboxes. It's a great recipe to make extra of to pop some in the freezer. Tracey-Lee is making blueberry muffins for her family this week, I have a deliciously moist raspberry muffin recipe that you could substitute your berry of choice.
  Find my White Chocolate and Raspberry Muffins recipe here.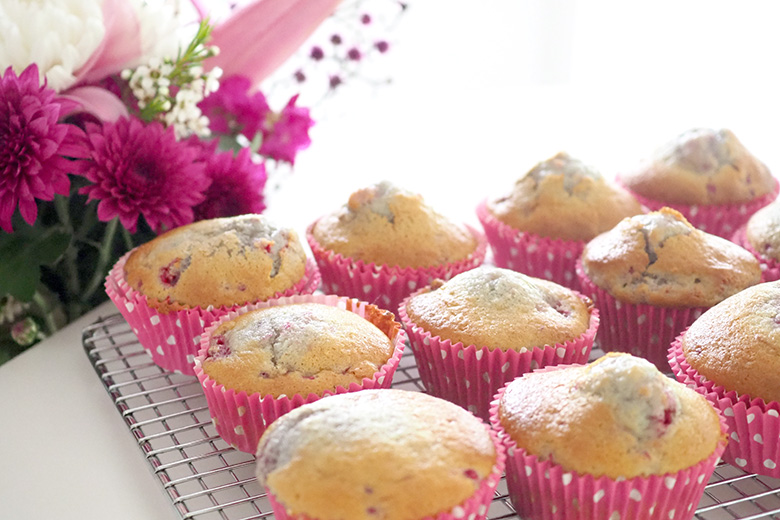 What is on your meal plan this week?
Please share your family's weekly meal plan in the comments below. I'll pick one to share every few weeks instead of mine as it's great to get variety and share what other families eat too!
---
Pin this image below to Pinterest!