We all know that feeling of getting to the end of the week when energy and the fridge are running a bit low, but yet again, it's dinner time! You all came up with some great ideas when I shared some of my simple meal ideas, I just had to share them to help spread the delicious!
 Meatballs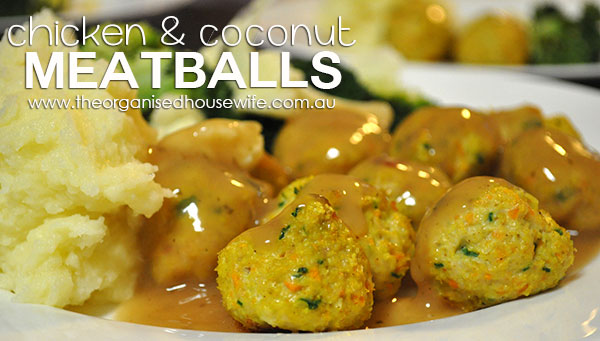 Meatballs are easy to make and they're a great dish to cook in bulk and freeze in serves for nights like this. Jennifer likes to add some sesame seeds to her meatballs for some crunch, then cooks them in with some tinned tomatoes and korma paste before serving on couscous.
BBQ Chicken
Grabbing a BBQ chook on the way home from school or work is definitely a big favourite. From the simple chicken and salad, to DIY tortillas and even Valerie's Chicken Cobbler and Dumplings:
Shred the chicken. Brown an onion with 20g butter, then stir in 2Tbsp flour to make a paste. Pour in 2 cups of chicken stock and whisk to dissolve with paste. Add a big handful of parsley and 3 Tbsp of sliced sage and stir to infuse. Throw in 2-3 cups of frozen veg and the chicken and simmer till dumplings are made.
Dumplings: Rub 50g butter with 1 1/2 cups flour until consistency is crumbly, add just enough milk, stirring with a blunt knife to form a dough. Turn out onto the bench and press dough until 3cm thick and cut 4cm circles with biscuit rings. Pour the hot chick & veg into casserole dish and arrange dumplings around the edge on top, slightly overlapping. Bake in oven 180oC for 20 mins and serve.
Pasta Bake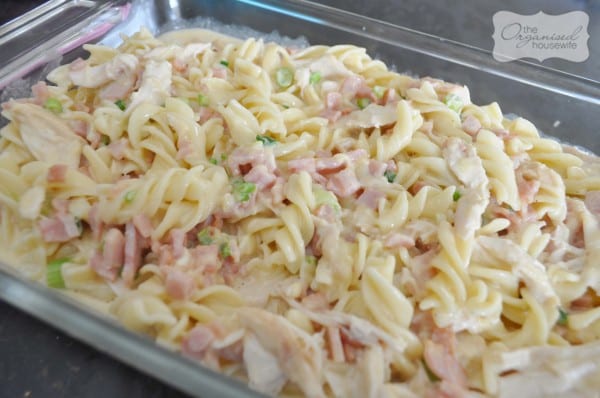 The humble pasta bake is a clear favourite amongst you all! The simplest form is a packet of pasta, some meat (tuna or chicken) and a jar of sauce, but making your own isn't too hard either! And don't forget the cheese on top – melty and crunchy, yum!
Pizza
Who doesn't love pizza?! Using pita bread or wraps as the base and the leftover veggies from the fridge – even lightly braised zucchini and eggplant – are quick and easy, and fun to get the whole family involved too!
My easy go to Friday night meal is home made pizza made with pita bread, wraps or scone dough. I just add whatever vegetables are left in the crisper (slightly braise things like zuchhini, onions celery), any leftover ham, and top with grated cheese. Takes minutes to assemble and is healthy and filling. – Sharyn
Pesto Pasta
Pesto is a delicious base condiment to keep on hand in the fridge. Whether you spread it on some crusty bread with chopped tomatoes for a quick bruschetta, or stir it into pasta, give it a try! Just simply cook the pasta, drain and mix in a couple of heaped tablespoons of pesto. Some of your favourite toppings to add were bacon, chicken, mushrooms, nuts and cherry tomatoes.
Fritters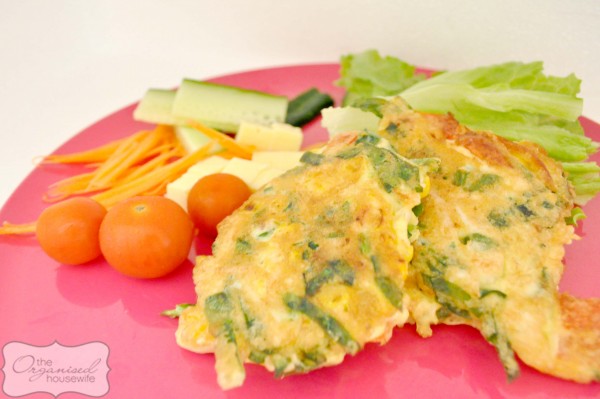 Fritters are such a great way to use up leftover meat and vegetables! Served with a salad, and it's a nice and light way to finish off the week. Margaret recommends serving it with some chutney too – yum!
Breakfast For Dinner
Larissa was a winner with her 'Brinner'- breakfast for dinner! While sometimes that may certainly mean cereal, but making a hot "breakfast" is a great way to finish the week. Eggs, bacon, baked beans, grilled tomatoes, sausage, mushrooms… Pick your favourites! As Larissa said, "It's easy and nutritious enough for dinner, plus it helps use up the last of the eggs etc before the next shop!"
Do you opt to use up contents in your fridge for end of week meals or do you buy takeout?