My apologies that the meal planning posts have been absent lately. I decided to stop the meal plans for a little while because I am making a big change to my health and that includes my diet. I had a reality check when I went to the doctor a few months ago to talk about my lack of energy. She basically told me that if I don't make a change to my health I will not be around to watch my kids grow into adults, meet my grandkids or live a fulfilled life. I walked out the doctors doors and just cried.
I knew it, I had put on 10kg in the past year after loosing my mum. I was not exercising and I constantly felt like I needed an afternoon nap. Whilst I didn't like hearing what my GP said, I needed to hear it.
So, I am on a mission to improve my health, diet and am now regularly exercising. I am really thrilled with my weightloss to date and what I have set as my long term goals. I have been working with a dietician (this is why I couldn't share my meal plans, as these are paid consultations).
With what I have learnt about healthy eating over the past few weeks I am now back to creating my own weekly meal plans. However, there are some meals that I may cook the family that are not 'healthy', so on these days I am happy to have a poached egg or chicken and salad for dinner. So please don't follow my meal plans as a guide to lose weight, I am not a health professional, just a mum who is happy to share what I cook my family for dinner.
Do you have a delicious health recipe you can share with me?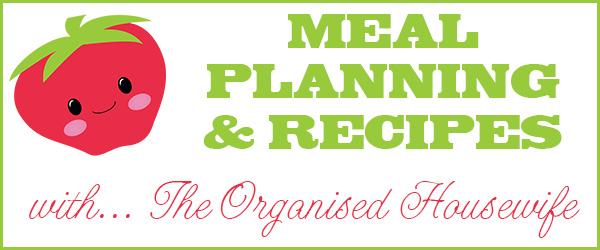 Meal planning tips: How to meal plan, more meal plans & meal planning printables.
This weeks meal plan
Monday – Honey, Soy and Garlic Chicken Sausage Rolls

Tuesday – Beef Stir-fry with Quinoa
Wednesday – Slowcooker Moroccan beef curry
Thursday – Chicken schnitzel and vegetables

Saturday – BBQ Steak and sausages with potato and vegetables

Sunday – Chinese Five Spice & Soy Beef Stir fry
Baking – Banana Weet-Bix Muffins