This is a guest post by Jo, from Country Life Experiment
Eighteen months ago we picked up our family and moved from Sydney, back to the family farm where my husband grew up. Since our move, our whole approach to eating and shopping has changed. Today I want to share with you how I manage the whole meal planning/shopping/ food storage thing.
Before we moved we used to plan our meals and shop weekly, but now it is a 40 minute drive to the nearest decent supermarket, and an hour and twenty minutes to a larger centre. It only took a few weeks of living here to realise that a weekly shop took too much time out of our week and we switched to monthly meal planning and shopping.
Monthly Meal Planning
To be honest, meal planning is similar whether it is for a month or a week. I try to make sure we have a variety of balanced meals that everyone likes. Here on the farm I also need to consider what the garden is growing and what is in the freezer and plan meals which feature the foods we have lots of.
Our meal plan is based what we have growing in the garden. At the moment we are eating cauliflowers, broccoli, carrots, kale, and lots of pumpkin after our record pumpkin haul (130!) In summer it was tomatoes, corn, zucchini, beans, cucumbers, and salad greens.
We raise a lot of our own meat, so I need to make sure that the cut of meats I have in the freezer are suitable for what I want to cook. We have pigs for meat, as well as fish from the dam, and occasionally rabbit when my husband shoots it. We have chickens to provide eggs. Surprisingly, we don't eat much lamb (we live on a sheep farm), because haven't got around to putting a lamb in the freezer yet.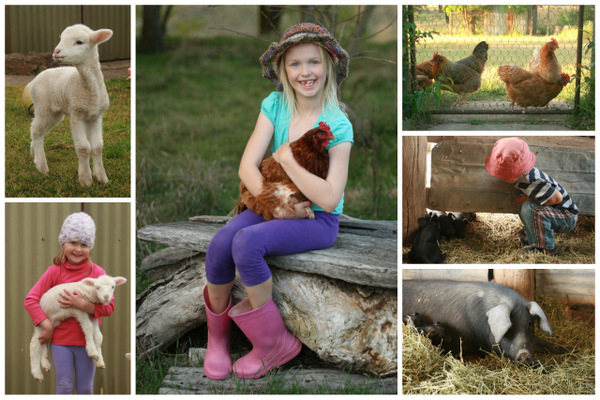 Once I have looked at what we are going to have available from the garden, I write our meal plan out on a grid and pin it up on our notice board.
My top tips:
Writing a monthly meal plan is much the same as a weekly meal plan.
Look carefully through the freezer and cupboards to see what you already have so you can include it in your meal plan.
Eat seasonally. Even if you don't grow your own food, eating seasonally is cheaper, healthier, and most importantly tastes better!
Include 'leftover nights' to clear out the fridge. If you don't have any leftovers, eggs on toast is always easy.
We try to include a meat free night each week.
Monthly Shopping
Once our meal plan has been made up, we assemble a master shopping list. We keep a running list to write down what we need from town as we think of it, but the master list needs to have absolutely everything we need for the month on it. We cannot just pop out quickly if we forget something.
We have developed a list on the computer with all our regular items which we print out to help us, and we go through the menu plan and make sure we have all the ingredients. We have worked out through trial and error how much of everything we need. For example we need 5 bottles of dish detergent (no dishwasher here), 30 rolls of toilet paper, and 5 packets of rice cakes.
Generally it takes two trolleys to get everything we need. We don't buy soft drinks or juice (except for birthdays) for both health reasons, and because they take up a lot of space to store (which we don't have). We also don't buy individually packaged foods for school lunches. We also limit the choices of breakfast cereals for both health and storage reasons; those cereal boxes can take up a lot of space.
Our garden means that we rarely buy vegetables other than onions, and potatoes (which we haven't yet managed to grow enough to keep us supplied all year round), but we do still buy fruit. Recently we have been getting a box of fresh fruit delivered to town once a week to supplement the big shop.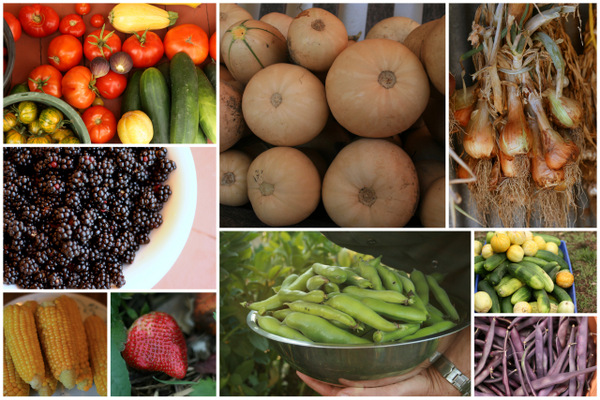 Shopping takes a couple of hours, but once it is done, we don't need to go again for a month, which is a big time saver over all, and a big money saver too. If we are not in the shops, there isn't much opportunity to impulse shop.
In the small (tiny) town where I work is a very small 3 aisle IGA. It is good for picking up extra bread and milk, and other emergency basics, but it's range is very limited. We go through about 45 litres of milk a month, which is way too much to store, so about once a week I drop into the IGA after work to top up the milk, and bread. Everything else we try to get at once.
My top tips:
Keep your receipts for a few weeks before you start. That way you will have an idea of what you use and how much you need for a month.
Create a list of all the things your regularly buy. This makes it easier to make sure you get everything.
Consider whether you really need all the items you buy. Eliminating juice has save us a heap of money, and storage space, and it has been good for our health too!
By growing so much of our own food, we have cut down how much we need to buy. Even if you can only grow a little bit, you will find that it saves storage space as well as money.
Try not to faint with shock the first time you buy a whole months worth of groceries. It is more money up front, but you will find that it costs less when spread over a whole month.
Producing And Storing Food
In an ideal world, we would have a huge pantry to store all the food in. Once a month shopping is a lot of food all at once, and it all needs to be kept somewhere. Our farm house kitchen is tiny and has very little storage. I have a shelf in the laundry where I stack the unopened packets and the bottom shelf of the linen press is also stuffed with pickles, jams, and preserves. Unopened cereal boxes sit on top of a cupboard.
We have 2 smallish upright freezers to keep our meat and frozen fruits and vegetables in. Eventually I would like to get a large chest freezer, but first I need somewhere to put it.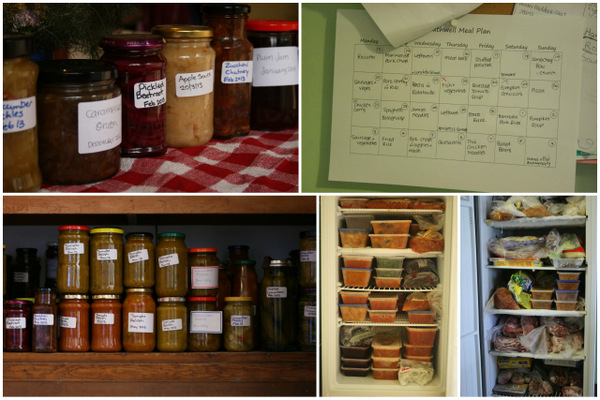 During Summer and Autumn, our garden produces way more than we actually eat, so we try to preserve a lot of it to use through out the year. We cook up tomatoes to make passata which I then freeze, as well as make lots of jams, relishes, chutneys, and pickles. In our first year of doing this we found we ran out of some of our favourites, so this year we have made a lot more.
We also pick wild peaches, plums and apples from the sides of the road and along our creek during summer, as well as figs and mulberries from trees in the paddock. I stew the peaches and plums and freeze them to make pies and crumbles throughout the year. I also tried drying figs in the oven to use for sticky fig pudding in winter. Having our vegetable garden means we don't have to buy as much but I think we need just as much storage space to store the produce.
Since moving here, we have invested in a good large stock pot, and a jam funnel –  both essential for making our own preserves. We are always on the hunt for glass jars, and have friends who save them for us.
Of course all this food storage and preserving takes up a lot of time. I work full time in our local town, and some days I get home to find several kilograms of tomatoes and 40 cucumbers that need to be dealt with. My husband does a lot of the preservation as he works at home. Sometimes it just gets too much. That's when we give the extra away to friends.
My top tips:
If you don't have a large pantry, find smaller shelves around the house where you can keep the unopened packets until they are needed.
Invest in good quality equipment which is easy to use. We have a good thermometer, large stock pot, spoons, jam funnel, jugs, and electronic scales. Most items we have bought since we moved here.
Save jars. Get friends and family to save them for you too.
Use Chinese food containers and snap lock bags to freeze food in portions. These will also stack neatly in the freezer making better use of the space.
Accept that it will take you time to deal with the produce, but it is so much nicer than the shop bought version, and there is a lot of satisfaction in producing your own food.
Have a go at preserving some of your own food. It doesn't matter if it doesn't work out, you can always try again. You can check out my blog for some of the recipes I use.
There is no denying that we have had a massive change in our lifestyle in the last 18 months, but I think that even if we were to move back to the city (which is not likely to happen), I would continue to menu plan and shop monthly. It just saves so much time and money over all. The key to once a month shopping is to have a go and give it a couple of months to see how it works. Give it a go!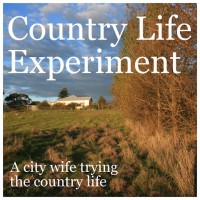 Find Country Life Experiment
My name is Jo. I am married with 3 young kids. After living my entire life in the Blue Mountains on the edge of Sydney (Australia), we have moved our family to Southern NSW, to the family farm where my husband grew up. Will I cope living the country life??? It's a bit of an experiment!
Find our guest: Blog | Facebook | Twitter | Pinterest | Instagram

This post was written by a guest contributor. If you are interested in 'being my guest' please visit Be my Guest page for more details.