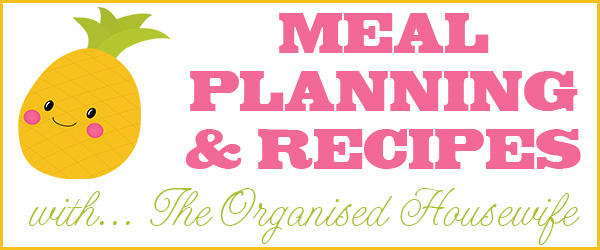 Last week my Thermomix (I named her Trixie) arrived, I am having so much fun playing with my newest little toy.  I have been cooking recipes from their Everyday Cookbook (which for copyright I can't share the recipes, sorry).  I still have so much to learn about it and I will share more details about it soon, once I completely understand how it works.
I understand that not everybody has a thermomix so I still want to share 'normal' recipes with you.  For example, I made the Fried Rice in the Thermomix, so where I can I will have a link to both the normal and thermomix recipe versions.
If anybody has some great Thermomix recipes they would love to share with this community I would be more than happy to publish them!!
Meal planning tips:  How to meal plan, more meal plans & meal planning printables.
This weeks meal plan
Monday – Steak with mashed potato and vegetables

Tuesday – Grilled Lamb chops, sweet potato mash and vegetables
Wednesday – Grilled fish and salad
Thursday – Healthy Teriyaki Chicken with vegetables and noodles

Friday –  Fried Rice / Thermomix

Sunday – Salmon Veloute (poached salmon, with soupy potato mash, carrot and zucchini)
Baking – In the Thermomix – Chocolate Custard and Chocolate cake (from the everyday cookbook)