This giveaway is now closed.  Congratulations to Taryn S for winning the new Donna Hay cookbook.  
I am a big Donna Hay fan, I love her simplicity in cooking, recipes are not extravagant, her cheat options make cooking easy and the end result always tastes delicious.  I was excited to learn of her new cookbook, Simple Dinners.   We are very busy during the week, with 2 nights out till late with the kids at Karate.  So having some simple weeknight dinners planned is essential.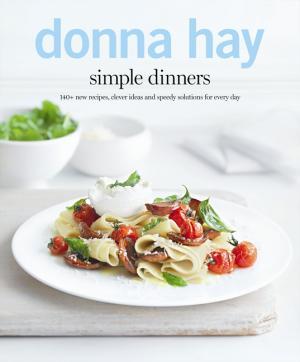 In this cookbook, most recipes (140+ recipes) are pantry friendly, with it divided and categorised into pantry items.  Chapters are  Bread – Eggs – Pasta – Noodles & Rice – Couscous, beans & lentils – Chicken – Beef – Lamb – Pork – Fish & seafood – Vegetables – Fruit and of course Chocolate!  Each chapter also has a variety of tips and tricks to help you with your cooking.  One of my favourites is:-
"When freezing a loaf of bread, pre-slice it and pop sheets of baking paper between every second slice for easy use" – Donna Hay 
 I incorporated a few of her new recipes into my meal plan, they were all very quick and easy to put together.  My favourite is the Banoffee Pie which the kids made for me (cheating using a store purchased pastry case).
Giveaway
If you would like to enter to win a Donna Hay Simple Dinners cookbook, you will find the entry form below. To enter you must share your meal plan.  I want to know what you are having for dinner each night of the week.  If you haven't started meal planning now, I am sure this will show you how easy it will be for you.  You will find here, my tips on how to meal plan.

This weeks meal plan
Monday – BBQ Chicken and salad
Tuesday – My friend made me a Shepards Pie
Wednesday – Parmesan BBQ Steaks with salad – Donna Hay simple dinner cookbook
Thursday – Crusted Chicken tenderloin with vegetables
Friday – Dinner at school
Saturday – Beef Stir Fry – Donna Hay simple dinner cookbook
Sunday – Singapore Chicken Curry – Prima Taste from asian food section at Woolworths
Baking – Sticky Rice Bubble Slice
Dessert – Bonoffee Tart 

Parmesan BBQ Steaks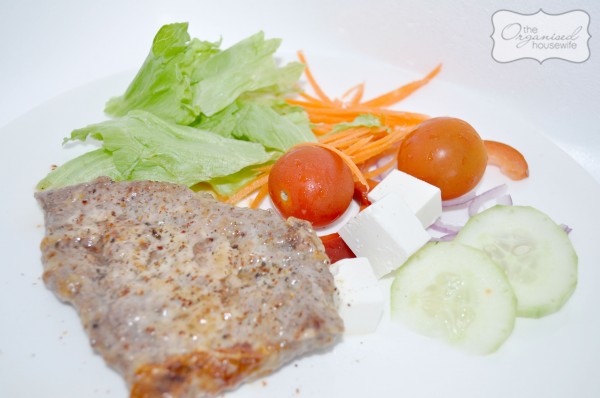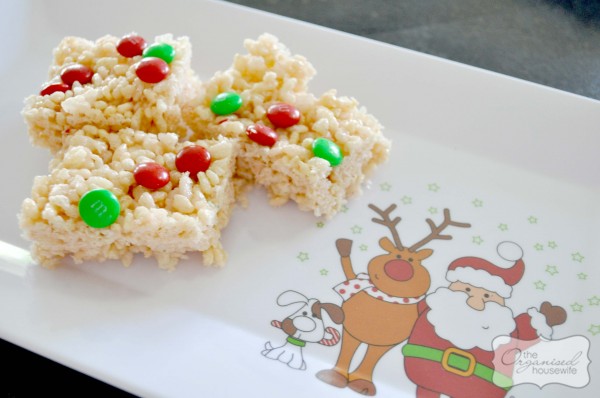 Banoffee Pie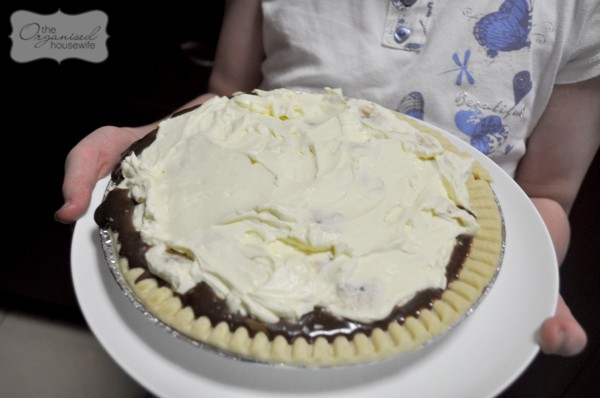 WHAT IS ON YOUR MEAL PLAN THIS WEEK?
If you have a blog, please share your meal plan link here and mention in the comments that you linked up. 
Link directly to your meal planning post not your website, post must be about your weekly meal plan
Paste my meal plan button (grab button HERE) on your post so that others can join along and link up too or add a link to The Organised Housewife.
Remember to come back next week!

GIVEAWAY
Good Luck!