This post is sponsored by Coles
Typically when grocery shopping each week I have a list of essential items I always purchase.  These essentials are usually something that we use everyday or many times throughout the week.  Apart from the typical fresh fruit,vegetables and meat, my essential everyday products are good to have on hand to make up easy weeknight meals using pasta or frozen vegetables and products we use everyday like toothpaste and toilet paper.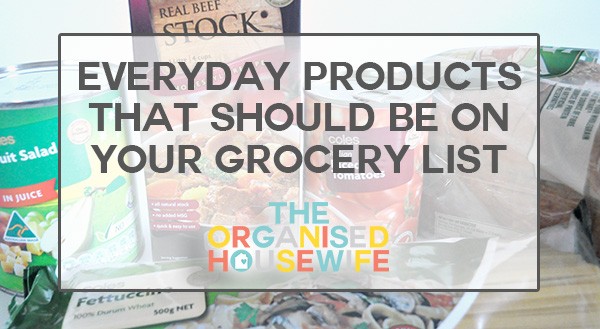 I have always purchased low priced products, but as I'm now buying more food for these growing kiddies of mine my grocery bill is increasing. The twins (12) are eating adult size meals, it's now really important to shop frugally to ensure I don't overspend on my weekly grocery shop, see tips on meal planning here.
Quite a few of the items on my list are great staple products which are good to have in the pantry, fridge or freezer as they make a good base for many snacks or meals.
BREAD – used most days in our household for lunches.  I purchase 3 loaves, keep a fresh loaf in the pantry and freeze the other two loaves.  Freeze the day of purchase and they will defrost and be just as fresh.  Sometimes I may forget to take a loaf of bread out of the freezer the night before, so I make sandwiches with the bread still frozen, it defrosts by morning tea time.  I also like to have bread on hand for easy dinner nights such as easy dinners on toast (see recipe further down).  Find some healthy school lunch ideas here.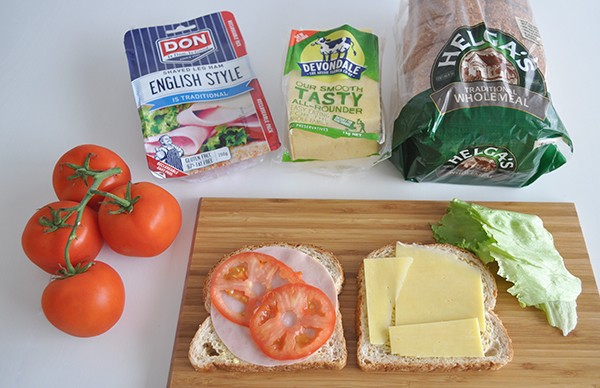 EGGS – these are used frequently in my house for all the baking I love to do.  Plus they are particularly handy when wanting to whip up an easy meal, like scrambled eggs, an omelette or quiche. Find Spinach, Bacon and Feta Quiche recipe here.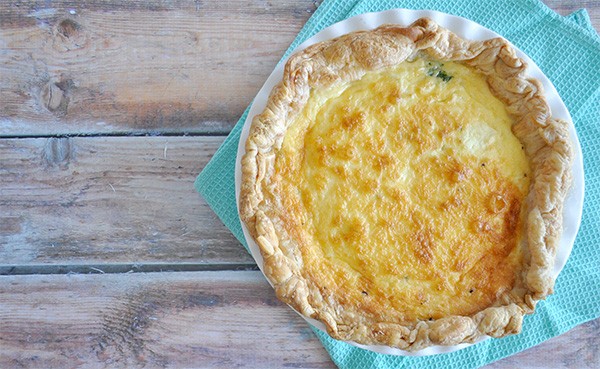 STOCK – I usually have stock in my pantry for the many casseroles and mince dishes I cook over winter.  I also keep frozen peas or corn in the freezer as they suit most of these meals.  Savoury mince is a really quick weeknight dinner which can be served on toast or with mashed potato and a few extra vegetables.  Brown the mince, add flavourings (stock, gravy powder and sauce) along with some peas, corn and any other vegetables you have in the fridge.  See Savoury Mince recipe here.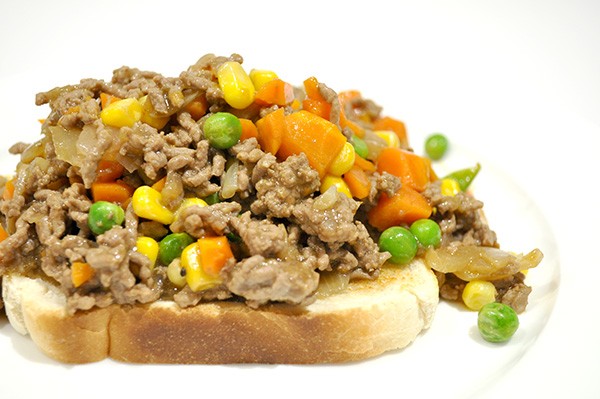 DICED TOMATOES – similar to the stock above I find I use canned tomatoes as the base to many dishes and there is no harm in having too many cans of tomato in the pantry.  Pastitsio is a delicious greek beef pie, with pasta and a cheesy top.  A great winter warmer recipe, using many pantry ingredients.  Find Pastitsio recipe here.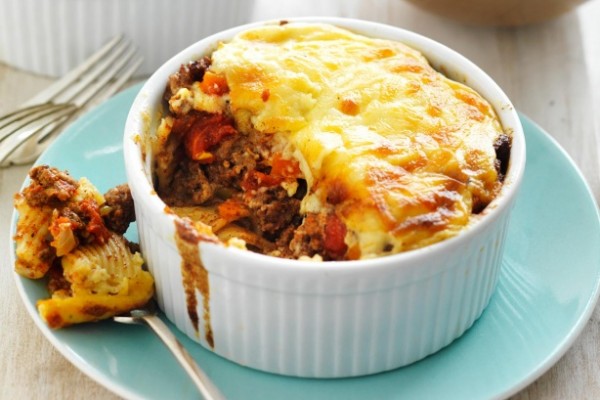 image credit, taste.com.au
FROZEN FRUIT – My kids love fruit drinks, like this raspberry yoghurt smoothie, which I often make after school on hot days.  As it's comes into winter I use them often in warm desserts, like this quick Apple, Berry and Macadamia Crumble, it took me all of 10 minutes to prepare + 15 minutes to bake in the oven.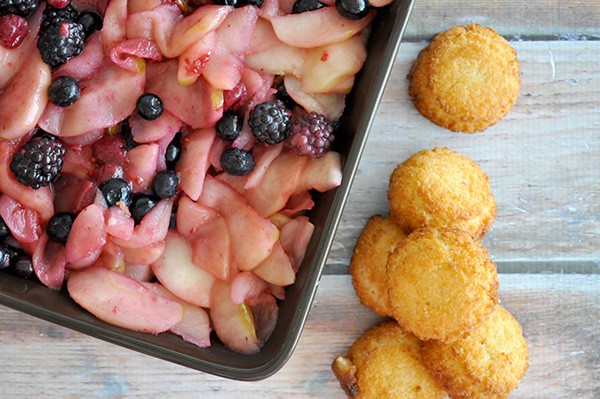 CRISPBREAD – these are great lunchbox fillers for the days that I do not have any bread. I will pack the kids with a tin of tuna and they spoon it onto the crispbread, or my youngest enjoys it with Vegemite.  It's also great to have in the pantry for after school snacks.  See a great range of 35 healthy after school snack ideas here.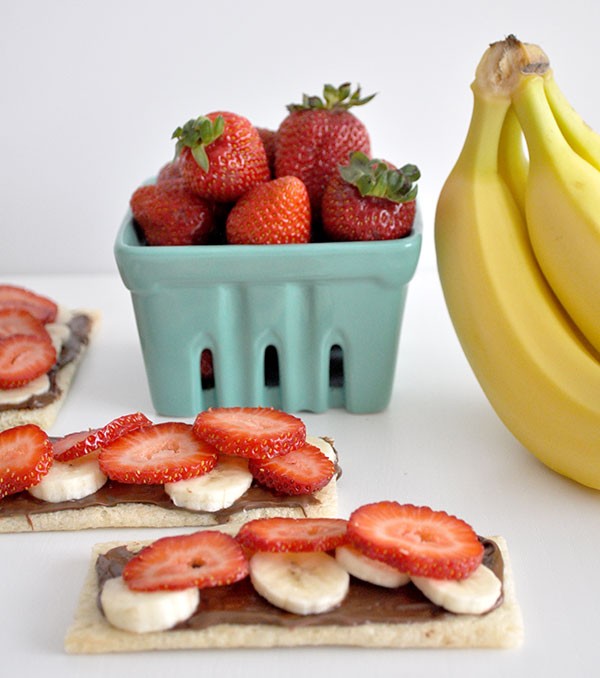 PASTA – My kids love pasta and rice, one or the other features often on our weekly meal plan.  I keep many varieties of pasta in my pantry. Many families have busy weeknights and it's great to have a go-to meal that is really quick yet filling.  This quick pasta and meatballs is one of those meals, I used 2 packets of meatballs, (which can sit for quite a few days in the fridge), instead of the sausages.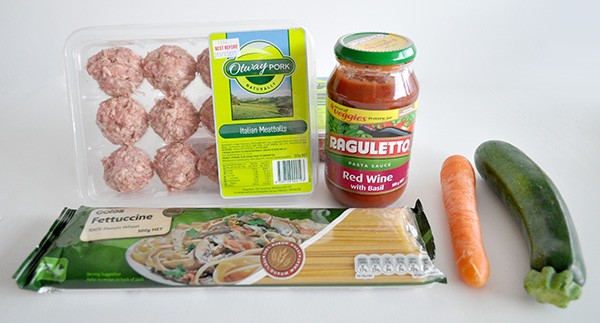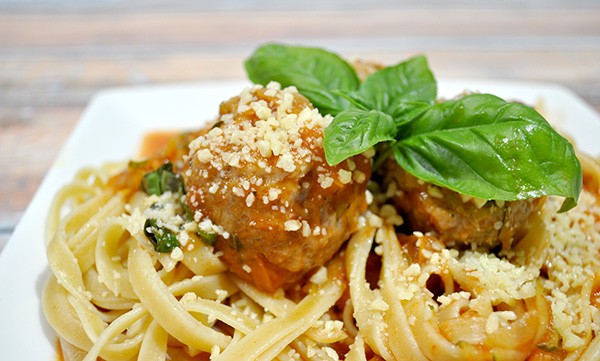 FLOUR – I love to bake cakes, muffins biscuits etc, so I always ensure that I have my self-raising and plain flour completely stocked for the moment that I spontaneously want to cook.  Click here for Banana, Raspberry and Macadamia Bread recipe, (I used frozen rather than fresh).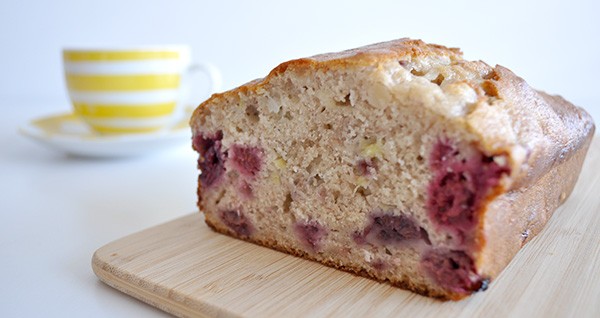 Most of the items on my everyday essentials list are available in the Coles Every Day range.  Which is fantastic as the name suggests it's this price every day, every week all year round. Coles are making staple products affordable for families and making it easier to budget knowing the price will always be the same.  However these everyday products are not just the Coles brand products, they have low prices on many brand products, like selected Tasty Cheese, Kellogs cereals, Helgas Bread and so much more.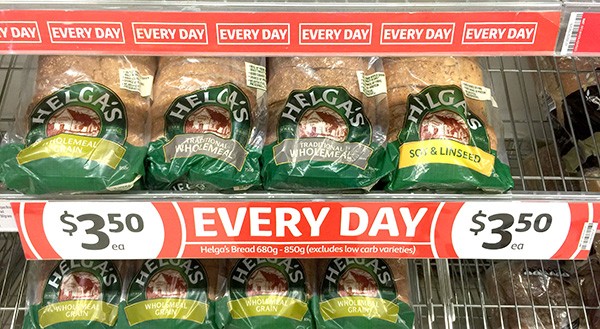 As you can see below it's easy to identify in store which products are at the Every Day low price.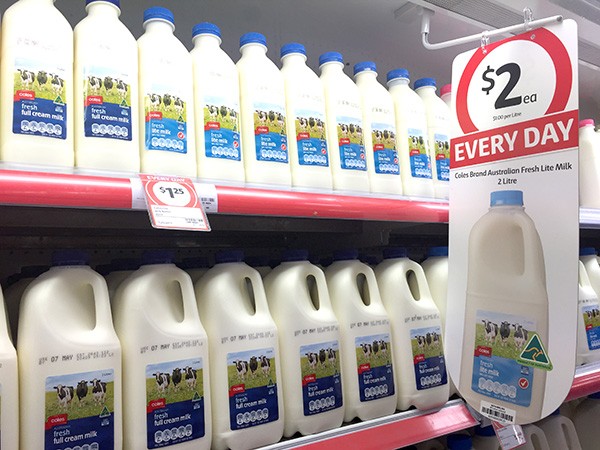 MY EVERYDAY ESSENTIAL LIST
This is my 'everyday essentials' (less fresh fruit, vegetables and meats) that I purchase every week.  I was surprised to learn that once I listed them all only a few are not on the Coles everyday product list (eggs and weetbix).  The links will take you to the everyday products on the Coles website.
Milk
Bread
Eggs
Cheese Slices
Yoghurt
Greek Yoghurt
Frozen Peas
Crispbread
Flour
Canned Fruit
Pasta Sauce
Pasta, Spaghetti, Fettuccine or Rice
Beef Stock
Diced Tomatoes
Toilet Paper
Dishwashing liquid
Toothpaste
What is on your essentials list?
This post was coordinated by The Remarkables Group and run in accordance with my disclosure policy